Tropical treasures of the natural kind

Show all 4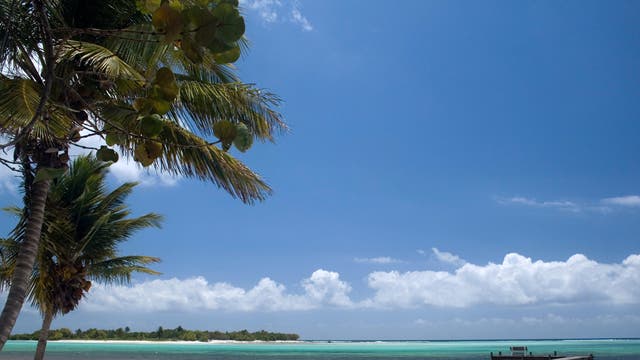 Tropical treasures of the natural kind
The Cayman Islands may be known as a tax haven, but for Cathy Winston it's the rare butterflies and blue iguanas that raise her interest rate
'I first met Godzilla in the early 1980s. It was a chance encounter; life-changing meetings are so often like that," says Fred Burton. "An imposing and outrageously blue lizard, way bigger than any lizard ought to be, peering at me, calm, unafraid."
Behind us, one of Godzilla's cousins basks in the sunlight – not the marauding monster of the Japanese movies, but an endangered Grand Cayman Blue Iguana. Godzilla himself spent his final years in a Florida zoo, after the death of his original owner, the Caymanian naturalist who gave that particular animal its fearsome name – and Fred his first sight of the exotic reptiles. It sparked a 30-year fascination and a breeding programme which brought the creatures back from the edge of extinction.
A decade ago, there were only 12 blue iguanas left in the wild. Today, precise tracking shows their numbers have now reached 667. Conservation may not be what you first expect from the Cayman Islands. But while these three Caribbean isles – Grand Cayman, Little Cayman and Cayman Brac – are perhaps best-known for their tax-haven status, their treasures are natural ones, rather than those stashed in bank accounts.
They claim to have more species of flora and fauna than the Galapagos Islands – and they are certainly home to two of the world's rarest orchids, the earth's smallest butterfly (the Pygmy Blue), around 230 species of birds, and wonderful marine life. It's those blue iguanas though, which steal the limelight. With unblinking red eyes and vivid blue scales – especially apparent during the mating season and in the heat of the day – the reptiles, which grow to more than five feet in length, seem to revel in their fame, slowly turning their jowly heads to the cameras which inevitably surround them (and occasionally investigating pink-varnished toenails in the hope they might be fruit).
They are protected in two reserves on Grand Cayman, the largest of the three islands, and I met them in their third habitat, the breeding centre within the Queen Elizabeth II Botanic Park, which is also home to nearly two thirds of Cayman's native plants. Close by, in the Heritage Garden, medicinal plants surround one of only 15 remaining traditional wooden Cayman cottages. Meanwhile, the Colour Garden's trees and flowers are all arranged by shade, including the red birch – known to Caymanians as "the tourist tree" as a result of its red, peeling skin.
It's a natural haven just a short drive away from the main tourist resort of Seven Mile Beach (actually a five-and-a-half-mile stretch of white sand), where the well-heeled check into the Ritz-Carlton, close to my luxurious sea-view apartment at the Caribbean Club; and also a short hop from the waterfront capital George Town, whose low-key pastel-hued buildings house the sort of luxury boutiques and designer-watch sellers that I'd assumed would make up the core Cayman Island experience.
However, even George Town is less of a bustling financial metropolis than I'd expected. It takes a close look to gather any real hints of the tax haven's corporate side; it's almost by chance that I come across an unassuming white building called Ugland House, which acts as the registered offshore address for nearly 19,000 businesses.
It takes far less effort to immerse myself in the island's natural side. Ann Stafford, a British expatriate who has lived on the islands since the 1970s, runs nature tours of Grand Cayman, between growing ghost orchids in her garden and co-authoring a book on the islands' butterflies.
"Native plants are part of the history, culture and identity of the islands. They're what makes them unique," she explains. "We don't have large wild animals but we do have an interesting diversity of wildlife."
One option is walking the mastic trail, a three-hour hike in Grand Cayman's interior through a two million-year-old sub-tropical dry forest, past black mangroves and the mastic trees that give it its name. Instead, I opted for a less strenuous but no less fascinating way to see the best of the island, as Ann led me on a journey down backstreets and behind tennis courts, in search of native plants: the evocatively named Bloody Head Rawbones, the spiky Shake Hand tree and the innocently lush Maiden Plum, with its poisonous, rash-inducing leaves.
From Grand Harbour, just east of George Town, we set off on the trail of some of the birds which migrate and settle on the stretches of water here – sandpipers, plovers to egrets, – before spotting blue herons from the pond-side bench at the small Governor Gore bird sanctuary, named after Michael Gore, a former governor (and keen wildlife photographer).
Christopher Columbus was the first to spot the Cayman Islands during his fourth and final voyage in 1503. After noting there were so many turtles in the water that he could almost walk to shore on their shells, he named them Las Tortugas and promptly set sail again. Successive sailors arrived and swiftly departed, complaining about mosquitoes and a lack of anything to tempt settlers.
In 1586, Francis Drake called it a dreadful place with "great serpents called Caymanas, large like lizards" while the French confidently announced the islands weren't worth bothering with at all. Later renamed after the island's native crocodiles – the Spanish caiman stuck even when the archipelago came under British control in 1655 – Cayman was finally settled by a mix of deserters from Oliver Cromwell's army and retired pirates, before receiving its tax-free status from George III, after inhabitants rescued the crews of 10 British merchant ships that struck the reefs.
Today, around 100 nationalities live in Cayman, as the islands are usually collectively known (never "the Caymans"), but while the biggest cultural influences sometimes seem to come from the US and neighbouring Jamaica, Caymanians are hugely proud of their British roots. And despite banking's high profile, it's tourism that the economy depends on, with around two million visitors each year.
Many are drawn by the diving, which includes 100 shipwrecks that fell victim to the coral reefs. Perhaps the most fascinating is the USS Kittiwake, sunk deliberately a year ago to create an artificial reef after a drawn-out seven-year campaign involving the creation of new US export laws, ripping out tons of wire, and temporarily moving more than 300 conch from the seabed where it now rests. It's now one of Grand Cayman's most popular dive sites – and I discovered that the crystalline water also makes it perfect for snorkellers.
Floating several yards above the old deck, while shoals of silvery jacks congregate by the nose and zebra fish glide past me, I could spy tiny flashes of purple and yellow fish darting into the hiding places tucked away far below throughout the old ship. Small dots of coral have even started to grow on the hull as the sea reclaims it.
For a closer view of the multicoloured whirl of marine life, I headed for one of the boats that stop at the reefs on the edge of the 25,000ft Cayman Trench: meeting point of the Caribbean and North American tectonic plates. Rocks act as a barrier between the beginnings of the chasm outside and the sheltered channel where I snorkelled in the shallow corals, spotting everything from angel and parrot fish to neons and barracuda exploring the pristine coral.
Less welcome here are the lionfish, believed to have escaped from a Florida aquarium during a hurricane. Breeding voraciously in the Caribbean's warm waters and without any natural predators, they consume anything living on the reefs. So aggressive are the intruders that islanders have launched a special conservation campaign to cull the lionfish since first spotting them here in 2009. Strict Caymanian laws banning spearguns have been amended to allow trained divers to hunt them – with local restaurants training chefs to remove the venomous spines before adding the catch to their menus.
The real underwater highlight are the stingrays, which lurk in a shallow sandbar nearby, waiting for the rumble of boat engines that signal company and squid. More than a hundred rays congregate here at busy times, originally drawn to the spot decades ago by fishermen who would clean their nets away from the open water above the trench.
On the other side of the trench lie the "sister islands" – Little Cayman and Cayman Brac – linked to Grand Cayman by a compact Twin Otter plane, which flies back and forth across the 75-mile stretch of sea around six times a day. Having passed over Little Cayman, just 10 miles long and one mile wide and ringed in glorious turquoise, I landed in Cayman Brac. The whirr of propellers had been my only distraction from the extraordinary view below. Named after the Gaelic for "bluff", Cayman Brac is by far the most rugged of the three islands, with its own wild attractions. I headed to the westernmost tip, looking out to Little Cayman on the horizon.
Along the rocky lighthouse path, with sheer cliffs plunging down to the waves, I picked my way quietly towards the nesting sites of the endangered brown boobies, to avoid startling or disturbing them. Watching placidly, the birds seemed remarkably unconcerned about visitors near their eggs.
But it's Little Cayman, just six minutes away by the same island-hopping plane, which lays claim to being one of the last wild islands in the Caribbean. There's nothing resembling a proper airport here. Instead, passengers wait on two shady outdoor benches under a wooden sign announcing this is "Terminal A, Gate 1". There are just 150 residents and only one real village – plus around 1,500 rock iguanas, all of whom have right of way on the 25mph roads.
At times, there seemed to be so little traffic, I was lulled into thinking I had the place to myself as I free-wheeled along on my hired bike from Little Cayman Beach Resort, the largest on the island with all of 40 rooms. As well as iguanas, the island boasts the largest population of red-footed boobies in the Western Hemisphere, riding the thermals above the stretch of water known as the booby pond; there also is what some regard as the world's best diving site at Bloody Bay Wall.
But there's just one local bank – a sleepy place with a single new ATM – and not even the faintest suggestion of global money markets, or complex financial transactions behind closed doors. The islands' real riches are always on display: butterflies, fish, wild flowers...and those blue iguanas, basking in the sun.
Travel Essentials
Getting There
Heathrow-Grand Cayman with BA (0844 493 0787; ba.com); from £715.
Staying There
Grand Cayman Caribbean Club (001 800 941 1126; caribclub.com). Three-bedroom villas from US$699 (£466). Little Cayman Beach Resort (001 345 948 1033; littlecayman.com). Doubles from US$345 (£230), half board.
Visiting There
Cayman Islands Tourism: caymanislands.co.uk. Nature Cayman: 001 345 948 2222; itsyourstoexplore.com. For a new Cayman Islands guide, visit responsibletravel.com/caymanguide. Blue Iguana Tours at 11am daily except Sunday, CI$24 (£20) (001 345 947 9462; blueiguana.ky). Half-day tours with Ann Stafford from CI$240 (£200) for up to four people (001 345 925 2760; caymannature.ky). Half-day boat hire $550 (£366), Ezona's Aquatics (001 345 943 9662; ezonasaquatics.com).
Join our new commenting forum
Join thought-provoking conversations, follow other Independent readers and see their replies