Widescreen wonders: Arizona's 100 years of statehood

Show all 3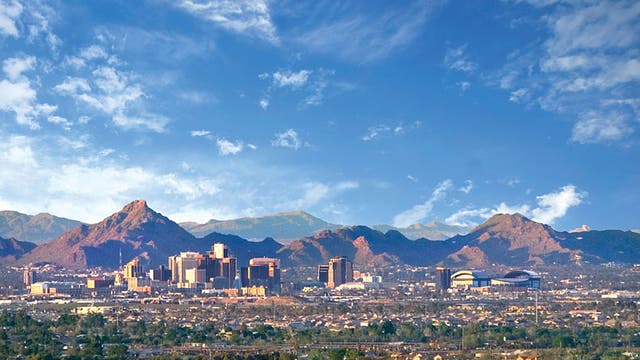 Widescreen wonders: Arizona's 100 years of statehood
The Grand Canyon State celebrates its centenary this week, but the cinematic drama of its iconic landscapes has a timeless appeal for travellers.
The Arizona Capitol knows its place in the world. Poised 17 blocks west of downtown Phoenix, it might be an extra from a cowboy film. Just outside its main entrance, a huge cactus – 15ft high, torso a muscular green – lifts arms in salute. And the building seems to respond, nodding back via a dome that, unlike those of its colleagues in New England, with their sleek marble masonry, is forged of copper – a metal that has long been cut from the ground of this rugged region. The only way to make the structure look any more in tune with the American West would be to drop a giant stetson on to its gleaming head.
And yet, if the Capitol could have made a sound on 14 February 1912, it would not have been a horseback holler. It would have been the soft click of a piece fitting into a jigsaw. Because it was on that day that Arizona settled into the groove as an official part of the USA – the 48th state, and the last nugget of the contiguous America to arrive at the party.
Not only did that long-passed Wednesday bring to an end an uncertain century that had seen Arizona tossed about like a chip at a saloon poker game. (Areas of it were, at times, absorbed into the colonial New Spain and the newly independent Mexico, before its southern half was bought as the "Territory of Arizona" by America for $10m in the Gadsden Purchase of 1853). It completed the outline of the planet's most famous country.
The next few days – and notably the precise anniversary this Tuesday – will see Arizona mark 100 years of statehood via everything from concerts in Phoenix to free entry at Grand Canyon National Park. But there is far more to its story than a week of ticker tape.
Because Arizona is a jigsaw piece. The sixth-biggest US state (after Alaska, Texas, California, Montana and New Mexico) is an Italy-sized expanse of often unforgiving terrain that acts as a bridge between conflicting elements of the North American continent: the golden dreams of California on its western flank; the gaudy glitter of Nevada, where Las Vegas lurks, to the north-west; the encroaching chill of mountainous Utah and Colorado above; the underpopulated shadows of New Mexico to the east; the oil wealth of Texas to the south-east; the tequila swirl of Mexico below.
Within its state lines, Arizona is no less diverse. Its mixture of geography throws up sand and scrub in the south, where the Sonoran Desert spreads out into Mexico; high contrast across its midriff, where the Mogollon Rim does jagged peaks and troughs; arid emptiness in its north-east, where the Colorado Plateau begins the long upward journey in search of the Rockies. And the whole recipe is marinated in imagery that recalls the semi-mythical dust of the Old West: ghost towns, Native American reservations, lonely highways, vistas that ebb to distant horizons. The realm of stars and stripes in wild glory.
At least, that's the theory. Because, idling on Washington Street in central Phoenix, I am struggling to find much of a soul in a city apparently still-born of glass and concrete – a rigid grid, block upon block lined with banks, offices, convention centres and car parks.
Not that I am expecting much. Arizona's capital is an American success story, rising from the flames of the desert around it to become one of the largest cities in the country. So much is clear as I fly in, the view from the plane showing a metropolis chewing greedily into the bare landscape on its fringes, spewing out identical suburbs and cubes of conurbation.
And yet, when I peer closely, I catch sight of slow-sprouting cultural shoots. The Heard Museum focuses on Arizona's indigenous context via everything from Havasupai and Navajo clothing to slabs of modern art by Hopi painter Dan Namingha, his Red-Tailed Hawk Katsina using slashes of colour to depict a bird of prey in flight. The Phoenix Art Museum, meanwhile, announces a collection that includes works by Monet and Rodin via a caged sculpture of a red-daubed Tyrannosaurus Rex, glaring at North Central Avenue.
Elsewhere, local flavour flourishes in eateries such as Matt's Big Breakfast – where diners queue around this squat brick shack to sample a menu that includes "the hog and chick" (a super-sized plate of bacon and eggs) – while Durant's, a popular steakhouse with a windowless speakeasy ambience, enjoys veteran status, having opened its doors in 1950. And the irony of Hanny's selling "depression-era martinis" for $5 in the shell of the former men's department store of the same name is surely not lost on the owners of this chic bar.
Yet if Phoenix is a totem of America's New West, all implausibly verdant golf courses and gated communities in the aspirational residential pocket of Scottsdale, then it is not difficult to unearth the older version. Interstate 10 sends me south, the desert reasserting its authority surprisingly quickly, heat haze toying with the road surface, 18-wheelers rumbling in the inside lane, low-slung trailer parks brooding on either side of the camber.
Southern Arizona sings of a bygone era. There is a hint of the theme park to Tombstone, where costumed gunslingers recreate the battles of Wyatt Earp and other Wild West icons on the site of the O.K. Corral – but this one-time mining town has scarcely outgrown the cluster of streets that were rush-built here in the silver boom of the 1880s. And the next town along, Bisbee, exudes a similar vibe five miles north of the Mexican border, its Copper Queen Mine preserved as tourist attraction alongside galleries and restaurants that have made it an oddly arty enclave. Café Roka serves a fine beef linguini, while Shady Dell makes eyes at the 1950s, proffering accommodation in vintage aluminium trailers.
Tucson, too, clings to the idea of the Old West, framed by the picturesque spikiness of Saguaro National Park and the Tucson Mountains. In the former, I am confronted by a forest of saguaro cacti – immense beasts that grow only in the Sonoran Desert, tall as houses, flinging out elongated shadows in the afternoon sun. In the latter, another cacti crowd scene plays out among ridges of rock, the road dislocating its spine to force a path through them. It falls at the feet of Old Tucson Studios, the cinematic outpost where more than 300 Western movies have been shot – including 1957's Gunfight at the OK Corral, 1976's The Outlaw Josey Wales and 1993's Tombstone. Still operational, the studios now cater to tourists wishing to stride in the boot-prints of John Wayne and Clint Eastwood.
This treasure trove of rickety jails, bars and churches represents a big-screen-burnished snap of the Old West. But the real thing lies just five miles away. Approaching from the north, I can see the Mission San Xavier holding its head above its dull orange setting, a whitewashed vision of Spain's incursion into the New World. Founded in 1692 (though the current building dates to 1783) in an attempt to convert the local Tohono O'odham tribe, here is the oldest surviving European structure in Arizona. It still reeks of the colonial era, religion and conquest mingling in its crude wooden saints and dark frescos.
Tucson itself, directly above, cannot compete on authenticity, the Presidio fort at its heart a reproduction of the 1775 original, which was demolished in 1918. But there is a quietly appealing atmosphere to this small city, its frontier location emphasised by a statue of the Mexican revolutionary Francisco "Pancho" Villa (donated, tongue presumably in cheek, by Mexico in 1981), whose guerrilla raids were a scourge on the area in the 1910s. Eatery La Cocina also acknowledges the proximity of the border in a menu heavy on Mexican cuisine, while the impressive Tucson Museum of Art skips back into another century with paintings that capture Western and Native American life. Clark Hulings's Eucalyptus Tree depicts an unnamed Arizona town circa 1900, all adobe walls and calm leafy shade.
Tucson was capital of the Territory of Arizona from 1867 to 1877 – but not the first town to hold the position. My plan to see its predecessor means a trip of 150 miles and many changes, Phoenix's bulk visible above the desert long before Interstate 10 nears its limits, the traffic clotted through the maw of the metropolis; Interstate 17 keen to climb as it hits the Mogollon Rim. Outside the evocatively titled Black Canyon City, gnarly cacti stand so close to the road as to be aggressive, menacing my car as I flick it west on to Route 69.
Prescott's time in the spotlight as Arizona's administrative hub was brief, a 13-year period split between 1864-1867 and 1877-1889 (after which Phoenix superseded). Yet, in some ways, this high-altitude town (it sits at 5,368ft) has not moved on from those halcyon days. Its streets still fan out around the emblem of authority that is Courthouse Square – even if the town's traditional source of unruly behaviour runs along the plaza's left flank. Whiskey Row was one of the Old West's most notorious saloon strips, a zone of cheap liquor and flying bullets. The modern world has dimmed its fire, but the 19th century still haunts the Palace, a drinking den whose swinging doors and long, varnished bar are unrepentant phantoms. Presciently, the US flag that hangs in a corner has a mere 48 stars.
There are further fragments of the Old West as I continue north, Route 89A dispensing clichés as the wind spits tumbleweed across the Tarmac. Jerome, another ex-ghost town revitalised by tourism, perches on its hillside, its main landmark, the Grand Hotel, staring down the slope. Reputedly riddled with ghosts of its own, the hotel trades on its back-tale as a hospital for tortured souls (with "ghost tours" on Tuesday and Thursdays) – though there is nothing spooky to the pork tenderloin that I eat in its lauded Asylum restaurant.
Further along Route 89A, Sedona does a pretty, perfumed take on the wilderness, spas and pricey boutiques trapped among the dramatically beautiful red rock formations that have made it a holiday hotspot. Flagstaff, on the other hand, is delightfully unpretentious, a university town packed with loud bars and doused in rolling thunder every few minutes by mile-long freight trains – the new metal horses of the West – as they lumber through.
From here, it would be simple to foray north on Route 64, seeking the Grand Canyon. But I am intent on glimpsing Arizona's second-most celebrated geological show-stopper. The journey to Monument Valley – squished so firmly into the north-east corner of the state that the dividing line with Utah runs through it – requires hard hours behind the wheel, Routes 89, 160 and 163 demanding my focus for 200 unrelentingly barren miles.
I pull up in darkness, grateful for the refuge provided by Goulding's Lodge. But when I open the curtains the next day, the panorama outside is instantly recognisable – an A-list cast of sandstone monoliths resplendent in the dawn glow. Over a morning's touring, they are all there – the gangly trio of the Three Sisters, the gargantuan bulk of Sentinel Mesa and Merrick Butte, the fat body of Big Indian, the bumpy steeple of the Totem Pole, the separated hands of Left and Right Mitten, thumbs perpetually aloft in craggy exuberance.
These solid superstars were carved by glacial erosion – but owe their timeless familiarity to Hollywood. Legend has it that Harry Goulding, who founded Goulding's as a trading post in 1928, travelled to Los Angeles during the Depression, hoping to draw movie-makers to the area's amazing shapes. The result was a series of films – not least classics She Wore a Yellow Ribbon, The Searchers and Stagecoach, all starring John Wayne – that would cement Monument Valley as the indisputable symbol of the American West.
Gazing at Right Mitten, I can't help thinking that, unflinching and imperious, Monument Valley would surely not care a jot for silver-screen fame. And equally, that had its buttes made a sound on 14 February 1912, it would have been a combined snort of derision at anything so minor as a border realignment affecting their zip code. But then, 100 years on, America could not be America without their – or Arizona's – serrated-edge grandeur.
Travel essentials: Arizona
Getting there
* British Airways (0844 493 0787; ba.com) flies non-stop from Heathrow to Phoenix daily except Wednesday. Alternatively you can fly via a wide range of North American cities on airlines such as American, Delta, United, US Airways and Air Canada.
Touring there
* A 13-day Colourful Canyons & Deserts road trip through Timeless Travel (0844 809 4299; timelesstravel.co.uk) features Tombstone, Tucson and the Grand Canyon. Prices from £1,585, including BA flights, car hire and accommodation.
Staying there
* Goulding's Lodge, Monument Valley (001 435 727 3231; gouldings.com). Doubles from $78 (£52).
* Jerome Grand Hotel, Jerome (001 928 634 8200; jeromegrandhotel.com). Doubles start at $120 (£80), including breakfast.
* Red Feather Lodge, Tusayan (001 928 638 2414; redfeatherlodge.com). Doubles from $76 (£51).
* Shady Dell, Bisbee (001 520 432 3567; theshadydell.com). From $97 (£65).
* Sheraton Phoenix Downtown, Phoenix (001 602 262 2500; sheraton phoenixdowntown.com). Doubles from $282 (£188).
* Springhill Suites, Prescott (001 928 776 0998; marriott.com). Doubles start at $100 (£67), including breakfast.
* Westward Look Resort, Tucson (001 520 297 1151; westwardlook.com). Doubles from $226 (£151).
Visiting there
* Copper Queen Mine (001 520 432 2071; queenmine tour.com); $13 (£8.70).
* Grand Canyon National Park (001 928 638 7888; nps.gov/grca); $25 (£16.70).
* Heard Museum, Phoenix (001 602 252 8840; heard.org); $15 (£10).
* Mission San Xavier, Tucson (001 520 294 2624; sanxaviermission.org); free.
* Monument Valley Navajo Tribal Park (001 435 727 5870; navajonationparks. org); $5 (£3.30).
* O.K. Corral, Tombstone (001 520 457 3456; ok-corral.com); $12 (£8).
* Old Tucson Studios, Tucson (001 520 883 0100; oldtucson.com); $17 (£11.30).
* Phoenix Art Museum, (001 602 257 1222; phxart.org); $12 (£8).
* Saguaro National Park, Tucson (001 520 733 5153; nps.gov/sagu); $10 (£6.70).
* Museum of Art, Tucson (001 520 624 2333; bity.ly/tucmoa); $8 (£5.30).
More information
* Arizona Tourism: 001 866 275 5816; arizonaguide.com
* Arizona Centennial: az100years.org
Join our new commenting forum
Join thought-provoking conversations, follow other Independent readers and see their replies