The Independent's journalism is supported by our readers. When you purchase through links on our site, we may earn commission.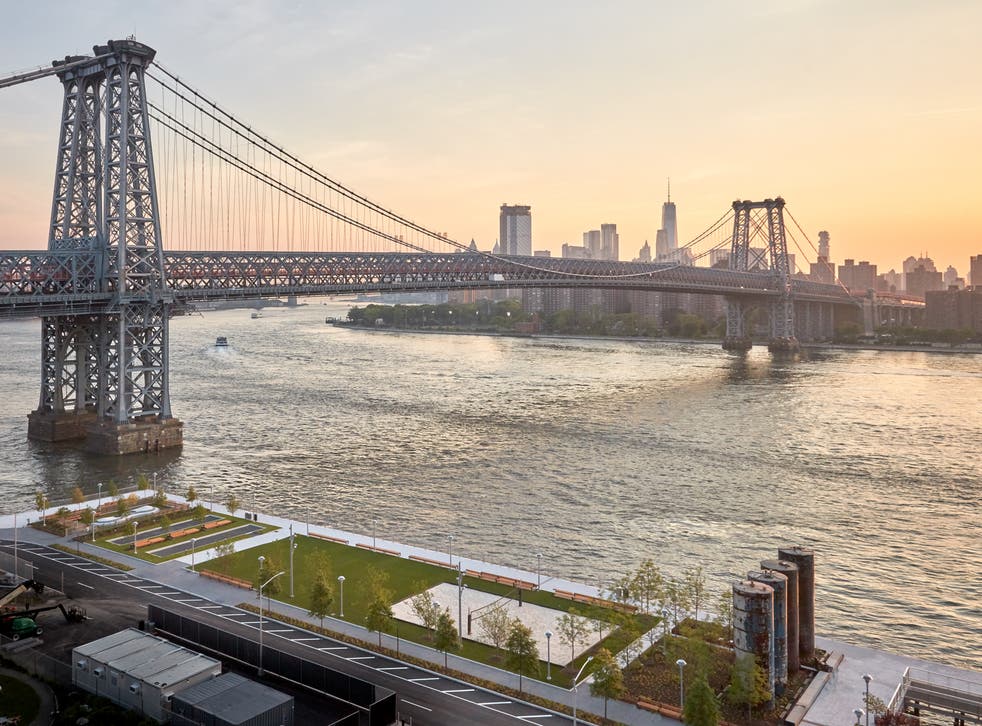 Williamsburg is still the coolest New York neighbourhood – this is why
A grown-up weekend in Williamsburg? It's possible, finds Cathy Adams
I stayed in Bushwick in deepest Brooklyn this summer. It still felt a little sketchy late at night, although there was the usual hipster creep: super-fun, bulb-lit bar Carmelo's on DeKalb Avenue, Milk & Pull coffee on Irving Street. The Bushwick Collective (what even is a collective?) was a ramshackle scrapyard turned alfresco bar, art and games outfit on Troutman Street. I went to next-door upmarket fish restaurant Sea Wolf and stared down some graffiti while drinking frosé – the frozen cocktail.
Bushwick is so hip it even has a truncated nickname: 'Schwick. Ugh. As a 32-year-old who likes sitting down and going to bed at 10pm, I felt 109 years old.
It's probably how I'd have felt in Williamsburg a decade ago. This neighbourhood, on the East River, was one of the first to kickstart Brooklyn's metamorphosis from gritty to glam, attracting a bunch of Manhattanites across the Williamsburg Bridge for its cheaper rents and bigger spaces. Since November 2012, median home prices have jumped from $575,000 to almost $900,000 in September 2018, according to real estate firm Zillow. Neither bohemians nor hipsters live here any longer: they can't afford it.
Unfortunately for them, I'm going to say that Williamsburg has lost none of its cool points to neighbourhoods further down the L train line. Sorry. It's morphed into a sort of relaxed, adult kind of cool, perfect for those in the upper millennial age bracket.
Here's how to spend a grown-up weekend in Williamsburg.
Where to hang
Geographically, Williamsburg has much on its side. It faces the East River, overlooking the bombastic skyscrapers of midtown Manhattan. The streets are clean and wide, pounded by joggers, young families and dog walkers (I stalked a great dane/dalmatian cross down Wythe Avenue one morning).
The groomed Domino Park (complete with taco shack and morning zumba classes) and East River Park – with its blink-and-you'll-miss-it beach and Saturday food market, Smorgasburg – make for a blissed-out neighbourhood feel. Hipster ground zero is Bedford Avenue, a zingy stretch that combines vintage stores (try Awoke Vintage for a curated shopping experience), taquerias and dingy little dive bars begging for a visit.
Plus: the East River. When the L train shuts down next spring, Williamsburg residents have the option of nipping across the Williamsburg Bridge to the Lower East Side, or, far more quixotically and New York-y, commuting by ferry. The NYC Ferry system is still reasonably new, and the short bob from Williamsburg to Brooklyn's Dumbo/Downtown is genuinely one of the loveliest ways to spend an afternoon and see the city in a whole different way.
The district has been given a shot in the arm with the opening of the Hoxton, the Shoreditch import owned by property developer Ennismore, on almost-riverfront Wythe Avenue. The lifestyle hotel, on the site of a former water tank factory, and the characterful brand's only foray into America (before Portland, Oregon, follows later this month), has all the accoutrements popular with the trend set: rooftop bar, Summerly, with killer views across to eastern Manhattan (tick); comfy living room-like lobby decked out in millennial pink and soft mustard (tick); and sexy hotel staff in starched white shirts and cool trainers (tick). Rooms are cosy (ask for an East River facing one to wake up to views of the Lower East Side) but since you'll be spending all your time on the rooftop or in the downstairs lounge, does it really matter?
"The team travel the globe looking for places we like to hang out in and New York has always been in our sights, we love its energy," says Sharan Pasricha, founder of Ennismore, which owns the Hoxton hotel brand. "The key was to find a neighbourhood where The Hoxton could put down roots and we found that on Wythe Avenue. In many ways, Williamsburg has the same creative spirit and sense of community as Shoreditch, where we first opened our doors in 2006, with its exciting restaurant scene, buzzy bars and independent stores."
The Hoxton, three years in the making, had some serious competition along Wythe Avenue.
Opposite the Hoxton is the Williamsburg Hotel (complete with rooftop water tower that's being developed into a bar), while further down is the Wythe and the William Vale, known for its swaggering, 60ft rooftop pool. (One journalist I met in Williamsburg told me her friends were hanging out on the roof all summer. Well, I'm not surprised.)
I checked into this vertical, girdered palace one hot September night to check out the views. Even from my room on the 22nd floor (complete with generous rectangle balcony facing the Williamsburg Bridge) the view is Imax-wide and the stuff of Brooklyn bucket lists. In fact, I'll go so far as to say it's got the best views in the entire district, while inside a geometric-meets-sunglasses-bright-white feels like I'm in a very cutting-edge nightclub. (And if you can't stay, visit the southern Italian restaurant Leuca, on the ground floor: there is a slightly more grown-up feel, with belly-warming dishes such as whole chicken slathered with salsa verde and bouncy octopus; or the rooftop patio Westlight.)
Eat and drink
Where to brunch? There's Sunday in Brooklyn, an irreverent spot where the menu has a French bulldog on the front and the 3D pancakes are so indulgent we them ordered for Instagram only. Then there's Cafe Colette, one block down from the Hoxton, which has a handful of metal tables outside that are consistently packed. Palm fronds and wooden stools inside give it a slightly tropical vibe – although the chocolate French toast and poached eggs are definitely home-comfort hangover food. Brooklyn favourite Five Leaves, on the north corner of McCarren Park, has a laid-back Aussie feel – come early at the weekend or risk waiting an hour for your eggs and bottomless coffee.
In Williamsburg on a Saturday? The sprawling Smorgasburg market in the East River Park has 100 vendors selling Instafamous dishes like the ramen burger (two clusters of noodles make up the bun, with a fat patty in the middle flavoured with coriander and soy); the lobster nest, a whole lobster on a bed of garlic noodles; or Japanese shaved ice.
And drinking, which, in Williamsburg, you'll definitely be doing. That could be hitting the primary coloured bowling lanes of Brooklyn Bowl (according to one unnamed source: "full of youths hooking up") and drinking pints (pints!) of margarita; drinking a craft cocktail at Hotel Delmano; or just banging back the sundowners at Summerly on the Hoxton's roof before a lazy dinner at buzzy Klein's downstairs.
Brooklyn Brewery just off Wythe Avenue galvanised the local beer scene and today is still as rough and tumble as when it first opened (plus, most bars and pubs in the neighbourhood loyally serve its beers). Brewery Berry Park, opposite McCarren Park, has a quiet rooftop and great happy hour deals on beer.
And that new NYC Ferry service? It has margaritas on tap, which definitely won't end up down your front the moment the ferry pulls away. And really, what could be more grown-up than that?
Getting there
Virgin Atlantic offers up to eight flights per day between London Heathrow and New York JFK, with fares starting from £320 for travel this winter, including taxes and fees.
Staying there
Rooms at The Hoxton start from $159 plus taxes, which includes a daily breakfast bag.
The William Vale has rooms from $445 a night plus tax. The hotel is offering a Fall Retreat package, which gives 10 per cent off your stay plus a swag bag worth $250 (valid until 1 December).
Visiting there
For more information, visit nycgo.com
Register for free to continue reading
Registration is a free and easy way to support our truly independent journalism
By registering, you will also enjoy limited access to Premium articles, exclusive newsletters, commenting, and virtual events with our leading journalists
Already have an account? sign in
Register for free to continue reading
Registration is a free and easy way to support our truly independent journalism
By registering, you will also enjoy limited access to Premium articles, exclusive newsletters, commenting, and virtual events with our leading journalists
Already have an account? sign in
Join our new commenting forum
Join thought-provoking conversations, follow other Independent readers and see their replies