The Independent's journalism is supported by our readers. When you purchase through links on our site, we may earn commission.
Chongqing's infamous spicy hotpot: What it tastes like and where you can get it
Sichuan province is known for its hot food, and Chongqing is known as the spice centre of Sichuan. Cathy Adams braves the signature dish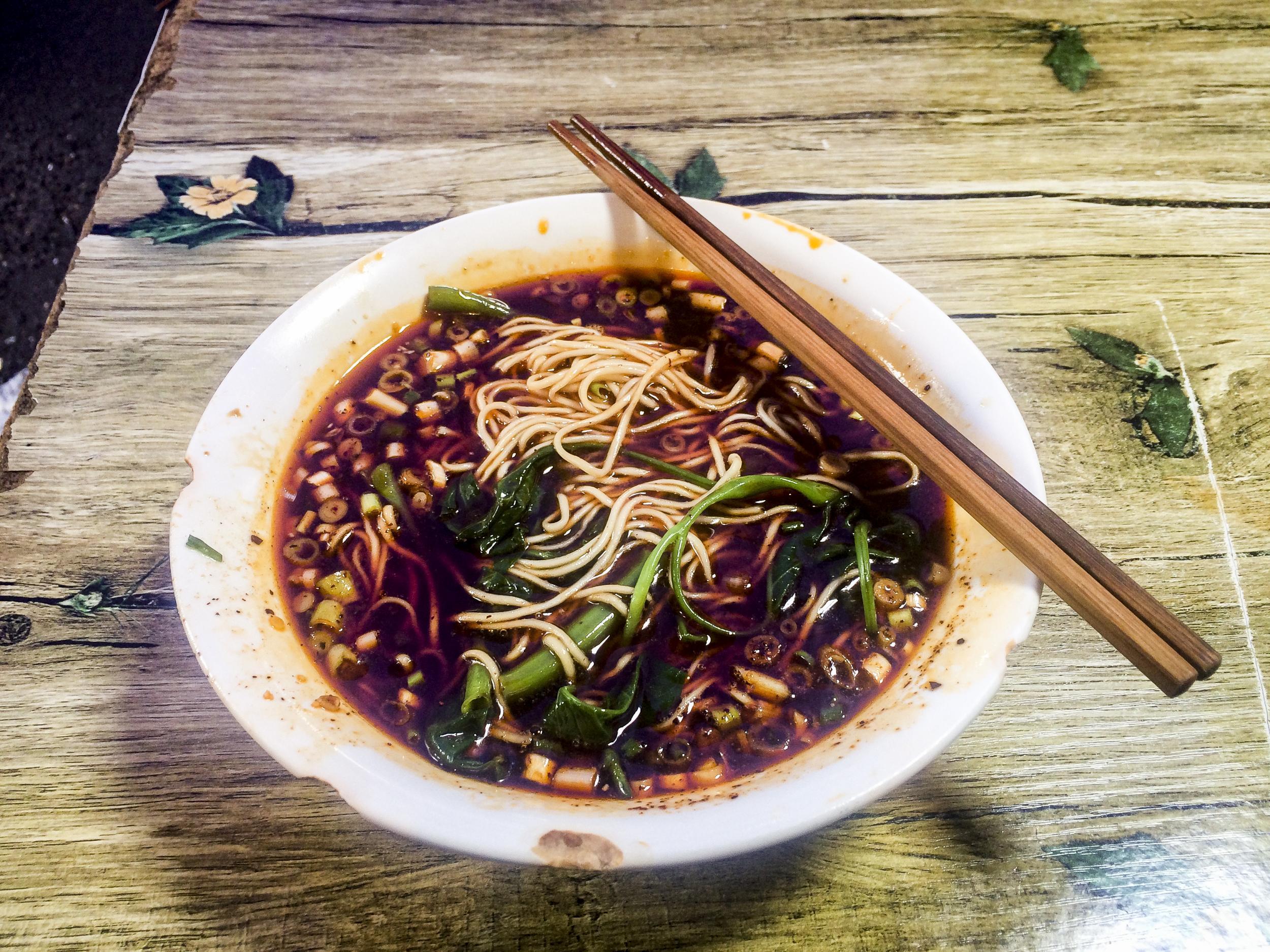 Here are a few things you need to know about Chongqing in south-west China.
First, it's the largest city on earth. Some 37 million people live in its urban area, and that's growing by a couple of per cent every year.
Second, the city looks like the future. Built around the meeting point of the Yangtze and Jialing Rivers, Chongqing has 105 buildings over 150m tall (with 27 more in construction – it's the fastest growing city in China). For context, London has just 17 of them. Looking back at the skyline from the Yangtze River Cableway, Chongqing looks a bit like New York. Honestly.
Third, this city is also one of the world's hottest. During summer, it's rightfully known as the oven of China (I visited in August and can vouch that Chongqing deserves most of its superlatives).
The nickname also extends to its cuisine. This little-known megalopolis is the birthplace – and spiritual home – of the fieriest Sichuan mala hotpot (huo guo in Mandarin) in the world. According to some estimates, there are more than 50,000 hotpot restaurants in China's aptly named "Hotpot City".
Walk around Chongqing's downtown Jiefangbei business district and you'll notice every other shopfront has a neon flame on it and a sack of chillis by the door. Chongqing takes its hotpot seriously; it's built into the very fabric of what this city is.
"Hotpot is an institution," Jordan Porter, from Chengdu Food Tours, tells me. Where to eat it? "Look for a restaurant with a big atmosphere." It's good advice – in a city with thousands of choices, it's almost impossible to rank one over the other.
Which is how I find myself at very local hotpot restaurant Lin Jiang Men in downtown Chongqing​, facing down a menu entirely in Chinese and without a single English speaker in the restaurant.
With hotpot, the first step is to choose the base: a clear broth, spicy chilli oil broth, or half and half. I choose the nine-section spicy red oil soup, which comes bubbling with beef lard, industrial quantities of Sichuan peppercorns and every other kind of spice the restaurant can get their hands on (usually cardamom, MSG, fennel and star anise).
Ever wondered why your tongue fizzes and goes numb after eating Sichuan peppercorns? That's thanks to small amounts of a molecule called hydroxy alpha sanshool, which produces an effect much like a mild electric current, according to food author Harold McGee.
Next into the hotpot goes pretty much anything. Local specialities include duck intestine and Chinese sausage, bright red with pig's blood, though there are also more prosaic options like fried tofu, crunchy lotus root and strips of rare beef. The process is simple: throw them in and wait for them to cook. When they're ready (they float to the top of the broth when done), yank them out and dip into a saucer of sesame oil, coriander and ginger to cool off.
As Chongqing forges into the future, hotpot remains much the same as it was hundreds of years ago when the dish migrated south from Mongolia. The nine-section format – still the most popular soup, judging from my neighbours in Lin Jiang Men – is a hangover from the origins of the dish. Villagers would sit around outside and throw things into the broth, and the more sections there were, the more people could join for dinner. The community aspect of hotpot hasn't changed today.
In Chongqing, hotpot isn't just a meal; it's both a noun and a verb. It's a time for interaction: doing business, celebrating a birthday or anniversary, or just an excuse to sit down and talk as a family. In Lin Jiang Men, I'm surrounded by families and groups of friends, all laughing and haggling over whatever innards they're pulling out of the steamy broth. Nobody's in a hurry and nobody's Instagramming their dinner – the hotpot is the social platform itself.
"Hotpot is the party," says Porter. "It's the main event." Or, at least, it is for tonight. Tomorrow, my insides – currently humming with 100,000 Scoville heat units – might think differently.
How to hotpot
Hotpot is a celebration. Find a busy restaurant where the locals are chugging plenty of Chongqing Beer and laughing at some reality show on a big-screen TV.
You'll be asked a series of questions when you walk into a hotpot joint: the type of broth, the level of heat and what kind of oil you want. If you can't speak Chinese, walk around the restaurant and point to what other people are eating.
Avoid eating in the touristy areas of Chongqing like Hong Ya Dong (home to the Hongya caves). The quality isn't going to match a reliable local spot. Ask your hotel for recommendations.
Order lots and lots of weak beer (Snow or Chongqing's own brand) to cool off. In Sichuan, it's usually drunk out of mini glasses or flat ceramic bowls.
Wear clothes that you don't mind getting dirty. For hotpot beginners, it's impossible to avoid being spattered with red-hot oil. Even better, wear an apron.
Take your time. This is a slow food experience.
Want more spice? If your guts can handle it, try Chongqing's signature noodle dish, xiaomian, which is spicier than its widely known Chengdu counterpart dandanmian. You can find a cheap bowl, swimming in chilli oil, spring onion and coriander, down most city backstreets.
Travel essentials
Getting there
Tianjin Airlines flies direct from London Gatwick to Chongqing twice a week, from around £420 return.
Staying there
The Regent Chongqing, which opened last year, is a well-located hotel with killer views over the Jialing River and the downtown skyscrapers. Doubles from RMB 1,385 (£160), B&B.
More information
Chengdu Food Tours offer foodie tours of Chendgu from 400RMB (£45), and can arrange bespoke Chongqing tours (price on request).
You'll find Lin Jiang Men on Ba Yi Lu Road. Hot pot costs about £8-10 per person.
Join our commenting forum
Join thought-provoking conversations, follow other Independent readers and see their replies