The Independent's journalism is supported by our readers. When you purchase through links on our site, we may earn commission.
New Delhi guide: The top things to do, see, eat and drink in India's capital
Here's how to get the most out of a trip to New Delhi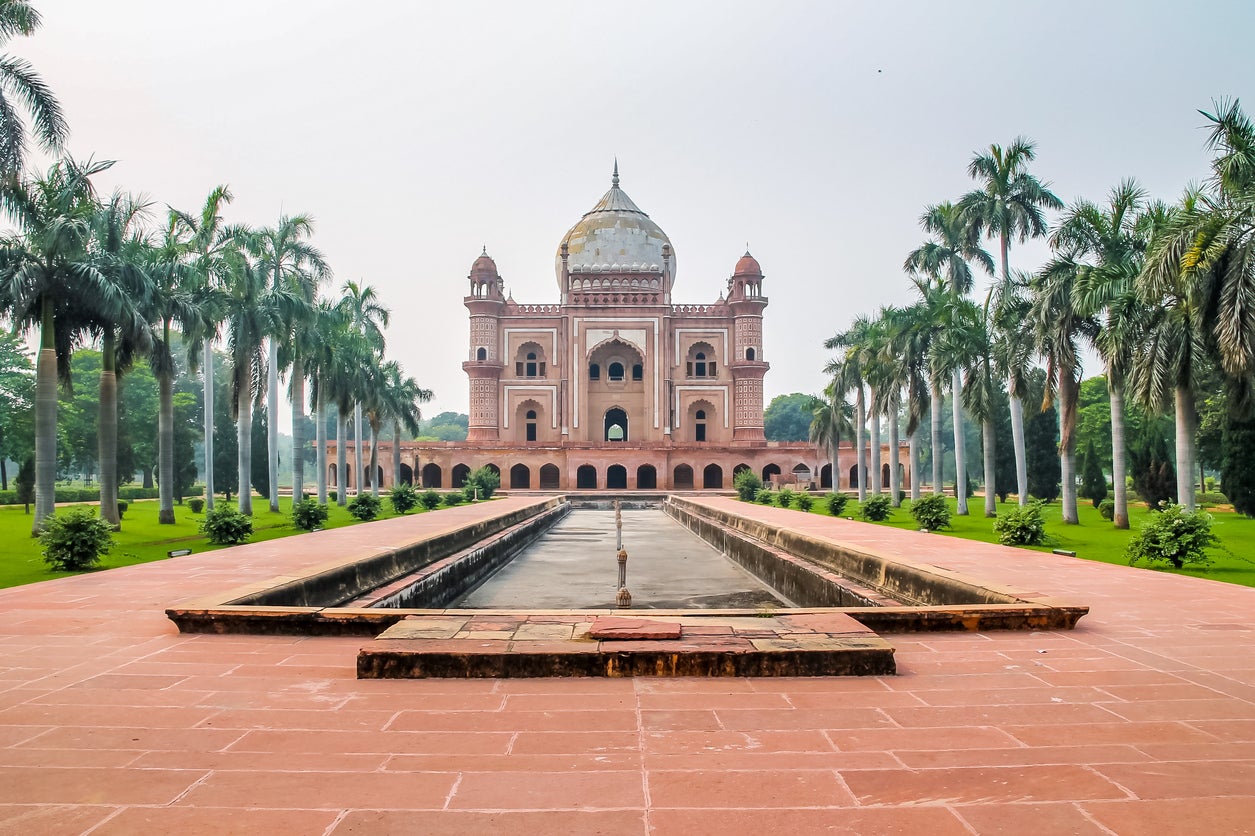 Tourists don't usually stop long in New Delhi, continuing on to the Taj Mahal just four hours away, or Varanasi a little further to the east. But the Indian capital is having a moment. With world-class restaurants opening, luxury hotels popping up and a burgeoning creative scene, it's definitely worth a few days of your time. Sample the lauded local cuisine, soak up the atmosphere of timeless Old Delhi, and visit trendy zones in the south; with India having just marked its 70th anniversary since independence, there are also dozens of museums and monuments with which to get your history fix.
What to do
New Delhi is a melting pot of ethnicities and religions – check out the impressive array of spiritual buildings it has to offer. Near to Gurudwara Bangla Sahib you'll find the Sacred Heart Cathedral, as well as a couple of historic Hindu temples. Meanwhile, 4km away is Jama Masjid, a glorious, terracotta-coloured mosque; it's one of the most important in India, and a haven from the surrounding chaos of Old Delhi. The mighty 17th-century Red Fort is also just around the corner.
Towards the southeastern edge of the city is the jaw-dropping Humayun's Tomb, a Unesco World Heritage Site. Built in 1570 for a Mughal emperor, this beautiful palatial tomb was the first ever garden-tomb on the Indian subcontinent. If you think it looks similar to the Taj Mahal, then you're not wrong; the tomb is said to have inspired a number of India's architectural wonders, including the famous Taj Mahal. The gardens surrounding the grand mausoleum buildings are ample, well manicured and full of hulking trees – ideal for an afternoon stroll.
Gandhi Smitri (gandhismriti.gov.in) is an immaculate but unostentatious house-museum where Gandhi spent the final months of his life, praying and hosting important visitors. He was assassinated here in 1948. Photos and text on the walls explain Gandhi's philosophy and the history of Indian independence, while a series of figurines depict important scenes from his life until his death.
Architectural highlight: Safdarjung Tomb is a jaw-dropping 18th-century late Mughal-style mausoleum made from sandstone and marble.
Where to stay
Situated in an atypical part of New Delhi (in that it's green and relatively tranquil), Leela Palace is one of the most luxurious hotels in the city. It has three fantastic restaurants, a rooftop pool and exceptional service. Doubles from Rs18,000 (£209), room only.
Based in the heart of frantic Old Delhi, Haveli Dharampura shields you from the din while offering an authentic experience. The historic house dates back to 1887, and has been painstakingly restored. Doubles from Rs13,000 (£150), B&B.
Where to eat
Gurudwara Bangla Sahib is one of the most important Sikh temples in India, with a giant golden dome and a pretty pool. Take off your shoes and cover your hair, then feel free to wander the temple, listening to the religious music in the main hall. Finally, queue up for your delicious free meal – a traditional feature in Sikh temples.
Leela Palace's Jamawar is one of the best Indian cuisine restaurants in the city. Seated in a romantic alcove with high ceilings and the most elegant table service, you'll have a night to remember. Order the creamy butter chicken, said to have been invented in Delhi. And for something different, try the gucchi mattar masala – sautéed Kashmiri morels and peas in a cashew-flavoured sauce.
Indian Accent (indianaccent.com) is the country's only restaurant to have featured in the World's 50 Best Restaurants, which it did in 2015, 2016 and 2017 (it has now moved to The Lodhi, a luxury hotel east of the city centre). Traditional cuisine it is not, but embracing the chef's experimental approach is well worth it. Opt for the six-course tasting menu for a real culinary odyssey. Highlights include the creamy black lentil dhal and the curried pulled-pork tacos – on roti instead of tortilla. The tandoori prawns are also unforgettable.
Buried deep within Old Delhi, Haveli Dharampura is a traditional house in the late-Mughal style, with galleries overlooking an interior courtyard. Having been lovingly restored to its former 19th-century glory and recast as a hotel, it also has a magnificent restaurant, Lakhori (havelidharampura.com/lakhori), beloved of guests and locals alike. The palak patta chaat is astonishingly tasty for such a simple-seeming dish – crispy spinach fritters topped with green chutney, spiced yoghurt and pomegranate seeds. Follow up with the sizzling mutton korma, accompanied by a tastebud-dazzling mocktail.
Where to drink
The trendiest neighbourhood in New Delhi right now is Haus Khas, situated to the south of the city. Frequented by artists and creatives, it buzzes with hip bars, music venues and cafes – indeed, coffee is overtaking chai in this particular neighbourhood. Have a cocktail at the Social (socialoffline.in), an urban-chic spot with reclaimed furniture and exposed brick.
Meanwhile, visit TLR Café (31 Hauz Khas Village, second floor) for its range of curious Indian wines, as well as regular live music.
Where to shop
Delhi is full of local shops and markets selling traditional crafts and clothing. Often, though, browsing can be stressful, as owners remorselessly hawk their wares. For those wanting a more straightforward shopping experience, the atmosphere in the interior market of Central Cottage Industries Emporium (cottageemporium.in) is relatively laidback and, crucially, prices are fixed. Get your carpets, jewellery, saris and other textiles here. It's a government-supported market backing traditional artisans, so you're guaranteed a quality product.
Essentials
Cheapest time to fly
Currency: Indian Rupee – there are currently around Rs86 to £1.
Language: Hindi is the official language, which is spoken by the majority of the population. However, English is also very common, especially in tourist areas and business districts.
Tipping: For small meals or snacks where the bill is less than Rs300 (£3.50), a tip of 10 per cent is appropriate. For bills between Rs300 and Rs1,000 (£12), tip from 7 to 10 per cent. For bills of more than Rs1,000, tipping between 5 and 7 per cent is fine. However, some New Delhi restaurants add on a service charge, in which case no tip is expected.
Time difference: New Delhi is five hours ahead of GMT.
Flight time from the UK: Direct flights from Heathrow take from eight hours and 10 minutes.
Public transport: It's easy to flag down a taxi – vehicles pull over every few seconds to offer tourists a lift. It might not be the best way to get around, but for an authentic experience take a tuk-tuk (although the three-wheeled drive to Old Delhi means traversing the most chaotic roads you've ever seen).
Insider tip: Avoid going from the end of May to the end of July – this is monsoon season, when humidity is high and rainstorms frequent.
Join our commenting forum
Join thought-provoking conversations, follow other Independent readers and see their replies