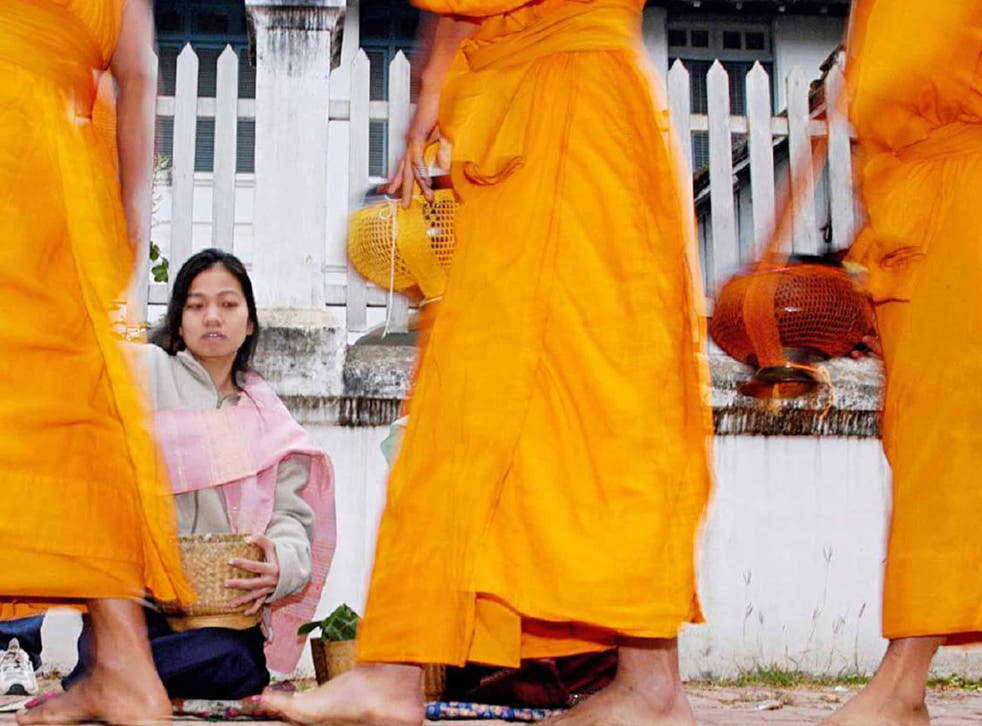 Laos trek: Hiking in remote mountain villages is still possible despite the tourism boom
Visitor numbers are rising fast in this communist relic, but a sensitive balance is critical, says Darren Loucaides
The steps of the gold-tipped temple at the summit of Mount Phousi are thronged with tourists taking selfies. Beyond their grins, the sun is blazing out over the Mekong River. If this 150m pinnacle seems busy, it's nothing compared to the Unesco-protected centre of Luang Prabang below, where the popular night market is unfolding next to the Royal Palace. And yet, from up here, Laos's second city seems little more than a patchwork of red-brown rooftops struggling against rampant trees, almost indistinguishable from jungle. If abandoned, I suppose, Luang Prabang would be swallowed whole in less than a century.
"Laos needs everything," says Alex Robb-Millar, who runs the Luang Prabang-based tour company, White Elephant Adventures. "Roads, healthcare, education – there's a long way to go." Of course, the slow pace of life is part of the charm of Lao PDR (People's Democratic Republic, or "Please Don't Rush", as some put it). Yet economic reforms have begun to quicken the pulse of the communist relic, South-east Asia's poorest nation. Aside from building roads, the government signed a deal in March for a high-speed Sino-Thai railway to cut through the country. Laos also joined the World Trade Organisation in 2013 and is to join the Asean Economic Community this year.
And then there's the tourism boom, with visitors expected to almost triple to 10 million in the next five years. There's little sign of it, however, in the remote mountain villages that I visit during a challenging three-day trek some 60km from Luang Prabang.
Led by a White Elephant Adventures guide, Suo Kao, we reach the first village after paddling across the Nam Xuang river, then hiking for five hours through jungle, rice paddies and over verdant hilltops. This village is relatively large, with more than 300 inhabitants plus some 300 children from more isolated communities who attend the school. Many sleep in simple huts they build themselves, and are at the mercy of heavy rain and dangerous insects. The Community Learning International NGO, of which Alex is founder and CEO, is hoping to build safer concrete dormitories soon.
When we arrive, school's out, and the children are engrossed in kataw (similar to football tennis) and a vast football match. After a tense round of penalties, several children approach to practise their English. Like Suo Kao, villagers are ethnic Hmong, and speak a different language to the Lao people. Unlike the Buddhist Lao, Hmong are animists. Their life is one of subsistence; growing rice and raising animals. In my homestay, there's neither electricity nor running water, but I sleep soundly and wake at dawn to a cacophony of roosters and pigs.
Later, we hike to two Khmu villages. While the Hmong stick to the ground, Khmu houses are raised on stilts. They speak yet another language, are generally darker, and have a taste for Lao whisky (a potent rice wine). They are Laos' original inhabitants – the Hmong and Lao were historically migrants from South China.
As one of the last preserves of pre-modern Asian life, Laos is home to more than 150 distinct ethnic groups, but overdependence on tourism could spell disaster. White Elephant Adventures claims to be the only company visiting far-flung communities, as most opt for the more accessible villages between the city and the waterfalls of Kuang Si. One well-known Hmong village has been largely re-oriented to cater for visitors. "They put on traditional clothes every morning and wait for the tourists," says Alex.
Ten per cent of the money from a trek with Alex goes to the villagers and impact is kept to a minimum. Tour groups are small and they are told strictly not to give the people anything. "If you want to help, I recommend donating to the NGO – so that we can build new schools, new dormitories," Alex says. "The people can't rely on handouts." There are also no staged performances.
After day two – crossing countless streams, climbing sheer jungle paths on a carpet of leaves, and finally topping a mountain – we discover the remotest settlement of all. Stowed 1,000m up, the village of a dozen families feels like the edge of the world. We've seen no one for hours. The solitary old man we find up here says his neighbours are working the rice fields and won't be back tonight.
I watch the sun fall over rugged peaks melting into mist and peachy twilight before dining on vegetables with noodles, washed down with "whisky". Digs are in a creaking wooden barn, temporarily vacant.
After a forgiving three-hour descent in the morning and a dip in Nam Xuang's greenish currents that's as refreshing as any spa, Suo Kao informs us we're making a quick pit-stop on our way back to Luang Prabang. We hop out of the pick-up truck and squeeze through a crowd eating on the porch of a house. Inside, a man plays the khaen, a large instrument of bamboo pipes, while another solemnly pounds a drum. Then I notice it. A corpse in the corner, watched over by three women – and a shaman. We are welcomed like friends, but this is a sombre affair. For three or four days, the family and shaman keep vigil until the dead man's spirit is guided home.
After my break from urban civilisation, it feels strange to be back in Luang Prabang. "When I first came here 12 years ago," says Alex back at the tour office, "the nearest cash machine was in Vientiane" – a 10-hour drive. The city has changed a lot. The centre is full of restaurants, hotels and tour companies. But it hasn't yet lost its identity. I find myself one afternoon in a busy food market that's been in Luang Prabang for decades. In the middle of it, I turn right and suddenly all is silent; chance has led me into a monastery. Every morning at dawn, orange-robed monks walk in procession from here – and various other temples including the one atop Mount Phousi – to the main street for the alms-giving ceremony.
This centuries-old tradition sees people kneel along the side of the road to spoon rice into the monks' bowls. There are polite signs everywhere instructing visitors how to comport themselves. But when the first monks arrive, a mob of tourists rushes over, pointing cameras in faces. It's a snapshot of the balancing act Laos faces. Tourism can bring great benefits, but if not handled carefully, much will be lost.
Getting there
Darren Loucaides flew from Heathrow to Luang Prabang via Hanoi with Vietnam Airlines (020 3263 2062; vietnamairlines.com).
Visiting there
White Elephant Adventures (00 856 30 514 0243; white-elephant-adventures-laos.com) offers various trips in the Luang Prabang area. Despite the name, the only elephants they promote are at the Elephant Conservation Centre – no rides are offered.
Selective Asia (01273 670001; selectiveasia.com) offers 11-day tours of Laos for £1,527 including B&B accommodation, but not flights.
Staying there
Belmond Résidence Phou Vao (00 856 71 212530; belmond.com) in Luang Prabang has vast suites that start at $375 (£250) a night.
More information
Laos Tourist Board (00 856 21 212251; tourismlaos.org).Community Learning International (communitylearninginternational.org).
Join our new commenting forum
Join thought-provoking conversations, follow other Independent readers and see their replies