Drinking matcha in Japan: Why the roots of this Instagram favourite run deeper than you think
A trip to Uji and Kyoto can open your eyes to the wonders of going green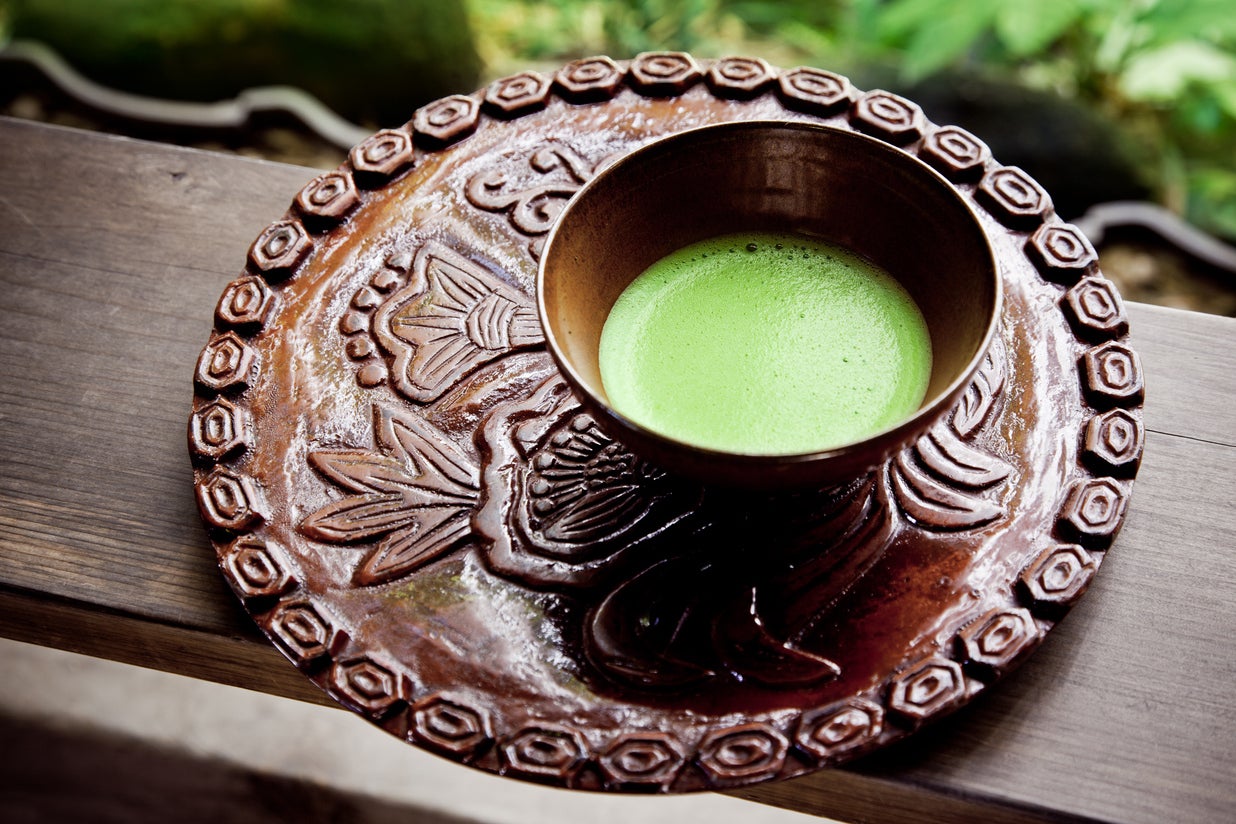 Turning the hefty handle of his 15-kilo granite mill at precisely 45 rotations per minute, 75-year-old tea farmer Kyugoro Shimooka cut the figure of a much younger man. Slim and agile, he was transforming recently harvested and dried green leaves into emerald gold in his home on the rural edge of the small Japanese city of Uji. "I've drunk matcha with every meal, every day of my life," he told me, before whipping up a steamy broth with his 180-point bamboo whisk.
"My mother drinks it, too, and she's 101," he continued, watching me try the diluted infusion mixed with warm water. It tasted totally different to anything I'd had before, tea or otherwise. Umami and savoury, with a delicate bitterness that left my mouth feeling coated, this was as good as matcha gets; the single malt of tea. I'll be honest though – my taste buds weren't so sure yet.
This bright green dust has, at least aesthetically, become a social media hit – the ultimate Instagrammable miracle ingredient. Matcha lattes, created by mixing the powder with sweetened soy or almond milk, can be found all over the chalkboards of London's trendy coffee shops. But in an era of quick fix, flash-in-the-pan health trends, is the latest brew on the block really worth its weight in 'likes'?
Unlike some modern food fads, matcha is nowhere near as novel as you might think, with a history dating back almost a thousand years. Boasting 10 times the amount of anti-oxidants as a standard cup of green leaf tea, it was brought to Japan from China by the Zen monk Eisai in the 12th Century as a caffeine-rich meditative aid to help prevent monks drifting off to sleep. Furthermore, it's known to boost metabolism and improve mental alertness, plus it contains an antioxidant linked to fighting cancer.
The undulating slopes surrounding Uji, cloaked in retractable black curtains used to create chlorophyll-boosting shade in the final three weeks of growth, serve as the epicentre of matcha cultivation. "Every year, Japan produces about 80,000 tonnes of tea," Shimooka told me. "About half of that becomes matcha – and there's been an increase of 30 per cent in just five years." Matcha is now more popular than ever and about 1,000 tonnes are being shipped to Europe annually.
To put those figures into context, India and China each produce around one million tonnes of tea each year. However, in Uji, farmers like Shimooka pride themselves on a philosophy of quality, not quantity – and that attitude trickles down through the local industry.
"We're the only restaurant in Japan that specialises in matcha," said Soichiro Hidari, head chef at teahouse-turned-restaurant Tatsumiya, as he placed food in myriad hues of green on the low cypress wood table in front of me.
"Becoming a matcha specialist can take a decade," he continued, as I munched through a 10-course menu featuring prawn tempura, buckwheat noodles, miso soup, scallops and mini aubergines on skewers – all of which were coloured and flavoured with matcha. "Could a matcha restaurant win a Michelin star one day?" I asked. "It's certainly possible, but that's not my inspiration," he told me. "Instead, I simply want to develop people's tastes." As I worked through his kaleidoscopic menu, I felt privileged to be a guinea pig in his culinary experiment. My previously naïve English palate, used to sweetened matcha served in takeaway cups, was also adjusting to its intricate subtleties.
While the majority of Japan's matcha cultivation and production takes place among the fertile hills of Uji, it's in much bigger Kyoto that the tea scene feels closer to the trendy coffee culture of London. Cafés like Saryo Tsujiri and Iyemon Salon serve matcha in its traditional style, diluted with warm water – but they also do a roaring trade in parfaits, ice creams, sponge cakes, candies, shaved ice, beer and, more recently, lattes. Ironically, Kyoto is playing catch up with the global trend and this milky drink has only recently become popular, especially among a younger crowd.
On the opposite end of the spectrum, the city is also where you'll find the majority of tea ceremonies – formalised, centuries-old customs. At Kyūgetsu, Belgian Tyas Sōsen and Englishman Stephen Sōshun conduct these in English, while paying close attention to the strict methodology and etiquette of traditional matcha tea praxis. "Tea ceremony is a ghastly mistranslation," said Stephen, dressed in a crisp black kimono, as Tyas created a soupy blend of thick matcha resembling fresh pesto. "It's actually much more of a meditation, but in the company of other people. And it's not only a healthy beverage, but also an aid to spiritual refreshment. This is the way we believe matcha should be drunk."
With that, I sipped down the gloopy, bitter liquid, taking special care not to drip any on the immaculate matting beneath my bent knees. I wouldn't say I'd been converted to the cult of matcha, ready to quaff the stuff with every meal in the hope of gaining everlasting life – but I'll certainly ditch the almond milk from now on, opting instead for this fresher, more authentic taste.
Travel essentials
Getting there
Finnair (finnair.com) flies from London Heathrow, Manchester and Edinburgh via Helsinki to Tokyo Narita and three other destinations across Japan, with fares from £850 in Economy Class.
Staying there
House rentals in Japan are available with Japan Experience (japan-experience.com) and are available in six locations; Tokyo, Kyoto, Kanazawa, Fukuoka, Hiroshima and Takayama. Prices start from £61 per night.
Matcha tours
InsideJapan (insidejapantours.com) can include a trip to a green tea farm in any tailored itinerary. The Japan specialists have a 14-night Best of Japan self-guided adventure costing from £1,860pp excluding international flights.
To learn about matcha tea culture, in English, Kyūgetsu Tea Ceremony (tea-ceremony-kyoto.com) provides group ceremonies and workshops.
More information
Join our commenting forum
Join thought-provoking conversations, follow other Independent readers and see their replies