Rajasthan: A family adventure in India

Show all 4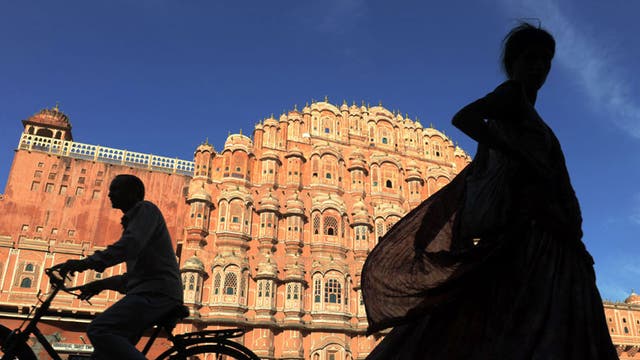 Rajasthan: A family adventure in India
The dazzling state of Rajasthan has long lured travellers – and your children will love it too, says Amar Grover.
Years ago, my partner and I visited Rajasthan several times as backpackers. Like most travellers who work their way through what is perhaps India's most vibrant state, we were captivated by its colours, clamour and sheer intensity. Who could not be dazzled by Udaipur's Lake Pichola or fine monuments such as Jaipur's City Palace and Jodhpur's Mehrangarh Fort?
Rajasthan is the location for The Best Exotic Marigold Hotel. If the characters played in the film by Maggie Smith, Judi Dench and Bill Nighy are to be believed, the state exerts a pan-generational appeal. We longed to return, but now there was Amrik (aged seven) and Dorian (four) to consider. The sun had set on youthful journeys where discomfort was once cheerfully dismissed as an "experience". We craved clean, characterful hotels that wouldn't cost the earth. We also wanted to travel around in relative comfort – no more interminable rides jammed into buses and hard-seat trains.
Happily, Rajasthan's range and quality of hotels have matured, making the possibility of an enjoyable family holiday there feasible, with a bit of planning.
Also, judicious use of trains and local taxis would save money and provide a more authentic travel experience than the beginning-to-end chauffeured car, so often used by high-end tourists.
Our budget was tight (about £100, or Rs7,780, a day, excluding flights) but time was on our side. We had almost three weeks to play with and, whatever happened, the children would be exposed to one of the most memorable tourist destinations on earth.
The broad brushstroke of our journey sketched a route from Delhi to Mumbai, via Jaipur, Jodhpur and Udaipur. First, though, some acclimatisation. We began by treating ourselves to a two-night stay in a mid-range suite at the Neemrana Fort-Palace Hotel, 120km south-west of Delhi. It was built in the 15th century and expanded down the years and its restoration melds Rajput architecture with neo-Tuscan flavours.
Tucked beside a rocky ridge, the fort's picturesque walls and bastions loom over a modest village. The boys immediately viewed the corridors as an adventure playground; a handy little plan of the complex only added to the mystique. It was the most expensive part of our stay, but it formed a relaxing antidote to the bustle of Delhi and set us up well for the next stage.
I arranged a local taxi (about Rs1,500/£20) through a souvenir shop in the village. We covered the 145km drive to Jaipur in about three hours, during which the boys were preoccupied by the semi-desert landscape of scrubby hills and a "roadscape" of fabulously painted lorries, overloaded bullock carts and the odd bus with passengers clinging to the roof.
Jaipur's Hotel Diggi Palace was our home for three nights. Formerly a noble's manor, it's now a restful haven with a large lawn fronting a decent restaurant serving Indian and Western favourites. We used local auto-rickshaws to nip around the state capital for essential sights which included the Palace of Winds (whose intricate façade of latticed windows allowed courtly ladies to watch the outside world); the Jantar Mantar (a royal observatory notable for its massive sundial); and the imposing City Palace, whose audio tour kept Amrik fascinated, particularly during our visit to the armoury with its many swords and knives.
For the next stretch, 300km west to Jodhpur, the fastest, most convenient service is the daily 5pm Ranthambore Express. It takes five hours and costs Rs354/£4.50 in an air-conditioned carriage with reserved seats. Chatty locals shared food with us, and invited the boys to play games on their mobile phones.
From the bustle on Jaipur's busy station platforms to the myriad strange smells of the Indian countryside as we chugged into the night, the novelty for the children was matched by nostalgia for us. A complimentary hotel pick-up awaited us at the station. Ten minutes later we pulled through the driveway of Ratan Vilas, a 1920s mansion with a modern annexe, excellent food and friendly staff.
Jodhpur's stellar attraction is the massive Mehrangarh Fort. It is one of the most spectacular in India, and stands theatrically on a great hump of rock high above the city. It is maintained by a trust established by Jodhpur's prominent Maharaja. Its excellent audio tours brought the complex to life far more effectively than we could by reading signs or the guidebook. A pleasant little café by the entrance provided a much-needed break from the fierce Rajasthan sunshine.
We were now just over a week into our trip. From here to Udaipur our itinerary involved more remote destinations. So, through a local travel agent, we arranged for a car with driver for the next six days. We bumped across the now-singed country south from Jodhpur towards the Aravalli Hills. Acacia-dotted plains were interspersed with farmland and whitewashed shrines atop rocky outcrops. After four hours, we stopped at Ranakpur's Jain temple which boasts some of India's finest sculpture; we reached Kumbhalgarh by dusk after a further hour's drive.
Kumbhalgarh is Rajasthan's highest fort. Set in gorgeous hilly countryside, it is crowned by the so-called Cloud Palace, encircled by about 15km of walkable walls and dotted with medieval temples. The best accommodation is The Aodhi, which is also the closest option to the fort. Some of the more decorative suites resemble those of a converted palace.
Lightly forested hills fell away on all sides and, in nearby villages, you can still see water wheels powered by bullocks. Up in the fort, beyond the spooky orange-daubed statue of Hanuman, the monkey god, we explored huge crenellated walls, bastions and mysterious temples. Within the walls numerous trails and paths led off to a couple of rustic hamlets.
After three nights, we headed on to the small town of Ghanerao and its simple castle hotel. From Kumbhalgarh there's a mildly adventurous four-hour walk down through the Kumbhalgarh Wildlife Sanctuary; our guide cost Rs800/£10.25. It followed a ridge just below the Cloud Palace before descending steadily into thicker forest past an old hunting lookout. At the bottom, a mostly level trail took us past a network of clear streams and lakes towards an impoverished village near the main road.
Charming Ghanerao Castle more than makes up in character and atmosphere for what it lacks in polish. Quirky rooms – some with dinky pavilion balconies, stained glass and mirror inlay walls – lie off deep courtyards or are hidden away up narrow stairways.
We had the place to ourselves, the boys relishing their new-found role as mischievous young princes playing on its terrace and among the enigmatic courtyards.
Udaipur lies about three hours' drive away. It is unquestionably one of the loveliest places in Rajasthan, with its imposing creamy-white palaces with domed cupolas that overlook the shimmering waters of Lake Pichola. We stayed at the Jagat Niwas Palace – actually a noble's haveli, or mansion – which is central, well run and very popular. Both its al fresco restaurant and the best rooms overlook the lake.
We took the City Palace tour and went on a sunset boat trip where, at dusk, hundreds of bats emerged from their tree-top slumber to swirl about and swoop low over the water. We enjoyed the sound and light show accompanied by Indo-gothic tales of chivalry and bravery.
Wonder and excitement all round. We hadn't tired of Rajasthan, and only the onset of a new school term for the boys thwarted a longer, bolder trip. They still talk about India, and the strange snapshot memories of places, smells and sights that it offers. And we're still talking about our next visit.
Travel essentials: Rajasthan
Getting there & around
* Flights from Heathrow to Delhi and Mumbai are operated by BA (0844 493 0787; ba.com); Virgin Atlantic (0844 874 7747; virgin-atlantic.com); Jet Airways (0870 910 1000; jetairways.com); Kingfisher Airways (0800 047 0810; flykingfisher.com); and Air India (020-8560 9996; airindia.com).
* Expect to pay from Rs1,500 (£19) a day for a car with a driver.
Staying there
* Neemrana Fort-Palace Hotel (00 91 941 405 0068; neemranahotels.com). Three-bed suite from Rs7,560 (£97) extra bed Rs540 (£6.90) B&B.
* Hotel Diggi Palace, Jaipur (00 91 141 2373091; hoteldiggipalace .com). Palace suite Rs6,000 (£77), extra bed Rs1,000 (£12.85) B&B.
* Ratan Vilas, Jodhpur (00 91 291 261 4418; ratanvilas.com). Family rooms from Rs7,077 (£91).
* The Aodhi, Kumbhalgarh (00 91 295 424 2341; hrhhotels.com). Family suites from Rs7,920 (£102).
* Ghanerao Royal Castle, Ghanerao (00 91 293 428 4035; ghaneraoroyalcastle.com). Family suites from Rs5,400 (£69).
* Jagat Niwas Palace, Udaipur (00 91 294 242 2860; jagatniwaspalace.com). Family rooms from Rs4,675 (£60) extra bed Rs1,045 (£13).
When to go
* The tourist season is October to March. For those with children, Easter is a good option; some hotels reduce tariffs by April.
More information
* Visas: in.vfsglobal.co.uk
Join our new commenting forum
Join thought-provoking conversations, follow other Independent readers and see their replies