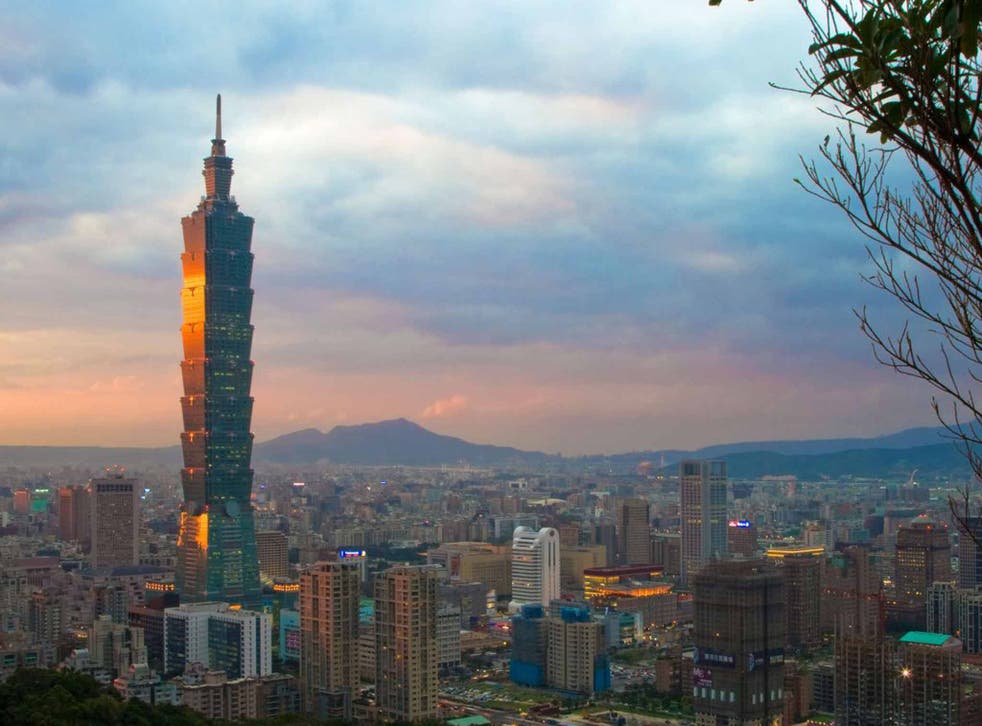 Taipei and Tainan: Taiwan's tale of two cities
Visiting the island's former and current capitals gives you a flavour of its rich history, says Mark Jones 
Shakespeare's The Merchant of Venice is actually about two cities: Venice and Padua. Venice is fast, mercantile, hard-edged; Padua slower, cultured, reflective. It's an opposition you see all around the world: Sydney/Melbourne; Warsaw/Krakow; Frankfurt/Heidelberg; Tokyo/Kyoto. And you can add Taipei/Tainan to that list.
A fiercer kind of rivalry usually comes to mind when we think about Taiwan. In 1949, as Chairman Mao's troops pushed south for a decisive victory, the Nationalist troops fled to Taiwan and established their government there. When the Republic of China (as Taiwan is officially known) goes to the polls in January, relations with the People's Republic away to the north will, as ever, be the overriding issue.
The news crews and commentators will all be in Taipei ("Taiwan North"), the Taiwanese capital. I'd be surprised if you'll see much reporting from Tainan ("Taiwan South"). It is, after all, only the former capital. As in Kyoto, when the money and power moved they left behind the temples, the poets and, maybe, a sense of relief in the air. With the responsibilities of state gone, they could get on with enjoying themselves.
That might sound fanciful. But in this country, founded by the exiled, Tainan is full of refugees and returnees from Taipei – and, indeed, émigrés from nearby Hong Kong. They move here for the slower pace, lower prices, bigger apartments and distinctively lighter Tainanese cuisine. It's where Taiwan's best-known cultural export, the film director Ang Lee, was raised.
On a busy downtown street corner in the West Central District, there's an old three-storey cinema where the young Lee would go to absorb the classics and disappoint his father and tutors. The building is half-hidden by gaudy posters of the latest releases, handpainted, as they were in Lee's day, by an elderly artist called Yen Chan Fe. It's an arresting anachronism in a country better known for semiconductors.
But if I'm conjuring up images of thinkers and poets strolling in shaded groves I'd better stop conjuring now. Unlike Kyoto and Heidelberg, Tainan has no Philosopher's Walk. It's a flat, huge expanse of a city redesigned by the Japanese in the late 19th century, bombed to pieces by the Americans in the mid-20th and rebuilt in a frenzy of economic growth that doesn't make for obvious prettiness, or easy navigation.
The best place to get your bearings is at the bar of the Shangri-La hotel in downtown – one of the rare tall buildings. I asked the newly arrived South African general manager how he finds his way around down at street level. Rather ingeniously, he answers that whenever he sees a pedestrian overpass he climbs the steps, looks around and gets his bearings.
However, if you penetrate Tainan a little further you're rewarded with quirky, bohemian streets, crazy indoor markets and wonderful, cheap if rough-edged restaurants.
The former Dutch settlement of Anping is the oldest part of town. The remains of the fort won't detain you long, but Chou's shrimp rolls on First Street will. The sign outside tells you to "study carefully and choose the material strictly". Unless you're vegetarian or have a problem with the rolls' outer coating (that'd be pig tripe) you don't have to choose that strictly: the food is ridiculously cheap and tasty.
Inside it is airy, communal and distinctly Japanese: not a bad description of Tainan itself. The more you get to know Taiwan, the trickier it is to fit into conventional geopolitics. It was ceded by China to Japan in 1895. The 60 years of Japanese rule aren't seen in the same light as the occupation of neighbouring states. For all the difficulties the war legacy continues to cause, Taiwan embraces its Japaneseness.
Take Hayashi. This is a 1932 Art Deco Japanese store over at Chungcheng Road. Instead of being bulldozed and forgotten, Hayashi was recently refurbished and given over to local and independent makers of clothes, stationery and cakes. After the glitz and pomp of Western malls, it's an exquisite, low-key experience. On Zhengxing Street, next to the white, boutiquey Jia Jia West Market Hotel, there is a decrepit entrance to the West Street market. Another grand Japanese-era building, it's now in a sorry state: peeling walls, temporary iron roofs, electricity cables hanging down. But inside it's a happy, bustling mélange of Tainan old and new: old sellers of hardware and children's clothes, new entrepreneurs selling hats and shawls, shaved ice and spicy noodles (not, thankfully, on the same plate). Those same entrepreneurs are on a mission to save the market from development. In Taipei, you suspect, it would already have been saved, spruced up and sold as a top tourist attraction.
If you have longer, take a drive up the coast to Monkey Mountain. Even better, take two wheels: southern Taiwan is one of Asia's mountain- biking hotspots, especially at this balmy time of year. One of my stranger travelling experiences was trying to translate a menu for two lost Catalan cyclists in a First Street café.
Alas, I needed faster transport to get up to Taipei. Here, again, the country's Japanese heritage surfaces: the bullet trains are the fastest and unfussiest way of getting between the old and new capitals. The paddy fields, distant mountains and tidy villages whisked by and in two hours I was coasting down the main boulevard in Taipei.
The streets are wide and my hotel car glided easily past the ever-present moped riders. In Tainan's narrow streets, they almost shared the back seat with me. In the distance, the building that symbolised the city's arrival on the regional power scene, Taipei 101 – the world's tallest building until Dubai's Burj Khalifa took over – presides over the city and the distant hills of Yangmingshan National Park. Inside 101 is a glitzy shopping mall, all Fritz Lang vaults, girders and arches. But to my surprise, it's not typical; Taipei is far from being a southern Shanghai. By 7pm, the office buildings are dark and the only bright lights come from the night markets. To get away from the bland international shopfronts at 101, I crossed the road and headed to Four Four South village.
When the defeated nationalist Kuomintang forces fled from the advancing Communists at the end of the Chinese Civil War, they hastily erected living quarters for their troops and families. These barracks at Four Four South have now been turned into shops, cafés and a small but fascinating museum that tells their stories. It's an honest experience in documentary. In this, Asia's liveliest democracy, where relations between the two giant neighbours to the north are on the front pages every day, history matters.
You see the Japanese influence, too, in the Songshan creative park, a converted tobacco factory that now houses the design museum, designer stores and Café Sole, already my favourite coffee shop in the region. The neighbouring Eslite mall, named after the superb bookshop chain, couldn't be less like the glitz of Chinese shopping. It has that very Tokyo retail vibe: understated, carefully lit and very curated.
And if Singshan feels Japanese, Yong Kan is a little European quarter near the rather ambitiously named Daan Forest Park. Here there are boutiques, pastry shops and a children's playground calming the usual Asian mêlée of queues, motorbikes, street food and selfie-snappers.
Some cities are irreconcilable: Glasgow will never love Edinburgh, and Melbourne will always find Sydney a bit much. But the southern and the northern cities of this alluring and underrated island nation are somewhat sisterly – getting to know one means you understand the other a little better too.
Getting there
Mark Jones flew to Taipei via Hong Kong on Cathay Pacific (020 8834 8888 cathaypacific.com). A bullet train from the capital's Taoyuan airport to Tainan takes around 80 minutes. Alternatively, fly Dragonair from Hong Kong to Kaohsiung, near Tainan. Eva Air flies daily from Heathrow to Taipei with a stop in Bangkok. Regional departures are available on Emirates via Dubai, KLM via Amsterdam, and Turkish Airlines via Istanbul.
Staying there
Shangri-La hotels in Tainan and Taipei (shangri-la.com) have doubles from T$4,050 (£82) and T$9,500 (£192) respectively, room only.
More information
Join our new commenting forum
Join thought-provoking conversations, follow other Independent readers and see their replies