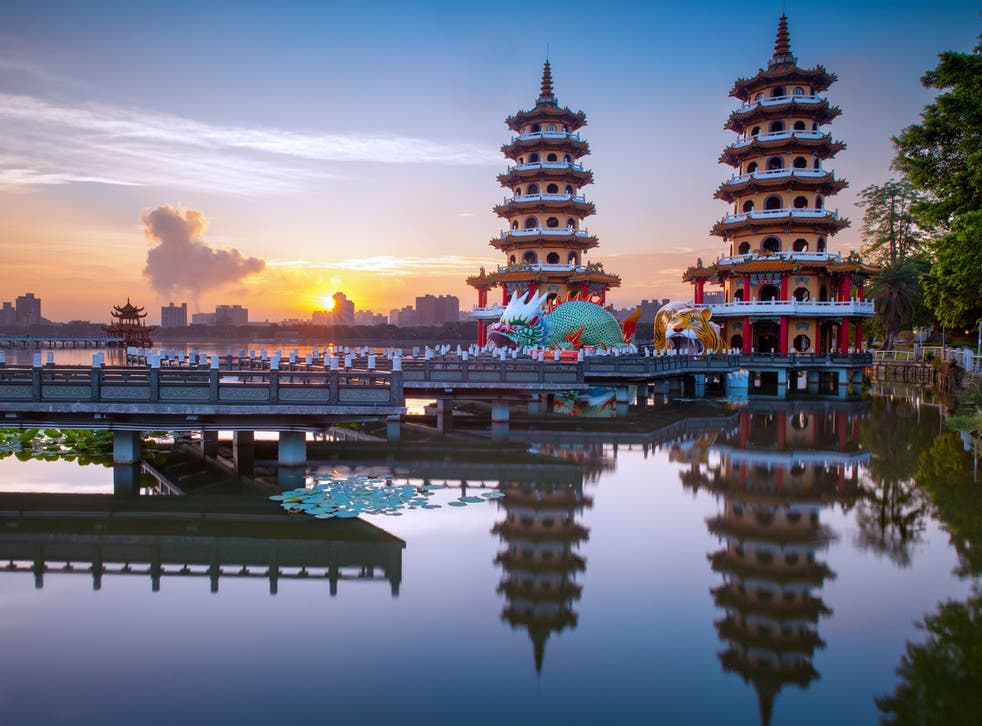 10 reasons to visit Taiwan, from mountain climbing to grown-up backpacking
It's the adventure-travel hotspot you never thought to visit, says Hazel Plush
Welcome to east Asia's best-kept secret: a bite-sized island with a vibrant foodie scene, hot springs by the bucket-load and a gloriously crowd-free coast that's ripe for exploring by bike.
Throw in some magnificent hiking trails and a fascinating, futuristic capital, and you've got the recipe for a truly adventurous break. Here's why you should go now – before the rest of the world catches on.
It's Asia's mountain-climbing hotspot…
Most weekends, Taiwanese people head for the hills – and who can blame them? Over 70 per cent of the island is mountainous: from small-scale fells topped with lush forests, to mighty peaks where only experienced hikers should tread. Yushan (Jade Mountain) often steals the limelight: at 3,952m, it's the island's loftiest – and climbing it is considered a rite of passage for many local people.
But Xueshan – Snow Mountain – is arguably more spectacular, with a trail that traverses bamboo groves, razor-edged cliffs and wildflower-strewn pastures. It's a two-day hoof to the 3,886m summit: you'll get there just before dawn, in time to see the golden sunrise spill over Taiwan's saw-toothed highlands. You'll need a good guide: Taiwan Adventures is highly recommended, and takes care of all hiking permits and meal arrangements.
…And the day hikes are pretty spectacular too
You don't need thighs of steel to see Taiwan's natural beauty writ large. The forested hills around the capital are ideal for refreshing yomps and sparkling city views, while the trails through Wuling National Forest lead to waterfalls, cherry blossom groves, and thickly tangled jungle – where wild monkeys hoot in the treetops. Taiwan Adventure Outings offers intrepid day hikes for all abilities.
Alternatively, venture to Taroko Gorge to tackle the Zhuilu Old Trail: a three-hour walk that crosses rope bridges and untamed rainforest before emerging onto one of the world's most jaw-dropping pathways. Hand-chiselled into a smooth cliff-face, with a 1,100m drop just a misplaced step away, the trail is just 50cm wide in some places – but the views will (almost) take your mind off the fright. Below, the Liwu River thunders tirelessly, while the mountains soar up, up, into the clouds.
You can cycle around the entire island
You'll cover some serious ground on the Taiwan Cycle Route No1. It circumnavigates the island – taking in beaches, forests and cities – on a mix of dedicated bike tracks and main roads with cycle lanes. The 968km trail takes 10-12 days to complete, but can easily stretch to three weeks with plentiful sightseeing and rest days.
Tight on time? The trail between Hualien and Taitung – also known as Highway 11 – is a three-day coastal jaunt that's suitable for beginners. There are beaches to explore, villages to rest in and opportunities for hiking and surfing along the way. Happily, Taitung is the hot springs capital of Taiwan: your legs will thank you for a soothing soak at the trail's end.
The street food is seriously good
Every Taiwanese city has (at least) one road or market dedicated entirely to street food – its stalls sizzling with barbecue pork, beef noodle soup and seafood skewers. The food is fresh, authentic and ideal for nibbling while people-watching. Every now and again you'll catch a whiff of something ghastly: that's just "stinky tofu", a fermented local speciality. Take a bite: it's surprisingly innocuous, with a sweet flavour and crispy deep-fried crust.
There's plenty for pud, too: think pancakes stuffed with peanuts and ice cream; pineapple cake; and mountains of sweet shaved ice topped with fresh mango.
It's a tea lover's paradise
Maokong, in the mountains just south of Taipei, is a tea-growing hotspot – its hills a patchwork of family-owned plantations, dotted with cosy wooden teahouse cafes. Most have outdoor terraces overlooking the valley, for the ultimate brew-with-a-view. Take a seat (each table has its own kettle) and order a pot of tieguanyin or baozhong: both are local specialities, renowned for their flowery fragrance and deep jade colour.
Maokong is best reached by gondola from Taipei. It's a half-hour journey up into the hills, swooping up over tiny rural villages and plunging valleys – made all-the-more thrilling by the cable car's glass floor.
It's great for grown-up backpackers
Want to re-live the freedom of your first backpacking adventure – but without the sketchy bunk beds and sweaty bus journeys? Taiwan's hostels are clean and quirky, while the island's diminutive size and excellent public transport network makes getting around a cinch.
With their street-art-style murals, contemporary furniture and creative crowds, Taiwan's hostels set the bar for budget digs. Indeed, when you're making new friends over happy hour beers and paying just NT$1,000 (£25) per night for a private double room, you'll wonder why you ever swapped hostels for hotels. Lazy House Hostel in Hualien and NK Hostel in Taipei are particularly high quality.
The best beaches in the world

Show all 25
The beaches are beautiful
With its big waves and long golden shores, the east coast is wonderfully wild: catnip for surfers, but a slightly daunting prospect for paddlers. Instead, venture south to Kenting National Park, for secluded soft-sand beaches and coves the colour of swimming pools. Highlights include Baisha Beach (for tranquil water and handy facilities) and Little Bali Bay (for snorkelling).
In the island's oft-overlooked north, head to Baishawan or Fulong: up here, the sand is the colour and texture of demerara sugar. Both are an easy drive from Taipei, and Fulong hosts the annual International Sand Sculpting Art Festival (April-August) – where you'll spy some seriously impressive sandcastles.
You've definitely underestimated Taipei
Yes, it's one of Asia's top financial hubs, but there's much more to Taipei than banks and office blocks. This minded city is stuffed with art galleries, cool bars, dumpling stalls and street markets. Check out Four Four South Village Simple Market (Songqin Street) for vintage threads and hand-made jewellery; and The Red House (Chengdu Road) for contemporary art prints and craft beer.
To get your bearings, head to Taipei 101's observation deck: until 2010, this ornate glass 'scraper was the world's tallest building. You can gaze out across downtown Taipei and over to the mountains beyond – but, for the best city views, you'll need to lace up your trainers instead. From the summit of Elephant Mountain, a 40-minute hike from Xiangshan metro station, Taipei's bright centre unfurls at your feet. Come here at sunset to see the towers twinkling beneath the blushing sky.
It's easy to get around
Modelled on Japan's Shinkansen "Bullet" trains, Taiwan's high-speed rail network can whisk you from Taipei to Kaohsiung (almost the entire length of the country) in just 1 hour 45 minutes – all for around NT$1,490 (£37). The "regular" train network is great too, serving all the big cities as well as further-flung towns.
Getting around by scooter is cheap and popular (Taiwan drives on the right) – but the roads are often hectic and traffic etiquette is non-existent. If you do try it, make sure you're covered by insurance. A safer bet is hiring a car, though you'll need an International Driving Permit from the UK Post Office.
It's hard to blow your budget
Don't expect to pay more than NT$2,010 (£50) per night for a king-size room in a boutique hotel – and you can get a decent double for NT$1,200 (£35) outside Taipei.
While you could happily feast on street food for just a few dollars, restaurants are great value too – as long as you don't want linen tablecloths or silver service. In a modest family-run restaurant you'll pay around NT$140 (£3.50) for a bowl of beef noodle soup, and NT$50 (£1.25) for a bottle of Taiwan Beer.
Join our new commenting forum
Join thought-provoking conversations, follow other Independent readers and see their replies