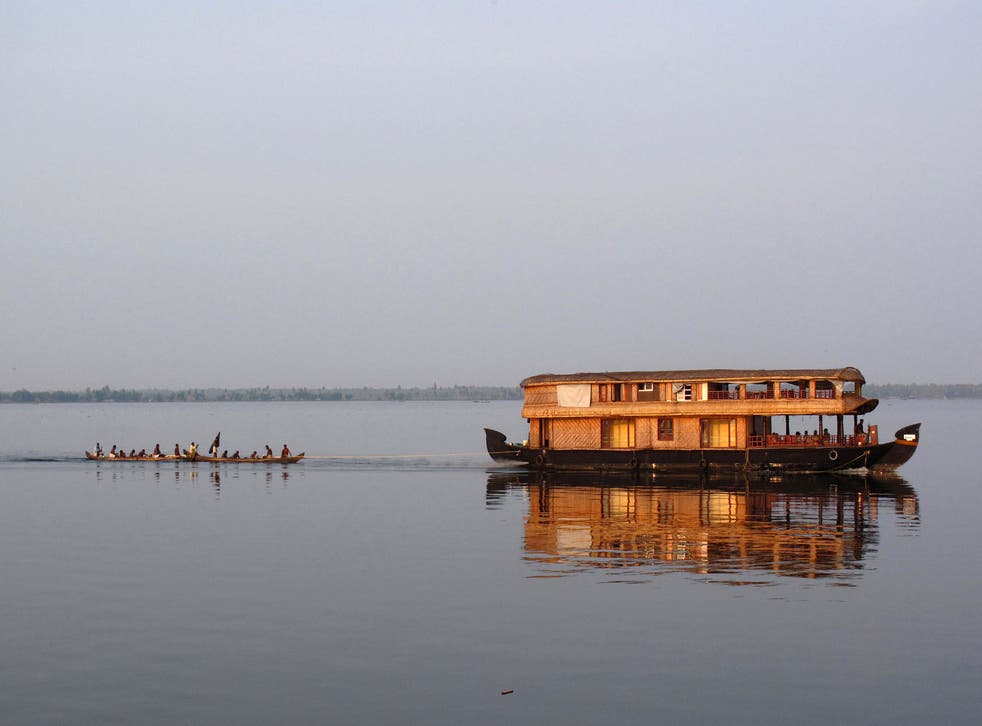 A taste of India: Learning to cook in Kerala
Hanging upside-down off the back of a wildly bobbing boat is not the best time to do the grocery shopping. Eye-to-eye contact is, I'm told, a key to successful bartering but, like keeping my breakfast down, I'm finding it hard to maintain.
Selling from a canoe doesn't look that easy either, but the fisherman is managing it with impressive dexterity, one arm outstretched towards our boat displaying a fistful of silver-grey prawns, each double the length of his palm, the other guiding the bamboo pole used to propel his narrow dugout through Kerala's web of backwater channels.
I'm not sure if it's a rush of blood to the head or fear of slipping overboard but haggling takes an efficient turn. I secure a kilo of freshwater prawns for less than a tenner and an approving nod from Dinu, our chef. I haul myself and my fishy prize inelegantly back on deck and we up- anchor, puttering into the backwaters, jungly banks and mangroves forming a verdant tunnel around us as India's longest lake, Vembanad, vanishes from view.
It's tempting to stay and watch Dinu create miracles on his two-ring camping stove but the heat is oppressive. The rice boat's coir thatch looks impenetrable, resembling a giant floating armadillo, yet it's woven for ventilation. Even so, when the evening air is thick as dhal, the open prow is the only place to be. Up front, a fuggy breeze rolls in over the canal banks. Egrets roost like ripe fruit in the cashew trees; a pink sunset slips over the rice paddies. If northern India is an assault on the senses, southern India is a feast for them. In Kerala, spice plantations, rustling palms and the click of rickety bicycles replaces the north's fury of tuk-tuks, fumes and frenetic streets.
Here, the warmth of ginger trumps chilli and dishes sing with beachy, South-east Asian flavours: coconut, lime, tamarind and coriander. Recipes are deceptively simple but come with a mystical, medicinal complexity informed by Kerala's ayurvedic traditions. "It's all about balance," says Sinu S Vijayan, chef of Lake Vembandan's Park Hotel, where I check in the next day. "Always fresh, always natural, never any preservatives." It's an easy edict to stick to when you've got the Indian Ocean, miles of freshwater estuaries, plus some of the world's richest spice plantations and rice paddies as your larder.
The day starts in Kerala with rice, in myriad forms. Iddiyappam, a breakfast staple, comes with coconut flesh and milk, topped with jaggery (palm sugar) and cumin. It's enough to send you back to bed. Sinu serves it aptly accompanied by little pillows of steamed rice flour, "idli", dunked in dark Keralan sambar sauce. At the design-conscious Park Hotel these traditional dishes are presented with minimalist style but behind the scenes it's reassuringly rustic. A tour of the kitchen reveals a bird-bath-sized pestle and mortar, dosa-pancake pans nesting like Russian dolls and a hand-wound iddiyappam (rice noodle maker) that looks like it should play pianola music.
A few days later, on the Malabar Coast, I get to try out some traditional kitchen kit for myself. The vegetable gardens at Marari Beach Resort are backed by white sands and a shady palm grove slung with hammocks. Both look sorely tempting but instead I'm knee-deep in musky earth, harvesting produce for a cookery class with a giant machete. Matching freakishly shaped veg with their exotic names proves impossible without guidance from chef Naveen. Apart from snake gourd, which is exactly how you'd imagine, and cause for not a small amount of squealing when found at my ankles.
In the open-sided cabana kitchen, I slice, dice, grind and steep, using a shiny parade of urlai pots and varpu pans. I'm stumped by a lime press that looks like a gynaecological instrument but within a pleasant, if slightly sweaty hour or two I've produced dinner, which we eat by candlelight on the kitchen island. A tamed snake gourd curried with coconut, ginger and chilli, a zingy spinach and papaya soup, and reef cod cooked with mint and wrapped in banana leaves. Lightning crackles overhead, a stormy precursor to the coming monsoon season causing a power cut that plunges the coast into darkness. Candles flicker, the ceiling fan slows and the smell of lime, coriander and ginger triumphs.
A week in Kerala, backwaters and coast, including a night on a rice boat costs from £1,165 per person. This includes return flights on Jet Airways between London and Cochin, B&B accommodation (full board on the rice boat) and all transfers. Valid 1 May to 30 September, transindus.co.uk
More foodie favourites
1. Check into St Lucia's newest food-focused boutique hotel for cookery lessons, plantation tours, gourmet dining and spa treatments all focused around the mighty cocoa bean, set within reach of a beautiful beach (thehotelchocolat.com)
2. Led by wild-food expert Rachel Lambert, forage the Scilly island of Bryher, then head to the Hell Bay hotel where - with head chef Richard Kearsley – foragers will be shown how to transform their findings into fine dining (hellbay.co.uk)
3. Stay in one of five boutique guest rooms set in a renovated barn at the English Wine Centre in East Sussex, within wobbling distance of tasting tours covering some 140 English wines (englishwine.co.uk)
4. The very best of Tuscan culinary culture is yours, with guided artisan tours offering everything from cookery day classes to specialist courses led by locals, from truffle-hunting to salumi-making(sapori-e-saperi.com)
5. The Tate goes on tour: part of the new travel programme from the Tate Galleries includes a trip to discover the culinary and visual arts of California (theultimatetravelcompany.co.uk)
6. The seven-night Gastronomy and Gard of Galicia tour is centred around wine-tasting dinners in the grandest manor houses with guided tours of their surrounds in order to walk it all off (kirkerholidays.com)
7. Learn how to seek out and shuck on a seafood safari along Denmark's west coast and bag yourself a dinner worthy of Noma's foraging-focused menu (vadehavscentret.dk)
Join our new commenting forum
Join thought-provoking conversations, follow other Independent readers and see their replies