The Independent's journalism is supported by our readers. When you purchase through links on our site, we may earn commission.
6 great things to do on a break to Santorini
Sip a rose latte at one of London's most Instagrammable cafés then head off to see a stunning Santorini sunset. Here's how to spend a holiday on the beautiful Greek island
Wednesday 11 April 2018 09:56 BST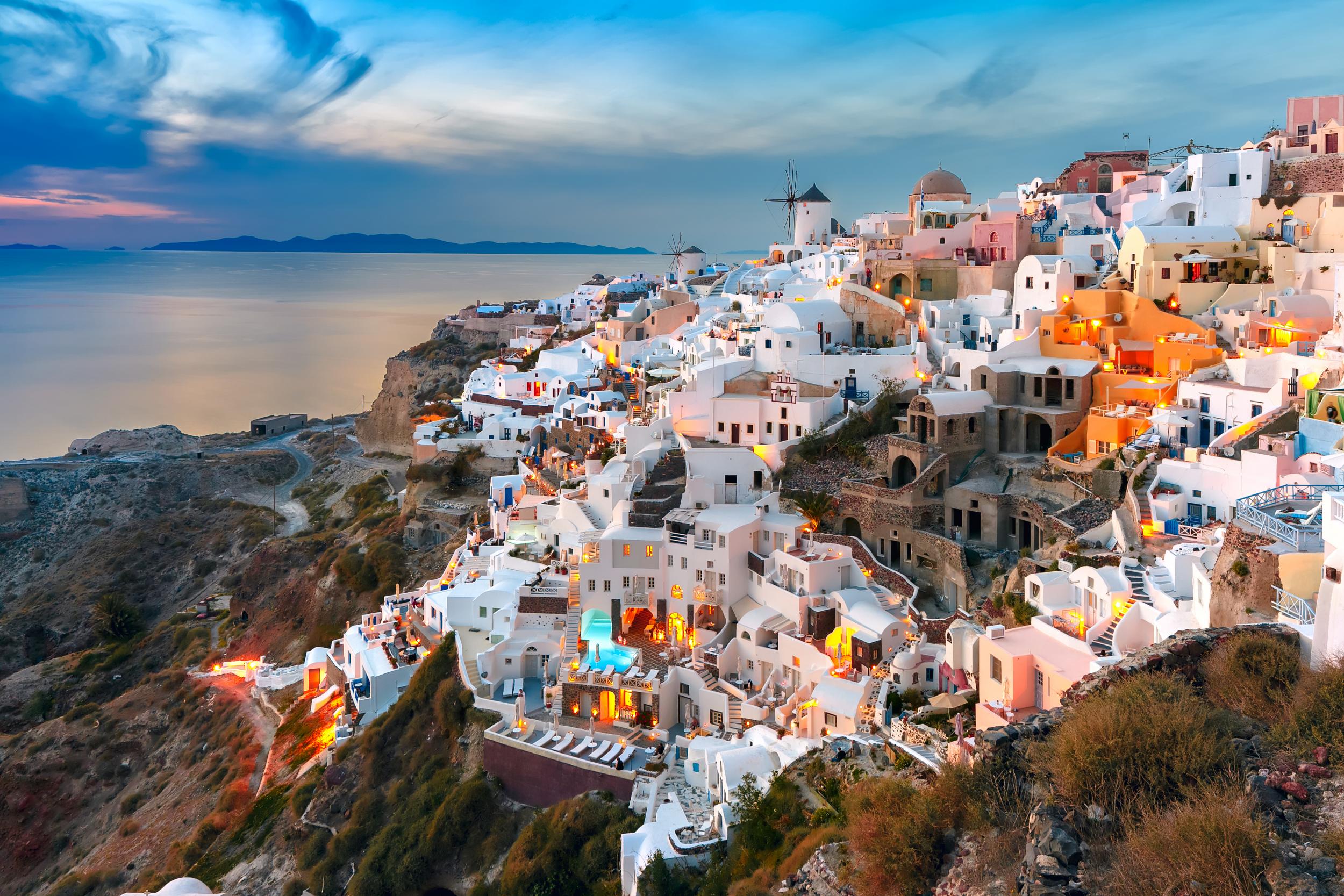 Where decadent design meets a penchant for palm trees, it's no wonder Hackey's Palm Vaults is one of London's most Instagrammed cafés. Escape the grey straight away with a colourful latte and something from the superb breakfast menu before catching your flight from London City Airport.
Hike from Fira to Oia
The best way to take in Santorini is to get out on foot, and there is no more picturesque route than the one from Fira to Oia. This 9km walk takes around three hours, winding through the towns of Fira, Firostefani, Imerovigli and Oia and bringing you along the rim of the Caldera.
Sip an 18-glass wine flight
Wine buffs find themselves pleasantly surprised by the calibre of wine on offer on the island, and Santo Wines atop the cliffs of Pyrgos is the largest winery on the island. You can't argue with its 18-flight tasting session, plus this is one of the prettiest spots on the island to catch a sunset.
Explore ancient Akrotiri
This former Minoan outpost – one of the most important prehistoric settlements of the Aegean Sea – was once a thriving port town, until it was destroyed by a massive volcanic eruption. This archaeological site was first discovered in the late 1860s, and today one-third of the site has been excavated to allow visitors to explore buildings that date back to 17th century BC.
Snap a Santorini sunset
Sunsets in Santorini are famed for being some of the most beautiful in the world, and in Santorini, life revolves around them. Visitors start thinking about where they'll spend sunset hours earlier; the moments when the giant sun sinks into the sea are precious and mustn't be wasted. Try snapping a sunset from Oia's Byzantine Castle ruins – it is one of the most popular spots on the island.
Dine on fresh seafood at a traditional taverna
Seafood doesn't come fresher than at Taverna Aeolos, where you'll be dining with the locals as well as in-the-know visitors. This family-run restaurant just outside the town of Akrotiri has views over the caldera to Fira, Oia and the nearby islands, and is another favourite spot for sunset watching.
Catch an open-air movie on Kamari Beach
Santorini's volcanic history has led to the formation of some of the most unique beaches in the Greek Isles, and Kamari's stretch of black sand is one of the longest. During the summer months you can catch cult movies at the open-air cinema, with doors opening around 8.30pm for a 9.30pm screening.
With a central location and check-in just 20 minutes before departure, you'll have time to fit in a delicious (and instagrammable) breakfast workout before you fly from London City Airport.
British Airways flies twice a week from London City Airport to Santorini during the summer months. Find out more at ba.com/londoncity