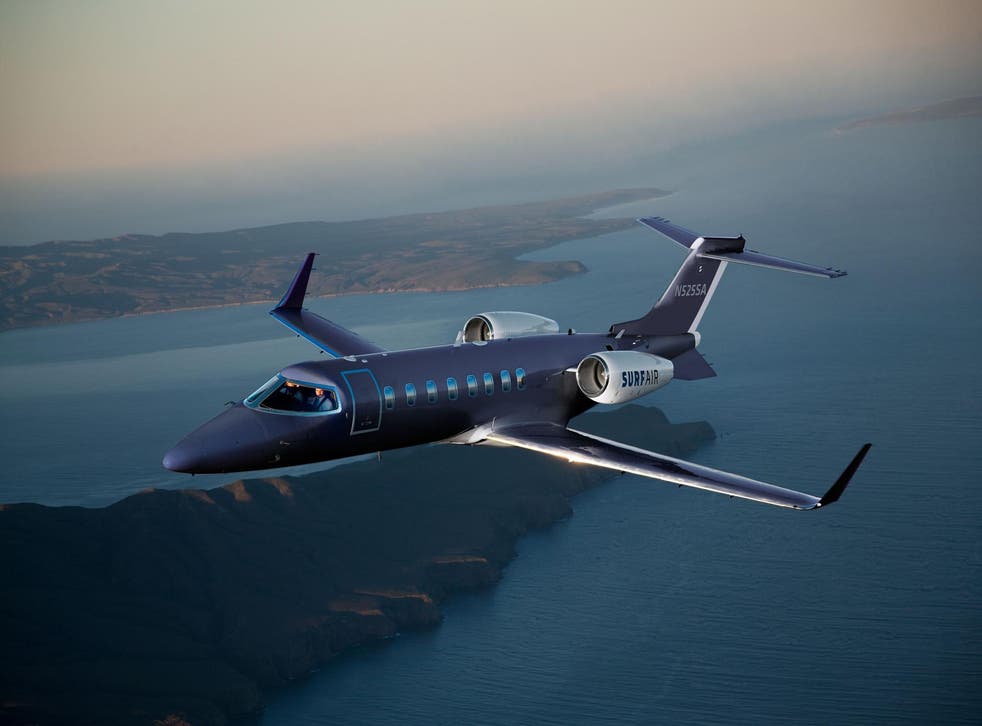 The business of travel: catch a wave with Surf Air, the new private jet members' club
The start-up airline's focus is on cutting out the fuss of travel rather than complicated bells and whistles, with unlimited travel from £2,500 a month
Mark Jones
Monday 18 July 2016 15:03 Comments
It sounds like a new low-cost airline for beach bunnies. But when Surf Air launches in October it won't be carrying tattooed youths in Quicksilver boardshorts.
It will fly from Luton, the home of everything that's prosaic and tedious in air travel. But you won't find yourself parking on the stretch of Bedfordshire wasteland that is the mid-term car park, nor standing with laptop and belt in hand as you shuffle through Britain's most crowded security line. Instead, you'll draw up to a neat little building on the perimeter where the private jets park.
And "you", frankly, probably won't be you and I. Surf Air's fleet of twin-engined, sumptuously-upholstered jets will fly initially to Geneva, Zurich and Cannes – in other words, bankers' offices, bankers' HQs and bankers' holiday homes. You'll probably be a banker.
In California, where Surf Air (naturally) originated, you may well see your fellow passengers sporting Quicksilver. That's because tech entrepreneurs and the people who back it haven't acquired the suit habit. But they have got the flying bug, and bad. So for people – be they tech unicorns ferrying between LA and San Fran or M&A specialists commuting from the City to Switzerland – the Surf Air model makes perfect sense. Even financial sense. For £2,500 a month they can fly as often as they like. It's a model powered by an adage: the more money you have, the more you save.
So Surf Air is catching a wave – a market of super-successful business people who aren't yet so super-super-successful that they either have their own jet, a share in one – or they don't need to fly at all. (Airlines have long known that their really special, goldmine customers are at the level just below CEO).
The airline's promotional materials inevitably speak of "disruption" and namecheck Uber and Netflix at every turn. Most promotional materials do these days. But there's a new buzzword in town, which seems better suited than the threadbare D-word.
Edge strategy is where businesses seek opportunities in the underexploited "blue ocean" close to an established market. Look very closely at the customer journey: and see how you can improve it. At the high end of business travel there's one thing all the platinum cards, glasses of Krug and premium concierge services can't give you: time. The flights still work to a schedule (three times a day), but without the usual two hours while the airport laboriously "processes" you and tries to sell you celebrity perfume and overpriced whisky.
Simon Talling-Smith, the ex-BA and TravelZoo executive who's setting up the Surf Air Europe operation, doesn't care for the word "luxury". He talks about "premium functionality" – aware that it makes his lovely planes sound a bit like a superior kitchen gadget. But the higher you go up the business travel market, the more speed, efficiency and, yes, functionality matters. You'll pay for someone to take the fuss away in the same way we'll pay someone to wash our cars – or, if you're a Surf Air customer, someone to clean the swimming pool.
Register for free to continue reading
Registration is a free and easy way to support our truly independent journalism
By registering, you will also enjoy limited access to Premium articles, exclusive newsletters, commenting, and virtual events with our leading journalists
Already have an account? sign in
Join our new commenting forum
Join thought-provoking conversations, follow other Independent readers and see their replies