The best Mexico holiday destinations – and when to travel to each one
Where to visit, whether you want ancient history, natural beauty or buzzing towns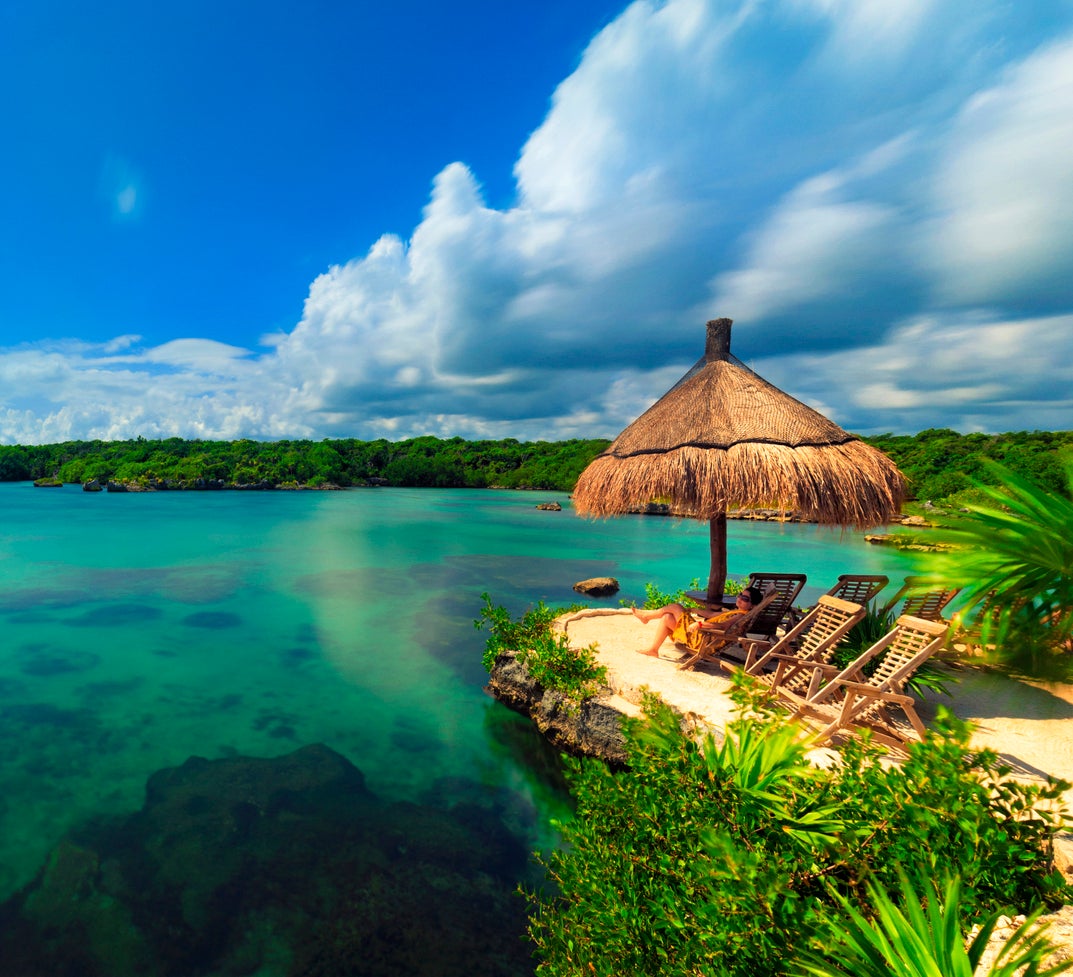 With dozens of Unesco World Heritage Sites, thousands of miles of coastline and a dizzying variety of towns and cities, Mexico has become one of the world's most popular countries for tourists.
According to World Atlas, Mexico was the seventh most-visited country in the world in 2019, while in 2021 it welcomed over 31 million inbound visitors – more than Spain, Italy and the US – according to the United Nations' World Tourism Organisation.
It's easy to see why people have started flocking to the North American nation. While Spanish influences are clearly visible in the country's language and way of life, its own complicated history, spectacular geography and vibrant culture have combined to make Mexico a modern-day marvel.
Whether you'd prefer learning about ancient civilisations at Chechen Itza or relaxing on the beaches of Cancun, we've compiled a list of some of the best destinations in Mexico for an unforgettable trip.
Mexico City
Capital cities are often among the must-see destinations in any country, and the sprawling Mexican capital is no different. A city of almost nine million people, it is one of the oldest continually inhabited cities in the Western Hemisphere, standing on the ruins of the Aztec capital of Tenochtitlan (founded in 1325). Nowadays, the city is a fusion of the country's history and culture, with several Unesco sites – including the historic centre and the Xochimilco canals – and several buildings and museums dedicated to some of the country's most famous people, such as the Frida Kahlo Museum.
Of course, there's also no better place to experience Mexican cuisine and nightlife; exploring the city's neighbourhoods enables you to take in architecture ranging from colonial buildings and ancient ruins to skyscrapers and art deco museums. Roma is the 'foodie' centre of the city, while Condesa offers a more laid-back, trendy atmosphere than the bustling Centro Historico.
When to visit Mexico City
Temperatures in the city are fairly consistent throughout the year, while rainfall is never too high. For a happy medium, try March. Crowds will be far less than at peak times, and with average highs of 24C it is one of the warmest months of the year, but is unlikely to get sweltering (average temperatures hover around 17C).
Cancun
According to the country's tourist board, Cancun airport welcomed the highest number of visitors of any airport in the country in 2022, with nine million people passing through its gates. A spring break favourite across the pond, Cancun has a reputation as a resort brimming with buzzing nightlife spots, white sand beaches and turquoise waters as far as the eye can see. Located along the Mayan Riviera on the Caribbean coast, beaches such as Playa Defines and Chac Mool are calm and relaxed spots, offering several water sports and access to the Mesoamerican Reef (the second largest in the world).
Visitors to Cancun also have the option of day trips to experience Mayan ruins – such as those at Tulum (more below) and Coba – and other areas of the Mayan Riviera, though many choose to (quite literally) stay in any one of its all-inclusive resorts. For those who have come to party, Avenida Kukulkan and Punta Cancun are some of the more popular areas.
When to visit Cancun
Temperatures in Cancun can become sweltering between April and August, with average daily highs over 35C in each month. For lower temperatures (think max highs of 30C) and very little rain (less than 40mm per month), enjoy some winter sun by visiting between November and February.
Read more on North America travel:
Merida
The capital city of the Yucatan Peninsula, Merida is slightly inland but lies less than 40 minutes away from the coast. The city makes an excellent base for those who want to explore ancient ruins, with several within less than two hours' drive. Chichen Itza is perhaps the most famous due to its size and mix of architectural styles, but Uxmal is well-known for the precision and condition of many of the structures that still stand today. There are also several cenotes (natural underground reservoirs) near the city, which make for perfect places to cool off when exploring the surrounding nature.
Merida itself is a city that has retained many of its colonial features. Narrow, winding streets are lined with colourful buildings and open up onto large plazas and cathedrals, with several galleries, museums and dozens of cafes and restaurants dotted around the city. Pasejo Montejo is the perhaps the city's most iconic avenue (named after its founder), though the Plaza Grande is another of the city's most well-known (and safe) neighbourhoods.
When to visit Merida
Its inland location means temperatures here can get close to 40C in April and May. For low chances of rain, lower temperatures (think average highs of 30C and average temperatures of 25C) and fewer crowds, visit in January or February.
Los Cabos
Los Cabos has become popular with Americans due to its proximity to the US border. The area is located in the Baja California region and contains two resorts – Cabo San Lucas and San Jose del Cabo – that are linked by almost 20 miles of coastline. Much of this contains breathtaking scenery and sweeping views of the Pacific Ocean (and Gulf of California), with large rock formations and rocky cliffs perfectly complementing the golden beaches and clear waters that they sit on.
Many will choose to make the most of the beaches through a selection of water sports and activities such as fishing, diving and even whale watching, but don't miss out on visiting the two towns themselves. Both provide vibrant nightlife in their downtown and marina areas, but while they are very much resort towns, they offer an authentic, less Americanised taste of Mexico, from local cuisine to colonial architecture and charming town centres.
When to visit Los Cabos
Summer temperatures here are not as off-putting as in the south, but it is still best to come in the shoulder seasons for more pleasant temperatures. April is a good choice, as it is one of the driest months but sees average temperatures of around 25C.
Tulum
Another destination on the Yucatan Peninsula and the Mayan Riviera, Tulum is under two hours south of Cancun. The atmosphere here is more laid-back than other coastal resorts, though there are plenty of beach club and rooftop bar options for going out in the evenings. However, the focus here is on enjoying the surrounding nature and ruins.
The inland area is characterised by the presence of dozens of cenotes that offer tranquil swimming opportunities (be sure to check out Gran Cenote and Two Eyes). The coastal areas are equally dramatic, with rugged cliffs and palm trees flanking long stretches of white sand and Mayan ruins giving spectacular views of the coast and the Caribbean Sea.
The aforementioned ruins are contained in the Tulum Archaeological Site, an ancient walled city where El Castillo and the Temple of the Frescoes are the two most famous structures. The nearby areas and town itself reflect the surrounding nature and preserved history, providing a tranquil atmosphere; think yoga retreats, eco-friendly resorts and fresh, locally sourced culinary delights.
When to visit Tulum
Similar to Cancun, November to February is the best choice for avoiding sweltering heat and other tourists. Average highs around these times should be between 27C and 29C.
Oaxaca City
Another more relaxed Mexican destination, Oaxaca (in the south of the country, roughly between Mexico City and the Yucatan) is a city celebrated for a rich cultural heritage that has preserved and celebrates its indigenous roots. Nowhere is this more visible than at Monte Alban, a site of ruins of the Zapotec and Mixtec peoples. In the city itself, traditional markets showcase unique arts and craftsmanship, while museums such as the Museum of Cultures of Oaxaca help to preserve the entire history of the area.
The main centre of the city is yet another Unesco site, where colonial buildings line colourful cobbled streets. The Zocalo square is the heart of the city, where visitors and locals alike sit at bars and restaurants beside the city's cathedral and government palace.
Like many other Mexican cities, Oaxaca is also blessed with several nearby natural beauty spots. More Zapotec villages can be found in the nearby Sierra Norte mountain range, and Hierve el Agua contains dozens of dramatic rock formations and waterfall-like structures. For beaches, Puerto Escondido (literally 'Hidden Port') is another popular tourist destination; it has some of the most scenic beaches on the Pacific coast if you need a seaside break.
When to visit Oaxaca
November through to April is Oaxaca's dry season, and temperatures can vary from highs of 32C to lows of 14C. Overall, April is probably the best choice, as while temperatures have the same variation, you'll get average highs of 32C and an average of only four days of rain in the entire month.
Zihuatanejo-Ixtapa
This destination is technically two separate places, but the recommendation stands due to their proximity and the great variety of activities and choices they offer between them. Ixtapa-Zihuatenejo (often shortened to Ixtapa) itself is more of a contemporary resort village, while Zihuatanejo is a peaceful, characterful beachside resort that lies just southeast.
All-inclusive hotels line the streets and shores of Ixtapa, where beaches such as El Palmar are perfect for sunbathing and activities such as snorkelling, kayaking and surfing. Modern-day luxuries such as resort restaurants, golf courses and a marina area are popular here; if you're looking for something a little more traditional, head to Zihuatanejo itself.
A smaller fishing village, Zihuatanejo offers similarly beautiful beaches (including La Ropa and Las Gatas), with fewer crowds but the same white sands and azure waters. The town itself has maintained its fishing roots; markets and restaurants sell local seafood and other produce, while people flock to either the seaside or town square for other dining and relaxed nightlife options.
When to visit Zihuatanejo-Ixtapa
Average highs in the area rarely drop below 30C, while average lows rarely drop below 20C. October to June is the high season, but seeing as the rainy season begins in July, you're better off visiting around April or May, when average temperatures will be around 25C.
Read our reviews of the best beach hotels
Join our commenting forum
Join thought-provoking conversations, follow other Independent readers and see their replies