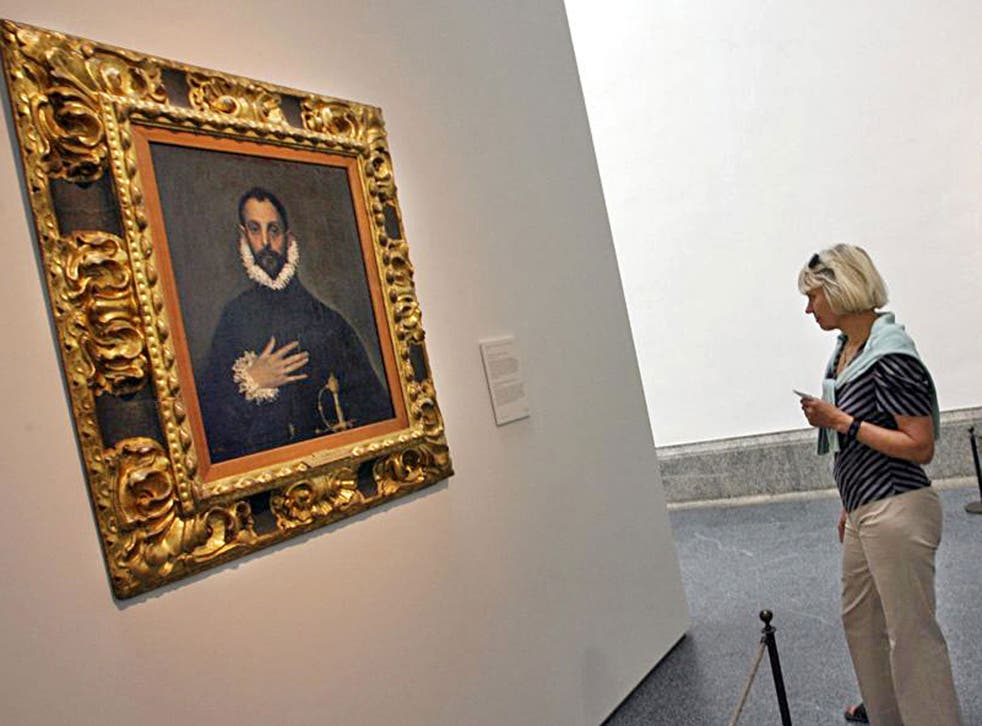 48 Hours In: Madrid
Things are hotting up in the Spanish capital, with a packed cultural calendar for spring
Travel essentials
Why go now?
There may be a slight chill in the air, with temperatures hovering around 15C in March, but Spain's handsome capital is slowly starting to warm up. Even more enticing is the cultural calendar. A new exhibition on the living and working spaces of Spain's greatest artist, Picasso, has just opened in the studio at the Fundación Mapfre (1) at Paseo de Recoletos 23 (00 34 91 602 5221; fundacionmapfre.org; free). It runs until 11 May with rarely seen pieces on loan from his family.
Later this summer, the 400th anniversary of the death of the Renaissance painter El Greco will be marked with a blockbuster exhibition at the Museo del Prado (2) at Paseo del Prado (00 34 902 10 7077; www.museodelprado.es; €14) from 24 June to 5 October.
The Independent Travel Offers: Our favourite Madrid holiday
Touch down
The widest range of flights is on easyJet (0843 104 5000; easyjet.com) – from Bristol, Edinburgh, Gatwick, Liverpool and Luton. British Airways (0844 493 0787; ba.com) and its sister airline, Iberia (0870 609 0500; iberia.com), combine forces from Heathrow and London City. Ryanair (0871 246 0000; ryanair.com) flies from Manchester and Stansted; Air Europa (0871 423 0717; aireuropa.com) flies from Gatwick.
Barajas airport is 13km north-east of the city centre and is served by frequent trains on Metro line 8, but the underground journey is tricky with at least one change at Nuevos Ministerios station (3). The fare to any station in the city centre is €4.50.
The airport express bus runs every 15-35 minutes around the clock; €5 one way. It takes 40 minutes to reach Atocha station (4). A taxi takes half the time. A flat fare of €30 covers most of central Madrid.
Get your bearings
Perched on a rocky plateau 667m above sea level, Madrid rose to prominence in 1561 when King Felipe II made the small market town his capital. It was, he said "a city fulfilling the functions of a heart located in the middle of the body". Besides a brief spell in the 17th century, when Valladolid was top dog, Madrid has been the capital ever since, growing steadily to become a city of eclectic architecture and fine food.
At the very centre is Puerta del Sol (5) – the Gate of the Sun – where the old east-facing gates once stood. Nearby, and slicing through the city diagonally, is Gran Vía, a busy road lined with ornate buildings: a mix of chalk domes, Baroque towers and flourishes of Art Deco style.
The main tourist office (6) (00 34 91 454 4410; esmadrid.com) is at Plaza Mayor 27; 9.30am-8.30pm daily.
A Madrid card (€55 for 48 hours) gives discounted entry to many museums.
Check in
The ME by Meliá (7) at Plaza de Santa Ana 14 (00 34 91 701 6000; memadrid.com) has 192 slick rooms in a 19th-century palace. Guests have access to the popular rooftop bar, while those who upgrade to a suite are given their own "personal assistant". Doubles from €258, including breakfast.
Overlooking the Parque del Retiro (8), the Hotel Hospes (9) at Plaza de la Independencia 3 (00 34 91 432 2911; hospes.com) has 41 comfortable rooms (think soothing taupe interiors with a splash of fuchsia) and free bike rental. Doubles from €170, including breakfast.
Art and design feature heavily at the Hotel Artrip (10) at Calle Valencia 11 (00 34 91 539 3282; artriphotel.com). Beyond the 17 white-themed rooms are small exhibitions showcasing up-and-coming artists. Doubles from €93, with breakfast.
Day one
Take a view
The €6 entry to the museum of Santa María la Real de la Almudena (11) at Plaza de la Almudena (00 34 91 559 2874; museocatedral.archi madrid.es; 10am-2.30pm, daily except Sunday) covers admission to the chambers of the cathedral and access to the rooftop terrace above the Palacio Real (12), the Sierra de Guadarrama mountains and the Casa de Campo (13), Madrid's largest parkland to the west, a former royal hunting ground.
Take a hike
Start next door at the Baroque Palacio Real (12) on Calle Baile (00 34 914 54 8700; patrimonionacional.es; 10am-6pm daily; €10), the seat of Spanish royalty since the 1760s. Now primarily used for ceremonial events, a few of the 2,800 rooms are open to the public. Walk south and turn left on to Calle Mayor. About half way along on the right is Plaza de la Villa (14), with medieval buildings including the former town hall and jail.
Continue and veer right through the northern archways of Plaza Mayor (15). The square is dominated by the Casa de la Panadería (Royal Bakery), its bright façade decorated with frescos of zodiac signs by Carlos Franco. It was once the site of the Spanish Inquisition, gruesome executions and bull fights, but these days it's filled with street entertainers and cafés.
Lunch on the run
Dating back to 1907, the renovated Mercado de San Miguel (16) at Plaza de San Miguel (00 34 915 42 4936; mercadodesanmiguel.es; 10am-midnight daily) has been transformed into a tapas hall with cast-iron exterior and floor-to-ceiling windows. Inside are dozens of stands with everything from oysters and salty Ibérico ham to plump croquettes and stuffed olives, from €1 each. Compile a plate then, grab a drink (try the €2 sangria).
Window shopping
There's good retail therapy in the neighbourhoods of Chueca and Malasaña to the north. Wander down Calle del Piamonte (17) for stylish boutiques while the pedestrianised Calle de Fuencarral (18) and nearby Calle Colón (19) have independent stores. Typical opening hours are 9am-8pm (Monday-Saturday), noon-5pm (Sunday).
An aperitif
Venture to the trendy 7th floor roof terrace of the Círculo de Bellas Artes (20) at Calle Alcalá 42 (00 34 91 360 5400; circulobellasartes.com; 11am-9pm daily) for fine city views (entry €3). The cocktail list is unimaginative – cosmopolitans, mojitos and the like for €10 – but the views compensate. Grab a spot on the decking or a day bed and gaze down at the palaces of Plaza de Cibeles (21) and its fountains of Neptune and Apollo, and the distant snowcapped peaks.
Dining with the locals
The best place to try the traditional (and hearty) callos a la Madrileña (stewed tripe) is at bustling La Bola (22) at Calle Bola 5 (00 34 91 547 6930; labola.es). You may spot King Juan Carlos at the next table. For the city's best tapas, head to Calle Cava de Baja (23): a narrow strip in La Latina lined with cramped but cosy taverns including Taberna de Conspiradores (00 34 91 366 5869; conspiradores.com) at number 7. Ask for the tiny private dining room at the back – about the size of a cupboard – and order the paprika-dusted patatas bravas and chorizo in wine and honey. From €3.
The new Ana la Santa (7) at Plaza Santa Ana 14 (00 34 90 214 4440; memadrid.com) has a modern menu that includes roasted suckling pig with tomato marmalade (€16).
Day Two
Sunday morning: go to church
Built in 1760 on the ruins of a monastery founded by St Francis of Assisi, the Basilica San Francisco el Grande (24) at Calle San Buenaventura (00 34 91 365 3800) is a striking Neo-Classical masterpiece. Under its vast, 33m diameter, domed roof are ancient frescos and artworks by Francisco Goya. Tourists are welcome to attend the five Sunday masses (8.30am-1.30pm). In the week it opens 11am-12.30pm and 4pm-6.30pm Tuesday-Friday, Saturday 11am-1.30pm.
Out to brunch
Head across town to Magasand (25) at Calle Columela 4 (00 34 91 576 8843; magasand.com; 10am-5pm daily). This lovely café offers delicious hampers (from €18), filled with salads, sandwiches, brownies and crêpes that can be enjoyed in nearby Parque del Retiro (8). There's a basket deposit of €50.
A walk in the park
Until 1767, Parque del Retiro (8) at Plaza de la Independencia (00 34 91 530 0041; 6am-10pm daily) was for the exclusive use of royalty and its sprawling lawns, large lake and sculptured cypress trees were often the backdrop for lavish theatrical productions. These days, it's open to all. Rent a rowing boat (€6 for 45 minutes) beside the King Alfonso XII monument and wander down to the domed Palacio de Cristal, erected in 1887 as greenhouse.
Cultural afternoon
The best museums are within walking distance of each other. Start at the Centro de Arte Reina Sofia (26) at Calle Santa Isabel 52 (00 34 91 774 1000; museoreinasofia.es; €8) to see Picasso's Guernica (open 10am-9pm Monday and Wednesday to Saturday, to 2.30pm Sunday – several but not all exhibitions remain open until 7pm).
Then stroll north to the Prado (2) (10am- 7pm daily; €14). Its four floors house works spanning more than seven centuries by such greats as Raphael and Caravaggio.
Finish at the Museo Thyssen-Bornemisza (27) at Paseo del Prado 8 (00 34 90 276 0511; museothyssen.org; 10am-7pm Tuesday to Sunday, noon-4pm Monday; €10), famed for its collection of Renaissance, Abstract and Surrealism pieces.
Icing on the cake
The open-air El Rastro flea market takes over Plaza de Cascorro (28) and the surrounding streets every Sunday from 9am to 3pm. Considered to be the largest of its kind in Europe, with an estimated 3,500 stalls, it's the place to go for antiques, art and all stops in between.
Click here to view Spanish tours and holidays, with Independent Holidays.
Join our new commenting forum
Join thought-provoking conversations, follow other Independent readers and see their replies