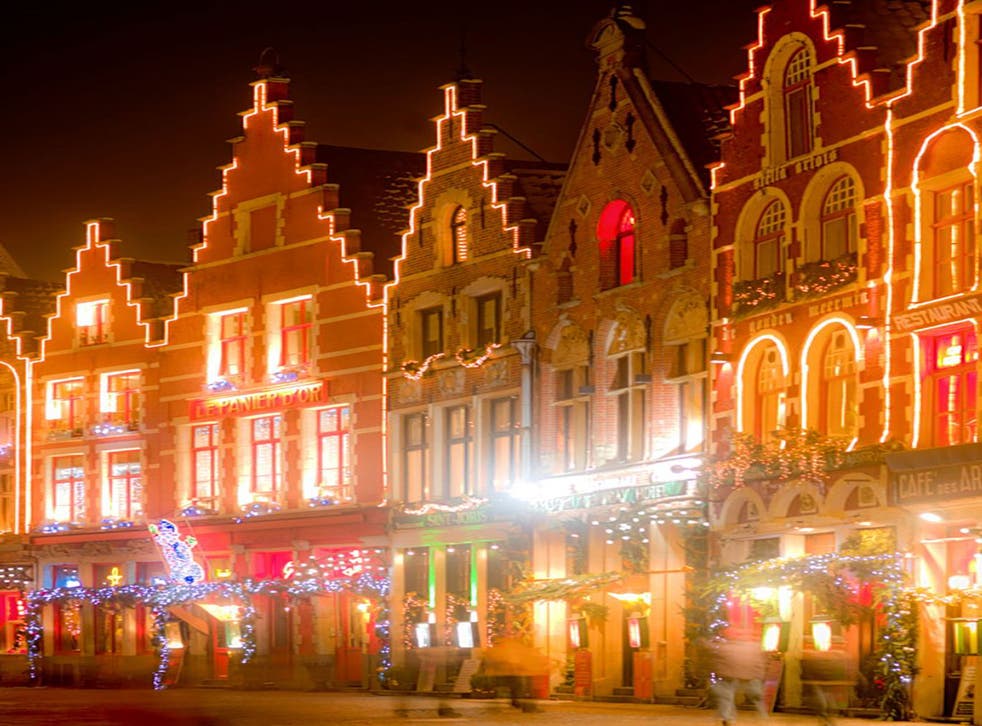 A winter's tale in Bruges
This medieval Belgian city provides the perfect setting for Christmas markets and other festive activities, says Katy Guest
Arriving in Bruges as the lights are lit on a crisp, late-November afternoon, you'd be forgiven for thinking that the whole city is made out of gingerbread. This is a place where festive kitsch is a way of life – where a Christmas market, huddled around a twinkling ice rink, sits naturally against a background of frosty, medieval buildings, and where braadworst and glühwein are practically the staple diet. Happily, if Christmas and shopping don't appeal, then you can make do with chocolate, beers and frites.
Bruges, with its cobbled streets wound through with canals, could have been designed for hosting Christmas. Its role as a major medieval trading centre in north-western Belgium, with its centre less than 10 miles from the sea, means that its merchants' houses and public squares are now all graciously old and greetings-card pretty. Locals ride bikes through the pretty back streets, and horses and carts are more common than cars in the city centre. Bizarrely, I noticed that there are hardly any litter bins – and hardly any litter, either. Perhaps Santa's little helpers spirit it away.
The main square of Grote Markt, in the shadow of the spectacular 13th-century bell tower, is the hub of Bruges, never more so than during the festive season. It was only a 10-minute, canal-side stroll from my base, the Hotel de Medici, but a full 15-minute stagger back with shopping bags full of loot. The brave were getting their skates on at surely the prettiest ice rink in the world, while the less athletic were filling their shopping bags with knitwear, slippers, crystals, glass, Christmas ornaments and enough flavours of the gin-like liqueur, jenever, to floor Father Christmas – and all his reindeer, too.
Those too lazy even for that had taken rinkside seats at one of the little wooden huts that line the square. Touristy food and drink combinations on offer included Irish coffee or Baileys hot chocolate, some rather un-Belgian churros or the cheesy potato combo tartiflette Savoyarde. It's worth comparing the prices and sizes first, though: a braadworst the size of my arm cost €5 at one stall, while a thimbleful of mulled cider was €3.50 at another. The shopping stalls were the first to get going, mid-morning, while the food stalls opened for lunchtime and were still full of the Christmas spirit at 1am on the Christmas market's first Friday night last week.
After all that hard work, it was time for another sit down, and Staminee de Garre, a quiet, wood-beamed tavern, is a bar designed for serious sitting down. It also has a serious house beer, Tripel van de Garre, which weighs in at a staggering 11 per cent. Hidden down a tiny alleyway off Breidelstraat, Staminee de Garre doesn't allow standing: if you can't find a table, you'll have to come back later. The house beer is strictly limited to three glasses per person and it's served with cheese to soak up the worst of it. But think twice about taking a seat upstairs unless you can be trusted not to fall down the stairs embarrassingly when you leave.
While the Christmas market had provided an atmospheric introduction to festive gift-buying, the streets surrounding the Grote Markt yielded more sophisticated shopping. Facing the square, the kitchen shop Dille & Kamille is a dizzying emporium of things you never knew you needed (tiny mustard spoons, anyone?).
At Wollestraat 53, the celebrated bar and beer shop, 2be, has several floors of the most diverse beers you'll ever see. From there, I ambled up the canal from Minnewater Lake, a walk so stunning that I felt like I'd fallen asleep and woken up in a Grimm's fairytale, to get to the chocolate museum and The White Pelican, a year-round Christmas shop in a sparkly white grotto that looks as though Santa's elves had only just left.
I ended up in the streets around Wollestraat, so dizzy from the aroma wafting from the doors of the chocolatiers that I accidentally bought several packets of pralines and truffles before I realised what I was doing.
It was time for another rest, so I joined the locals outside one of the cafés that surround Grote Markt, wrapped up against the cold, nursing a coffee and watching life on the square warm up. It's cheaper than having dinner at one of the square's restaurants, where they charge €4.50 for a glass of water because "we don't serve tap water in Belgium", but where you'll pay a more bearable €20 for a huge barrel of delicious moules-frites and a romantic view of the wintry square.
Here you can survey the Christmassy scene and review your haul, though be careful not to eat all your chocolates and drink all your beer. Still, what's the worst that could happen? Only that you'll have to go back to Bruges for some more.
Travel essentials
Getting there
Katy Guest travelled with Cresta (0871 895 0075; crestaholidays.co.uk; or visit your nearest Thomas Cook or Co-operative Travel), which offers two nights' B&B at the Golden Tulip de Medici Hotel in Bruges, from £169pp, including Eurostar travel from London St Pancras via Brussels.
Visiting there
The Christmas market runs until 2 January (visitbruges.be).
Register for free to continue reading
Registration is a free and easy way to support our truly independent journalism
By registering, you will also enjoy limited access to Premium articles, exclusive newsletters, commenting, and virtual events with our leading journalists
Already have an account? sign in
Register for free to continue reading
Registration is a free and easy way to support our truly independent journalism
By registering, you will also enjoy limited access to Premium articles, exclusive newsletters, commenting, and virtual events with our leading journalists
Already have an account? sign in
Join our new commenting forum
Join thought-provoking conversations, follow other Independent readers and see their replies