A winter's tale in Norway: Explore the wilds of Roald Amundsen's homeland

Show all 5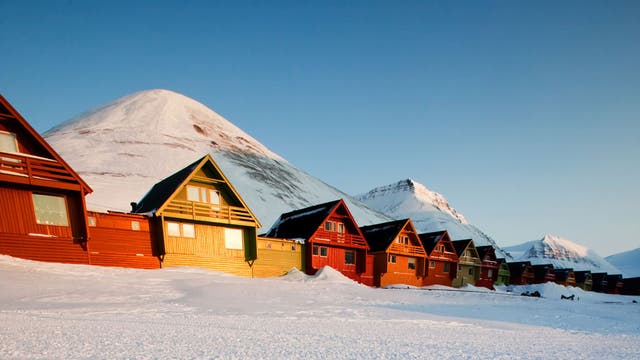 A winter's tale in Norway: Explore the wilds of Roald Amundsen's homeland
It is certainly a house, its wooden frame, painted in soft hues of white and blue, perched prettily in its waterside setting. But I am not convinced, as I open its creaking front door, that it was ever a home – at least, not in the idea of a welcoming shelter from the storm.
Evidence that its owner entirely preferred the storm is immediately apparent – a sledge that accompanied him to the South Pole propped casually in the hall, a pair of sealskin gloves hanging from a hook. Beyond, the lounge is dominated by the windows, which look hungrily onto the wide channel of the Dunnefjord. The overall impression is not of a cherished retreat used for long periods of relaxation, but of a bolthole designed to be left.
And leave it Roald Amundsen did, repeatedly – and most notably in June 1910, when he unhitched his ship, the Fram, from its Dunnefjord mooring, and set off on a journey that would see him (with four co-adventurers) become the first man to reach the South Pole.
This great Norwegian had already achieved a huge amount when, aged 39, he ticked off this monumental feat. A fiercely determined character, he spent three years (1903-1906) leading the first foray through the previously unnavigated Northwest Passage between the Atlantic and Pacific Oceans. And he would go on to further glories, not least as one of the party that made the first verified crossing of the North Pole (by airship) on 12 May 1926.
But his conquest of the globe's most eulogised outpost – he reached the South Pole on 14 December 1911, 100 years ago this Wednesday – remains the defining moment of the "Heroic Age Of Antarctic Exploration". It is also the bittersweet backdrop to the sad tale of Britain's own doomed outrider, Captain Robert Scott, who finally scrambled to the Pole on 17 January 1912, only to find the Norwegian flag fluttering above his life's goal.
A century on, there is a sense that Amundsen's success has been eclipsed by Scott's tragedy. So when I go looking for him, it seems natural to start in the shadows – at Uranienborg, the house that he occupied from 1908 to 1928, which is now preserved as a time capsule.
Huddled in forested countryside near the village of Svartskog, 10 miles south of Oslo, it still paints a picture of the man who flitted through its confines. There are flashes of ego, such as the dining room chairs, whose backs bear the letters "RA". But there is also a frugality. The tiny bedroom is an afterthought, the roof sloping low over the bed. In the bathroom, scraps of soap lie on the basin. Only the study seems to have been loved, a chart of Antarctica on its wall, a sheaf of maps on the desk.
It is not until I return to Oslo that I find the environment where Amundsen was in his element. Dry-docked on the Bygdoy peninsula, south of the centre, the Fram is imbued with a warmth and a camaraderie that are wholly lacking inside Uranienborg. The steps down from the broad deck of this sturdy three-masted schooner send me into a varnished haven that must have hummed with cigar smoke and purpose, cabins arranged around a chamber where a gramophone waits idle. Amundsen's cabin, filled with animal furs and medicine bottles, projects a homeliness that was underlined in December 1936, when the ship was being restored for tourist use. Oscar Wisting, the closest of the explorer's South Pole companions, lived on board for three days while giving advice on the refit. On the fourth morning he was found dead in his old cabin, an elephant who knew his graveyard.
There are further echoes of Amundsen's past elsewhere in Oslo, such as the Grand Hotel, a gilded throwback to the early 20th century, where his triumph was toasted in the Rococo banqueting hall on his arrival back in the city in 1912.
A search for his ghost will always involve a tour of Norway. For two days, I am distracted by its capital: the Munch Museum, where The Scream cries its eternal horror; the open space of Vigelandsparken, where sculptures crowd the grass; the upwardly mobile districts of Grunerlokka and Gronland, once-industrial quarters now festooned with chic bars and restaurants.
But such gentrification is a sharp reminder that cities are not the natural proving ground of explorers. And seeking to follow Amundsen, I too flee Oslo – not to the Antarctic, but to the dark extremities of Norway's uppermost limits, where much of his story played out.
Some 1,000 miles north of Oslo (and 300 miles above mainland Norway), the Svalbard archipelago is almost as final a frontier as the South Pole. Here is a raw cluster of islands trapped where the Barents Sea meets the Arctic Ocean – a nest of glaciers and peaks that, strewn between the 74th and 81st latitudes, scrawls a full stop for the European landmass.
Amundsen found fertile terrain in its isolation. His flight to the North Pole took off from Ny-Alesund, a settlement, on the west coast of the largest island Spitsbergen, that retains this pioneer role today as the site of several polar research stations – all of them watched by the explorer whose face, cast in ruddy bronze, surveys the scene with hawkish focus.
Flying into Longyearbyen, Spitsbergen's (and Svalbard's) only "town", I know I have reached a far-flung place when I spot the stuffed polar bear in the middle of the baggage carousel. This taxidermy totem was once alive – as is made apparent by a sign that warns in four languages: "Do not touch the polar bear." This is sound advice in general. About 3,000 of these pale predators live on the archipelago. The human head-count is just 2,500.
Outside, Longyearbyen shivers at the end of the world. On the drive to my hotel, the taxi passes the Svalbard Global Seed Vault, an underground chamber where 1.5 million seed samples are stored in case of Armageddon elsewhere on the planet. But I am tempted to think that Armageddon has already happened here. The whole area is wrapped in a thick blanket of darkness. In summer, Svalbard basks in 24-hour sun. But this is November, and the polar night is all-encompassing. I will not see daylight again for over half a week.
Yet Longyearbyen braces itself against this blackness, and temperatures that can descend to -20C – its dim crossroads catering for the scientists, miners and (increasingly) tourists who come here with pockets of respite. These include the inviting Basecamp Trapper's Hotel, cut from driftwood, where I burrow down for three nights; and the right-angled bar of the Karls-Berger Pub, where shelves are stacked with enough vodka, brandy and whisky to fend off any winter.
Then there's the incongruous haute cuisine of Huset, where reindeer steaks are served in a building that has been both post office and theatre; and the red-meat slabs offered at sibling eatery Kroa, where a photo of Amundsen in Svalbard – about to embark on his North Pole flight – adorns the menu.
Gourmet delicacies can, of course, hardly be considered expedition rations. But the next day carries me rather closer to the explorer's existence. Amundsen's clever use of dogs was a key factor in his speed across the Antarctic – and so I find myself in a damp yard, ears assailed by canine yelping.
As well as accommodation, Basecamp runs an "authentic" version of dog-sledding, where visitors are asked to prepare their own team. This means harnessing Tor, Nanoq, Piteraq, Misca, Ozzy and Ronny, six Alaskan huskies whose enthusiasm douses my gloves in spittle, and has me obsessively checking the anchor that stops them haring off with an empty sledge.
Eight sledges slip into the Bolterdalen valley, the darkness even more suffocating without the glow from Longyearbyen, 10 miles to the west. The 15-mile loop will be shorter than Amundsen's trek, but the danger, in one small way, is greater – the explorer did not have to worry about the polar bear, that exclusively northern beast.
Guide Marthe Sorli carries a rifle, but I am jumping at shadows. Shrouded in thermal clothing, I am protected from the cold, but as the dogs pick up pace, the wind takes on near-physical properties, hitting like a fist. Rare bursts of starlight give shape to the valley, mountain flanks rearing on either side, vague white phantoms mired in gloom. And the aurora borealis swirls overhead. It is hard to know how fast we are going, but with visual markers all but removed, it feels like flying.
By the time I return to the rudimentary hut that acts as a base – the dogs loll-tongued and steaming in their kennels outside, a gloopy fish soup reviving spirits within – I am allowing myself to believe that I have enjoyed a brief insight into the polar explorer's lot.
I will gain one more. My trip home deposits me in Tromso, Scandinavia's uppermost city. Though I am back in continental Europe, there is still a whiff of the wilderness about this urban sentry, stationed on Norway's north-westerly shoulder. Here, further fragments of civilisation wave a torch at their sunless surroundings: Perez, a bar that pushes a Spanish vibe; the luminous Tromsdalen Church – better known as the Arctic Cathedral, thanks to ridged masonry that makes it resemble a row of icebergs.
But the city's proximity to the void is also acknowledged in the Polar Museum. Here is a revealing section on Amundsen. Encased in a small frame is a copy of the message he left for Scott at the South Pole. Short, sparse, bereft of any sort of fraternity, it simply explains the location of the Norwegian Pole-side camp. It is not difficult to gauge the effect these words must have had on his broken rival.
But if Scott's death haunts this second-floor gallery, so too does that of his nemesis. Amundsen spent his last morning – 18 June 1928 – in Tromso, departing on a seaplane to hunt for Umberto Nobile, one of his colleagues on the 1926 airship jaunt, who had vanished on a subsequent North Pole mission. Three hours into the flight, the aircraft plunged into the sea, accounting for all six men on board. Nothing and no one was recovered, save for two pieces of wreckage – one of which, a holed fuel tank, sits in the corner of the room. Next to it, the final photo of Amundsen shows him in front of the plane. He died as he lived – on the move. You rather suspect he would have preferred it that way.
The race to the South Pole
History has distilled the bid for the South Pole into a duel between Amundsen and Scott, but 10 expeditions had journeyed to Antarctica in 13 years by the time these main players made their moves.
By 1910, Scott – who had already tackled the continent between 1901 and 1904 – appeared to be in prime position to reach 90°S. Amundsen, by contrast, had shown no interest in Antarctica. Indeed, when Scott's party sailed from Cardiff on 15 June 1910, he seemed to have an open field. His rival, who had left Oslo on 6 June, officially for the North Pole, did not reveal his intentions – even to his own men – until the Fram reached Madeira. On 9 September, he sent a cable to Scott (by now heading for Australia) and the race was on. Both groups made Antarctica in January 1911, finished their preparations and sat out the winter – before starting their marches in October. The five Norwegians reached the Pole on 14 December, Scott and his four comrades on 17 January 1912. Scott's anguish is clear in his diary. "The worst has happened..." he wrote. "All the daydreams must go... Great God! This is an awful place."
Amundsen's team returned to base in fair weather, but the British hit extreme storms. On 17 March, starving and frost-bitten, Lawrence Oates stepped from the tent uttering the immortal line: "I am just going outside and I may be some time." Scott's final note was written on 29 March. Three of the group's bodies were found in November.
"Scott's Last Expedition" is at the Natural History Museum from 20 January to 2 September (020-7942 5000; nhm.ac.uk). Oslo's Fram Museum is republishing Amundsen's expedition diary on a daily basis (frammuseum.no/Blogs.aspx).
Travel essentials: Norway
Getting there
* Scandinavian Airlines (0871 226 7760; flysas.com) flies from Heathrow and Manchester to Oslo, with onward connections to Tromso and Longyearbyen. * Norwegian (020-8099 7254; norwegian.no) flies from Gatwick, Edinburgh and Manchester to Oslo, with links to Tromso.
Touring there
* Explore (0845 868 6398; explore.co.uk) offers a 10-day "Around Spitsbergen" summer cruise from £4,144, excluding flights.
Staying there
* Grand Hotel, Karl Johans Gate 31, Oslo (00 47 23 212 000; grand.no). Doubles from NKr2,410 (£267), including breakfast.
* Basecamp Trapper's Lodge, Longyearbyen (00 47 79 024 600; basecampexplorer.com). Doubles from Nkr1,450 (£161), including breakfast.
* Rica Ishavshotel, Fr Langesgate 2, Tromso (00 47 77 666 400; rica.no/ishavshotel). Doubles from Nkr1,200 (£133), including breakfast.
Visiting there
* Dog-sledding with Basecamp Spitsbergen (00 47 79 024 600; basecampexplorer.com) from Nkr850 (£94).
* Fram Museum, Oslo: Bygdoynesveien 36 (0047 23 282 950; frammuseum.no). Nkr60 (£6.60).
* Polar Museum, Tromso Tollbodgata 11 (00 47 77 623 360; polarmuseum.no). Nkr50 (£5.50).
* Uranienborg – Roald Amundsen's home, Svartskog, near Oslo (00 47 64 939 990; follomuseum.no). Nkr40 (£4.40).
More information
* Visit Norway: visitnorway.co.uk
* Visit Northern Norway: visitnorthernnorway.com
Register for free to continue reading
Registration is a free and easy way to support our truly independent journalism
By registering, you will also enjoy limited access to Premium articles, exclusive newsletters, commenting, and virtual events with our leading journalists
Already have an account? sign in
Join our new commenting forum
Join thought-provoking conversations, follow other Independent readers and see their replies