The Independent's journalism is supported by our readers. When you purchase through links on our site, we may earn commission.
How to do a daytrip to Amsterdam using the new direct Eurostar train
Four hours in the Netherlands capital isn't a lot – but it is enough to take a cruise, down a pint and visit the city's quirkiest museum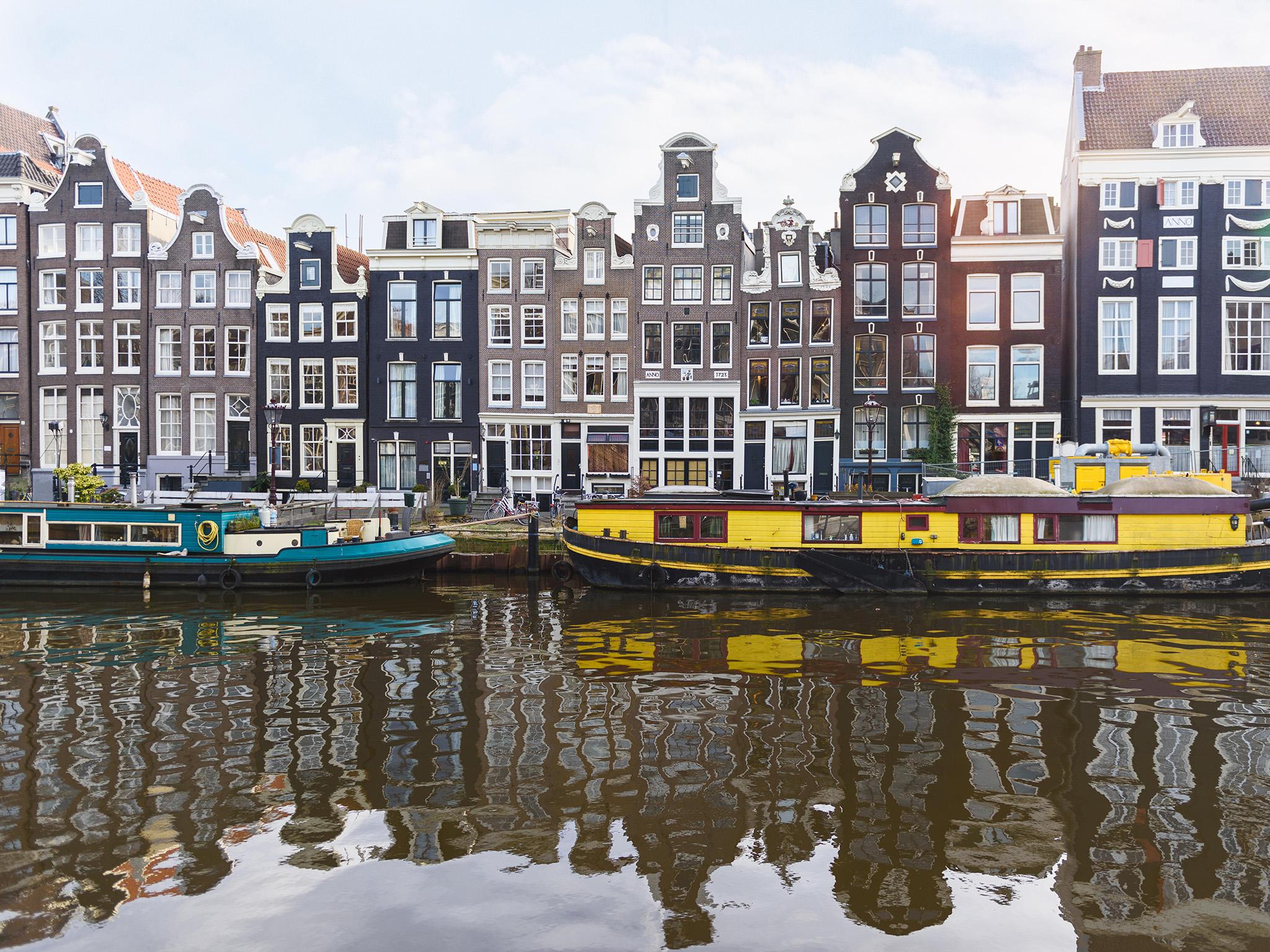 You don't know stress until you find yourself shrilly beseeching a dreadlocked man in an Amsterdam bike hire shop to please, please return your passport so you can catch a train that is leaving for Brussels in 10 minutes.
The situation is extreme enough to warrant overriding my normally implacable British reserve and queue-jumping past a family, practically flinging my rental bike at the chap behind the counter and screeching, "Um, yes, it's rather urgent actually!"
This is what happens when you give yourself just four hours to explore the Netherlands capital on the ultimate daytrip – OK, half-daytrip – from the UK.
The first direct train from London to Amsterdam launched last week to great fanfare, cutting the journey time between these two illustrious cities to just three hours and 41 minutes. With the birth of the new service, the potential for British tourists to visit Amsterdam for a flying weekend instantly became even greater. But how about just for a day – the way you'd hop the Channel for a fleeting Paris sojourn?
The fly in the ointment is that travellers can't catch a direct train home – passport-checking red tape has yet to be sorted despite Eurostar's best efforts – so the return leg is longer and not quite so hassle-free, with a Thalys to Brussels, security checks there, and finally the Eurostar back to London.
Still, by catching the first available Eurostar from St Pancras at 8.31am and taking what is feasibly the latest train I can get back at 5.17pm from Amsterdam Centraal Station, I calculated I'd be left with a swift but doable four hours. Fun? Maybe. Ridiculous? Definitely.
I was fine for most of the pleasantly uneventful outbound journey, but once we hit Rotterdam I found myself subtly tensing up as if preparing for the start of a 100m Olympic dash. I flicked through my notes again (a hastily prepared itinerary which left little room for error) and found my train ticket on my phone, simultaneously typing my first destination of the day into Google Maps. Five minutes away from Amsterdam Centraal Station, my backpack was on, my waterproof zipped. Bring it on.
As the train pulled in at 1.12pm precisely, I was already off before other passengers had finished repacking their bags, heading out of the main station entrance with the slightly deranged determination of someone who was… well, attempting to explore a capital city in four hours. I wasn't quite running, but something close to a power walk was undoubtedly happening.
Attempting the certifiably insane is all about tactics. Going on two wheels is not only the most enjoyable but the fastest way to explore Amsterdam, so my first port of call was a bike hire shop picked purely for its proximity to the station (a seven-minute walk). I've had better rentals, but my rickety steed was ready to go in five minutes and I left minus my passport (as a deposit) and €10 (as payment) with my transport for the next four hours sorted.
The time: 1.25pm. Four hours and two minutes on the clock, please.
Trying to ignore the time pressure, I kicked off with a leisurely cycle to the trendy Jordaan neighbourhood, one of Amsterdam's prettiest areas. Normally I'd stop every now and then to check a map, but I didn't have time for that level of navigation, instead plugging headphones into my phone and letting my ears be accosted by the Google Maps lady butchering Dutch street names.
In 10 minutes I pulled up beside La Perla, a cute pizzeria that cooks pizzas in its huge wood-fired oven. I grabbed my margherita to go and inhaled it by the nearest canal, trying to enjoy people-watching while resisting the urge to look at my watch every 20 seconds.
Funnily enough I couldn't quite relax – 2.15pm, bleurgh! – and cut my losses, biking the five minutes to Westerkerk. This impressive 17th-century Protestant church is just down the street from the Anne Frank House – she comments on hearing the Westertoren's 47 bells in her diary. The striking tower tempted me inside, which isn't nearly so grand as the exterior but does have an elaborate organ (plus a deep sense of peace that I was clearly in need of).
In Amsterdam, second only to exploring by bike is exploring by boat. Catching an hour-long canal cruise (pre-booked, naturally) from opposite the Anne Frank House at 2.30pm, I felt oddly trapped. Was a whole hour too decadent? Should I be at the Rijksmuseum? Cycling around Vondelpark? Smoking a jazz cigarette?
For all my anxieties, the experience was much better than expected, with a genuinely interesting audio guide and the opportunity to play my favourite Netherlands game – spot different types of gable on the canalside houses.
The hour passed in a heartbeat, and as we docked my new-found zen attitude evaporated into oblivion. It was already 3.30pm; less than two hours to go.
Culture time! Despite the fact that Amsterdam is home to some of the most extensive museums and galleries – the Hermitage, the Rijksmuseum, the Van Gogh Museum – I couldn't possibly do any of them justice in half an hour. Instead I opted for an institution that couples an accessibly bijoux size with enchanting weirdness: Kattenkabinet.
This museum-cum-gallery-cum-shrine was created by wealthy banker Bob Meijer in honour of his favourite cat, John Pierpont Morgan. It's a bonkers yet brilliant array of artworks featuring felines, all displayed in a charming traditional townhouse. The highlight is usually the menagerie of live cats wandering about the place, and today was no exception – I spotted three in total, and gave a magnificent black and white beast purring on the windowsill a thorough tummy rub to relieve my stress.
By the time I left I felt lighter; cats will do that to a girl. It was 4.15pm, giving me just enough time to experience one of Amsterdam's greatest joy's – gezelligheid. The Dutch equivalent of hygge, this describes the feeling of being cosy and convivial, full of good cheer. The best place to absorb this lovely vibe is in one of the city's many brown cafés: old pubs with dark wood interiors stained even darker by all the spilt ale and cigar smoke over the centuries.
I plumped for Café Hoppe, a stone's throw from the museum. As traditional as they come, this 17th-century bolthole still has sand scattered on the floor, dark wood barrels and a warm, merry atmosphere that is the definition of gezellig. I ordered a La Chouffe – heck, I'd earned it – settled onto a stool and mentally congratulated myself for managing to squeeze some enjoyment from my half-day dash. In fact, I relaxed so much, revelling in the steady patter of the barman with his Dutch patrons, that I forgot to look at my watch.
And that's how I found myself scrambling back on the bike at 4.55pm, cycling like a demon to drop it off, and shrilly demanding my passport be returned before hightailing it to the station.
It's not exactly the return I imagined – dripping with sweat and wheezing my way onto the train with four minutes to spare – but at least it shows I managed to truly lose myself in Amsterdam. If only for half an hour…
Getting there
Eurostar's new direct service from London to Amsterdam costs from £35 one way.
Join our commenting forum
Join thought-provoking conversations, follow other Independent readers and see their replies