The Independent's journalism is supported by our readers. When you purchase through links on our site, we may earn commission.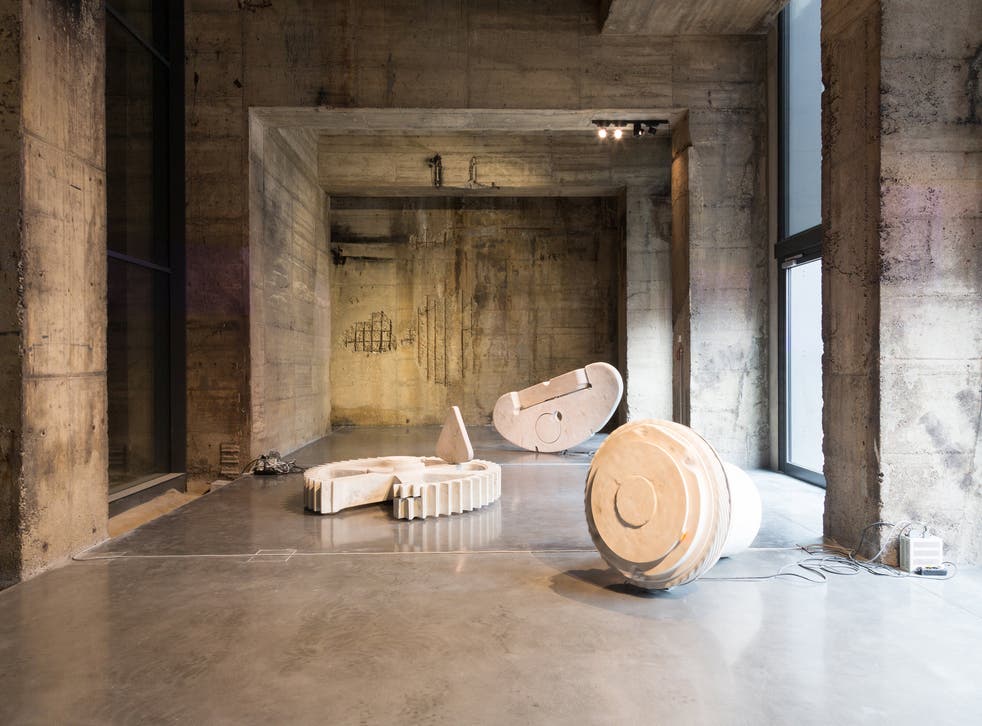 High culture in the Low Countries: creativity in Luxembourg's old industrial heartland
The vast steelworks at Belval have been repurposed as spaces for art, music... and zip-lining
Christopher Beanland
Wednesday 07 September 2016 11:56 Comments
An opera singer swathed in peacock lace belts out a spellbinding aria from Tchaikovsky's Iolanta while the audience looks on. But this one-off performance isn't taking place at an opera house, instead we're in the belly of a blast furnace. It's a classic case of beauty and the beast.
The theme continues: there are photographs attached to the walls of a decommissioned steel processing plant next door, sculptures set in dusty courtyards where coal was once piled up, video art in the workers' former changing rooms, and a piece of abstract sonic art reverberating around the derelict raw concrete husk of a structure which has been half-demolished.
These are the former ARBED steel works at Belval in Luxembourg – one of the weirdest and most compelling sights the Low Countries has to offer. If you thought Luxembourg was all about banks, forts and Eurocrats' offices, Belval will come as a shock to the system. It must have been an even bigger shock to the denizens of Esch-sur-Alzette when the Escher Bësch Forest was felled in 1909 and this huge complex was erected next to their town over the next four years.
By 1913, 3,000 workers were toiling in conditions Dante would have raised an eyebrow at, surrounded by fire and smoke and heat and dust – the plant ripped apart the countryside of the so-called Red Lands (because they were packed with iron ore), depositing poisonous chemicals that leached into the once-fertile soil.
Steel made Luxembourg rich – the financial services the country is famous for began as a way of funding this heavy, messy, essential industry. But by 1997 the plant, which is as large as a town and shades into the scruffy existing settlement of Esch, was creaking and controversial – dirty and expensive to maintain, expensive to run, compared to China.
So the steelworks closed down – and became one of the largest regeneration areas in Europe. And what a fascinating job they've made of turning this place into something entirely different. In Britain we've erased nearly all of our heavy industry – many of the villages of County Durham and the Dearne Valley seem bereft because their coal mining structures have been ripped out. Only Rotherham's Magna Science Centre - in the town's former main steel works – and a few mining museums in the North East and Wales remain, while in Sheffield the Meadowhall shopping mall stands on the site of one of the city's biggest steelworks. In Europe they're more imaginative – in Germany, Zollverein Coal Mine near Essen is the home of a design museum, while the Ferropolis museum of massive industrial diggers near Dessau hosted the annual Melt! music festival earlier this month.
Now, Belval is biting at their heels. We're a few miles north of the French border and there's something for everyone: the Rockhal – Luxembourg's biggest music venue, which will host the likes of Bryan Adams and Biffy Clyro this autumn, a huge shopping centre called Belval Plaza, an Ibis Hotel, Luxemburg's university, apartments, offices and various bars – including one bizarrely themed around West Ham football club.
There's also a new railway station – Belval-Université. Regular trains run from Luxembourg City in just half an hour, and in a country where things can be painfully pricey, the flat-rate €2 ticket (which lasts for two hours and is valid across the entire nation) is a rare and precious bargain.
The contrast between the clean, glassy, boxy modern buildings of new Belval and the massive relics of the old steelworks is eye-opening – it gives the place a unique character. But the real reason to visit is to explore the decommissioned industrial structures themsleves. The two blast furnaces tower over everything, their huge chimneys poke up on the horizon, announcing themselves with a grunt before you even reach Belval. From the top, wearing a hard hat, you can see for miles. The adventurous can kit up and zip-line between the two summits.
The furnaces have been preened and polished, they look oddly new – and former staff will be happy to show you the places they used to work in once intolerable heat. Only in the last year have the structures all been made safe – they've been surrounded by reflecting water pools and planted with trailing mosses which gives it all a weird feel of being both the end of the world and the start of it.
To celebrate the project to restore and repair these old industrial dinosaurs, a summer-long art project has taken over Belval. BeHave is curated by acclaimed London-based couple Michael Pinsky and Stephanie Delcroix and uses the grimy, evocative Belval backdrop as an intriguing canvas for various pieces of public art.
In the furnaces themselves is a booming, ethereal piece of sound art by Italian artists Alessandro de Francesco and Paolo Ingrosso which uses the voices of the former workers. In that half-demolished concrete structure nearby is another piece of intriguing sonic art – Neville Gabie went to China to record the sound of one of the Belval furnaces which was dismantled and shipped over to Kunming, and which continues to breathe out hot smoke and fresh iron. As you listen to the banging and heaving of the furnace you can't help but wonder what Belval used to be like.
Giuseppe Licari's photos of the toxic dumps and quarries nearby give a more visual, visceral clue to the polluted past – these otherworldly holes look more like they're Icelandic glaciers, or one of Saturn's moons. They remind you of scenes from Michaelangelo Antonioni's 1960s cinema classic Il Deserto Rosso, set around the petro-chemical plants of Ravenna.
In the Massenoire building there's a fascinating little museum which tells the story of the works, and has a cinema that's home to another BeHave commission – a short film from American Shimon Attie which shows people playing roulette. Attie's cast is entirely made up of Syrian refugees living near Belval, and it makes a potent and poignant point about their struggles to travel across Europe in a way which makes our own journeys seem tame in comparison.
Travel essentials
Getting there: easyJet (easyjet.com), Luxair (luxair.co.uk) and British Airways (ba.com) fly to Luxembourg from Gatwick, London City and Heathrow respectively. In September Ryanair (ryanair.com) begins a new route from Stansted, and Flybe (flybe.com) begins flights from Birmingham and Manchester.
More information
BeHave runs until 2 October (delcroixpinsky.com/behave).
Register for free to continue reading
Registration is a free and easy way to support our truly independent journalism
By registering, you will also enjoy limited access to Premium articles, exclusive newsletters, commenting, and virtual events with our leading journalists
Already have an account? sign in
Join our new commenting forum
Join thought-provoking conversations, follow other Independent readers and see their replies