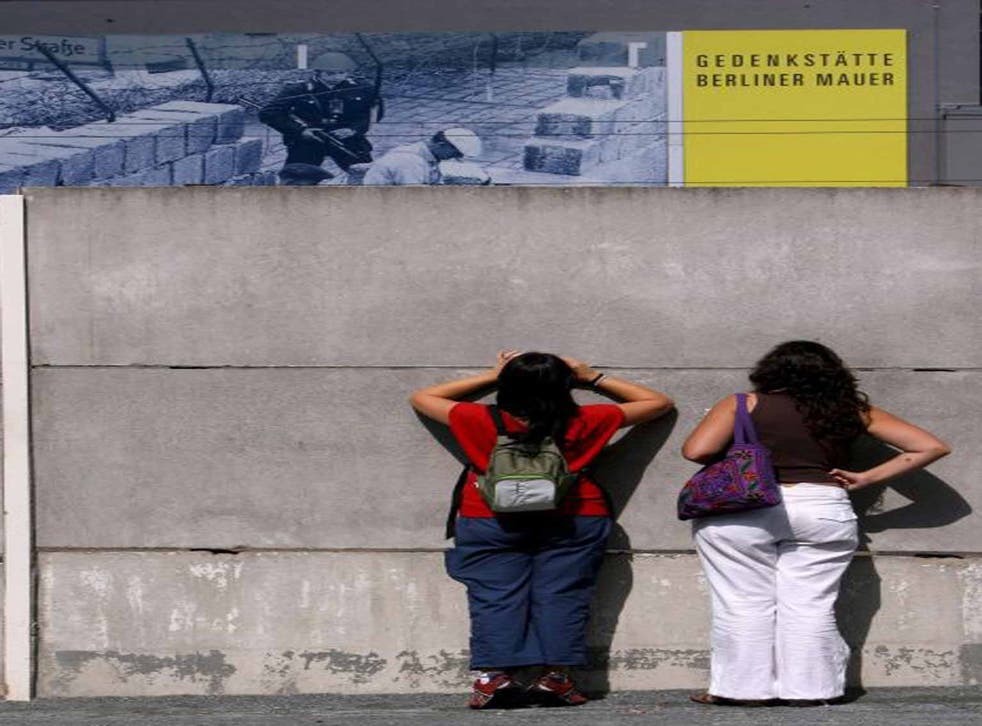 Berlin Wall and the underground struggle for freedom
Tristan Rutherford explores the city's little-known subterranean story
Tristan Rutherford
Friday 10 October 2014 10:09 Comments
Some believe the building of the Berlin Wall was inevitable. When it split the city into capitalist and communist sides in August 1961, a purported 20 per cent of East Germans had already deserted the GDR to seek a better life in the West. Thousands more walked, crawled and tunnelled their way to the West before the wall finally fell on 9 November 1989.
A quarter of a century on, an organisation called Berliner Unterwelten (Berlin Underworlds) allows visitors to relive those escapes. English-speaking guides offer a vivid realisation of the 20th century's longest conflict.
Our tour leader, Sîon, escorts us into a secret chamber underneath Berlin's Gesundbrunnen U-Bahn station. This underground station was the final stop in West Berlin before the railway dipped into socialist East Berlin, then emerged back out into the West.
Sîon tells us that when the Berlin Wall was first constructed, early defectors included the U-Bahn border guards. Soon enough, East German civilians were also jogging along the tracks to freedom. So, the underground line was snipped in two and only a huge payment of Deutschmarks reopened it. Trains subsequently rattled through guarded ghost stations without stopping. Some West Berliners passing through socialist territory would taunt the guards by lobbing bananas – luxuries unobtainable in the East – on to the deserted platform. The decadent fruit would be left until an East German Stasi (secret police) officer with special access retrieved it. The bananas would then be sold in the state police shop.
To secure against more defections, the Stasi extended the Wall underground. It's this series of grates, traps and electrified partitions that Sîon shows us next.
To add to the tension, our group is directed further underground through a series of tunnels. They're pitch black. Only luminous paint marks the way. Cold War remnants litter the route – a nuclear isolation suit here, an escape notice there. This dark, smelly underworld formed the next crossing point; if the U-Bahn tunnel was closed to civilian traffic, there were always the sewers.
East German officials may not have believed their workers' paradise was so bad as to warrant such a Shawshank Redemption-style escape. But it was. Apart from a lack of basic commodities, long working hours, low pay, controlled education and wider censorship, people also lived under the gaze of some 180,000 police informers.
Next we're guided into a cellar that explains the final version of the "Anti-Fascist Protection Rampart", as the wall was officially known in the East. By 1965 it was fully concrete. By 1980 it featured beds of nails, more than 100 watchtowers and "Czech hedgehog" anti-tank obstacles.
If you wanted to go under, you had to build your own tunnel. Thousands did so, most notably a retired group led by an 81-year-old man (the youngest tunneller was 59). But scores lost their lives digging, or were shot dead. It's a sobering thought, as we arrive blinking in the sunlight at Bernauer Strasse, site of the key Berlin Wall Memorial and just over the former border in East Berlin.
The 25th anniversary will thus be a celebration of freedom. On 9 November, an installation of illuminated balloons lining a 12km course of the former Berlin Wall will drift into the night air.
Better still for visitors, the Cold War legacy provides a wealth of culture. West Germany made sure that West Berlin was endowed with parks and theatres. The East Germans turned their half-capital into a pedestrian-friendly socialist showpiece. The united city has no fewer than 175 museums. That's two more than Paris.
The corruption and inequality of the East German system is best relived in the DDR Museum, where one section shows how the republic's "other half" lived. Inner-party cadres toured in Volvos, while two million workers drove half-plastic 600cc Trabants. But what would have happened if the Wall had held up? I join another of Berliner Unterwelten's English-language tours to find out. Back at Gesundbrunnen U-Bahn, we push through an unmarked platform door and into West Berlin's Cold War bunkers. Had nuclear war broken out – as it nearly did in 1983 when the USSR's early warning computer erroneously showed US nukes approaching – only 28,000 people would have found protection underground.
Our tour group passes through five scary air locks. Overlooked by unbreakable windows and protected by armoured doors, if too many escapees crowded the bunkers they could be shut out. With the threat of nuclear war on one side and the threat of crap cars on the other, Berlin is glad its tunnels are now a tourist destination. That's a fine reason to celebrate on 9 November.
Getting there
Berlin's Tegel airport is served by BA (0844 493 0787; ba.com) from Heathrow, and Germanwings (0330 365 1918; germanwings.com) from Heathrow and Birmingham. EasyJet (0843 104 5000; easyjet.com) flies to Berlin Schönefeld from eight UK airports; and Ryanair (0871 246 0000; ryanair.com) from Stansted and East Midlands.
Railbookers (020 3327 2440; railbookers.com) has a three-night stay at the Hampton by Hilton Berlin City West for £359pp, B&B including rail travel from London St Pancras via Brussels.
Visiting there
Berliner Unterwelten: for a complete schedule of tours in English, see bit.ly/WallTour. The writer took the 90-minute Tour 3 (€10), Subways and Bunkers in the Cold War, and the two-hour Tour M (€13), Under the Berlin Wall. DDR Museum: Karl-Liebknecht Strasse 1 (00 49 30 847 123 731; ddr-museum.de). Open 10am-8pm daily (Saturdays to 10pm), entry €7.
More information
Register for free to continue reading
Registration is a free and easy way to support our truly independent journalism
By registering, you will also enjoy limited access to Premium articles, exclusive newsletters, commenting, and virtual events with our leading journalists
Already have an account? sign in
Join our new commenting forum
Join thought-provoking conversations, follow other Independent readers and see their replies