Cabrera: Get away from the crowds of Mallorca
Mallorca offers beautiful scenery but hordes of tourists. To escape, hop to the nearby uninhabited island of Cabrera, now open to overnight visitors.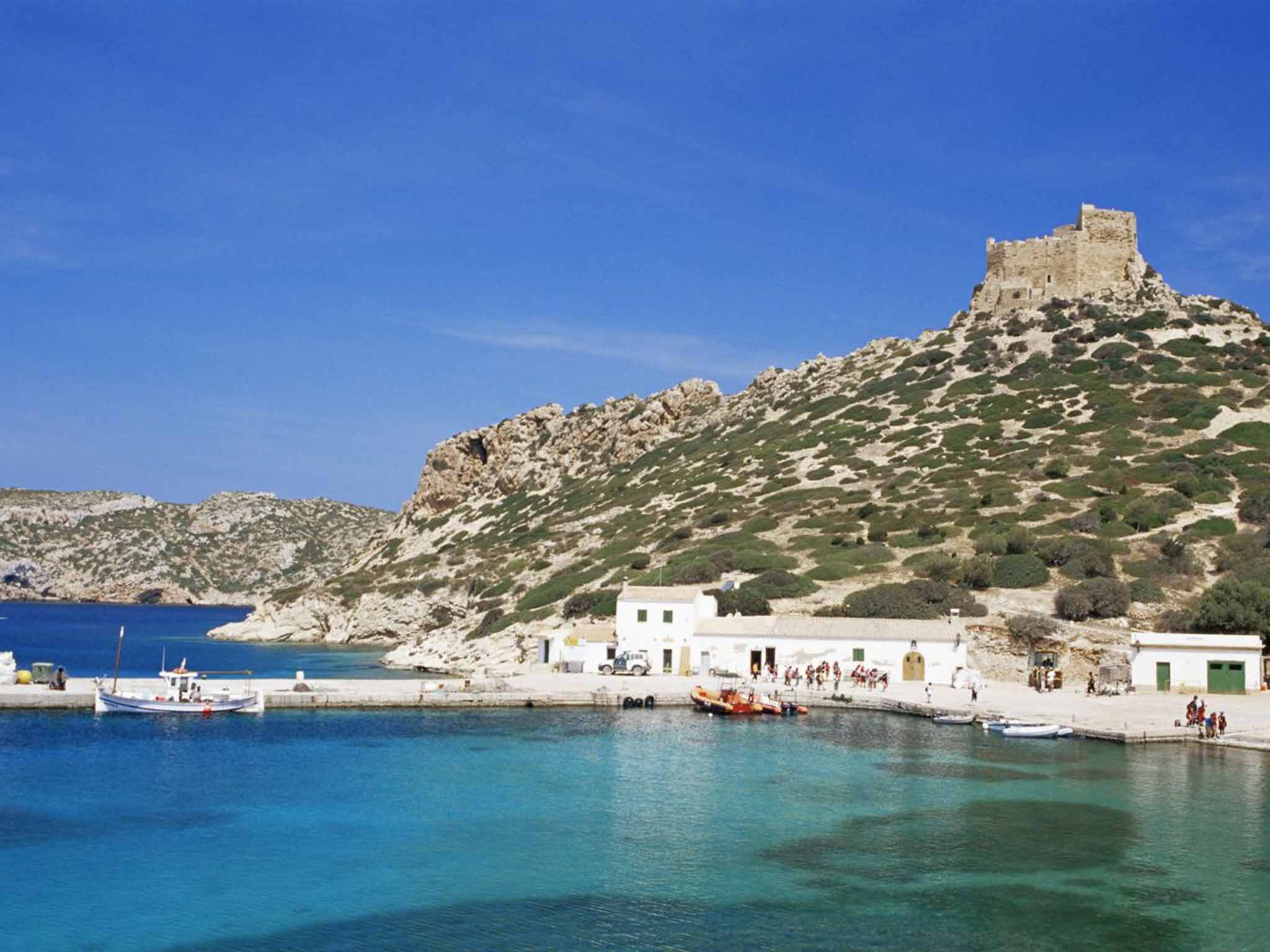 Where do Mallorcans go to get away from it all? What's to get away from, you might ask, as I did on arriving in Cala d'Or, the smart marina town filled with shiny yachts, whitewashed villas and a gleaming parade of waterside restaurants, all within easy reach of the sandy coves and fishing villages that dot this south-eastern corner of the island.
Well, there is the revelry of the yachting club that threatens to disturb a tranquil night's sleep; the tapas bar that serves full English breakfasts; and the tourist bus that resembles an oversized Thomas the Tank Engine, chugging its circuit up and down the road. And the beaches – small, beautiful, and heaving with English and German speakers.
Where locals apparently go to escape is Cabrera, an uninhabited island which floats remotely ten miles from the southern tip of Mallorca, where the landscape has remained unchanged for centuries. Because of its natural abundance of seabirds (including cormorants, shearwaters, falcons, ospreys and Caspian gulls), rich marine life (dolphins and sea snails) and its indigenous flora and fauna, it is protected as a national park.
Today, it remains well off the beaten track. All the more momentous, then, that since April, Cabrera has opened its doors to overnight guests – 12 rooms for up to 24 visitors, with a maximum one-night stay in peak season. So I'm just a little excited as I hit the sun-bleached road out of Cala d'Or with an overnight bag, towards the port of Sant Jordi.
The map on the boat ticket draws an arching line from the port to Cabrera, with key points at which seabirds and dolphins can be spotted. The dolphins are a no-show but the boat navigates dramatic seascapes – jagged caves dug out of the side of dark cliffs, a majestic lighthouse on Na Foradada which looks like it has been drawn on to the sky.
I imagine the untamed wilderness that will soon greet me. Except that when I get there, Cabrera is far from the paradise island of my imagination. As the boat pulls into the harbour, I see a visitors' office on one side, next to the public toilets, a small cantina, and beyond that, swathes of scrubland. While there are green hills in the distance, this part of the island looks like a chunk of rock thrown into the sea like a cement anchor. The ground has an arid, desert quality. I have come with my American sister-in-law and three-year-old niece. "Where are the animals?" my niece asks, in a high, tear-filled voice. A distant anxiety sets in, and I wonder if it wouldn't be wiser to take the boat back to our clean and comfortable villa at Cala d'Or. I bite my tongue, and hope my sister-in-law will suggest it first.
A welcome party of Environment Agency officials remind us of the island's protected status, and direct us towards two tiny, side-by-side beaches. They are a 20-minute walk away, which sounds painless enough, unless you are wobbling along an uncleared, uphill path in flip-flops, with overnight bags and a pram in tow.
We get to the beach and hurl ourselves into the water. Only then, little by little, a second impression of the island begins to emerge. My niece is bewitched by the multitude of lizards that flash across our path. My sister-in-law is entertained by the presence of an ultra-rich, Californian contingent, whose yachts are parked up near the harbour and who are heavily armed with state-of-the-art rafts and scuba-diving gear.
I am struck by the clarity of the seawater, and by the shoal of fish that steers so close into the shore that it virtually weaves around my legs. It is a surreal moment which reminds me just how unaccustomed the natural world in Cabrera is to human contact. A friendly group of Spanish women turn up with coolers and picnic hampers, telling us that this is where they come to escape the bustle of Mallorca. This, they say, reminds them of the emptier, simpler island of their youth.
We take another swim before dusk, by which time we are the only people on the beach. In fact, it is as if we are the only people on the island – an invigorating feeling, though disconcerting too.
We walk along a relatively clear, flat path with views of the patchwork ocean: swirls of turquoise, then strips of bottle green farther out, and finally, a blanket of deep, dark blue. When the sun drops off the horizon, the island rustles to stillness, the silence deepens, and tiny lanterns outside our living quarters twinkle on. Cabrera's only human presence has been a peripatetic, military one. During the Napoleonic wars, the island served as Spain's Alcatraz, and housed thousands of captive soldiers; it remained a military base until the 1980s.
Our hostel-style accommodation is in renovated barracks. It is stripped down, monastic, and feels in keeping with the island's beguiling simplicity. I fall asleep to the sound of swishing trees and wake up to a din of birdsong. We are the first on the beach and I feel a quiet sense of ownership as newcomers off the boat from Sant Jordi join us hours later.
Cabrera feels like being at the last, untouched outpost of a region that is indelibly marked by its tourist trade. Granted, the roads are pitted with rocks, and there is no clear signposting for walkers or anything beyond the most basic amenities. While some sights are within easy walking distance – the fort, a fishing museum – there are more which are tucked away on its farthest reaches. Cabrera's 19th-century red-and-white lighthouse, L'Enciola, is a four-hour hike from the harbour. But once I have acclimatised, I am grateful for a place that makes us work for our pleasures.
As our boat pulls away from the island, it looks more lush, more vegetative, than I had first realised. Even then, it does not wear its beauty on its sleeve, but I now appreciate its unostentatious glory.
I don't feel Cabrera's full effects until I am back in Cala d'Or, in our comfortable, convenient villa, which is a stone's throw from the town centre, and all the excitement and glamour it offers. The marina is alive with well-dressed diners in the multitude of restaurants, including the high-end Port Petit – a favourite of the former King Juan Carlos I.
Cala d'Or is undoubtedly charming. A one-hour drive from Palma, it is a good base for exploring the east of Mallorca and a good place to party. It is perhaps not the place for tranquillity, but we have already found that, on Cabrera.
Travel essentials
Getting there
Palma is served from the UK by British Airways, Condor, easyJet, Flybe, Jet2, Monarch, Norwegian and Ryanair. Excursions a Cabrera (00 34 971 64 90 34; excursionesacabrera.es) offers boat trips from €40 (€22 per child).
Staying there
The writer stayed at Villa Can Jaume, Cala d'Or, which is offered by Mallorca Farmhouses. It is part of the Superior Collection; rental starts at £847 per week for up to eight guests (0845 800 8080; mallorca.co.uk).
At Hostal Cabrera (00 34 971 65 62 82; cvcabrera.es/albergue-de-cabrera), high-season doubles start from €60 (June-September; maximum one night), low season €50 (October-November and February-May; maximum two nights).
Join our commenting forum
Join thought-provoking conversations, follow other Independent readers and see their replies