The Independent's journalism is supported by our readers. When you purchase through links on our site, we may earn commission.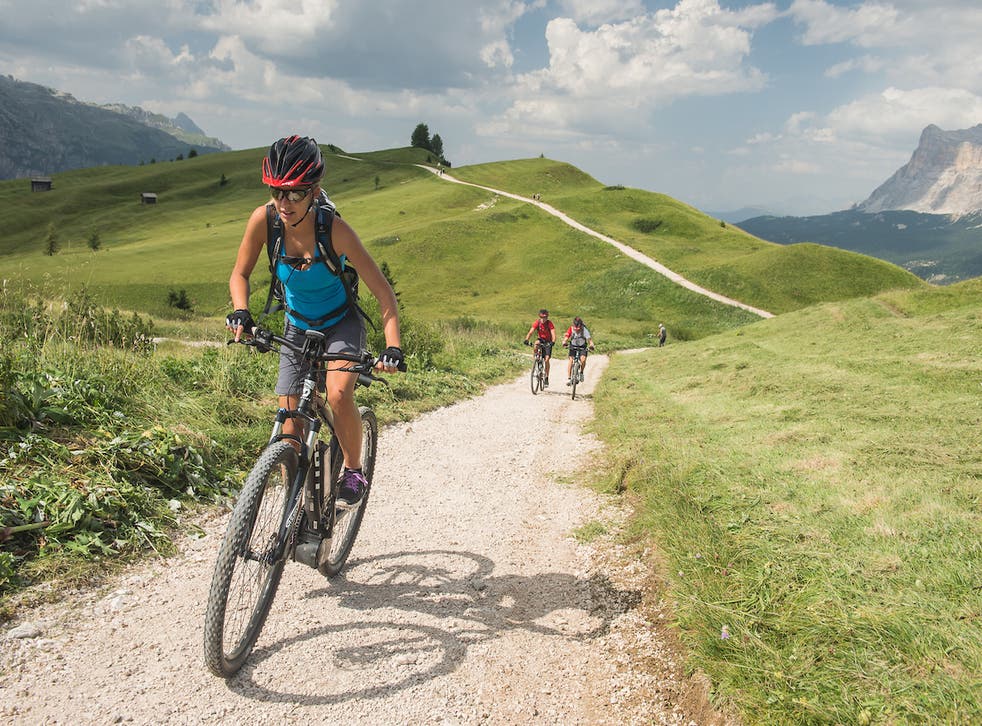 E-biking in Alta Badia: New electric cycle share scheme makes exploring the Italian Dolomites a doddle
Tackling off-road trails on two wheels need not be a slog, as James Litston discovers
James Litston
Thursday 17 August 2017 19:50 Comments
If the Lycra-clad hordes are anything to go by, they take cycling seriously in Alta Badia. The resort in Italy's Dolomite Mountains is a favourite with biking enthusiasts, but dressed in everyday T-shirt and shorts, I'm clearly an outsider among them. Then again, it takes more than looking the part to be an exceptional cyclist. Flashing a smile and a cheerful "Buongiorno!" to the kitted-out professionals I've just overtaken up an incline, it turns out all you really need is an electrically-enhanced bike.
Pedalling an e-bike may be easier than regular cycling, but that's not to say it's effort-free. The model I'm riding (a Pinarello, Italy's most revered bike brand) is a €6,000 (£5473), pedal-assisted mountain bike whose electric motor amplifies whatever energy I exert on the pedals. As a result, I'm powering uphill with no more puff than I'd need on flat ground.
It's one of the all-new fleet of e-bikes in Alta Badia's cycle-share scheme, for which there are six docking stations scattered around the resort's peaks and villages. With three located at elevations of over 2,000m, it's officially the world's highest bike-share. The other docks are situated lower down in Corvara, La Villa and La Val, three of the six pretty villages that together comprise the resort.
As the home of one of the heats of the annual Ski World Cup, Alta Badia is best known for winter sports, but it's no less alluring for summertime cycling. Its profile was significantly boosted this year when the 100th Giro d'Italia road-bike event passed through in May; and indeed, most cyclists come here to tackle the same hairpin bends and gruelling climbs that were seen in the race. But the e-bikes open up a very different riding experience on the unpaved, traffic-free trails that criss-cross the mountains.
I'd started out in the morning from the bike-share dock in La Villa, which is just across the street from where I'm staying at family-run Hotel Antines. My route has taken me along pine-scented paths beside a river, then up past churches and age-old farmsteads to reach open meadows with views across the valley. The varied terrain has given me a thorough chance to test the bike's settings, which range from no assistance at all via "eco" and "trail" to jet-powered "boost". Between them, they make light work of even the most intimidating slopes.
That said, the steepest trails to the peaks look a little too challenging for me, even on an e-bike – but with Alta Badia's ski lifts providing easy access to altitude, why break a sweat? Unlike those dressed in head-to-toe Lycra, I don't feel the need for my day on two wheels to be an endurance test; so, returning to La Villa, I take my bike up on the cable-car and enjoy a speedy, ear-popping ascent.
Incredible scenery awaits at the top. Immediately to the south lies the region's highest peak: glacier-topped Marmolada, the Queen of the Dolomites. In the other direction, the Alps demarcate the Austrian border. Fluttering nearby, a Ladin flag bearing horizontal blue, white and green stripes reflects the colours of sky, peaks and valleys, embodying the essence of this corner of South Tyrol province.
Setting off across the plateau from the cable-car station, I follow one of several trails that lead through meadows flickering with butterflies. Orchids, gentians, bellflowers, rampions and dozens of other wildflowers add colour and fragrance to these rolling grasslands. It's pastoral perfection. Better still, dotted across the landscape are numerous mountaintop restaurants, where the promise of al fresco lunching is another attraction of hitting these heights.
Choosing one, I park the bike and tuck into big plates of pasta, charcuterie and cheeses, all washed down with a perfectly chilled glass or two of local Gewurztraminer. As one might expect in Italy, the flavours and value for money are excellent (the bill comes to less than €30 per person). It's so lovely that my pit-stop becomes a very long, lazy lunch in the sunshine. It's just as well that getting home is all downhill from here.
Later, before dinner back at Hotel Antines, I take time out on my flower-decked balcony to catch the spectacle of "enrosadira", when the setting sun dramatically casts a rosy glow on the Dolomites' peaks. It's a wonderfully relaxing end to an active(ish) day. Alta Badia may be better known for road-biking and the Giro d'Italia, but there's more to this beautiful region than competitive cycling. My experience has been one of heart-pounding climbs and daredevil descents – but all without the need to wear a single stitch of Lycra.
Travel essentials
Getting there
Alta Badia is less than three hours' drive from Venice, Verona and Innsbruck airports. EasyJet (easyjet.com) has flights to Venice from £24.50, one-way.
Staying there
The Hotel Antines (0039 0471 844234; hotelantines.it) has doubles from €160, half-board.
More information
E-bike hire costs €38 per day (or €29 for a half-day). Go solo, or take a guided tour with Dolomite Biking (dolomitebiking.com); a full day tour costs €170 for two people.
Register for free to continue reading
Registration is a free and easy way to support our truly independent journalism
By registering, you will also enjoy limited access to Premium articles, exclusive newsletters, commenting, and virtual events with our leading journalists
Already have an account? sign in
Join our new commenting forum
Join thought-provoking conversations, follow other Independent readers and see their replies