The Independent's journalism is supported by our readers. When you purchase through links on our site, we may earn commission.
10 traditional Paris shops where you can buy a piece of history
Forget hipsterville and instead embrace the traditional with these Parisian stalwarts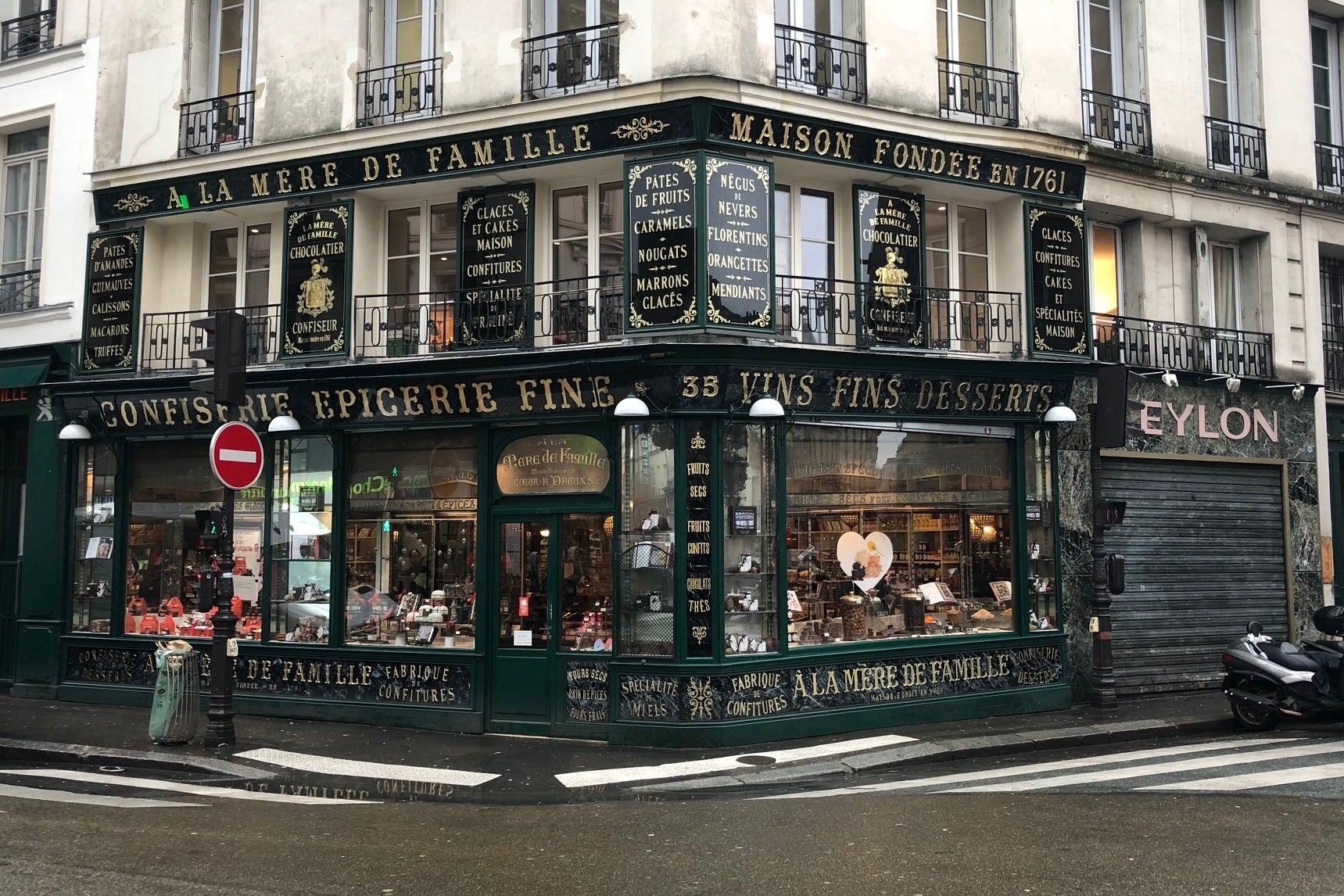 Evidence of the wave of young creatives opening coffee shops and concept stores that challenge Parisian traditions – and some would say bringing rejuvenation to a city criticised for being staid and stuffy in recent years – is all over Instagram of late. But between the matcha lattes and vegan bakes, businesses that have been doing the same thing for centuries can still be found. The city's oldest shops reveal their history – from the art supplier who invented oil pastel for Picasso, to the patisserie that made pastries for Louis XV – and let you take a piece of it home with you.
Est 1887
Gustave Sennelier sold custom-made colours to painters including Cézanne from his art supplies shop directly across the Seine from the Louvre, and a few blocks from the city's most prestigious art school, the École nationale supérieure des Beaux-Arts. His son Henri invented oil pastel for Picasso during his tenure, and the baton has now been passed to his grandson Dominique, whose painter daughter Sophie also works in the shop – the fourth generation of her family to do so.
Est 1820
This culinary equipment store has been keeping Parisian chefs and Cordon Bleu students (including Julia Child) in copper pans for almost 200 years. The shop was ideally located beside the city's main wholesale food market at Les Halles, but despite the fact the traders were moved out to suburban Rungis in 1969, E. Dehillerin's cavern of floor-to-ceiling shelves festooned with every imaginable utensil has held firm.
Est 1898
The oldest honey shop in Paris has been in business since 1898 and has been located at its current home on the Rue Vignon since 1905 – as has the mosaic queen bee, surrounded by her workers, who greets you from the tiled floor when you step inside. The shop sells more than 40 types of honey from all over France and around the world – from lavender to sunflower, eucalyptus to thyme – as well as the honey made from its own hives on the rooftops of nearby department stores Printemps and Galeries Lafayette, Le Miel des Toits de Paris ("honey from the roofs of Paris").
Est 1745
In their own words: "Maison Antoine didn't come down in the last shower." The founders of the oldest umbrella store in the city, Mr and Mrs Antoine, first set up shop at either end of the Pont Neuf, with the idea of renting umbrellas to those crossing the bridge. In 1760 their success saw them move to another strategic location at Palais Royal, a popular spot for a promenade, and they have been at the current premises around the corner on Avenue de l'Opéra since 1885.
Est 1730
When Louis XV married Polish princess Marie Leszczynska, her personal pastry chef Nicolas Stohrer accompanied her to Paris and opened a shop on Rue Montorgueil, providing pastries to the French court and the public alike. Almost 300 years later the patisserie is still there, now the oldest in Paris, producing babas au rhum, salted caramel éclairs and pains au chocolat fit for a princess.
Est 1761
Pierre Jean Bernard opened a grocery store in 1761, which became a sweet shop when the second wife of his son-in-law – Marie-Adélaïde Bridault, "la mère de famille" – took over the business in 1807. Stocking more than 1,200 French favourites from every region and every era, the company now has 12 branches across Paris, but the first shop in the Rue du Faubourg Montmartre is, of course, the most picturesque. With its original tiled floor, wooden counters and pendant lights, it was declared a historic monument in 1984.
Est 1700
The oldest bookshop in Paris, Delamain, first opened 318 years ago under the arcades of the Comédie-Française and moved to its current premises across the street in 1906, where it sells more than one million titles. Paris also has the oldest English language bookshop in continental Europe – Librairie Galignani, which opened in 1801 and is currently run by the sixth generation of the Galignani family to do so. The family's history in publishing books is just as illustrious – Simone Galignani opened a Venice publishing house in 1520 and was one of the first to use the Guttenberg mechanical printing press.
Est 1838
The world's first shirt shop, never mind the first in Paris; the word "chemisier" (shirtmaker) was actually coined to describe Charvet. Founded in 1838, it has been on Place Vendôme since 1877, and at its current position there since 1982. Seven floors contain 6,000 fabrics, including 400 whites in 104 different shades. Founder Christofle Charvet's father was "wardrobe curator" to Napoleon Bonaparte, and the list of those who have worn his son's shirts is no less impressive, including Zola, Baudelaire, Monet, Matisse, Oscar Wilde, Hemingway, Proust, Winston Churchill, JFK, Coco Chanel and Yves Saint Laurent – and, more recently, Barack Obama.
Est 1831
A self-described "Parisian cabinet of curiosity", Deyrolle was founded by passionate entomologist Jean-Baptiste Deyrolle, but insects are not the only creatures to be found inside this temple of taxidermy, where lions and tigers and bears (and zebras and emus and antelopes) greet you at every turn. For something a little easier than an elk to take home on the Eurostar, the vintage natural history posters – reliably detailing everything from shells to snakes to sugar production – make excellent souvenirs.
Est 1947
The story of Repetto began when Italian shoemaker Rose Repetto made the perfect pair of pointe shoes for her son, legendary choreographer Roland Petit. After his friend Rudolf Nureyev requested a pair, dancers from the Paris Opera Ballet began flocking to Repetto's workshop. She opened up shop properly in 1959 down the street from the Palais Garnier, home of the ballet company, and Repetto is today its official shoe supplier. If you're not planning to go en pointe any time soon, you can pick up a pair of ballet flats; Repetto created them for Brigitte Bardot in 1956 after the actress, who had trained in classical ballet, asked for a version of a ballet slipper she could wear in the street.
Read More
More Paris hotel reviews
Join our commenting forum
Join thought-provoking conversations, follow other Independent readers and see their replies