The Independent's journalism is supported by our readers. When you purchase through links on our site, we may earn commission.
Athens city guide: Where to eat, drink, shop and stay in the Greek capital
How to take the ultimate trip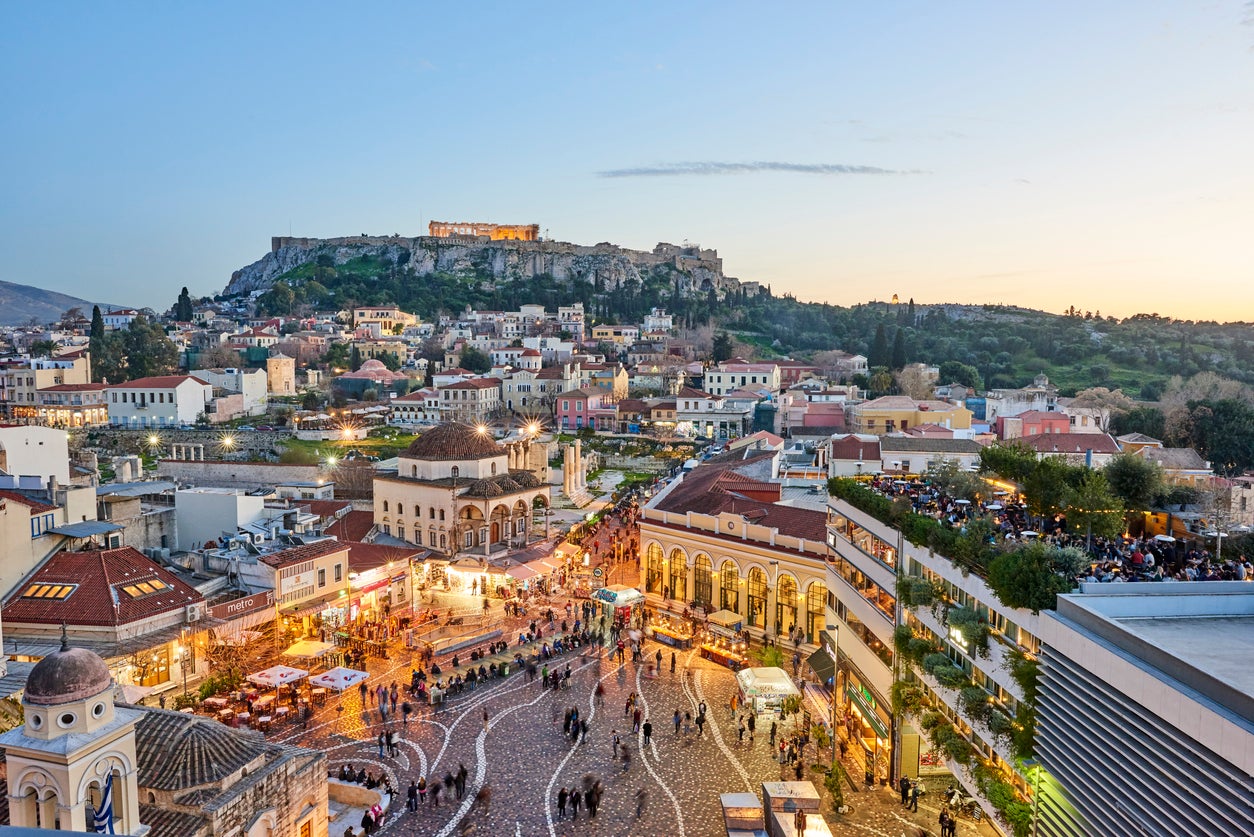 One of the world's oldest cities, with a recorded lifespan of nearly 3,500 years, Athens is as historically and culturally significant as they come. The home of Plato and Aristotle, it's not only hailed as the birthplace of democracy but as the cradle of western civilisation and philosophy. But much like its former guardian – Athena, the Greek goddess of war and wisdom – whose name it still bears, this city is, in many ways, the embodiment of heroic endeavour.
Its oft-mentioned grittiness is a mark of the turbulence that it's endured over the years and, rather than admitting defeat, modern-day Athens has recalibrated and reinvented itself as a source of inspiration for its next generation of innovators.
Tick off the ancient wonders on your bucket list by all means, but you'll find the real rewards of this city lie in its greatest passions: its people, food and art.
The Independent's hotel recommendations are unbiased, independent advice you can trust. On some occasions, we earn revenue if you click the links and book, but we never allow this to affect our coverage.
Athens best bits
Visit the Acropolis
The glorious Acropolis, built in the 5th century BC, is woven into the fabric of Athens; it's visible on its rocky perch from almost every part of the city. Hit the Parthenon either first thing (8am) or at sunset: you'll beat the crowds and escape the high heat. Do yourself another huge favour and wear comfortable, grippy shoes for the climb – the last thing you need is to be preoccupied by blisters or to be slipping and sliding on the stones around the temples.
The Acropolis Museum is the city's latest archaeological triumph, built to pay homage to its very first. Constructed largely in floor-to-ceiling glass around and over the preserved ruins of an Ancient Greek village, which was uncovered during construction, it's an utterly dazzling showcase of the surviving pieces of the Parthenon and its surrounding temples. Spend time in the rooftop cafe, which has predictably superb views, and don't miss the top-floor Parthenon Gallery.
Benaki Museum and the Museum of Cycladic Art
Mere minutes' walk apart in Kolonaki, the Benaki Museum and Museum of Cycladic Art (MCA) are both well worth a visit. Wander around the varied Benaki Museum for an extraordinarily well-curated private collection (there's everything from Byzantine icons and regional costumes to the reconstruction of Greek Macedonian mansions): the quality of its curation would give the V&A a run for its money. The MCA is home to some extraordinary antiquities from Greece and Cyprus. Make a beeline for the permanent Ancient Greek and Byzantine exhibits before having a wander around one of the revolving contemporary exhibits on the ground floor.​
Discover Ancient Greece
Opt for a combination sightseeing pass which, for €30 ($33), gives you access to the Acropolis, the Ancient and Roman Agoras, Hadrian's Library, Zeus' Olympieion, Kerameikos (the archaeological site and museum) and Aristotle's Lykeion – you can buy the combi-ticket from any one of them. It's valid for five days and is a great way to tick off all the remnants of Ancient Greece, which are dotted around the city. It's cracking value too – entry to the Acropolis alone is €20 ($22) during the summer months. The only sight it doesn't include, which is also worth a visit, is the very first site of the Olympic Games: the Panathenaic Stadium.
Hit the beach
Thought you only needed a few days in Athens? Think again. Well-heeled Athenians have been quietly escaping to Astir's shimmering riviera at weekends for years; it's less than 30 minutes' drive from Syntagma Square. But their secret's out. Word of the city's latest opening – the old Astir Palace Hotel, now a chic Four Seasons – is spreading, and it's got everyone in a tizzy. If you don't have time to visit one of the islands, this is your best bet for some "vitamin sea".
Where to stay
18 Micon Str, a former warehouse converted into a 15-room hotel in bustling Psyrri, is both intimate and affordable. Not only are the rooms decently sized, but you can help yourself to endless soft drinks and biscuits – and, at a push, wine and beer – from the property's open kitchen and lounge. That said, the real perk is the complimentary smartphones; call anywhere in the world free of charge or make the most of the pre-loaded local area guides. Doubles from £68 ($90), B&B.
Want the freedom of Airbnb, but the service of a hotel? The Foundry, in downtown Athens, has got you covered with 12 bewilderingly spacious lofts, decked out with vintage record players, industrial finishings (a nod to the building's history as, yes, a font foundry) and minibars stocked by small, local producers. Head upstairs to the buzzy rooftop garden for chef pop-ups and local hipsters guzzling craft beer until the sun goes down. Doubles from £94 ($123), B&B.
Greek boutique chain Yes! Hotels has outdone itself with the stylish NEW Hotel, located just off Athens' sprawling National Gardens. Owned by one of the world's top art collectors, there are unique installations at every turn, absurdly comfortable beds and one of the city's best brunches at ground-floor restaurant, NEW Taste. It's also home to the city's most Instagrammed room; the Penthouse, with its picture-perfect view of the Acropolis over the master bed. Doubles from £144 ($189), B&B.
Where to eat
Charming wine bar Warehouse, in residential Exarchia, is consistently packed at any given time of day. Take the knowledgeable staff's recommendations on the food, which is both well-priced and flavourful, or as the mercury rises, make like the locals and linger on the sheltered terrace over iced coffees and malagousia.
Do yourself a favour and walk past all the Acropolis tourist traps to Opos Palia (+30 21 0923 9718), a gem of a cafe on Veikou. Run by Greek Americans from Queens, it's cheap as chips and serves food that'll have you reliving your first bite for days afterwards. You'll see most Athenians tucking into enormous portions of octopus but, if you're not particularly hungry, order half a litre of local white wine for around three euros and nibble on "small" plates (the dolmades and calamari are excellent).
O Thanasis is a no-frills cafe that's been honing its craft in souvlaki for over 50 years. Located in pedestrianised Monastiraki Square, there's a dining room inside but you'll want to be outdoors at lunchtime for all the action. Be warned, the servings are enormous; a half portion of either souvlaki, gyros or kebab is more than enough for one person and will set you back all of €4 ($4.50). Sold.
Walk just five minutes from the main fray of Syntagma Square and you'll find Skoufou – a cobbled street that's packed with foodie-approved restaurants. Choose from: Spitjack, a rotisserie chicken joint, with decent cocktails and a wallpaper of celebs reimagined with tattoos (think Wills & Kate, James Dean, Julia Roberts in Pretty Woman); Sushimou for mind-blowingly good omakase (but book before you get to Athens – there are only six seats); and Nolan, an Asian-fusion restaurant which is the current talk of the town.
The brainchild of five lauded Athenian chefs, Cookoovaya ("owl" in Greek) has managed to impress even the harshest critics with its clean, modern Greek cuisine. Everything is made on site, with a sustainable approach and an ever-changing menu; there's even a chef entirely dedicated to bread. You'll want to dress up for dinner but can expect to be fed and watered for under €50 ($55); this is high-end food at mid-range prices.
Where to drink
You're spoiled for choice with rooftop bars in Athens; they're a dime a dozen. But one of the best – for the view and spacious layout – is Athens360; you can expect, as the name might suggest, 360-degree views of the Acropolis, Hadrian's Library and buzzy Monastiraki Square. It has a laidback vibe during the day but comes into its own at night – go for sundowners.
There's no people-watching quite like that at Zonar's, Athens' chi-chi equivalent to Paris' Café de Flore, behind the regal Grande Bretagne hotel. Park yourself outside with a cafe freddo (around €6/$6.65) and watch a different world go by.
Student-favourite TAF The Art Foundation is an excellent low-key bar, behind an unmarked door in Monastiraki. If you go earlier in the day, you'll be able to have a wander round the excellent concept store on the ground floor as well as discover burgeoning talent from Athens' vibrant contemporary art scene: there's a gallery space upstairs, which hosts events and installations from graduating artists.
Wondering where the party is? More than likely, it's at the Perianth Hotel – the city's current cool kid, in the old town – where the perennially chic prop up the bar, and DJs spin cuts of funk, hip hop and soul into the early hours.
There's a lot going on at six d.o.g.s., an avant-garde Monastiraki hotspot that's actually a day-to-night cultural centre; it hosts anything from exhibitions, live gigs, parties to shows. The sweet spot is early-to-mid-evening for decent whisky sours in the candlelit "secret" garden, but – if you're in the mood – you're in with a good chance of a rave; it's an enduring favourite of the late-night techno crowd.
Where to shop
Sous Sol is a concept store and art gallery is on the rise for its eclectic mix of creativity from artists on both sides of the Med – it's increasingly popular for its promotion of LGBT+ issues. They also sell a quirky edit of jewellery, homeware and stationery.
As it turns out, not all souvenirs were created equal. Just ask Forget Me Not, found off the main tourist trail in Plaka, whose idea of a trinket is markedly different from its neighbours. They've created a smart, if expensive, edit of contemporary Greek designers who will make you dream of hopping on a yacht around the Aegean. Find anything inside from Ancient Greek sandals to Zeus+Dione clothing.
You might have heard that the flea market at Monastiraki is on Ifestou but ask around, and the locals will tell you that you need to head to Avissynias Square to avoid the tourist tat. Browse for quality antiques and sandals; music fans should take a detour through Ifestou for a browse at Zacharias Records (+30 21 0324 5035). Zak, the owner, has been going for 30 years and has two stores for rare hip hop, jazz and soul, and rock and pop vinyls, as well as a cafe and a separate space devoted to CDs.
Architectural highlight
Renzo Piano's latest project, the Stavros Niarchos Park, took over a stretch of abandoned seafront in the suburbs and has since commanded the attention of everyone in the city. Quickly establishing itself as a hub for Athens' most exciting creative talents, it encompasses the Stavros Niarchos Foundation Cultural Centre building – which has been hailed as an "architectural treasure" – as well as the National Library of Greece and the Greek National Opera.
Nuts and bolts
What currency do I need?
Euros.
What language do they speak?
Greek and English.
Should I tip?
Between 5-10 per cent – or leave your change. Just check first that they haven't already rounded up the bill in lieu of service (it can happen).
What's the time difference?
Athens is two hours ahead of the UK and seven hours ahead of the US east coast.
What's the average flight time?
Around 3h 30min from the UK. Emirates flies direct from the US to Athens in 9h 15min.
Public transport
Walk if you can. Most places in central Athens are walking distance and it's the best way to see the city. Alternatively, the city has a transport network consisting of Athens Metro, trams, bus routes and a suburban railway. A single costs €1.40 ($1.50) and is valid for 90 minutes across all forms of transport.
Best view
The best view is the most dominant: the Acropolis. Its most enjoyable angles are from one of the city's many rooftop bars.
Insider tip
Your last two things in Athens should be the Acropolis Museum, then the Acropolis itself. Not only will you know what you're looking at in the skyline from the highest point in the city but, by having the Acropolis Museum as your penultimate sight, you'll also have swotted up on everything that makes Athens' most famous sight special – no need for a tour guide.
Join our commenting forum
Join thought-provoking conversations, follow other Independent readers and see their replies