The Independent's journalism is supported by our readers. When you purchase through links on our site, we may earn commission.
City guides
Thessaloniki city guide: Where to stay, eat, drink and shop in this buzzy Greek coastal hotspot
Athens' quirky little sibling is an underrated place in which to while away a long weekend, says Athina Kontos
Friday 27 January 2023 11:45 GMT
Comments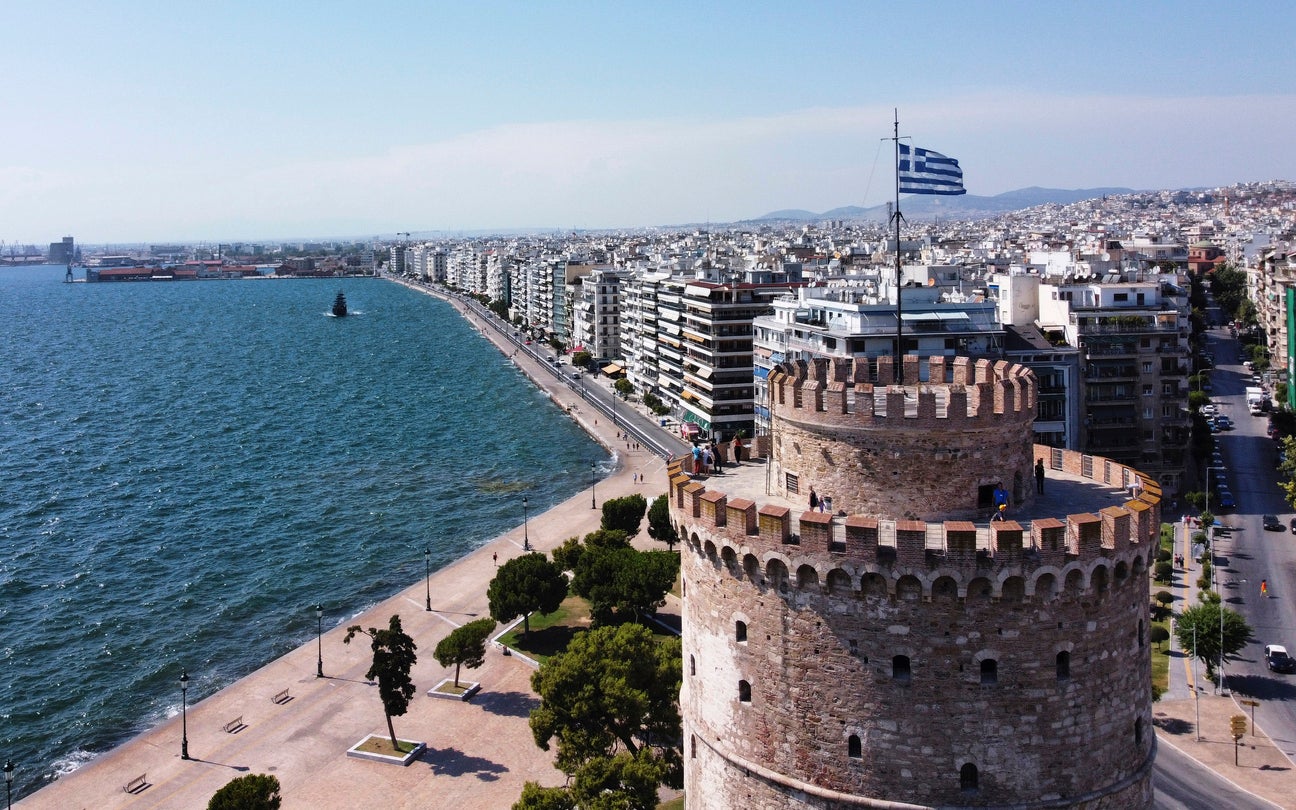 As far as cities on the water go, Thessaloniki is not quaint. Instead, tucked into its own turquoise gulf in the North Aegean sea, this is a hardy patchwork of a port city, filled to the brim with assorted 20th-century and Byzantine architecture (and a little of everything in between). Rather than postcard perfection, it positively oozes character – complete with graffiti, traditional bouzouki music, and a thriving art scene.
An edgy enclave of northern Greek culture, the city is poles apart from the whitewashed island towns we conjure up when we picture travel-brochure Greece; instead, it carries its spirit through galleries and wine bars, mixed Orthodox, Ottoman, Sephardic Jewish and Balkan heritage, and entirely holds its own as Athens' quirky little sibling.
Thessaloniki has all the chill factor of a sunkissed city by the sea – including a three-mile waterside path to cycle, scoot or slow-stroll with ice cream to your heart's content, and a navigable, grid-like system of streets. Amble at your leisure to spy colourful awnings, sleek hotels, and fashionable, enterprising locals ‒ iced cappuccino in hand, always.
What to do
Soak up the culture
For art lovers and the history-curious, an all-day gallery crawl is definitely on the cards. Modern, ancient or a bit of both, you can work your way around MOMus (the Museum of Contemporary Art), the Museum of Byzantine Culture, or the Jewish Museum of Thessaloniki for a look at the city through the ages. You might even stop by the Selfie Museum, if perching on a platform against a sparkly backdrop of emojis is your thing. Delightfully, most temporary and outdoor exhibitions throughout the city centre are free to visitors, with a ticket required for permanent collections only. Prices range from approximately €4 to €15 (£3.50 to £13.20), depending on the exhibition.
See the city from the water
A waterfront lunch or brunch stop is also a must here, but if you're feeling adventurous, turn those casual meal reservations into a mini cruise into the Thermaikos Gulf ‒ boats go hourly from the city's White Tower. From hour-long trips to a half or full day, exploring the waters here by boat gives a sprinkling of southern-Med vibes, and given the variety of boats, the experience can be as kitsch or as swanky as you want. You could explore the Thermaic Gulf on a six-hour round trip to Shipwreck Bay; tickets start at €83 (£73) and boats run from May to October. Or lighter 30-minute tours can be found in the form of "floating bars" – the iconic Klio tops them all. It's not one for the sea-delicate, but a fun place for a mastiha (pine resin liqueur) mojito with a side of feelgood tunes. Runs May-October.
Hang out in Ladadika District
Once you've done some sightseeing, you'll want to head out on the town, and almost all of Thessaloniki's must-visit spots are in the ruggedly cool neighbourhood of Ladadika. Here, old tea and coffee warehouses have become dive bars, and fairy lights are draped around effortlessly cool dining and drinking venues. Bohemian boutiques, tavernas, coffee shops and rembetiko music haunts spill out into the cobbled streets – it's particularly magical at dusk, when a gentle buzz of laughter and clinking glasses kicks in for the night.
Where to stay
ON Residence
Opened in April 2022, the glitzy ON Residence occupies a sleek Art Deco building on the seafront. A stone's throw from the theatrical Aristotelous Square, this relaxed but polished hotel embodies Thessaloniki's youthful soul with a distinctly city-centre atmosphere. An attentive concierge welcomes guests from the chequerboard entrance lobby and coffees are sipped by a chic clientele. Large rooms are airy enough to evoke a sense of minimalism, but with all the decadence (a shower the size of a small minibus, for instance) and amenities you would hope to find in a five-star. Doubles from €164; onresidence.gr
The Excelsior
On the energetic Mitropoleos Avenue, The Excelsior offers a sophisticated boutique option, complete with luxury interiors and immediate access to the centre of town. Offering double rooms and suites only, this surprisingly affordable hotel is brimming with modern glamour and lacks nothing when it comes to an inner-city buzz. Expect soft jazz playing in the hallways and a swanky lounge full of coffee-table fashion books, together with an all-day menu of steaks, burgers, sandwiches and salads at the mezzanine-level Charlie D Brasserie, and no shortage of olives or cheese for breakfast. Doubles from €159 and suites from €265; excelsiorhotel.gr
City Hotel
For a budget break, the City Hotel is affordable, with no sacrifice on location. Eco-driven and green-themed, this four-star hotel is a sweet urban wonder of bamboo swings, exposed stone walls, sea views and locally sourced food, sharing a street with some of the city's coolest bars and restaurants. Doubles from €90; cityhotel.gr
Where to eat
Coffee and cake
It is no secret that Greeks make the best iced coffee in the world, and Thessaloniki offers the opportunity to sample it on almost every block. Cafe culture is a huge part of this city's identity, and regardless of the day or time, cafes and coffee shops are full of nattering folk, often huddled around board games. For the frothiest freddo cappuccino paired with something sweet, head to Terkenlis bakery, a family-run chain with several outlets in town – their dark chocolate sorbet is the stuff of myth and legend.
Brunch and lunch
Brunch culture in Greece has taken a huge leap in the last five years, along with a solid cultural move towards acceptance of vegan, vegetarian and gluten-free diets. Achilleion is the place to go for Greek-style eggs, outrageously fluffy pancakes and freshly ground coffee, with free-from options, too. For a lunch of casual taverna fare, there is no better place to visit than Neos Galerios (Apellou 3, Thessaloniki 54622). Plates of traditional fava (split-pee puree), meatballs, salads, and more dolmades (stuffed vine leaves) than you could ever possibly get through are brought to cantina-style tables, with menus in English for the non-locals and no booking required.
Meanwhile, Charoupi is Ladadika's modern rustic Cretan eatery, serving up towers of dakos (crusty bread topped with feta and tomatoes), smoked lamb, and sharing-plates of sauteed sea bass. The menu manifests as a giant printed paper tablecloth, too. Cute.
Markets and street food
Food markets and individual vendors pepper the city, and a Saturday morning at Kapani Market is quite the sensory treat. The sheer amount of fresh produce boggles the mind, and an entire section of the space is dedicated to jams, honeys, teas and everything your kitchen cupboards could want. Elsewhere, Modiano market is one of the oldest and most traditional markets in the city and a multicultural hub for Greek, Italian, Balkan and Jewish culinary delights. The aim is a full restoration to its former grandeur, with artisanal delights in abundance.
Where to drink
Ypsilon
For a down-tempo, jeans-and-a-T-shirt kind of evening, head to Ypsilon. Tucked away on the tiniest of streets in Ladadika, this coffee shop and bar is an art space and work hub by day and a laidback, candlelit den by night. "Light" (remembering we are in Greece) snacks are on offer, and the whole place and crowd are big on the creative scene. Expect to find gallery show invites and gig flyers on your table.
Gorillas
If you're looking for cocktails, Gorillas in Ano (Upper) Ladadika is the one. It's dark and moody, and really everything a late-night cocktail bar should be. They're not short of unusual ingredients, either: a nasturtium leaf or sprinkling of matcha powder are likely garnishes for an old fashioned.
Casablanca Social Club
A picture of 20th-century glamour, the Casablanca Social Club is a downtown hangout for dressier occasions, whether dining or drinking. It's a high-ceilinged, large-windowed establishment, and you wouldn't be out of place in something tailored or sparkly. Guest mixologists and themed cocktail weeks keep things lively and ever-changing.
Where to shop
Thessalonikis are big on vintage shopping. The deep-rooted music scene has an obvious influence on the city's fashion sense, and locals clearly love a Nineties metal band. Along with the expected European high-street chains, the city is home to a neat set of boutiques, second-hand shops and vinyl record stores. For bohemian, alternative and vintage attire, head to the Rotunda district, which is equally as Byzantine as it is hipster.
V for Vintage won't let you down for preloved goodies, and Ladida jewellery shop will drape you in evil eyes and dangly earrings. Closer to the centre, the streets encompassing Kapani market are laden with antiques stalls and vintage homewares – shipping goods all the way back to your living room is not out of the question. For glossy boutiques and high-street staples, head to Kominion; and for a typically mall-esque but reliable shop, the Hondos Center is what you want.
Architectural highlight
The White Tower crowns the city's waterside skyline: a tall, brick-built monument dating back to the Ottoman empire. It houses a small museum, open daily from 8am-8pm, and is a popular spot for a quick lesson on local history.
Nuts and bolts
What language do they speak?
Greek, but most Thessalonikis have a good level of English.
What currency will I need?
Euros.
Should I tip?
Between 10 and 20 per cent is kind and gratefully received, but no one will frown if you don't.
What's the time difference?
Like the rest of southern Europe, Thessaloniki keeps it consistent at two hours ahead of GMT and BST.
How should I get around?
The city is walkable and easy to navigate with the help of a phone or local tourist map, and all the essentials are within no more than a 20-minute amble. Cycling is also encouraged, and you'll see obvious cycle lanes throughout the city centre. If you're looking to be driven, taxis are abundant and cheap, and the city's bus system is extensive but not always reliable (so leave extra time if you've got concrete plans). Hop-on, hop-off bus tours are an option for keen sightseers and can be booked independently or through most hotels.
What's the best view?
Grab a bench at the end of the port pier at sunset.
Insider tip?
There's some sort of festival happening in Thessaloniki every month. Whether it's arthouse films, street food, hip-hop or craft beer, be sure to check ahead online so you're part of the fun.
Getting there
Trying to fly less?
Take the Eurostar to Paris and a train on to Milan to reach Italy. From there, travel south to Bari by train, from where you can pick up a ferry to Patras in Greece. From there, a bus runs twice daily toThessaloniki.
Fine with flying?
Find direct flights to Thessaloniki (SKG) on easyJet, WizzAir, Aegean, British Airways and Ryanair, travelling from most European international airports.
Join our commenting forum
Join thought-provoking conversations, follow other Independent readers and see their replies