H15 Boutique Apartments, Warsaw: A very polished Polish address
Once a Soviet embassy, the latest incarnation for this grand house is an arty place to stay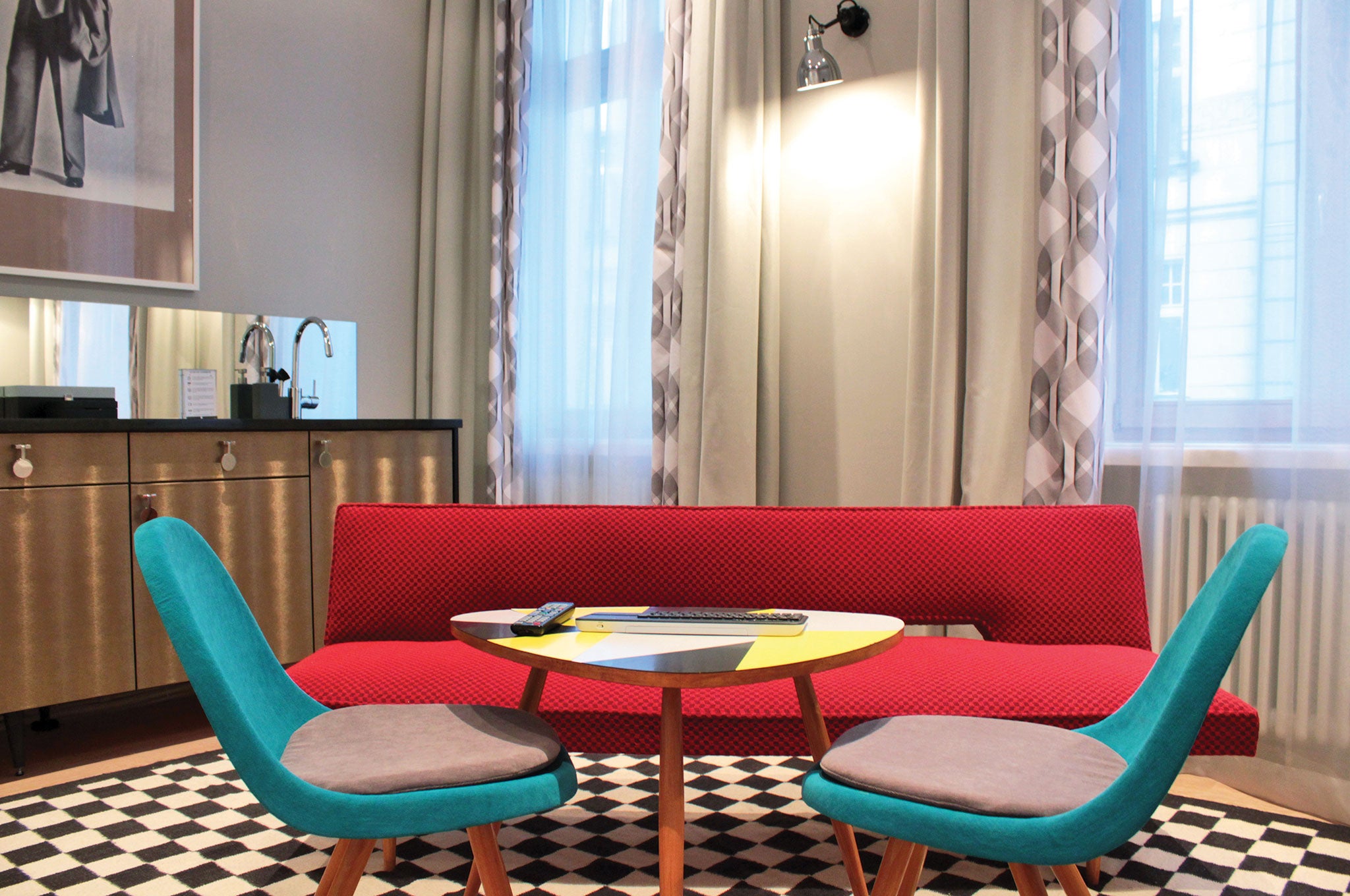 After the Warsaw Uprising, the 70th anniversary of which looms this month, most of the city was reduced to rubble. So it is particularly pleasing to see the emergence of apartments such as these, which rather than follow the bland high-rise trend, instead blend history, heritage and a keen sense of place with modern design and 21st-century luxury.
H15 opened last year on one of central Warsaw's most popular dining streets. Tables spill out on to the pavements, creating a village atmosphere and yet Poznanska Street is right in the capital's beating heart.
A four-minute walk north-east will take you to the Central Station, 10 minutes in the opposite direction brings you to a lovely stretch of leafy parks, where in summer you can sit and listen to Chopin concerts beside a bronze stature of the composer himself.
It's perfectly placed for the visitor who wants to get under the skin of the city and feel its historic roots. And the best place to start is in H15 itself.
Built in the 1890s as a grand private residence, the Soviets made it their embassy in 1924, embellishing the façade with elements of Socialist Realism, Art Nouveau details in the interior replaced by the hammer and sickle, still visible today.
In 1941 it was taken over by the Wehrmacht, which was probably the only reason it survived the deliberate destruction of Warsaw by the retreating German army.
After a multi-million pound makeover, led by Grzegorz Rygiel (at the helm of New York's Grand Central Terminal's recent renovations), it now houses 38 apartments and eight standard rooms that radiate off a central courtyard decked out with chequerboard flooring, a piano, Hayon chairs and bicycles to borrow.
The Rooms
With interiors by local design doyenne, Mariola Tomczak, apartments range from studios to spacious one-bedroom, two-bathroom suites. Furniture is a mix of contemporary Italian and bespoke desks, chairs and kitchen cabinets.
Vibrant, modern artwork comes courtesy of Polish photographer and fine artist, Rita Zimmerman. The one common feature is her strikingly designed "window on the world", where a reflection of the sky is rendered in graphics on a mirror above each bed. Ceilings are high, walls are brightly coloured and floors are bleached oak.
In contrast to the bright "pop art" in the sitting rooms, the smallish bathrooms come in black and white marble, some with a bath, others shower only, all with L'Occitane toiletries. Kitchens have a Nespresso machine, kettle, toaster, dishwasher, fridge, mini bar and sink, but no oven, hob or microwave.
Tableware is provided, as is a room service menu of light snacks and a "Make a wish of your dish" request form. Fill out what you would like, leave it at reception and every effort will be made to deliver it the next day.
Out and About
The new interactive Chopin Museum (00 48 22 44 16 251; chopin.museum) is a short stroll away; the National Museum (00 48 22 621 10 31; mnw.art.p) even closer, with a celebrated collection of Polish art along with prized Dutch and Flemish collections.
Most tourist-friendly destinations are within walking distance, from the attractive Old Town – whose Market Square is a great place to sit and watch the world go by – to the Warsaw Uprising Museum (00 48 22 539 79 05; 1944.pl), where you can see just how impressively this city has risen from the ashes.
The Food and the Drink
On the ground floor, the elegant Signature Restaurant has a gourmet tasting menu and modern Polish dishes.
Try the delicious Polish ravioli, known as pierogi, served with shredded roast duck and an apple and wild rose sauce, or the classic, crunchy Polish potato pancakes and sour cream. Just opposite, Beirut (Poznanska 12; facebook.com/beiruthummusbar) is a hugely popular hummus and music bar, with speciality beers and retro decor. It adjoins Kraken Seafood restaurant (same owners, different menu), which delivers giant prawns and spicy octopus on bare wooden tables that spill out into the street.
On the opposite corner from H15 is Italian restaurant, Delizia (00 48 22 622 66 65; delizia.com.pl), which locals say is the best of its kind in the city. If you want to go out for breakfast, head to Smaki Warszawy (00 48 22 621 82 68; smakiwarszawy.pl) with freshly-baked pastries. To stock up on necessary supplies (apartment cupboards are bare), there is the conveniently located Freshmarket just around the corner (Hoza 41).
The Essentials
H15 Boutique Apartments, Ul Poznanska 15, Warsaw, Poland (00 48 22 55 38 700; h15boutique apartments.com). Apartments from €200 (£160) per night.
Join our commenting forum
Join thought-provoking conversations, follow other Independent readers and see their replies