Italy: Island life, one step beyond Sicily

Show all 2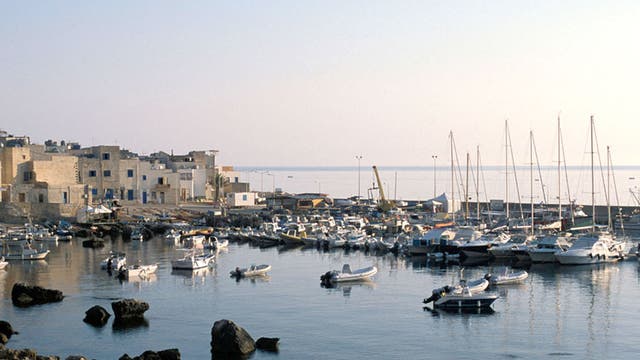 Italy: Island life, one step beyond Sicily
Sleepy, remote Marettimo – closer to Tunisia than to mainland Italy – doesn't have to work too hard to cast its magical spell over Linda Cookson.
Not many non-Italians have heard of the Egadi Islands – a tiny archipelago off the coast of western Sicily. But visitors beware: unspoiled and virtually car-free, the islands have a time-warp charm that can be addictive. Hotelier Fausto Gobbo pitched up there 15 years ago on his bicycle from mainland Italy and never left.
It was to Marettimo, the most isolated of the three main islands and a one-hour crossing from the Sicilian port of Trapani, that Fausto lost his heart. At that time, there was nowhere to stay in Marettimo town (the island's only settlement) other than by begging a room for a night from a local. Abandoning his job in the fashion industry, Fausto set to work to fill the gap and created a charming cluster of small apartments overlooking the main harbour.
It's been a labour of love, as I discovered. Sea-view terraces and balconies cascade down towards the waterfront through a tangle of tropical gardens that provide a wonderful retreat. Butterflies drift, birds squabble and endless varieties of rare flowers blaze brightly under the Mediterranean sun. Meanwhile, below you, there are the comings and goings of the pleasantly scruffy harbour. Every now and then, horses amble along the promenade, with no owner in sight. Who do they belong to? Fausto shrugs and gestures up a mountain. "Some guy up there, I guess."
The Egadi Islands – Favignana, Levanzo and Marettimo – are neither as cosmopolitan nor as postcard-pretty as their better-known offshore rivals, such as the Aeolian Islands, which have a far more obvious appeal. Visit Panarea in August and you'll see enough yachts, fashion victims and gold sandals to last you a lifetime. No, the charm of the Egadi island chain lies in something quite different. Its islands offer simplicity, authenticity and a remoteness – both literal and spiritual – from more worldly destinations. It's no coincidence that Marettimo's ancient name, bestowed by its earliest Greek settlers, was Hiera, meaning "sacred".
I arrived at in the main harbour (Scala Nuovo) of Marettimo on a Saturday morning, alighting from a sprightly orange tub of a ferry called Calypso. The jetty was bustling – provisions being unloaded, black-clad old ladies with string bags heading off for a day's mainland shopping, and a cacophony of bored local dogs chasing cyclists with a misguided optimism bordering on the heroic. But the sleepy town beyond the harbour seemed all but deserted.
The first thing that hit me was how un-Italian the harbourfront looks. The jumble of small cubed houses, their flat roofs bristling with solar panels and satellite dishes, has a distinctly North African feel. Some of the houses are whitewashed; others are in natural stone. Their cobalt-blue doors and shutters, and ramshackle tangle of elaborately wrought iron grilles and balconies reminded me of Tunisia – hardly so surprising, since Cap Bon is only 70 miles away and visible from the island's west coast.
Life in Marettimo town, as I soon discovered, is quiet, if not soporific – especially by day. In picturesque alleys of houses bearing bright ceramic name plates, mounds of fishing nets, buoyed with empty plastic bottles, dry in the street. Behind the canvas flaps or beaded curtains that hang across open doorways you can hear the snoozing of their fishermen owners, back from a night at sea. Silent porcelain Madonnas gaze down from quaintly tatty shrines on street corners (a reminder that you're in Italy after all). The only regular bursts of noise are horn-blasts from the fruit and vegetable cart and a bizarre little hardware truck peddling buckets and dusters.
This is not the place to come if you crave action, but Marettimo's clear waters teem with colourful life, a dream for scuba-divers. It's also great for walkers. There's a spectacular mountainous hinterland, dominated by Monte Falcone (686m) and criss-crossed by rough footpaths and mule tracks. A really gentle stroll, through pine groves studded with screens of oleander and geraniums, takes you up to Casa Romane, a plateau above the town where the ruins of an old Roman garrison sit cheek by jowl with a deserted 12th-century chapel.
As I looked down over the harbour from the ruins and watched distant ferries leaving trails like skeins of milk across the water, I was mesmerised by the dreamy scent of wild herbs. Thyme and oregano predominate: Marettimo's modern name comes from the Italian for sea (mare) and thyme (timo), and the island is renowned for its wonderful honey.
A highlight of any visit is taking a boat trip round the island. Although Marettimo is small (six miles by two), the rugged coastline has countless caves and grottos, as well as – to the north-west of the town – an imposing 17th-century Spanish castle perched on a hill on the Punta Troia promontory. It was restored last year, prompting a massive island knees-up. On the west coast, more cosily, there's a cute whitewashed lighthouse, the Faro di Punta Libeccio.
Local fishermen operate trips most days in high season. The one I joined was organised by the affable Salvatore Livolso, on his boat Ricciola. Resplendent in gold neck chain, baseball cap and a T-shirt that said "Under Fire. Under Pressure. Out of Time" (in Marettimo? You've got to be kidding, Salvatore!), he steered us cheerily past dramatic limestone cliffs and into a succession of grottos and caves that glowed eerily green in the half-light.
Grotta del Cammello is marked by a rock at the entrance that looks like a camel's head (if you squint very hard from a particular angle). The formations in Grotta del Presepio are said to resemble the nativity scene (though no amount of squinting made it work for me). But in the end, the hard sell is unnecessary. Being in an open boat on turquoise water, watching gulls scud across the rock face and sunbeams toss iridescent spangles across the waves is honestly more than enough.
In the end, what I liked doing best on Marettimo was simply hanging out. Evenings are livelier than daytimes, with plenty of restaurants and bars – but, be aware, evening meal prices are not cheap. Both Il Pirata (the island's oldest restaurant, decked out with pirate flags) and the more modest La Scaletta (on a terrace near the Scala Nuovo) charge an eye-watering €40 per head for four-course fish suppers, expensive by most small-island standards.
For travellers on a budget (or non fish-eaters), there's the fantastic La Cambusa delicatessen, a treasure trove packed with gorgeous meats, cheeses and freshly cooked local specialities such as caponata (a stew of aubergines, olives, tomatoes and capers). And Marettimo's bars also offer good value. My favourite was the unpretentious Tramontana, set on the sea wall above the old harbour (Scala Vecchio). It has tiled tables, friendly local clientele and a great line in free canapés. Sipping fresh wine at sunset while watching the castle on Punta Troia morph into a raven-shaped silhouette was just magical.
As Fausto had promised me when I arrived – Marettimo knows how to cast its spell.
Travel essentials
Staying there
The writer travelled as a guest of Inntravel (01653 617000; inntravel.co.uk), which has a week's self catering in a one-bedroom sea-view apartment in Egadi Island Apartments for £393pp, based on two sharing from 31 March to 14 July and 1 September to 28 October. Price includes transfers from Trapani. Flights extra.
Getting there
Ryanair (0871 246 0000; ryanair.com) flies to Trapani from Luton. Ferry companies Siremar (00 39 0923 545455 siremar.it) and Ustica (00 39 0923 873813; usticalines.it) operate four crossings daily in high season from Trapani to Marettimo (around €70 return). Several local operators offer "taster" day trips to the Egadi Islands from Trapani. You can visit Marettimo for a day (depart 9.30am, return 7pm) for €43, inclusive of lunch and a boat trip around the island (00 39 331 675 5701; egadiescursioni.it).
More information
Italian State Tourist Board: 020-7408 1254; italiantouristboard.co.uk
Join our new commenting forum
Join thought-provoking conversations, follow other Independent readers and see their replies