The Independent's journalism is supported by our readers. When you purchase through links on our site, we may earn commission.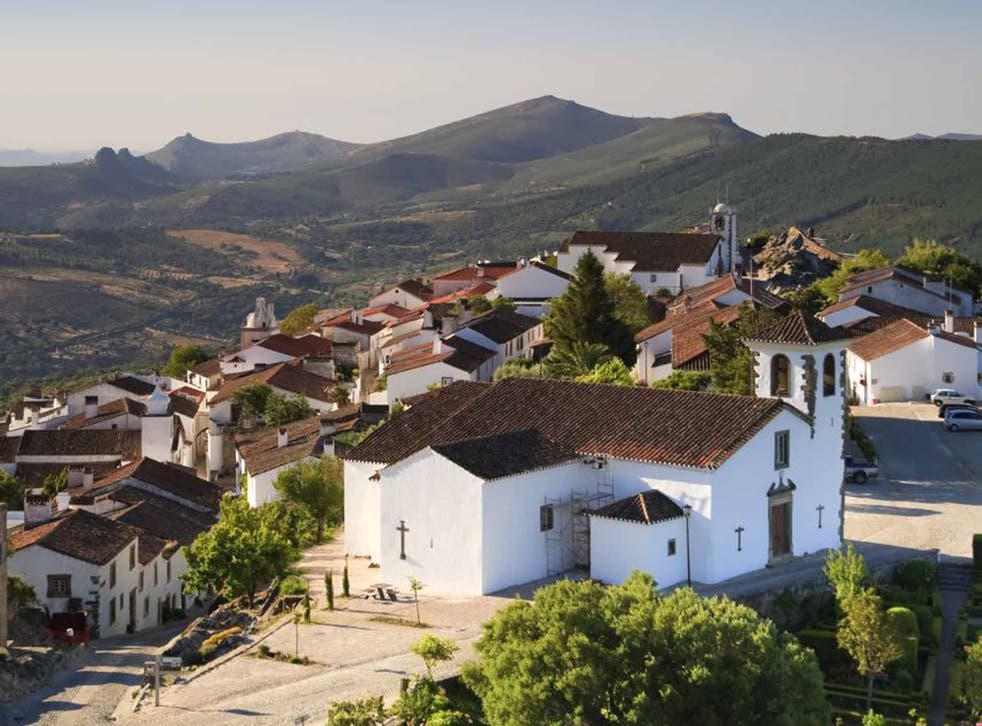 Portugal: Venture beyond the Algarve to explore dramatic scenery, quiet corners and Roman ruins
The south coast may pull the crowds, but there are plenty of under-explored delights to discover elsewhere in this magnificent country
It is visited by many, but in truth, Portugal is known by few. Seasonal sun-seekers swell the hotspots of the Algarve during July and August, leaving it deserted in winter, when pink almond blossom covers the landscape under a cloudless blue sky. Beyond it lies the Alentejo, a rustic region of wide empty plains and oak groves, vineyards and dolmens, medieval whitewashed towns and Roman remains, marble and pottery.
Lisbon, while increasingly popular, retains its authentic Portuguese character, its yellow trams rattling along cobbled roads, past coffee shops serving fresh custard tarts. It flies in the face of the rapid globalisation of so many capitals. Yet, there is a modern side to the city, from its explosion of street art (do track down the graffiti artist Vhils) to the gleaming new Mercado da Ribeira where, under one vaulted roof, you can find a selection of the city's best loved food shops and restaurants – with the emphasis firmly on Portuguese produce.
With British Airways resuming flights to Porto this week, areas beyond the capital and beach resorts of the Algarve are now even more accessible. Porto's granite cityscape is far removed from the whitewashed Moorish buildings of the south, but there are some gems such as the Sao Bento train station, where blue and white tiles depict scenes from the country's history, and the Ponte Dona Maria, a railway bridge built by Gustave Eiffel in 1877, across the wide flowing Douro River.
The Douro is famous for the vineyards that line it beyond Porto, their terraces running steeply down to the bottle green river. Here, where port wine has so long been produced, are new and increasingly acclaimed productions of table wine, bringing the world's attention to this valley. In turn, the port houses in Vila Nova de Gaia, across the river from Porto, are now building visitor centres, such as Quinta da Roeda, which offers tastings of Croft's port (00 351 220 109 830; croftport.com; tastings and vineyard visits from €7).
Wine could be a theme to accompany your travels up and down the country, such is the wealth of small, but excellent productions. Take the wine route of the Alentejo, where storks nest on every telegraph pole. And you can stop at such marvels as Evora, with its wonderful Roman Temple to Diana. Wander down lanes to watch birds at one of the many lakes, and don't stick to the motorways which, while gloriously empty, don't allow you to discover the tiny churches with their rich, gilded Baroque interiors or to watch the sun set on a fine-sand beach with only the piping call of oystercatchers for company. That's where you'll find the heart of Portugal, for while geographically it may cling to the side of Europe, it marches to its own beat.
For a taste of undiscovered Portugal, Wexas (020 7590 0618; wexas.com) offers a range of Pousada Passport trips; self-drive itineraries with accommodation in pousadas – historic, state-run hotels. The five-night Porto and the North trip starts at £500pp, with flights, car hire and B&B in properties including a converted convent in Unesco-listed Guimaraes and a restored palace on Monte de Santa Luzia.
Back-Roads Touring (020 8987 0990; backroadstouring.com) has an eight-day Discover Portugal small group tour from £1,411 per person, calling at Lisbon, Porto, the Roman ruins at Conimbriga, and the spectacular stretch known as the Silver Coast. The price includes accommodation, some meals, transport and excursions, but not flights.
Gardening leave
Portugal may be better known for its golf courses than its gardens, but a few days in the country's north will change all that. Visit impressive woodland complete with follies, 19th-century camellia topiary and formal 18th-century gardens such as Casa dos Biscainhos, where elaborate fountains and Arabic-inspired parterres delight.
Using the medieval town of Guimaraes as a base, take day trips to spectacular sites such as the Baroque Santuario do Bom Jesus do Monte, which lies in a park on a forested slope near Braga. Its zig-zag stairway, punctuated by chapels and fountains leads to the 18th-century church.
Martin Randall Travel (020 8742 3355; martinrandall.com) has a five-night guided tour with landscape architect and garden historian Dr Gerald Luckhurst; the price of £1,660pp includes entrance to gardens not normally open to the public, flights, accommodation, private transport and most meals.
Raise a glass
The Douro Valley may be well known, but there is no need to follow the well-beaten path. If you do need to tick off the more popular spots, the pretty towns of Pinhao and Peso da Regua are worth visiting – the latter for its excellent new wine museum (00 351 254 310 190; museudodouro.pt; admission €6) and the former for the just-opened Quinta do Bomfim Visitor Centre (00 351 254 730 370; symington.com; wine tour from €7.50), which gives you an understanding of the Douro grape varieties.
You can also escape the crowds by heading for the hills above the tiny railway station of Ferrao, to the Covas do Douro area, just 90 minutes from Porto. The Quinta Nova Nossa Senhora do Carmo winery (00 351 254 730 430; quintanova.com) has magnificent views over rolling vineyards, and a tiny white-washed chapel. And don't miss a wine tasting. Doubles start at €150 B&B, and various excursions can be arranged for an extra fee, including wine village tours and an exploration of the region's Jewish heritage.
Time travel
So well hidden is the Paleolithic rock art in Foz Coa, which dates from 22,000 to 10,000 BC, that it was only discovered by chance in the 1990s. Despite being a Unesco World Heritage Site, it remains surprisingly off the radar for tourists, who rarely venture this far along the Douro.
Visit the museum (00 351 279 768 260; arte-coa.pt; admission €12) at Vila Nova de Foz Coa to explore the Paleolithic art with a guide. Base yourself at Casa do Rio (00 351 279 764 339; quintadovallado.com), a dazzlingly designed, tiny new gem bordering the Douro River. Doubles from €190, including breakfast.
Lovers of more recent remains and artefacts should head down to historic Coimbra, home to a 13th-century university. Visit the Romanesque cathedral, with its gilded altarpiece, and then nearby Conimbriga's extensive Roman remains.
Sunvil Discovery (020 8578 4722; sunvil.co.uk/discovery) has a seven-night stay at the four-star Quinta das Lagrimas in Coimbra from £624, with B&B, flights and car hire.
Secret Portugal

Show all 7
On a high
With carpets of tiny orchids at your feet, and eagle owls and Egyptian vultures soaring in the clear mountain air, the ruggedly beautiful Serra da Estrela range (right) is far from madding crowds.
The national park (natural.pt; free admission) is home to mainland Portugal's highest peak, huge granite crags and gorges, mountain streams and hidden lakes. Get a taste on foot along the easy circular route from Manteigas to the Poco do Inferno waterfall.
Encompassing Torre, mainland Portugal's highest peak (6,539 ft), this is also where the country's best cheese comes from. Bound in cloth, this unctuous, cured delight is made by artisans from sheep's milk and coagulated with local thistle. Also worth trying are the region's black puddings and mountain wines – you're in the perfect surroundings for walking off these culinary riches. Base yourself at the eight-room, family run Casas da Lapa hotel, whose thick stone walls date from 1812. Chic Retreats (0203 397 0085; chicretreats.com) offers double rooms from €90, including breakfast.
Twitching and tweeting
Forty miles south of Porto lies the underappreciated city of Aveiro. Facing a lagoon dotted with pink flamingos and purple herons, the city is made up of canals and boats that traditionally harvested seaweed.
In its heyday (note the Art Nouveau houses that still form the centre of town) salt from here was taken to Newfoundland to preserve cod that returned to Portugal as bacalhau.
Headwater (01606 828421; headwater.com) offers coastal cycling holidays which take you along the bird-rich coast for seven nights, stopping for two of them at Aveiro. The price of £1,047pp includes high quality bikes, B&B, some meals, route maps and notes, and luggage transfers, but not flights.
Or, hole up on the shores of the Alentejo's Santa Clara lake, where at Quinta do Barranco (00 351 283 933 065; paradise-in-portugal.com), golden orioles frequent the garden. Owner and ornithologist Frank McClintock will guide you to spot great and little bustards, red rumped swallows and more. A day's bird watching for two costs €275; B&B doubles from €115.
Getting there
Porto is served from Gatwick by British Airways (0344 493 0787; ba.com); TAP (0345 601 0932; flytap.com); and easyJet (0330 365 5000; easyjet.com) – which also flies from Luton, Bristol and Manchester. Ryanair (0871 246 0000; ryanair.com) flies from Stansted.
Faro is served by Ryanair from eight UK airports; easyJet from seven; Monarch (0333 0030 0100; monarch.co.uk) from Gatwick and Birmingham; and Jet2 (0800 408 1350 ; jet2.com) from Manchester.
Lisbon is served by TAP from Gatwick, Heathrow and Manchester; easyJet from Gatwick and Luton; Ryanair from Stansted and Manchester; and BA from Heathrow.
Getting around
Driving is the best way to get around, especially for places off the beaten track. Motorways with tolls are fairly empty and very fast. Car hire is easy and the international airports have plenty of companies to choose from.
Register for free to continue reading
Registration is a free and easy way to support our truly independent journalism
By registering, you will also enjoy limited access to Premium articles, exclusive newsletters, commenting, and virtual events with our leading journalists
Already have an account? sign in
Register for free to continue reading
Registration is a free and easy way to support our truly independent journalism
By registering, you will also enjoy limited access to Premium articles, exclusive newsletters, commenting, and virtual events with our leading journalists
Already have an account? sign in
Join our new commenting forum
Join thought-provoking conversations, follow other Independent readers and see their replies