The Independent's journalism is supported by our readers. When you purchase through links on our site, we may earn commission.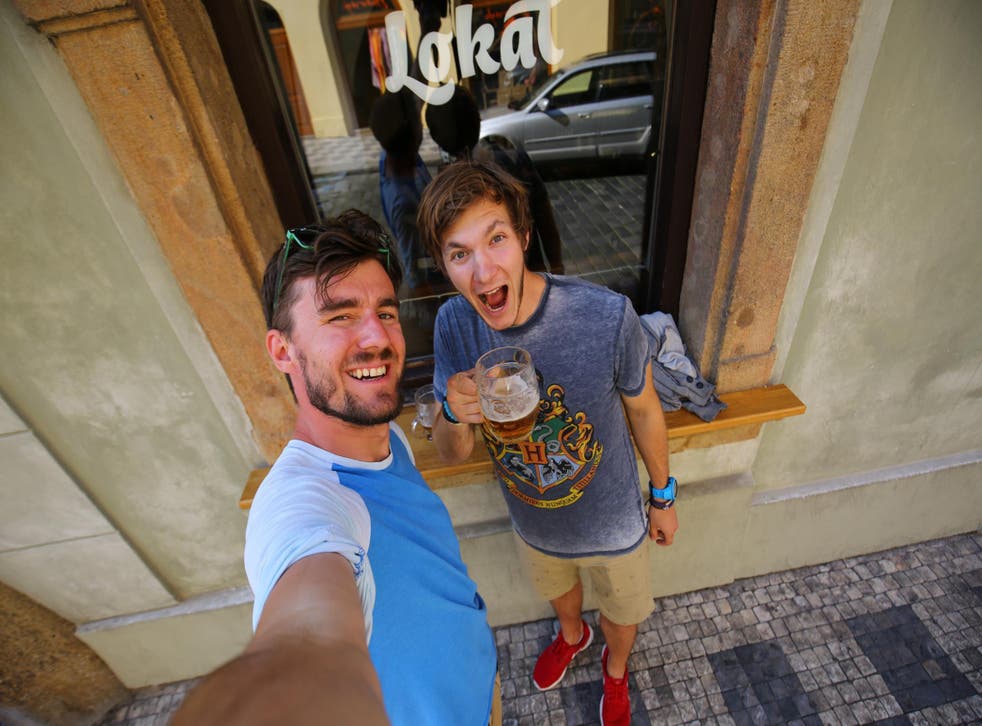 Prague: A local's guide on what to see and skip in the Czech capital
A stroll over the Charles Bridge, a trip to the castle, a love lock... stop right there, says Auburn Scallon, and do as the locals do in Prague
Auburn Scallon
Thursday 21 December 2017 14:12 Comments
Janek Rubes and Honza Mikulka should be called the patron saints of Prague tourism. Their "Honest Guide to Prague" YouTube series has been helping visitors avoid tourist traps since the start of 2016 – so who better to tell us what's worth seeing on a trip to the capital of the Czech Republic? We asked Rubes which of the obvious sights are worth skipping – and what to do instead. Here's what he recommended.
Swap Prague Castle for Vysehrad
Security checks implemented in 2016 have resulted in hour-long queues at Prague Castle, meaning a trip eats unnecessarily into your schedule.
Instead, Rubes recommends the Vysehrad fortress complex, complete with its own neo-Gothic cathedral, an ornate cemetery, a locally loved beer garden, and panoramic city views. "It's local. They will treat you as they treat us," he promises. "The Prague Castle is like Disneyland."
Swap Old Town Square for Skautsky institut
The hourly show at Prague's astronomical clock is regularly compared to the Mona Lisa in the "disappointing tourist experience" stakes – it's just too crowded. Instead, snap a quick picture, leave the square to the hordes of visitors and head a few doors down to Skautsky institut.
"It's the calmest, nicest place in the city centre," Rubes says. "You will be treated by the nicest hosts there are in Prague – the boy and girl scouts. Have some coffee, beer, homemade lemonade or food, have a chat or read a book. For me, it's a must."
A local's guide to Prague

Show all 13
Swap the Charles Bridge for any other bridge
"If you really want to walk across the Charles Bridge, do it at 6am," Rubes advises. "Otherwise you won't be able to see anything but crowds of people."
If you're not up for a dawn stroll, he recommends the neighbouring bridges on the Vltava river to get a better view. "Or go to Trojsky Most [Troja Bridge]. It's so futuristic that you wouldn't even guess it's in Prague."
Swap the 'love locks' for a walk in the park
If you do one thing in Prague, make that a commitment to not affix a "love lock" to anything – especially not the Certovka Bridge, which is inundated with them. Local groups remove the padlocks regularly to maintain the integrity of Prague's historical architecture. "Just don't do it," Rubes advises. "You're ruining the city for everyone."
For a romantic experience in the Czech capital, Rubes suggests that couples "take a walk in Petrin or one of the other parks instead".
Swap trdelnik for laskonka
If you want to see Rubes's blood boil, mention trdelnik, a spiral dough, often filled with ice cream, that has gained viral Instagram fame. "Not a single Czech person has ever eaten trdelnik," he fumes. "And if they did, they're not Czech."
To satisfy your sweet tooth in Prague, he says, "You have to go to a cukrarna [sweet shop] full of endless choices. My favourite is laskonka which is like a small, sweet burger filled with cream."
Swap anywhere advertising 'Traditional Czech Meals' for a local pub
"Stick with the daily menu," Rubes advises. "They're usually only printed in Czech so you will need some help. If the menu is in English, you're not at a good place. You also shouldn't be paying more than around 100 crowns [£3.50]."
He suggests U Rudolfina, a restaurant near the Rudolfinum (concert hall). "It used to be a heavy, heavy smoking pub [before the 2016 smoking ban]," he says. So what exactly should visitors expect from a "local" pub experience? Rubes grins. "You will be treated like s*** and you will get Czech food."
Swap Starbucks for a local café
Prague's café culture has exploded in recent years. "Look for smaller local cafés, like Roesel – beer & cake right next to the Charles Bridge," he advises. Coffee is not the only acceptable afternoon beverage, however. "To be honest, I don't go to a coffee place for coffee, I go there for beer."
Avoid those golden arches, too. "If you're really in the mood for fast food, at least go for Bageterie Boulevard or Burrito Loco for Mexican food, which are both Czech-owned," he says.
Swap absinthe for local liquor
"I don't know any Czechs who would actually drink absinthe," Rubes says. "I recommend slivovice [plum brandy] or hruskovice [pear brandy]."
And he can recommend one place that you can try all of the above, if you're willing to travel outside of Prague: Zufanek Distillery. "If you're going to try absinthe, you should at least learn how to drink it properly."
Swap Old Town church concerts for Prague's official concert halls
"Never, ever, ever buy tickets for classical music performances on the street," Rubes warns. "You will be cheated."
If you want to see a show, he recommends sticking to Prague's affordable official venues, such as Rudolfinum or the National Theatre. For an overview of concert listings, he recommends goout.cz.
Swap taxis for your feet
One of Rubes's early crusades to make Prague safer for tourists was drawing attention to dishonest taxi drivers. Luckily, his favourite mode of transportation comes risk-free.
"I walk everywhere," he says. "It's healthy for you, it's healthy for the city, and crossing the whole city on foot would take you just a couple of hours. I always recommend walking, taking a tram, or renting a bike."
Register for free to continue reading
Registration is a free and easy way to support our truly independent journalism
By registering, you will also enjoy limited access to Premium articles, exclusive newsletters, commenting, and virtual events with our leading journalists
Already have an account? sign in
Join our new commenting forum
Join thought-provoking conversations, follow other Independent readers and see their replies