Why ancient Roman vineyards are reopening in eastern Galicia
Lauren Mowery visits the intrepid winemakers of the Galician hilly landscapes, who are bringing ancient Roman vineyards back to life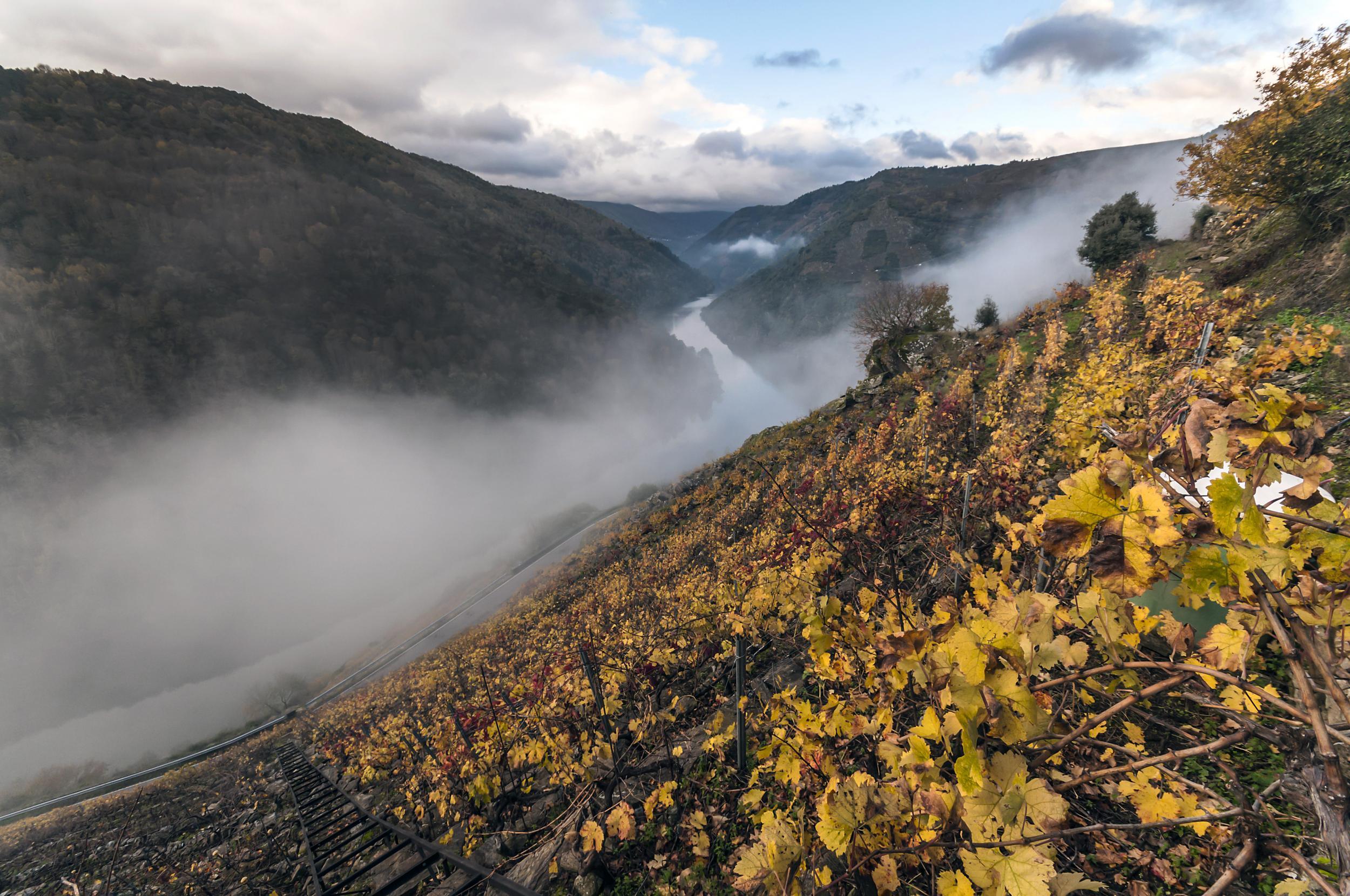 I'm perched on the retaining wall of a narrow vineyard in Ribeira Sacra, sipping a glass of local red wine made from mencia. Joined by winemaker Pedro Rodriguez of the Guimaro vineyard, we peer over the ledge into the canyon, perhaps hundreds of metres down, to the thin ribbon of river below. I toss a rock. It disappears.
We stroll through his vines, careful with our footing. Rodriguez explains he's in the process of attaining organic certification. "We practise farming like they did in the past," he says. He's not kidding – the first people to make wine here were the Romans. Two thousand years ago, the Roman army worked this same site. They built the stone terrace Rodriguez has rehabilitated – as well as others – to grow grapes and make wine.
Galicia's Roman vineyards
Show all 12
Rainy and green, Galicia was incorporated into the Roman Empire during the reign of Augustus, around 29-19BC. To slake the thirst of troops forging the largest gold mine of the era – Las Medulas in nearby Bierzo – they created their own industry. In this mountainous zone there was no flat land; instead, they carved cascading terraces in surrounding canyons and down the steep riverbanks of the Sil and Mino to plant vines.
The vineyards were abandoned during the Dark Ages, but in the centuries to come, monks moved into the valley and replanted. Land passed from church to civilians, but after plant disease was followed by the Spanish Civil War, their owners abandoned both the vineyards and the countryside. Galicia is full of ghost towns.
To see the region is to understand why they left. While Ribeira Sacra has one of the most breathtaking landscapes in Europe – think of the Mosel Valley in Germany – its beauty belies the treacherous work required to tend its fruit.
Working manually on an incline is backbreaking and dangerous. Many sites are remote and barely accessible to small vehicles, let alone tractor equipment that could mechanise planting and picking. Myriad roads remain unpaved, combining hairpin turns with steep angles. These improbably difficult conditions can yield only tiny quantities of wine. Not large fortunes.
Yet over the past two decades, the Roman vineyards have been making a comeback.
Fernando Gonzalez Riveiro, who owns the Adega Algueira vineyard, spent nearly 30 years buying up fragmented abandanados (what locals call the abandoned vineyards) to quilt together enough land worth farming.
"People talk about 'handmade' wine, but for most, that's a marketing term," he says. "We have to work by hand – there's no other option. For example, in the white-winemaking region of Rueda in Castile and Leon, producers can plant thousands of verdejo vines in a day. For us, three." A former banker, he admitted the numbers don't make sense, but he is guided by passion, not money. "Passion is like a windscreen wiper – it doesn't eliminate the storm," he says. "It allows you to move forward."
Like Guimaro, Algueira produces fresh, perfumed reds from mencia, the valley's predominant, most promising grape. They can be pinot noir-like in their delicacy, occasionally sanguine and iron-like, but eminently singular. From the unique circumstances of its cooler climate and soil, Ribeira Sacra reds renounce the richer, riper expressions of Spain's warmer, southerly climes to produce lighter, elegant, more restrained styles.
Following the Sil river east, I reach the neighbouring, less dramatic landscape of Valdeorras. The name means "golden valley", a moniker likely attributed to the importance of its precious ancient metal mines. Today, the region mainly trades in wine. The grape that drives this revitalised industry is a white one, godello – another variety that was nearly lost when people abandoned the countryside.
Wine geeks tracking the next "it" grape offering high quality for low prices find godello fits their bill. The finest wines made from this compare to French chardonnay. They can be rich, round, and similarly textured; yet Valdeorras remains a secret. Its remote location has protected it from mass tourism. Not even Spaniards have alighted on the bucolic villages lining the 80-mile stretch of river.
In the hills above the river sits another vineyard, Adega Valdesil. A visit provides important historical context to understanding Valdeorras. Sixth-generation owner-winemaker Borja Prada shows me the thick, gnarled trunks of his great-grandfather's 1887 godello vines. Propped up with rocks and string, they take on an anthropomorphic quality. Though they barely produce enough fruit to bottle, he keeps them "as a living legacy, hoping to one day put Valdeorras on the world map".
As the wine world grows increasingly homogeneous, Ribeira Sacra and Valdeorras fulfil the promise of heritage wines that express a unique time and place. That's why winemakers have returned – and oenophiles are right behind them.
Travel essentials
Getting there
Ryanair flies direct from Stansted to Santiago de Compostela – expect to pay around £130 return during the summer. From there, it's easiest to rent a car for the 90-minute drive to Ourense. Use this small city as a base for exploring the surrounding landscapes and vineyards of Ribeira Sacra and its Canon do Sil (Sil River Canyon). O Barco de Valdeorras and Las Medulas are a 90-minute drive east from Ourense.
Staying there
A converted monastery overlooking the Canon do Sil, Parador de Santo Estevo is the best option in Ribeira Sacra. Doubles from £90, room only.
Pazo do Castro is the best option in Valdeorras. Another restored historic hotel, rooms are a touch spartan, but antiques provide authentic charm. Doubles from £65, room only.
More information
Winery visits and tastings are by appointment
Join our commenting forum
Join thought-provoking conversations, follow other Independent readers and see their replies