Rota Vicentina: Welcome to Europe's empty corner

Show all 3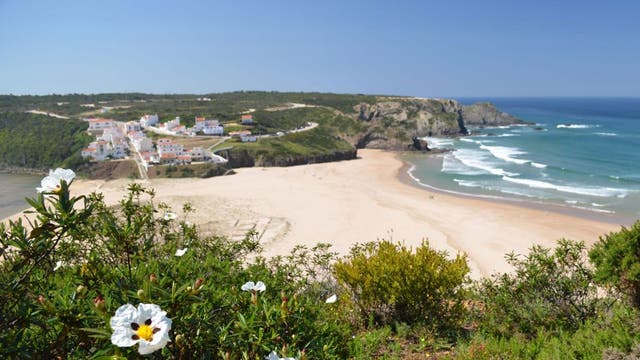 Rota Vicentina: Welcome to Europe's empty corner
Wildflowers, deserted beaches and Atlantic waves set the scene along the rugged Rota Vicentina. Sarah Baxter sets off to enjoy this revelatory route
"The Portuguese don't walk," Sara explained as we tucked into olives at her chic, rural guesthouse. "Since the revolution in 1974, more people have cars. So why would they?" At the far end of the table a local couple paused their cheese-eating to chime in: "We don't!" the woman concurred, emphatically. "We think walking is crazy!"
Having spent the day doing just that – a hike along the wild Alentejo coast – this dinnertime revelation did suggest the question: why has Portugal bothered creating a new long-distance footpath if no one is ever likely to use it?
Unveiled last year, the Rota Vicentina was created largely from existing rural paths by Casas Brancas. This network of small local businesses – guesthouses, restaurants, agriturismos – works together to bring sensitive tourism and development to an area much in need of an economic boost; it's hoped the Rota will do just that. Starting from Cape St Vincent, Portugal's most south-westerly point, the path follows the country's Atlantic-thumped coast north to the village of Odeceixe, where it splits in two: the Historical Way veers inland, the Fishermen's Trail sticks to the sea.
Whatever the Portuguese attitude to walking, the Rota Vicentina certainly deserves to be used. It lies entirely in the Sudoeste Alentejano e Costa Vicentina Nature Reserve, a 200km-long chunk of protected shoreline where wildflowers rule the dunes, scrunched and striated cliffs plunge to dragon-back rocks, green-blue waters fizz and the sandy beaches are blemish-free and people-free. Plus, much of it is within the vast Alentejo. This region, a couple of hours' drive south of Lisbon, is the anti-Algarve, a place devoid of English pubs and golf courses.
It was to the Alentejo that we'd headed. My boyfriend and I – presumably exactly the walking enthusiasts those trailblazers want to attract – were following the Fisherman's Trail north from Odeceixe to pretty Porto Covo. We were spending five days hiking this section's 75km length, with detours to rural B&Bs en route.
You can walk the Rota Vicentina independently and camp along the way, but we'd opted to upgrade and make the most of the charming and reasonably priced accommodation, not to mention the excellent regional wines, locally caught seafood and friendly hospitality. On our self-guided itinerary, our bags were transported ahead each day; our picnic lunches (fresh bread, Alentejana cheese, zingy oranges) were packed for us each morning; a new welcoming host – bearing cake and character – awaited each night.
All that remained was to be perversely non-Portuguese and enjoy the walk. The bright-blue sky was cloud-free as we set off from Odeceixe, following a verdant estuary aflutter with birds before hitting the coast. A gentle Atlantic breeze maintained a perfect temperature and tickled the pines and pungent eucalypts.
The Alentejo accounts for more than a third of Portugal's landmass yet is home to only four per cent of the population; it's also the country's poorest region. There's lots of land but it isn't especially fertile, those fragrant and invasive eucalypts depleting the soil. However, our biggest immediate delight was the profusion, brilliance and variety of the flowers. There are almost 750 flora species in the natural park and I was overwhelmed by the colours and smells. The "arid" region hadn't read its own guidebook. It was vividly alive.
The green-blue trail-markers directed us along unpeopled cliffs; we had only gulls, butterflies and lizards for company. We'd look down to where littoral rocks were battered by a pugilistic sea; occasionally we'd spy a fisherman balanced precariously on an outcrop, dangling a line or scraping for goose barnacles. All week we dined on the fruits of these waters, from crisp, garlicky octopus tentacles to dense acorda – a tasty, regional bread-and-shrimp stew.
The walking just about justified the indulgence. There were a few steep hauls up cliffs and a fair amount of toiling through powdery, thigh-tiring sand, but mainly the pace was easygoing. On day two, we'd planned to set off early but discovered there was no point rushing: the pao man didn't arrive with the breakfast bread before 9am. A lie-in it was then.
Already, on that second morning, I felt enveloped by the simple pleasures of sun, sea and a skinny track squiggling off round the next headland. There were curves of sand here to make a developer drool. And yet they remained empty, possibly because many were backed by sheer cliffs, and appeared inaccessible. Although every time we declared a beach out of reach, we'd spy a lone fisherman who'd somehow managed to clamber down. A few other intrepids do make it here. I watched, impressed, as a surfer rode into one bay, making the most of this coast's fine breaks. Also, a few of the perfect beaches had more obvious access. On day three we happened upon deserted Praia da Carraca, an idyllically secretive strand. Creaky wooden steps led to the perfect picnic spot. We felt so smug, pristine sand under our bottoms, lunch unwrapped .... Smug, that is, until a wave washed up the beach, causing a hurried dash and – horror! – a sandwich lost to the sea.
What that sea stole in provisions, it repaid with a salty breeze that cleared our heads after the previous night's carafe of red wine. It also provided a four-fish stew, which we ate as the evening sun's crepuscular beams hit the waves, as if pointing to where dinner was caught.
By day four, we had surrendered entirely to the Alentejo, and on our final day I was still astonished. Leaving the little town of Vila Nova de Milfontes for Porto Covo, our morning brought fly-pasts by storks and a rusty old shipwreck but still no other people. At the long sweep of Praia do Malhao – three kilometres of picture-perfect rocks, pools and inviting sand – I couldn't bear it any longer. In a flash, I scampered down a dune and started to sprint across to the sea, somewhere between an excitable child and a Chariots of Fire-era Nigel Havers, I stopped as the waves threatened my shoes, a grin on my face and, now, a single line of footprints – the only ones in the Alentejo? – trailing behind.
Travel Essentials
Getting there
Sarah Baxter travelled with Inntravel (01653 617002; inntravel.co.uk), which offers the seven-night self-guided "Along the Costa Vicentina" trip from £665pp. The price includes B&B accommodation, four dinners, five picnic lunches, luggage transportation and route notes and maps; flights not included.
The writer flew with easyJet (0843 104 5000; easyJet .com), which flies direct to Faro and Lisbon from several UK airports. One-way fares start at around £30. Transfers from Faro/Lisbon to the start/end of the walk cost £14-98pp via Inntravel, depending on whether you chose train or bus and taxi options.
More information: casasbrancas.pt; visitportugal.com; rotavicentina.com
Join our new commenting forum
Join thought-provoking conversations, follow other Independent readers and see their replies