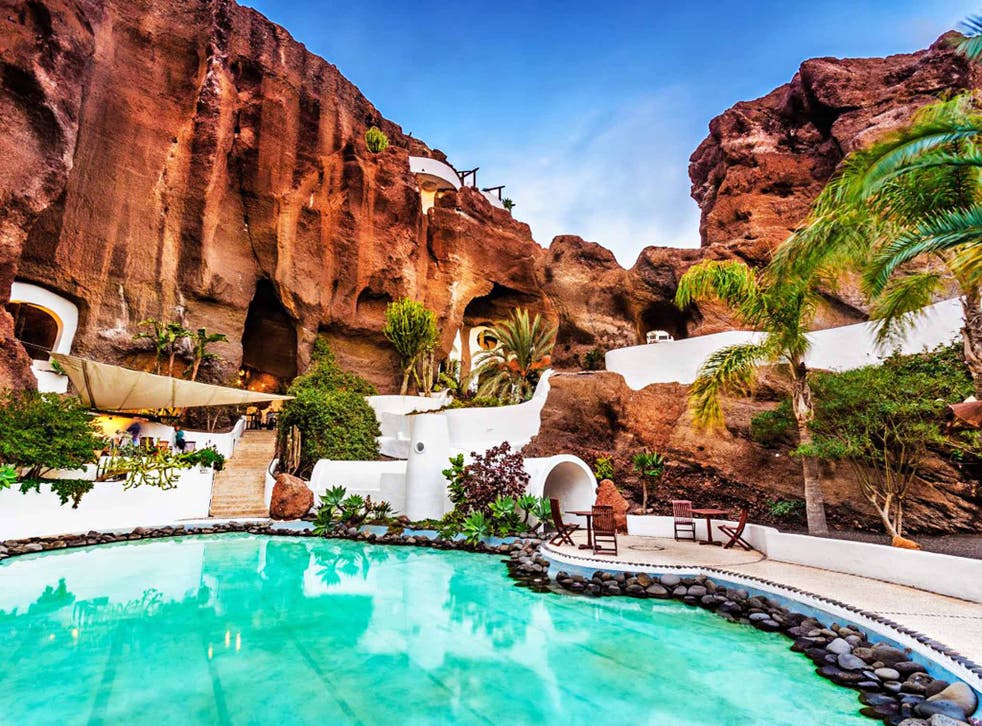 Rural retreats in Lanzarote: Fincas, volcanic quarries, and vineyards
From the former home of a Canarian boxing champion to spacious villas around a communal pool
Lagomar, Nazaret
Built into a volcanic quarry, this sprawling development was conceived by the island's most prominent architect, César Manrique, for the British developer Sam Benady. In the 1970s, Hollywood star Omar Sharif visited while filming The Mysterious Island, fell in love with the property and bought it on the spot. Regretting his decision to sell, Benady challenged the Egyptian-born actor to a game of bridge – with Lagomar, or "Omar's Lake", as the stake. Sharif lost and his beloved Lagomar once again became the property of its original owner, until two international architects bought it in 1989. In the years since, indigenous plants have been nurtured and underground caves refurbished to reveal a museum, restaurant, lively cocktail bar and two apartments, both with private pools.
Lagomar, Nazaret (00 34 928 845 665; lag-o-mar.com). Weekly apartments from €520 for two, self catering.
Casa El Morro, Uga
This 18th-century, family-owned finca is set away from Lanzarote's hustle and bustle. Named after the highest peak in the inland town of Uga, it offers one yurt and seven self-catering suites, close to the vineyards and bodegas of La Geria's wine-growing region. The atmosphere is subtly Asian, with carved Balinese beds, fluttering prayer flags, silk fabrics and statues of Buddha scattered about. Outside, the garden brims with citrus trees, palms, figs and lavender bushes, while a pool, several courtyards and an on-site yoga hall offer space to zone out.
Casa El Morro, Uga (00 34 928 830 392; casaelmorro.com). Doubles from €118, B&B.
Casa Tomarén, El Islote
Surrounded by olive groves and orchards, Casa Tomarén offers seven spacious villas, arranged around a communal pool. Each has a full kitchen, with abundant outdoor space that ranges from private patios and rooftop terraces to alfresco barbecue areas. Many of the beds are draped in a canopy of luxurious white fabric, while tiny, two-person Dewi has views of a neighbouring crater. Adjoining footpaths are bordered by fragrant herbs and the pool is hugged by tropical palms and flowers.
Casa Tomarén, El Islote (00 34 928 522 618; tomaren.com). Nightly villas start at €84. Sleeps two-eight.
Finca Malvasia, Masdache
Set on a working vineyard in La Geria, Finca Malvasia has four self-catering apartments, cast against the backdrop of an imposing crater. Designed in the style of César Manrique, each low-lying, whitewashed building is crafted from rendered volcanic stone. The look is contemporary with a Canarian twist, as locally made terracotta pots and log-burning stoves mix with simple, uncluttered bedrooms. For exploring further afield, the hotel has links with numerous hiking, cycling and surfing operators.
Finca Malvasia, Masdache (00 34 692 155 981; fincamalvasia.com). Nightly apartments start at €135. Sleeps two-four.
Tiagua 81, Tiagua
This 200-year-old house stands in the village of Tiagua, with a set of four self-catering apartments, each sleeping two people. A communal interior courtyard, reading room and an outdoor pool provide space for guests to gather, while a detached cottage in the grounds lends room for larger groups of up to four. There's an excellent local supermarket for stocking up the fridge nearby and a traditional Canarian restaurant, El Tenique, for when you fancy eating out. The 6km sandy stretch of Famara beach is a drive away.
Tiagua 81, Tiagua (00 34 928 826 720; tiagua81.com). Nightly apartments start at €90 for two-four guests.
Casa de Hilario, Yaiza
This casa was once home to Canarian boxing champion Robert Hilario, better known as "Jaws". Surrounded by the equally fearsome volcanoes of Timanfaya National Park, it stands out with a whitewashed exterior amid the stark, blackened landscape. Inside, the seven rooms are individually styled: some with colourful pastel shades that lend the space light; others more opulent, with decorative headboards. Palms and bougainvillea bushes abound outside on terraces that hold a small pool.
Casa de Hilario, Yaiza (00 34 928 836 262; casadehilario.com). Doubles start at €90, including breakfast.
Join our new commenting forum
Join thought-provoking conversations, follow other Independent readers and see their replies