Shape up in Tuscan splendour

Show all 3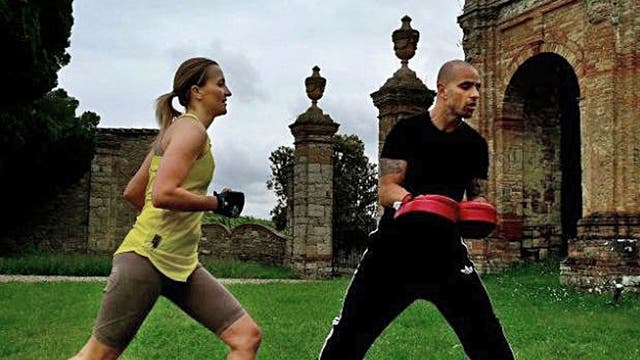 Shape up in Tuscan splendour
An 18th-century villa set amid the vineyards of the Chianti Classico countryside provides a grand and galvanising setting for a fitness retreat, writes Caroline Sylger Jones
"Can we stop for a bit?" I muttered. I'd been cycling uphill for nearly two hours and my thighs were singing with pain, my whole body pulsating with the effort of movement. Lifting my head feebly I called out again, "Drew?" My bum ached and I was grateful for a Tuscan breeze against my red and sweaty cheek as I watched our personal trainer cruise back towards me, a look of concern on his face.
At the roadside, bikes discarded, my companion, Fiona, and I flopped breathlessly on our carry mats and allowed Drew to stretch out our tight and aching limbs. Cars edged past us cautiously, their drivers wondering if we'd had a serious accident until they saw our faces, creased in fits of raging giggles bought on by the release of endorphins and the hysteria of exhaustion.
I'm not usually someone who relishes a fitness-focused break – I'd always rather be doing a stretchy yoga class than pushing myself on things like "cardio circuits" or uphill cycle rides like these. Strange then, that I was falling for this one. For our days consisted of 7am power walks or runs followed by stretches, two to three hours of intense exercise sessions, a prolonged dip in a "cold pool" to increase our metabolism and enhance our immunity, and "active rest" afternoons such as horse-riding or this cycle ride. So, you can imagine how much the real exercises hurt.
That I was falling for it had a lot to do with Drew. A personal trainer for more than 15 years, there was something about him that made doing what he told us quite tolerable, even pleasant. Perhaps it was his calming Welsh accent, or that he practises mindfulness as well as fitness (many of his impressive tattoos relate to Buddhist teachings). He also didn't take things too seriously – his business card reads "Feel Good Without Your Clothes On". Most of all though, he's a nice person – from our first e-consultation to the day I left the retreat, I felt like he genuinely cared about what I wanted to get out of the week and what my body and mind could cope with.
Years of ballet had worn down the cartilage in both my knees, so much that I'd had to have it shaved via keyhole surgery, which means that I can't run for exercise or do fat-burning things like burpies or squats, particularly now that I'm almost 44. But my dodgy knees didn't faze Drew, who by the time we reached Tuscan soil had devised an impressive programme to strengthen my knees while making me sweat.
Being based at an elegant, cream-coloured 18th-century villa surrounded by vineyards in the Chianti Classico hills near Siena also helped. Villa di Geggiano has long corridors, high ceilings, large green-shuttered windows and grand views. Never mind that I was wearing Sweaty Betty leggings instead of a floaty dress as I wandered around. The rooms were littered with objets d'art, leather-bound books and jewellery boxes that The National Trust would have squirrelled away behind glass cases and red rope long ago. Our hosts were Andrea and Allesandro Bianchi Bandinelli, two charming brothers who live in the villa and whose family inherited it in 1527.
Drew's morning exercise sessions were always hard work, but doing them in the garden surrounded by classical sculptures and facing the gorgeous villa made them seem a lot easier. We did boxing (really rather fun), core work on a swiss ball (painful), training with kettlebells (think weights in the shape of natty little handbags) and sessions of TRX (Total Body Resistance Exercise, or exercises using giant straps tied to a tree which make you feel a bit like a horse going nowhere). Afterwards, I'd retire to the villa's long room where ladies used to take their tea and gossip – trainers off, lying on a satin sofa, looking up at an intricately painted ceiling.
Power walks were through vineyards with uplifting views across the Tuscan hills, so it didn't matter that my calves hurt. I'd rather that the "cold pool" had been a hot tub, but it was a beautiful structure hand-built by Allesandro in a wooded part of the grounds, so I was happy to shiver in it. There was even time to drive through the picturesque clay hills one afternoon to see the Abbey of Monte Oliveto Maggiore, a 14th-century monastery that's still inhabited by Benedictine monks and sports some impressive frescos.
The best bits of the break were when I was lying down, especially when I was having a treatment with Drew's mother, Christine Perrott, who makes her own organic skincare and practises holistic treatments such as facial reflexology, aromatherapy massage, Thai foot massage and reiki. Her gentle manner and magical hands helped me sleep deeply each night and provided a welcome balance to the high-octane energy of the day. When my muscles were really tight, Drew gave me a very good targeted deep-tissue massage, which worked a treat.
Guests can stay in the villa for a historic, immersive experience, though I found it refreshing to be based in a renovated garden pavilion with wooden floors, a firm bed and minimalist bathroom. Here, I enjoyed salt baths each day with some detoxing soda crystals that Drew had given us on arrival, and meditated one morning with the sound of birdsong and church bells tinkling in the background.
Meals were eaten at a long, old wooden table surrounded by walls painted with murals of birds and flowers, and on our last night, by a big open fire in the former villa kitchen. They weren't abstemious either – a high protein, healthy menu of Italian cuisine, cooked by the Sri Lankan family chef, Damayanthi, with locally sourced eggs, fish, meat and lots of seasonal fruit and vegetables, often from the villa's own garden. Fennel was served simply with the villa's own extra virgin olive oil, chestnuts were fresh and roasted, while main meals included baked sea bass with vegetables or pork with juniper berries and bay leaves. Even more gratifying was the occasional glass of red wine, straight from the Bandinelli's vineyards. I can especially recommend the 2006 Reserve – everyone knows that a glass of red wine is good for you, right?
We survived the cycle ride – which only lasted another hour – and much more besides. Did we get fitter? I don't think you can fail to with Drew watching over you, and a month on, I'm still doing power swims and power walks four to five times a week. And that's without the luxury of a Tuscan villa to retreat to.
Getting there
The Fitness Renaissance by Drew Perrott at Villa di Geggiano (07976 619 374; drewperrott.co.uk) costs from £1,900 per person per week, including all meals, activities and four treatments. The next date is 18 May.
The closest airports are Pisa and Florence. The former is served by Ryanair (0871 246 0000; ryanair.co.uk), easyJet (0843 104 5000; easyJet.com) and British Airways (0844 493 0787; ba.com); the latter by Vueling (0906 754 7541; vueling.com), CityJet (0871 221 2452; cityjet.com), and British Airways from 31 March.
Join our new commenting forum
Join thought-provoking conversations, follow other Independent readers and see their replies