Simple pleasures in the Cyclades

Show all 6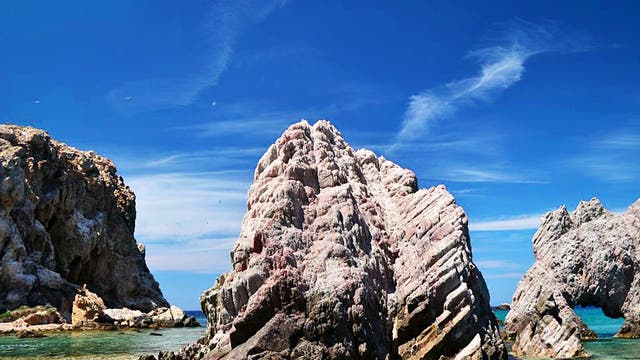 Simple pleasures in the Cyclades
Unmarked by tourists, awash with wildflowers and rich in Classical history, Antiparos remains firmly under the radar, says Richard Waters
We all want different things from our Greek islands – pine woods, gas-blue coves, rustic tavernas, deserted beaches; no Brits, lots of Brits … the variables are endless, and there are more than 150 islands to choose from. But the one I keep returning to is a wildflowered idyll that has until recently slipped beneath the radar. It's a modest sort of place: crested in turquoise water, with powder-fine beaches; dripping in classical history and good looks, but slow to sing its own praises.
Antiparos is one of the more whispered-about islands in the Cyclades. Why? Certainly it's not for any biscuit-coloured, Italianate harbour. Antiparos is distinctly Cycladic, its simple whitewashed single-storey sugarcube houses finished in Aegean-blue trim and crowded with bougainvillea. Nor are there many activities on offer. More than the enigmatic pull of the place, the friendly intimacy of its 1,200-strong community with their typical filoxenia (hospitality), and the fact that the soul of the island is largely untarnished by the tourist footprint – the package crowd flocks to neighbouring Paros. Antiparos lends herself more to the discreet independent traveller in search of tranquillity.
A steady stream of free spirits started coming here in the late Seventies, lured by its nudist beaches and isolated appeal. The bacchanalias heard over the bay from larger sister island, Paros, raised eyebrows, but Parians never gave it much thought. Antiparos was just a poor fishing community with a few hippies smoking weed under the twisty 1,000-year-old cedar tree: nothing in the way of competition.
Then the Noughties brought a wave of moneyed Athenians and international bankers commissioning Hockney-esque villas up in the hills, and slowly the word began to spread. Overnight, impoverished Antiparians became very wealthy, and the husbands no longer needing to disappear for the winter to work on fishing boats.
There's a funny story about Bruce Springsteen, who was recently happily incognito in the shadowy Doors Bar, deep in the old town, chatting to the barman, while a nearby couple surreptitiously broke his cover and tweeted his whereabouts. It was another two days before the barkeeper had wind of who'd he'd been serving. There's an earthy equality about this place – you might be sharing your table with Pierce Brosnan one minute or Spiros from the dock the next; everybody gets treated the same.
This summer I stayed at the whitewashed Artemis Hotel overlooking the harbour, an elegant, crenulated edifice with a shabby-chic lobby scattered with driftwood sculpture and amphora. There's also a pretty communal terrace to take in the sunrise. Run by a charming Greek family, it's the perfect spot for families, thanks to its proximity to nearby beaches and its stylish doubles and two-bedroom apartments with self-catering facilities.
On our first morning, a local friend called Theo offered to take us up to a cave at the other end of the island. I've been through a few spectacular caverns, but have never seen one like this. Corkscrewing near vertically into the darkness, 500 steps weave their way down past millennia-old stalactites and stalagmites. Imagine Alexander the Great's weary generals on the run and hiding here from their maniacal leader, or later Lord Byron, who inscribed his signature on the wall.
Finn, my nine-year-old son, was more interested in the assertion that this was the cave where Odysseus was captured in by Polyphemus the cyclops. We made it about halfway down into the Stygian gloom before my knees betrayed me.
At the foot of the mountain is the gently shelving Soros Beach, with fine-pebbled sand, great flat stones for skimming and water so turquoise it seems as if you could spend the entire afternoon marvelling over it. Which is exactly what we did after bowls of salty fresh calamari and fried zucchini at Soros Beach Taverna. If you give the chef a little warning he can concoct the island's signature fish soup (€15 per person), which sustained many an Antiparian fisherman on perilous trips. Live lobsters glare at you from glass tanks; you can enjoy them with fresh pasta between gawping at the view of nearby Ios and Paxos islands.
Back in the main harbour a few old timers were shelling shrimps, kafenia (Greek cafés) piped out rich coffee aromas and lyrical bouzouki music drifted across the quayside.
Antiparos' magic is subtle – a special energy that sings from its wild meadows, rocky crags and pebbly beaches. Homer might have called it Circean; I'd suggest that it offers an uncorrupted "Greekness" that many of us pine for. Head down its main street and you'll see that the shops are not the average sort: no alabaster gods, fluorescent bucket-and-spades combos or cheap bikinis. Running from the wharf to the heart of the old fort – where locals used to hide from pirates in the 15th century – this walkway is a magical trail of tavernas, coffee houses and homemade ice-cream parlours.
The next morning, we headed for breakfast at Café Nautica on the wharf-side. It was close enough to the little town beach for us to nurse a frappé while watching the children search for unsuspecting octopi among the rocks. We tended to breakfast or dine at Yianni's Bar, Café Nautica or Nisilos Café (whose menu was designed by a Greek MasterChef contestant). Opposite the latter is Papagallos Restaurant with its beautiful courtyard, exploding in pink and scarlet bougainvillea. All are good for salads, pizza, breakfast, snacks and juices. And when it came to eating in, there were plenty of bakeries and minimarts bursting with organic veg, fresh meats and fish.
We hired a sturdy five-metre powerboat from Sail Away – a handy do-it-yourself nautical outfit which rents a range of small to mid-sized craft with outboards. Armed with detailed maps of the island, life jackets and a list of where not to sail, you can set off on your own adventure visiting nearby islands like deserted Despotiko, uninhabited since the Neolithic era.
We pointed our little boat instead to the pint-sized island of Agios Spyridonas (a few nautical miles from Antiparos), topped by a postcard-perfect chapel on an octopus-pink rock. We dropped anchor and took a dip, the rock formations twisting around us like titans frozen by Zeus's thunderbolt. Indeed, while we're on mythology, in the distance from here you can make out the stickleback smudge of Serifos, Medusa's island.
Back at the harbour, veteran fishermen were gathering around chequer boards and cupped cigarettes, black-clad pensioners with sailors' rolls wandering sombrely down to the chapel. Evening was my favourite time, with passionate debate incandescing in the cafés (all the talk is naturally about "the crisis"). For really authentic Greek supper, unpretentious décor and a lively ambience, head for the backstreet Cyclades Tavern, where the calamari is so fresh it's almost moving. After dinner, head for a stroll into the fort, or kastro, a warren-like zoetrope of candle-flickering chapels, redolent kitchens and ninja-quiet pensioners.
We were soon to leave, when I met an Englishman who used to be in the music business. "How long have you been here?" I asked. "Ten years … I came here for a week to clear my head and never left." We reluctantly shuffled off to the ferry before the island captured us as well.
Travel Essentials
Getting there
Flights to Athens are available on easyJet (0843 104 5000; easyJet.com), BA (0844 493 0787; ba.com) and Aegean (0871 200 0040; en.aegeanair.com). From here, you can catch a ferry to Paros for onwards ferry to Antiparos.
Getting around
Car hire is available through Antiparos Europcar (00 30 22840 61346; antiparos-cars.com) from €30 (£25) a day. Sail Away (00 30 69484 66648; antiparosrentaboat.gr) has daily boat hire from €40.
Captain Ben (00 30 69764 09344) offers daily boat tours from €40pp.
Staying there
Phidias Piraeus (00 30 210 4296 480; hotelphidias.gr). Doubles from €49.
Artemis (00 30 22840 61102; artemisantiparos.com). Doubles from €35.
More information
Join our new commenting forum
Join thought-provoking conversations, follow other Independent readers and see their replies