What locals think of Spain's U-turn on mask wearing on the beach
As Spain drops a requirement to wear masks on the beach, Graham Keeley talks to locals sunbathing on the sands of Castelldefels near Barcelona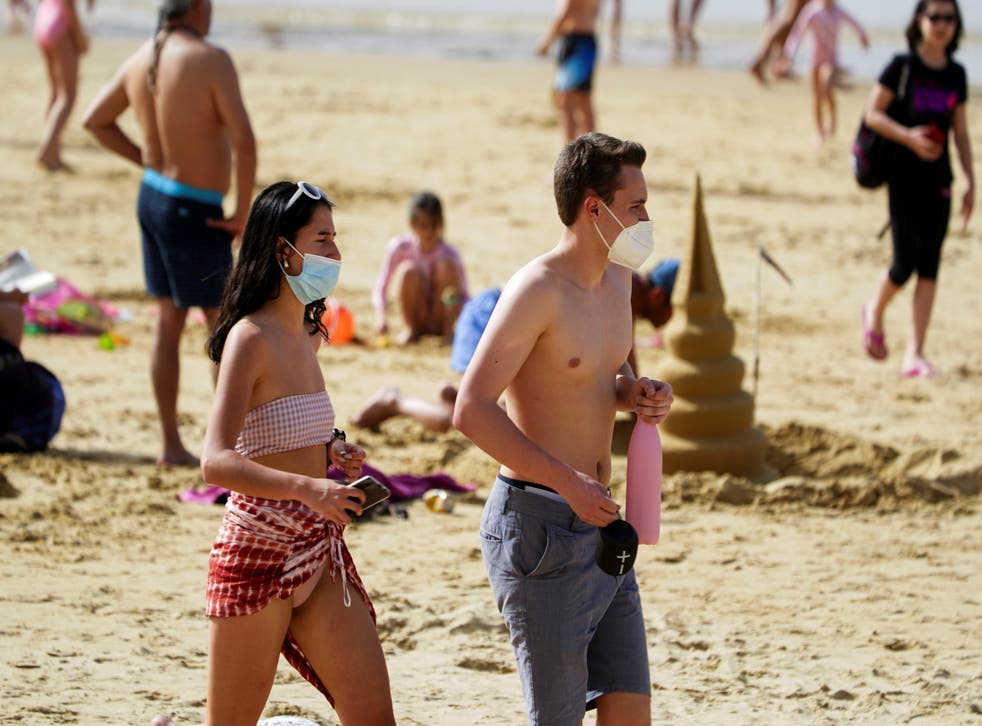 T
he sand sculpture of a drunken Homer Simpson sprawled out on the beach seemed a metaphor for the antics of some British tourists in Spain.
However, as Britons remained banned from travelling abroad until 17 May at the earliest, Spaniards were the only ones enjoying the spring sunshine on the sands of Castelldefels.
Normally after Easter, holidaymakers begin to arrive in this resort town south of Barcelona, which is a mix of glitz and a certain faded charm.
Castelldefels is an upmarket resort that is home to the likes of FC Barcelona and Argentina footballer Leo Messi, but also looks like the kind of place that could do with a lick of paint.
If the evidence here was anything to go by, when British tourists finally arrive in Spain this summer, they will find a country which has gone through some soul-searching over its biggest attraction – the beach.
The Spanish government was forced to make a sharp U-turn this week over the issue of wearing masks on the beach.
After making face-coverings on the beach obligatory last week, Spain now says that they will not be necessary while sunbathing or swimming if social distancing is respected.
The law, which initially came into force last week, sparked a huge backlash from Spain's tourism industry and regional authorities in Valencia, the Balearic Islands and Catalonia, whose economies are heavily dependent on tourism.
The Spanish government changed the law so that people can remove face coverings on the beach if they remain in one place, respecting the minimum 1.5 metre security distance from people they do not live with.
However, if they walk along the beach, they must put masks back on, the health ministry added.
Wait 'two or three weeks' to book foreign holidays, Grant Shapps says
Swimming in the sea, lakes, reservoirs or rivers as well as in outdoor and indoor swimming pools does not require masks.
Face coverings can also be removed for "strictly necessary" moments of eating and drinking in public.
Among the sunbathers and windsurfers in Castelldefels, Spain's U-turn over face masks did not appear to be highest among their priorities.
Some people were wearing masks, others had them draped around their necks, while others had dispensed with them altogether.
Laura Martínez, who was sunbathing without a mask, said she doubted tourists would take any notice of Spain's complicated face covering regulations.
"I don't think they will worry about them or take any heed," said the 28-year-old pharmacist.
"Much as we want the tourists to come back, I think it will be hard to enforce this."
Along the same beach, Mari Sanchéz was huddling next to her boyfriend Carlos Ferrer as they took some time out to enjoy the sun.
"Our problem will be if you give Spaniards some rope then they do not take any notice of the laws. We are a bit like that. And the tourists don't take any notice. They are just here to go mad," said Ms Sanchéz, 41, an administrator from Barcelona.
Mr Ferrer hoped the police would enforce the law to stop as officials fear a fourth wave of Covid-19 could break out as contagion rates across Spain have been rising in recent weeks.
"We will need the police on the beaches which will be strange to see. Otherwise this will not work," said the 34-year-old salesman.
The 14-day coronavirus contagion rate has risen from 128 per 100,000 people in Spain in mid-March to 168 by Thursday, according to Spanish health ministry data.
Last weekend, police had to break up an impromptu party on Barcelona's biggest beach in which many people disregarded masks and social distancing rules.
Spain's tourism minister Reyes Maroto said a vaccine passport system should be ready by June and a pilot project will start in the Balearic Islands, one of the favourite destinations in Spain for British holidaymakers.
Holidaymakers will also be expected to arrive with proof of negative PCR tests.
Pedro Sánchez, the Spanish prime minister, said this week he expected that 70 per cent of Spaniards – about 33 million – will have received at least one dose of the Covid-19 vaccine by the end of August as the roll out speeds up.
On the beaches of Magaluf this summer, British tourists will face fines of between €300 (GBP 260) and €600 (GBP 520) if they are caught flouting rules on wearing masks in the resort in Majorca.
However, Calvia Council is to start by embarking on an information campaign rather than a police crackdown, an example which is expected to be followed across Spain.
Xavier Pascuet, director of tourism for Calvia, which includes the resort of Magaluf, believes people are more conscious of the dangers of the pandemic than last year.
"Of course I have seen people kissing on the beach this year but I think people know more about what this pandemic is all about so they will not take risks," he said.
"We are also helped by the high number of British people who are vaccinated and that Spain is speeding up its vaccination programme dramatically."
In Majorca, 97 per cent of tourists arrive by air, giving the authorities more control to check arrivals have proof of negative PCR tests.
"This law change on masks is great news. As long as people keep the right distance between each other, this new law can work," insists Angel Neila, of the Confederation of Business Associations of the Balearic Islands.
"We have brought in some of the strictest restrictions here in these islands. We are confident that the British will be back."
Join our new commenting forum
Join thought-provoking conversations, follow other Independent readers and see their replies