Traveller's guide: Puglia

Show all 6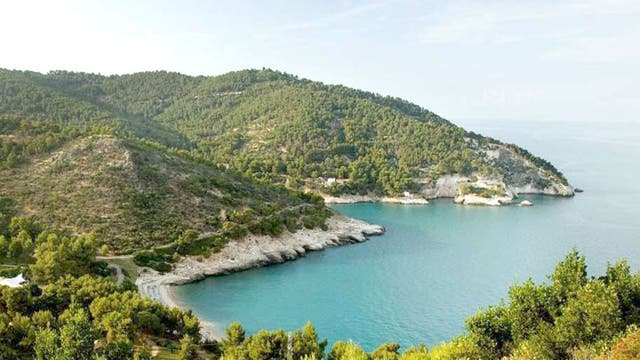 Traveller's guide: Puglia
Dramatic coastlines, untouched nature reserves and some of the country's best food and wine are luring more holidaymakers to Italy's heel, says Kate Simon.
Roll out of Bari or Brindisi airport on to the autostrada and you could be forgiven for feeling a little disappointed by the landscape that lies before you – flat, parched and blighted by poor civic planning. Yet, rather than chide yourself for choosing this apparently forsaken land over the guaranteed charms of Tuscany, persevere. There are plenty of reasons why Puglia, Italy's heel, has become increasingly popular with British visitors and with a little exploration they will be revealed.
Much of Puglia is flat, but that's not the whole story. Two seas – the Adriatic to the east, the Ionian to the west – have sculpted coastlines of smooth beaches, rocky coves and sheer cliffs. The Gargano National Park (00 39 0884 568 911; parks.it/parco.nazionale.gargano), which bulges into the Adriatic at Puglia's north-eastern point, provides a precious habitat for wildlife in its forests, wetlands and sunbathed slopes. At the region's heart, the soft green meadows of the Valle d'Itria unfold on the Murgia plateau, studded with trulli, circular stone houses with conical roofs straight from the pages of a child's fairy tale.
Layered on to the landscape is a hoard of architectural riches left by those who have reached this crossroads of the eastern and western Mediterranean over the centuries – Brindisi (above) marks the southern end of the Appian Way and was a main departure point for the Crusades. The indelible mark of the Greeks, Romans, Byzantines, Normans, Turks and Spanish can be seen in Puglia's architecture, their presence documented by dolmens, arenas, cathedrals and forts, and the ancient watchtowers that still guard the shores of this great hump of limestone.
Your explorations will be well rewarded with some of Italy's finest food and wine. These plains provide fertile soil for agriculture, cultivating vines and vegetables in abundance, as well as supplying pasture for sheep. Sixty million olive trees occupy a quarter of Puglia's cultivated land, producing most of Italy's olive oil, with more than 1,000 mills processing the 53 different varieties of olive grown here – look out for the revered Collina di Brindisi, Dauno, Terra di Bari, Terra d'Otranto and Terre Tarantine. And the wheat for most of Italy's pasta is grown on Puglia's Tavoliere plain – the locals like theirs ear-shaped, the cute little orecchiette.
So far, British holidaymakers have focused their attention on the Valle d'Itria, but we are beginning to push the boundaries of Trulliland, heading south through the olive groves of Salento to explore its wild sands and wander the warrens of the old towns of Otranto, Galatina, Nardo, Gallipoli and the Salentine capital, Lecce, one of Italy's finest showcases of the baroque craftsman's art. Yet there's more: the final frontiers are the Gargano National Park, the Tremiti Islands just off its coast, and the foothills of the Apennines.
It's certainly easier than ever to get there, too. Ryanair, which launched the first direct flights from the UK eight years ago, is joined in the summer season by British Airways and easyJet. Two decades ago, when visitors had to take the plane to Rome and go on by train, Long Travel (01694 722193; long-travel.co.uk) was the sole British tour operator offering Puglia. Now the company has many more rivals, among them Think Puglia (020-7377 8518; thinkpuglia.com), Discovery Puglia (00 353 87 917 0517; discoverypuglia.com), Pure Puglia (00 39 080 432 5428; purepuglia.com), Essential Italy (01223 460100; essentialitaly.co.uk), Citalia (0844 415 1987; citalia.com), Kuoni (01306 747002; kuoni.co.uk), CV Travel (020-7401 1010; cvtravel.co.uk) and Owners Direct (020-8827 1998; ownersdirect.co.uk).
Natural assets
A trip to the beach offers relief from the heat, and there are plenty along 800km of coast. The best Adriatic spots include Vieste and Peschici on the Gargano (left), Torre dell'Orso, south-east of Lecce, and close to Otranto. On the Ionian, the sands between Marina di Salve and Torre Pali are among the best in Italy; Torre Mozza, Marina di Ugento and Punta del Pizzo provide access to more turquoise seas; and from Santa Caterina di Nardo through Punta Prosciutto to the outskirts of Taranto, there are pleasing shorelines. Yet Puglia has other natural diversions including birdwatching on Europe's largest salt marshes at Margherita di Savoia (00 39 0883 657519; museosalina .it), and the protected wetlands of Le Cesine (00 39 329 831 5714; riservalecesine.it; admission €6). But the main draw is the Gargano National Park. Cool forest shelters boar and roe deer; its southern valleys nurture a rich variety of wild orchid. And reptiles and birds migrating between Africa and Europe gather at its lagoons, marshes and lakes.
Building blocks
From the Messapian, Roman and early Christian ruins of Egnazia (00 39 080 482 9056; egnaziaonline .it; entry €3), between Bari and Brindisi, to the baroque splendour of Lecce's Piazza del Duomo, a thorough architectural tour of Puglia would require repeat visits. Among the packed itinerary are some fine examples of the work of Frederick II, such as the Castel del Monte (00 39 0883 569 997; casteldelmonte.beni culturali.it; admission €5) near Andria, a study in octagons.
The Sistine Chapel of frescoed cave churches, the Cripta di San Nicola (00 39 099 886 6948; guide €2.60), can be found at Mottola near Taranto. And the Basilica di San Nicola in Bari (00 39 080 573 7111; basilicasan nicola.it; admission free) is the home of the relics of Father Christmas. But the region's centrepiece is Lecce, where highlights include the gloriously ornate Basilica di Santa Croce (00 39 0832 241 957; basilica santacroce.eu; admission free).
Trulli country
Puglia was destined to be a tourist hit once the world discovered the Valle d'Itria. These pastures, fringed with dry-stone walls, are home to trulli, the simple peasant dwellings, dating largely from the 19th century. It's said the rough stone piles, built without mortar, were designed to be easily dismantled when tax inspectors passed. They functioned as shelters, storage spaces and homes. Their enchanting looks have made them popular as holiday homes.
You can still see many in their natural state, grey and crumbling, but far more have been spruced up, their fat walls and stubby orb-topped pinnacles painted brilliant white. The heart of trulli country is around the towns of Ostuni, Martina Franco, Cisternino and Locorotondo. But Alberobello is the trulli capital where one hillside is covered by about a thousand of them, a Unesco World Heritage Site marred only by its dual status as a tourist trap, with gaudy souvenir tat.
Local flavour
Puglia is a culinary treat, home of burrata, a luxurious mozzarella filled with cream and shredded pieces of local cheese. A dough ball called a pettola is a great thing eaten with grape must. Wash it all down with the local wine; the reds are particularly good. For fish, eat near the beach; gamberi rossi, red prawns, are superb. Favoured restaurants include Picton in Lecce (00 39 0832 332 383), Torrente Antico in Trani (00 39 0883 487 911), and Gia Sotto l'Arco in Carovigno (00 39 0831 996 286).
Where to stay
There are plenty of characterful lodgings from borghi (villages), masserie (country houses), palazzi (palaces) and those trulli. New offerings include the seaside resort of Borgo Egnazia (00 39 080 22 55 000; borgoegnazia.com; doubles from €330 per night, above), near Fasano, a remarkable re-creation of a traditional village. Don Ferrante (00 39 080 742521; donferrante .it; doubles from €195pn) is a new, elegantly styled boutique property on the seafront in Monopoli. At Conversano, the Corte Altavilla (00 39 080 495 9668; corte altavilla.it; doubles from €149pn), set in a 14th-century courthouse, has been renovated with a new spa styled as a Roman bath. Il Palmento (see Travel Essentials) is a collection of 30 trulli near Locorotondo in Valle d'Itria that offers the simple life but with the comfort of two pools, a restaurant and, coming soon, a well-being centre.
Travel essentials
Getting there and getting around
Kate Simon was a guest of Long Travel (01694 722193; long-travel.co.uk), which offers a week in a trullo at Il Palmento from £550pp, including return flights, car hire and B&B. She travelled around Puglia courtesy of Carrentals.co.uk (0871 434 1300), which has a week's car hire from £85.
Bari and Brindisi airports are served from Stansted year-round by Ryanair (0871 246 0000; ryanair.com). British Airways (0844 493 0787; ba.com) and easyJet (0843 104 5000; easyjet.com) fly to Bari between April and October from Gatwick.
By rail, it takes about 24 hours from London St Pancras via Paris and Milan. Rail Europe (0844 848 4078; raileurope.co.uk) quotes a fare of £396 return.
The region has good roads, with main arteries linking Foggia, Bari, Brindisi and Lecce. The local rail network (00 39 06 6847 5475; tren italia.it) also links the above towns and cities. Contact Sita Sud (00 39 080 579 0111; sitasud trasporti.it) for information about local bus services.
More information
Puglia tourism (viag giareinpuglia.it).
Click here to view Italian tours and holidays, with Independent Holidays.
Join our new commenting forum
Join thought-provoking conversations, follow other Independent readers and see their replies