8 of the best things to do in Cappadocia, Turkey
How to make the most of your visit to this soft-stone paradise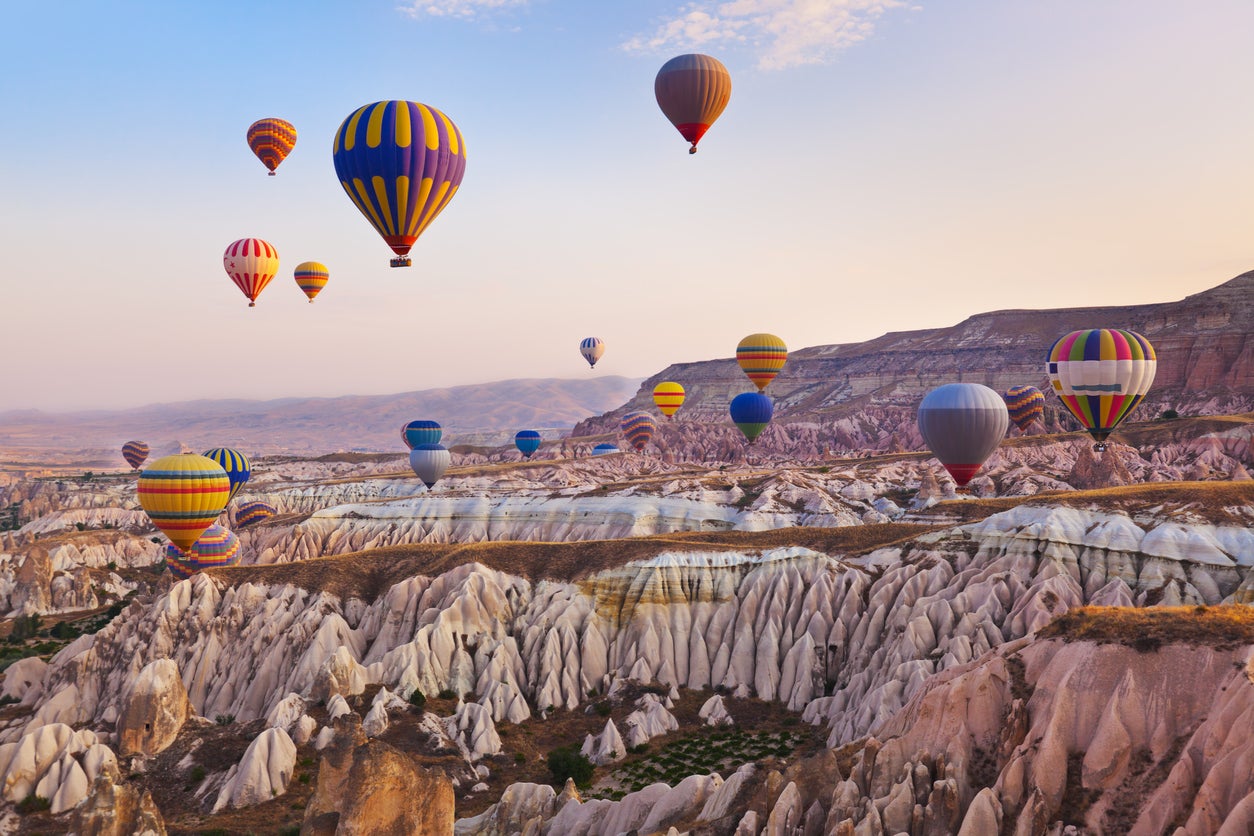 Sitting at the meeting point of Asia and Europe, Turkey is a unique blend of east-meets-west culture, where up-to-date cities sit side-by-side with ancient landmarks and world-class beach resorts.
From the Turquoise Coast to sprawling metropolises such as endlessly fascinating Istanbul, the country's diverse landscapes cater to all kinds of tourist, offering everything from golf holidays to city breaks.
The historic region of Cappadocia has plenty to tempt holidaymakers looking for a one-of-a-kind trip. A region of enchanting natural beauty and charming towns and villages, it's located in present-day Central Anatolia, a large central region of the country that houses the capital, Ankara, and stretches well over 400 miles at its widest points.
An area of soft volcanic rock that has been forged into striking formations, Cappadocia is home to hotels, restaurants and churches carved into the landscape, and enormous valleys showcasing the best of the surrounding nature.
Read on to discover the very best things to do in this volcanic utopia, with activities and attractions to captivate, no matter what kind of holidaymaker you are.
See the settlements
The region is home to several towns and villages that are on the tourist trail, the most notable of which are Goreme, Uchisar and Urgup.
These house a range of stand-out attractions, from the castles at Ortahisar and Uchisar to the famous 'fairy chimney' rock formations of Urgup and Goreme.
Goreme is perhaps the most photo-ready town in the region, famous for its cave dwellings and open-air museum (more on that later). Urgup is an equally charming town of stone houses set among yet more caves, while Uchisar is home to an imposing rock fortress (though the town itself is more relaxed and quieter than others). All offer formidable views, magnificent rock formations and unique towns.
Watch the sunset
The natural terrain in Cappadocia acts as a sensational backdrop for some of the most dramatic sunsets on the continent. Visitors can find numerous spots from which to enjoy the last rays of the day hitting the rugged landscapes as the sky becomes full of fiery red and orange hues.
Sunset Point (also called Lover's Hill) is perhaps the most obvious choice; the area also has a small local café with tables and chairs to help you enjoy the show in more comfort.
Several of the region's valleys also offer great viewpoints for a sunset vista. Red Valley, Love Valley and Pigeon Valley all offer a mix of landscapes that include fairy chimneys, rolling hills and red and pink rock formations, with trails leading to excellent vantage points.
Away from nature (but with an amazing view of it), there are man-made viewing points as well. Some hotels have rooftops and terraces, such as the Sultan Cave Suites in Goreme, while Uchisar and Ortahisar Castle offer 360-degree views of the surrounding area.
Read more on Europe travel:
Head up on a hot air balloon ride
The chances are that you've seen at least one photo of the dazzlingly colourful array of hot air balloons that frequently take to the skies in Cappadocia, even if you've never seen the spectacle in real life. The juxtaposition of the rocky, jagged terrain and dozens of balloons gently rising and drifting through the sky above is strangely beautiful.
But while watching this sight is a pleasant experience in its own right, why not book a balloon trip for yourself? There are plenty of companies offering trips that last from 45 minutes to over two hours, with prices ranging from roughly £100 to £215 per person depending on the season.
Explore the valleys
Exploring Cappadocia's different valleys is a great way to take in diverse scenery, from coloured rock formations to tranquil streams and rivers.
For the best views of fairy chimneys, head to Love Valley. Running between Goreme and Uchisar, it has sublime hiking trails and viewpoints, with some of the rock formations rising to 40 metres high.
Rose Valley is another alternative, where pointed pink and rose rocks have created a remarkable landscape that houses hidden coves, cave dwellings and churches. Pigeon Valley is another popular destination; named for the man-made pigeon shelters that punctuate the rock, this is another excellent option for peaceful walking routes.
Though not as well-known, other interesting valleys include Ihlara (a more verdant canyon with a river running through it), White Valley (famed for its striking white rock formations) and Devrent Valley (known for the bizarre range of rock formations of all shapes and sizes).
Go underground
There are dozens of underground cities in Cappadocia, all carved into the soft volcanic rock and some reaching as deep as 85 metres below ground level. These vast networks of tunnels are now a popular tourist attraction and a real historical marvel.
The two most famous cities are Derinkuyu and Kaymakli. Derinkuyu is the largest and deepest city, rediscovered in 1963 but with a history that may date back as far as 1200BC. Not all of the city is open to the public, but visitors can still see underground barns, cellars, a school and a chapel.
Kaymakli – said to have been constructed between the 7th and 8th centuries BC – has four levels that are open to visitors, with its own church and storage rooms available to see while traversing some of its 100 tunnels.
There are several other, smaller cities that make for a less crowded trip. These include Ozkonak, Mazi and Tatlarin, each with their own narrow tunnels and distinctive features.
Visit an open-air museum
In addition to rock formations, Cappadocia is known for its open-air museums, with locations in Goreme and Zelve. The latter stretches across three valleys and showcases cave dwellings, churches and the remains of an ancient village, from the walls to the caverns, mills and a mosque, with small stalls selling local food and drink and shaded balconies providing atmospheric spots to stop for a meal.
The former, Goreme Open-Air Museum, is one of Cappdocia's main attractions. A Unesco World Heritage Site, it is thought to have originally been a Byzantine monastic settlement and is now a large cluster of churches, chapels and monasteries cut from the soft rock. The highlight of the site is the Dark Church – a domed church that is intricately decorated with frescoes that show scenes from the New Testament – though other churches include the Apple Church, St Barbara and the Snake Church.
Take a ride
While the valleys of the region offer excellent hiking trails, excursions such as horse riding or quad bike tours are a different way of seeing more of the region in a shorter time, with the dramatic hills and rock formations passing by as you cross the valleys. Horse riding tours and quad bike safaris often begin in towns such as Goreme or Urgup and will take you deep into valleys including Rose Valley, Red Valley, Love Valley and Sword Valley.
Tours range from anywhere between one and three hours and can cater for all experience levels (though be aware that quad bike drivers need to be over 18 years old). Horse riding prices start at around £20 per person for a one-hour tour, while quad biking is around £42 for a one-hour tour.
Try some local delicacies
A trip to Cappadocia wouldn't be complete without sampling at least some of the best local foods and specialties. First up is the testi kebab, a lamb or beef stew that is slow-cooked for three hours in a clay pot.
Manti is often likened to a Turkish ravioli – small dumplings are filled with spiced, ground meat and served with garlic yoghurt – while gozleme are savoury pastries filled with a variety of ingredients, including spinach, cheese, minced meat, or potatoes, and cooked on a griddle.
For another savoury delight, try sogan kavurmasi, a dish made from sautéed onions, green peppers, tomatoes and minced meat and usually served with bread.
For something sweet, you can try aside, a dessert made from flour, butter and molasses, or bulamac, a dessert of water, flour, sugar, and butter that (once prepared) is smothered in oil, molasses and walnuts.
Read our reviews of the best hotels in Europe
Join our commenting forum
Join thought-provoking conversations, follow other Independent readers and see their replies