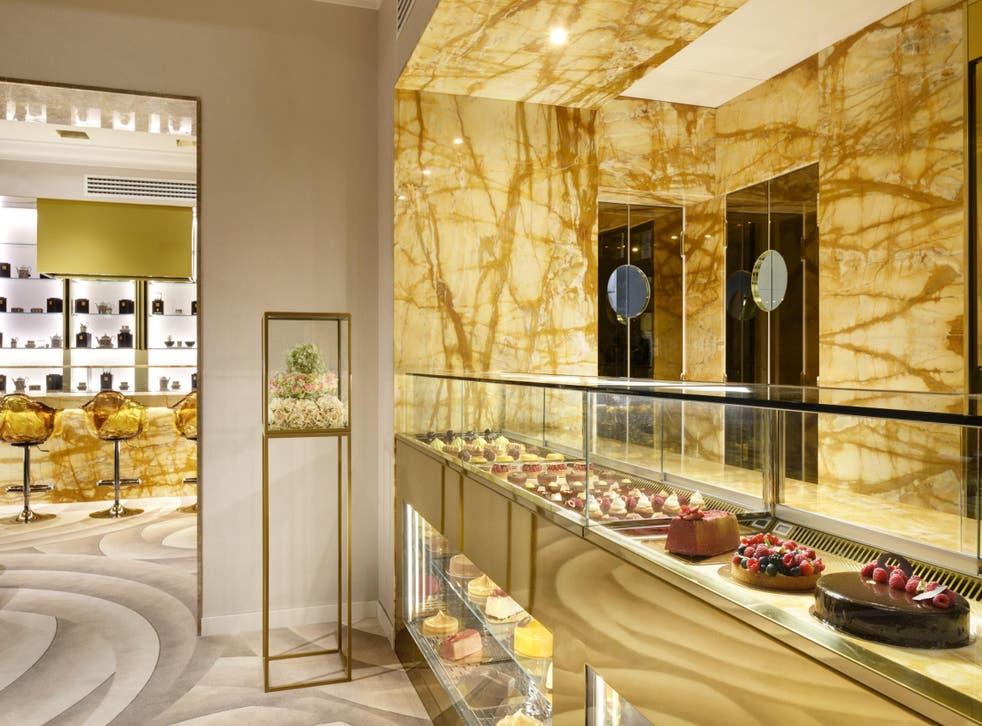 First Roma Dolce review: Rome's new patisserie-themed hotel is just as sweet as you'd imagine
There's nothing sickly about the Italian capital's newest boutique
In a nutshell: Rome's sweetest, sleekest new digs are an oasis of calm amid the clamour, despite the central location.
The neighbourhood
First Roma Dolce, First Roma Arte's sister property that opened in March of this year, is in as prime a position as you could wish while being tucked a crucial step back from the madding crowd. Just east of the Tiber river, this modern boutique sits discreetly on Via del Corso, rubbing shoulders with a mix of designer and high street shops. A 10-minute stroll in one direction brings you to the landmark Piazza del Popolo, home to Rome's oldest obelisk and the city's northern gate; 20 minutes in the other lands you at Piazza Venezia and the oh-so-grand Altare della Patria, a classical temple honouring both Italy's first king and its fallen First World War soldiers. It's also a stone's throw from the tourist honeypots of the Spanish Steps and Trevi fountain.
The look
Describing itself as Rome's "first patisserie-inspired hotel", First Roma Dolce could easily conjure up nightmare images of saccharine cupcakes in shades of millennial pink. Thankfully, the style is far more sophisticated than sickly; dessert-inspired aspects are tasteful (pun intended), with glass cases holding intricate tiered cakes in muted colours flanking the grey-carpeted staircase.
The chilled reception area hints at the theme without being too in-your-face: baking books line dark wood shelves and glossy, chocolate-dipped roses are placed here and there on biscuit-toned marble table tops.
The only Marmite element is the art – the 3D Perspex shards curling out of their frames that are dotted throughout the hotel aren't quite to my taste.
The vibe
The epitome of discreet and relaxed. It kicks off outside – the hotel sits in a slim, white townhouse with only an elegant burgundy sign to herald its location. A stylish, grey-clad doorman greets you with a smile before you ascend the single staircase, from where it's possible to completely bypass reception if you like – it's swept to the side on the first floor. When we do stop by upon arrival, check-in is efficient yet laid-back; we're invited to take a seat on a velvet couch and sip prosecco while someone takes our details. It's an oasis of cool and calm after the hot, hectic Roman streets. And, with just 23 rooms and suites, the place is never overwhelmed with other guests – it feels like having our own private pied-a-terre in the middle of the city.
Bed and bath
These are bedrooms for grownups – preferably ones who have seen each other naked. Case in point, the sexy, black-marble bathroom is completely open plan: you can stare down whoever's using the jacuzzi bathtub while tucked up in bed. The toilet is, blessedly, in its own separate room, but the hammam shower is also out in the open, with only a glass door for protection.
Design-wise, sweet treats give way to cool, contemporary design: taupe, curved chairs sit astride flooring that alternates between sand-coloured marble and plush carpet; black headboards contrast with crisp, white sheets and wood-panelled walls. Splash out on a suite, and you also get a lounge area, plus a balcony from which to enjoy rubbernecking the comings and goings of Via del Corso below. There's even exercise equipment, including a range of hand weights and a wall-mounted Technogym, to work off all those patisserie-related calories.
Food and drink
The smart, bijou restaurant is, understandably, all about the sweets. An entire wall is dominated by a gilt-edged counter displaying the most delectable-looking selection of French-style patisserie: macarons in every shade of pastel; fluffy profiteroles dipped in glossy chocolate; blueberry tarts shimmering with a silvery glaze. Their speciality is afternoon tea, but we try a dinner instead. It's a simple menu of traditional Italian dishes done just right – we follow an olive oil-dressed salad of buffalo mozzarella and tomatoes with the rich, warming cacio e pepe (a Roman speciality pasta dish of stripped-back pecorino and black pepper sauce).
We save room for dessert – it's practically mandatory – and get our chops around a modern take on tiramisu encased in hard chocolate, a Ferrero Rocher lookalike that contains passionfruit cream instead of a nut, and a zingy mango cheesecake masquerading as a yellow glazed doughnut. All very dolce vita, in more ways than one.
Come breakfast time, buffet and a la carte take a back seat – instead, we're brought homemade muesli, fruit, locally made yoghurt, a range of artisan honeys and a selection of pastries, breads and cheeses. Eggs and meats were scheduled to follow, but we had to bow – well, waddle – out gracefully.
Nuts and bolts
Room count: 23.
Freebies: Water, Nespresso coffee pods and a couple of in-room sweets.
In the bathroom: Acqua di Parma toiletries, including bath salts.
Wifi: Free.
Extra charges: Valet parking from €45 a night.
Minibar charges: Yes.
Disability access: There are accessible rooms.
Pet policy: Dogs up to 6kg are welcome at a cost of €50 per night for cleaning. Dog sitters available.
Bottom line
Best thing: Chic style coupled with all the cake you can eat.
Worst thing: The room was quite light at night – blinking lights from the Technogym, smoke alarm and phone all proved distracting.
Perfect for: Couples looking for an intimate bolthole.
Not right for: Families.
Instagram from: The patisserie counter.
Room rate: From €440, room only.
thefirsthotel.com
Join our new commenting forum
Join thought-provoking conversations, follow other Independent readers and see their replies