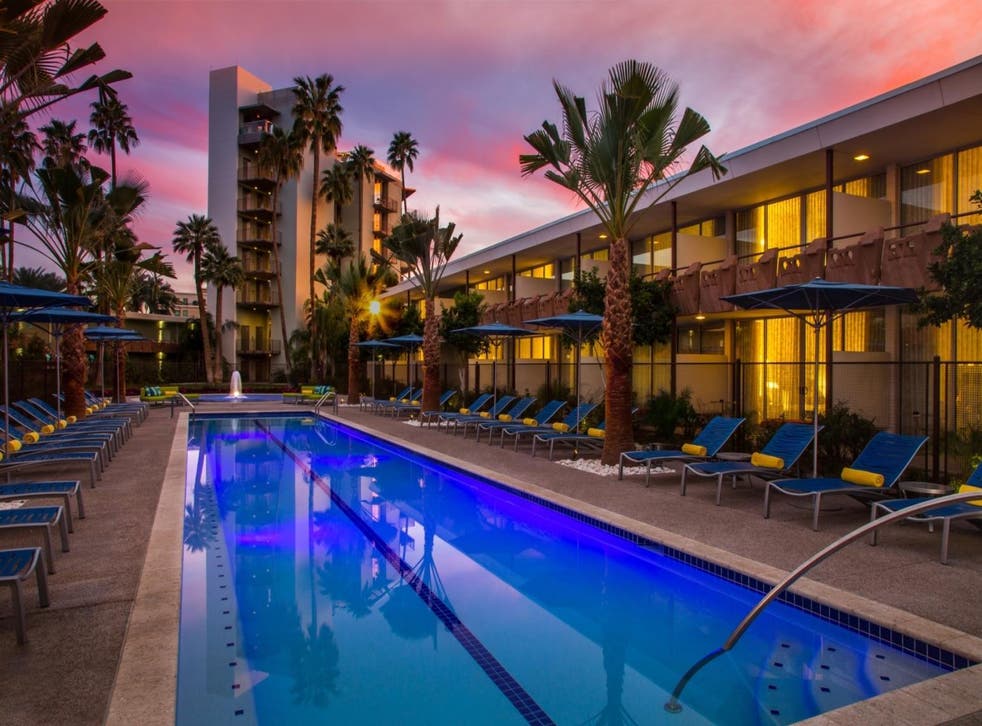 Hotel review: Hotel Valley Ho
With an enviably glitzy list of former guests and amazing architectural pedigree linked to Frank Lloyd Wright, the newly renovated Hotel Valley Ho is as hot as Arizona itself 
Designed by Edward Varney, a former student of long-time Arizona resident and revered architect Frank Lloyd Wright, the mid-century Hotel Valley Ho soon garnered a reputation as a weekend retreat for the Hollywood jet set. Now celebrating its 60th anniversary, this hotel in the heart of downtown Scottsdale has retained its aura of effortless Fifties cool.
It's easy to imagine former guests Marilyn Monroe, Ingrid Bergman and Cary Grant happily holed up at the bar, or delicately draped around one of the palm-fringed pools. In 1957, Natalie Wood and Robert Wagner were married here. The celebrations went on longer than anticipated, and the couple allegedly chased down their LA-bound train in a convertible. I say allegedly because of course no one can confirm the authenticity of this story. It's a nice thought, though: one that can be mulled over in the shade of an orange tree, the vestiges of a vodka martini at your side.
The posh district of Scottsdale has now been all but swallowed up by the city of Phoenix. But Scottsdale was once eight miles out of town: a celebrity enclave hemmed in by manicured lawns and fragrant orchards. The paparazzi left the stars alone. And the stars in turn were free to carry on their illicit love affairs in peace – I imagine the swivelling panels between the balconies facilitated many a late night liaison.
The hotel restaurant offers French and Italian staples like filet mignon and lobster carbonara; the large spa presents a long list of treatments, including The Honolulu: a Hawaiian-style massage defined by long, flowing, wave-like strokes. Yoga classes take place on the rooftop each morning, and guided hikes of nearby Camelback Mountain are available upon request.
Hotel Valley Ho recently underwent a multi-million dollar refurbishment, courtesy of local architects, Allen Philp. The changes have been sensitively made – all in keeping with Edward Varney's minimalist mores. To learn more about the building and its Hollywood heyday, ask at reception about the 'Magical History Tour' (001 480 376 2600; $19.56 per person), a 90-minute run-down of the hotel's past led by local architecture experts.
Location
The hotel is within walking distance of some excellent dining options, including FnB, a farm-to-table Mediterranean restaurant with a lengthy local wine list; and Craft 64, a newly opened wood-fired pizza joint with 36 Arizona beers on tap.
Highlighting the art, culture and history of the 19 western states, the brand new Scottsdale Museum of the West is just a few blocks away. Slightly further afield - in the desert foothills about 30 minutes' drive from the hotel - lies Taliesin West, the winter home and studio of Frank Lloyd Wright. In 2015, another Wright building was opened to the public. The David Wright House, built for his son and daughter-in-law, is artful and elegant; the distinctive spiral design was a precursor to the Guggenheim Art Museum in New York City.
Comfort
Even the small rooms are not particularly small: all feature king-size beds and floor to ceiling windows looking out onto the gardens, the city, or the pool. Mid-century-style furniture, framed vintage photographs, and marble-clad bathrooms add to the air of Hollywood opulence. This is not the immaculate mid-century glam of West Hollywood or Palm Springs, though. Hotel Valley Ho is more in line with the Ace Hotel in Downtown Los Angeles: an elegant historical building with minimal furnishings and relatively affordable rooms.
Attached to the main hotel, and designed according to the original Edward Varney blueprint, 'The Tower' is a high-rise building comprising large, city-view suites. My room had a self-contained kitchen, a separate living room, and a gargantuan sundeck. The one downside? The pretty mountain views also included a sizeable dollop of urban sprawl. Scottsdale may not be as secluded as it once was, but the ghosts of Hollywood past still reside here. I left feeling as though I'd spent the weekend on the set of How To Marry A Millionaire.
Travel Essentials
6850 East Main Street, Scottsdale, Arizona, US (001 480 376 2600; hotelvalleyho.com). Doubles from $299 per night, room only.
Wi-fi: Free
Access: eight wheelchair-accessible rooms
Rooms ****
Service *****
Value ****
Join our new commenting forum
Join thought-provoking conversations, follow other Independent readers and see their replies