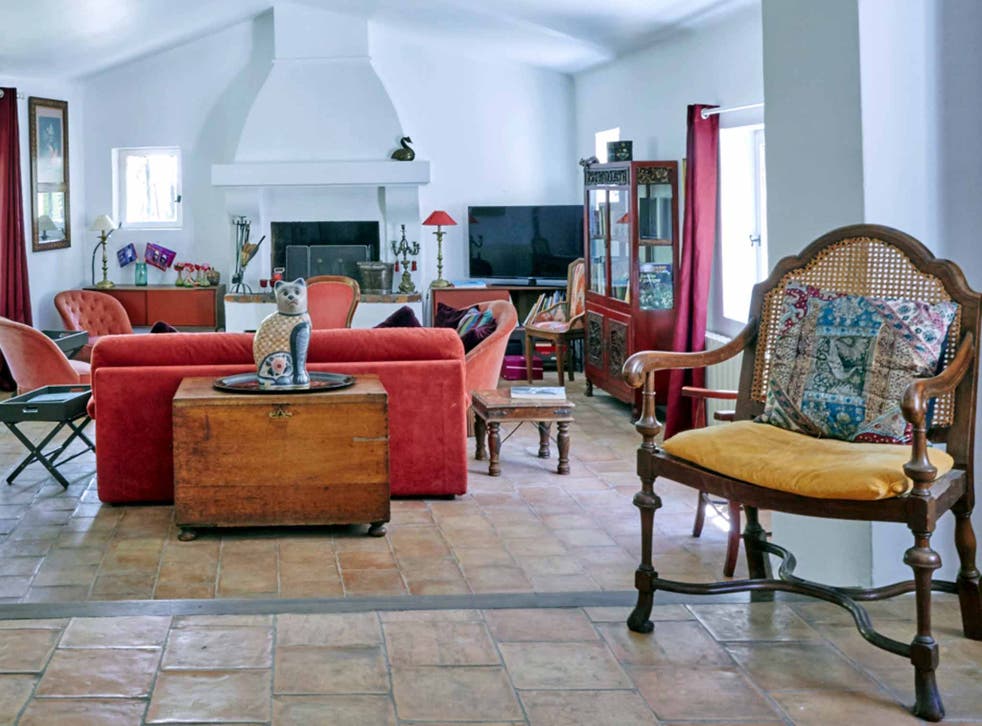 Silencio à la Maison de L'Aiguebrun, France: Club culture in tranquil Provence
Hotel review: Expect to rub shoulders with a glamorous mix of film, music and art types
In the four years since it opened, Silencio – the supercool nightclub designed by David Lynch in Paris's second arrondisement – has become the place for the capital's stylish arty set to see and be seen in. The gold and shiny underground enclosure plays host to many a debauched evening.
But this summer, the nightclub – or members' club as it prefers to be billed – is branching out with a rather more leisurely affair.
Down in Provence, just over an hour's drive north of Marseille, you'll find a similarly hip clientele at the small Maison de l'Aiguebrun. Except they won't be dancing on tables, but unwinding by the outdoor pool with a Gauloise and a trendy fashion magazine that you've probably never heard of. And after 20 September, it'll have gone just as fast as it arrived, having opened only a few weeks ago.
There are just 15 rooms – 10 in the main house (two of which are suites) and five cabins down by the stream at the end of the garden – so a sense of community is encouraged.
Because of the kind of people drawn to Silencio's creative vision, expect a glamorous mix of film, music and art types. You'll inevitably end up chatting with fellow guests at the hotel's delightful, cosy salon and, on occasion, everyone eats together at one table in the restaurant (which, incidentally, is excellent) overseen by the chef Armand Arnal, who changes the menu daily. You might find yourself, as indeed I did, sitting across from one half of Daft Punk at dinner. I must admit I failed to recognise him, since he had chosen not to wear his helmet.
Another great pull for the hotel is that it used to be owned by the director Agnès Varda, the only female film-maker to have been involved in New Wave cinema. She passed it on to her daughter, who lives in a separate lodge nearby, but Varda's black-and-white photography from her time travelling across America in the Seventies adorns the walls of the main house. I'm told that Varda often visits. While I was there, however, she was a couple of hour's drive away at Cannes, collecting an honorary Palme d'Or.
When Silencio opened in Paris, Lynch said that he "wanted to create an intimate space where all the arts could come together", and they are certainly catered for down here with the hotel's cultural programme. On Sunday nights, there's an open-air cinema club. During my stay I tasted wine from a nearby vineyard, enjoyed a set from the legendary Nigerian drummer Tony Allen, and danced poolside until 3am while an attractive Parisian DJ selected the tunes. It wouldn't be Silencio without a bit of hedonism, after all.
Location
The hotel lies in a valley in the heart of the Luberon. The cliffs make for picturesque hiking trips and provide a decent workout. You can walk for half-hour stretches without seeing another person or house. But what scenery! Reach enough of a height and it is rolling green fields for as far as the eye can see.
The nearest town, Bonnieux, is 5km from the hotel, where you'll find a handful of bars and restaurants. There's a little market on Fridays, where you can pick up local honey and lavender. It was here that they filmed the Russell Crowe film A Good Year. I hear the visual tourist porn of the film resulted with an influx of tourists, much to the dismay of locals.
Comfort
Unlike the shiny aluminium gloss of Silencio nightclub, simplicity is key here. The cabins are cosy but charming with white-washed wooden panelled walls and floor. The bathroom is teeny but perfectly satisfactory.
The rooms in the house are slightly bigger but just as unremarkable, although the suites are a bit more impressive. They do at least display some photography by Toon Michiels to add a splash of colour. The absence of a mini-bar suggests they want guests to get out of their rooms and mingle on the pretty terrace. And so you might as well. Who knows who you'll end up chatting to?
Travel essentials
Silencio à la Maison de L'Aiguebrun, Domaine de la Tour, Bonnieux, Provence, France (00 33 6 85 23 22 02; maisondelaiguebrun.com).
Rooms ***
Value ****
Service *****
Doubles start at €120, room only.
Join our new commenting forum
Join thought-provoking conversations, follow other Independent readers and see their replies