Winter sun holidays: 10 of the best island hotels
In desperate need of some R&R on a beach? Hip hideaways specialist i-escape.com recommends 10 dreamy island getaways to escape the cold weather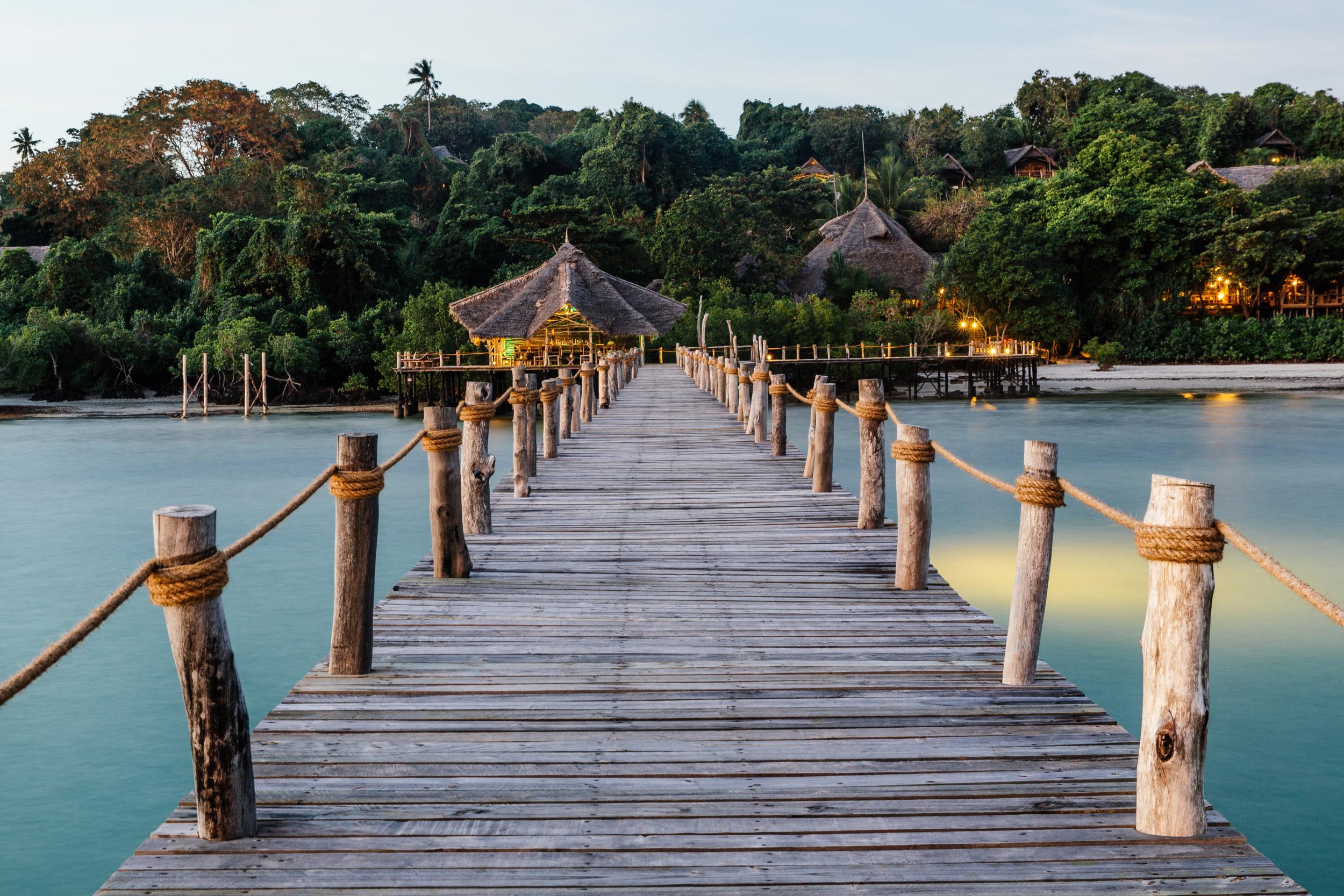 Divers will be in their element at this stylish little beach lodge on remote Pemba Island, which offers some of the best diving in Zanzibar. The comfortable tented rooms are a fabulous blend of island simplicity and style (some have private pools) and there's an idyllic infinity pool. Take sunset boat cruises and eat lobster at a beach barbecue before doing night or sunrise dives.
Wambaa Gulf, Zanzibar (00 255 7635 92820; fundulagoon.com). Doubles from £577, full board with most activities.
When the minus temperatures hit, we'll be jetting straight to Malaysia and this beautiful private-island resort; barefoot luxury in a truly unspoilt setting. Sandwiched between thriving coral reefs and swaying coconut palms, Batu Batu is the only hotel on the otherwise uninhabited island. Its 22 traditional villas are perfect for relaxed romance or family stays; there's plenty of space for all. An on-site dive school is a great place to do your PADI; you can also paddleboard, kayak or bliss out in the spa. We'll spend our time lazing on the eight white-sand beaches.
Tengah Island, Mersing, Johor Darul Takzim, Malaysia (00 60 7 2277000; batubatu.com). Doubles from £149, room only.
Private plunge pools are an unexpected highlight of this remote lodge on the outskirts of Yala National Park. Add gourmet food and all mod cons, and you've got Chena Huts, a collection of 14 thatched cabins set in a spectacular location between lagoon, sea and bush. Walkways are stilted to protect the natural environment, and vast walls of glass allow for hide-style wildlife spotting. Yala offers some of the best wild leopard viewing in the world, and Chena's rangers are first-class.
Chena Huts, Palatupana, Yala, Sri Lanka (00 94 47 2267100; ugaescapes.com/chenahuts). Doubles from £772, all inclusive.
If you're looking for a place that's long on nature, short on snazzy gizmos and wholly relaxed, you'll find this place utter bliss. Set on Phu Quoc (a boat ride from the mainland), Mango Bay is a real refuge from the frenetic pace of Ho Chi Minh City, with a blissfully chilled beach vibe. Play chess over cocktails, snorkel in warm shallows, and enjoy open-air showers and lazy days. Grown-up backpackers will love it.
Ong Lang Beach, Phu Quoc Island, Vietnam (00 84 773 981693; mangobayphuquoc.com). Doubles from £58, room only.
The Jalakara, Andaman Islands, India
Havelock Island may not be the easiest place in the world to get to but it's worth every ounce of effort. Some of the most spectacular beaches on earth await, lapped by crystal-clear seas filled with masses of aquatic life. This stunning retreat is the icing on the cake, a laid-back hideaway with just six suites, carved into virgin rainforest. You'll eat seafood and tropical breakfasts, and watch movies under the stars. There's no wi-fi but that's half the point.
Havelock Island no.4, Port Blair, South Andamans, India (00 44 207 7183 0711; jalakara.info). Doubles from £152, B&B.
Slow Gili Air, Gili Islands, Indonesia
This is a rather special place. One of three stunning islets off Lombok it's car-free and blissfully laid-back, like the mainland 10 years ago. In utter synchronicity with the vibe is Slow Gili, a beautiful small hideaway with 10 luxurious villas and a warm welcome. Take morning swims in your private plunge pool, eat breakfast on your terrace, then have a Balinese massage in the spa. Later, snorkel from nearby beaches, drink sunset cocktails and have supper by the sea. Perfect for a relaxed honeymoon.
Gili Air, Lombok, Indonesia (00 628 786 446 6099; slowgiliair.com). One-bed villas from £176, B&B.
The Vine is truly divine, putting Madeira on the map for hip city breaks and luxury living. Outside, there's a sleek rooftop pool and deck for soaking up the rays; inside everything is darkly seductive – an underground spa (wine bath, anyone?) and stylish rooms. The biggest wow is at the UVA restaurant, overseen by a Michelin-starred chef.
Rua dos Aranhas 27-A, Funchal, Portugal (00 351 291 009 000; hotelthevine.com). Doubles from £112, B&B.
Write a list of everything a secluded island retreat should offer, and Song Saa will come up trumps. Infinity pools, shaded daybeds on quiet sandy beaches, private villas with four-poster beds, and a restaurant with 360-degree ocean views; it's all here. Founded by an Australian couple in 2012, it's reminiscent of Thailand before the hordes of tourists and hotels arrived. For now, this is a one-off in Cambodia's undeveloped Koh Rong Archipelago. Come before it changes.
Koh Rong, Cambodia (00 855 23 686 0360; songsaa.com). Doubles from £797, full Board including most activities.
Almost like an island on an island, this luxe eco retreat on the banks of Koggala Lake near Galle is perfect for a wellness escape. The first-class yoga facilities go hand in hand with a soothing spa and a fusion dining menu, but it's the setting that's truly inspirational. Eleven rooms, an infinity pool and a contemporary lounging deck are all positioned to gaze across the water, and the atmosphere is pin-drop peaceful.
Koggala Lake, Sri Lanka (00 94 777 708177; trilanka.com). Doubles from £208, half board.
Everything about The Caves wows us. Its extraordinary cliffside location. Its blissful views. Its rustic-chic colourful rooms, and its exceptional restaurant and rum bar. At the western edge of Negril, this hotel is both spoiling and laid-back (we were greeted with an exotic Ciffhanger cocktail on arrival, then encouraged to come behind the bar and help ourselves). Don't miss the daily morning dives led by members of staff.
West, Negril, Jamaica (001 876 957 0270; islandoutpost.com/the_caves). Doubles from £376, all inclusive.
Join our commenting forum
Join thought-provoking conversations, follow other Independent readers and see their replies