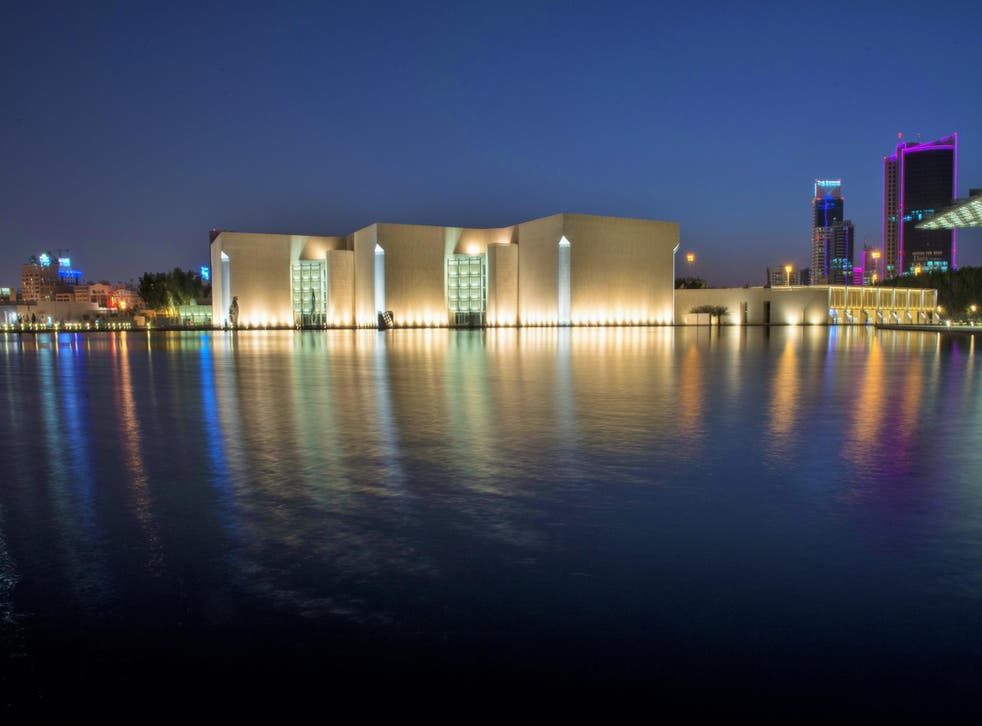 Discover the best of Bahrain's art scene
Soak up some culture with a visit to these gallery and exhibition spaces
Monday 08 October 2018 15:37
Down a hushed road, behind whitewashed gates in Manama's hipster quarter Adliya, lies Albareh Art Gallery – a must-visit for anyone interested in contemporary Bahraini culture.
The gallery was opened 20 years ago, representing scores of artists from the wider Middle East, and it's a labyrinth of first-class surprises. Gold and silver calligraphy, from Syria to Saudi Arabia, adorns the walls. Paintings and prints from the likes of locals Nasser Al-Yousif and Mohammed Al Mahdi are displayed as if trophies. In its recent summer collection, creative T-shirts, playful magazine prints and sculpted vases mix like watercolour.
Small wonder so many artists are inspired when living and working in Bahrain. The island archipelago lends itself to the painter and the palette because of deep indigo seas, a rich tapestry of wind towers, and golden desert sands. Add to this backdrop plenty of museums and galleries, and there's never been a better time to get acquainted with Bahrain's more creative side.
From contemporary to street art
While Albareh Art Gallery is the godfather of the Bahraini scene, another must-see is Busaad Art Gallery, named after local pioneer Ebrahim Busaad, who was born in Muharraq in 1954. The name may be new to you, but his gallery isn't. It was opened in 2014 by his son Hamad and daughter Wassan – both of whom were raised between easels and art supplies – and that their father has work permanently exhibited in the British Museum is reason alone to visit.
Talked-up exhibitions are also standard at La Fontaine Centre of Contemporary Art, Bahrain's first private museum and a courtyard gallery born from an historic family mansion. Elsewhere, others to seek out include Ella Art Gallery, run by artist-cum-fashion designer Ella Prakash, who creates figurative-contemporary art, and Amina's Art Gallery, offering contemporary art with a traditional Bahraini twist. For street art, meanwhile, take a stroll through Block 338. It's a tightly-knotted quarter crammed with murals and stencilled graffiti, some from the likes of Huvil, Bahraini's very own Banksy.
Make your own Bahraini art
Bahrain has a rich cultural history of handicrafts, from ceramics and pottery to exquisitely carved wooden ships known as Dhows. At the Al Jasra Handicrafts Centre visitors can not only see Bahraini artisans at work, but can also join in with interactive workshops, learning how these ancient crafts have been perfected and trying their hand at making their own.
For a lesson in Bahrain's artistic history head to the Bahrain National Museum. Even without considering the treasures from its ancient Dilmun collection, it's something of a head-spinner to walk through 4,000 years of history from Islamic halls to temporary exhibitions showcasing paint-still-wet works from today.
Art seems to shape the way of life in Bahrain. And while the results would look equally at home in Paris, Tokyo or New York, they could only have been made in one place.
For a fun, culture-filled holiday, discover the warmth of Bahrain. Find out what else it has to offer at btea.bh
Book your trip to Bahrain with Southall Travel from £499pp at SouthallTravel.co.uk
Register for free to continue reading
Registration is a free and easy way to support our truly independent journalism
By registering, you will also enjoy limited access to Premium articles, exclusive newsletters, commenting, and virtual events with our leading journalists
Already have an account? sign in