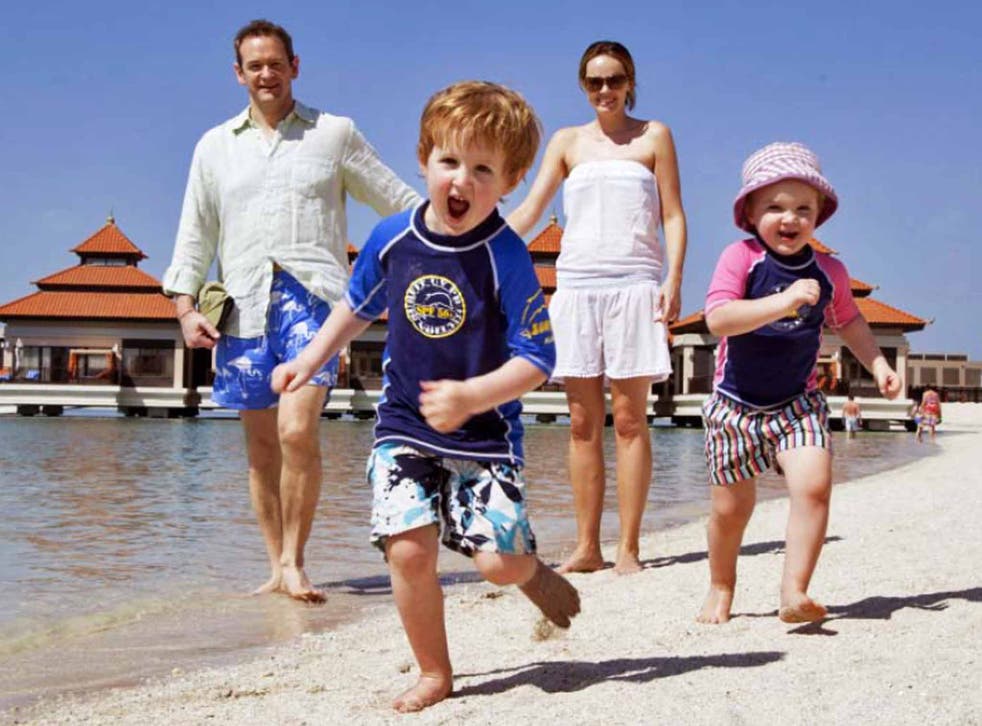 Dubai: Alexander Armstrong on a super-size holiday that's manufactured for family fun
It's big and brazen and everything is shiny-new, but as comedian Alexander Armstrong and his brood discovered, it's impossible not to enjoy
Alexander Armstrong
Monday 01 December 2014 12:38 Comments
As you drive under the sea to get to Dubai's Palm Islands (through an underpass – I'm not James Bond) there's a bit where they've painted thick white lines on to the road which make the wheels of your car go thunk-thunk-thunk-thunk, jigger-jigger-jigger-jigger, jiggerda-jiggerda-jiggerda-jiggerda … and then nothing.
Every time we drove over it I mentally supplied my own crash cymbal and daydreamed about the road I'd one day build myself that I'd mark up with so many white lines that if you drove over it at speed you'd get a full 32 bars of a John Bonham solo. Now that would be brilliant wouldn't it? Actually someone must have already done it. And if they have, you can bet your bottom dirham it'd be here in Dubai. That's the kind of place Dubai is. Not enough beach? Why then, we'll just blow up a mountain range and transport it 100 miles to the coast and build a beach in the shape of a ruddy great palm tree.
Dubai is extraordinary. At least I think it is. I kept being surprised at how easily my brain just got used to it. Everything you see is mushroom-new, but so colossal, so brazen, so expensively done, that it slaps itself down in front of you with the flourish of a winning poker hand until your resistance breaks down. There must be a backlog of a hundred thousand things waiting to be assimilated into Dubai culture. Eight-lane roads as yet unnamed, whole districts built and ready to go as soon people can work out who should live there, and a huge Manhattan of cloud-skewering silver towers that doubtless all appear in the Guinness Book of Records (the tallest, the gleamiest, the emptiest).
But who cares? It's the perfect backdrop – I mean who doesn't want to lie on the beach with a shimmering stock exchange somewhere on the periphery? And what of the beach itself? Well yes, I found myself walking gingerly across it in case a stray screw or Rawlplug might've been left there by the builders. But it works. It's made of sand and it's by the sea. What else do you want?
Dubai for families

Show all 6
Until now I've always suspected that for a holiday truly to work its fullest magic, it requires a dash of something ancient – maybe a monastery bell obligingly chiming on a far-off hilltop – or something intensely and life-affirmingly natural, like crashing waves or the scent of orange-blossom wafting in.
But then along came children and I now realise that there is no holiday component that beats the breathless chatter at bath-time of three boys who have spent their every waking second splashing through the tepid waters of a massive man-made lagoon, or their scrabbling into our room each morning to drag us to breakfast so that they can get back to the splashing as soon as possible. And if you like your holiday to include something stupidly exotic and rare, what about the sight of three children falling into a deep and restful sleep each night at a speed that any anaesthetist would be proud of?
We stayed at the newest of the brand-new hotels on the Palm, the Anantara (put into context, the original "luxury" hotel, the iconic Burj Al Arab, celebrates its 15th birthday tomorrow). The Anantara opened last year, and we were there to witness it running at absolute maximum capacity for the very first time. That in itself is worth stopping to note: the hotel opened only last October and by February it was fully booked – this is good news for those most anxious of Dubai's professionals, the accountants. It has been built, like all of Dubai, to make money. Happily though, it has been designed in the New Era of Tourism, an era that acknowledges that money will be most efficiently made if the hotel looks amazing, the rooms are well laid out, and the staff are drilled in all aspects of service.
The brains behind the Anantara have landed on an absolutely winning idea, which is to place the villas of the hotel around a huge irregular swimming pool that stretches its beguiling blue fingers around the entire domain. With its little islands, channels and bridges – even artificial beaches – it provides safe and contained adventurous possibilities for children. Better still, placed at 50ft intervals along the water all around the complex are lifeguards who keep constant vigil on the splashing young. This means that parents can properly read more than half a page of their historical novels at a time, allowing relaxation to wreak its merry magic and Cromwell to work his way up through Henry's court without constant interruption or conscience-tugging surveys of the various water-based activities.
One of its other triumphs is the kids' club – a tremendous conscience salver should parents need more time alone, because it is genuinely somewhere children want to go. Ours long ago learnt to sniff out that strange mix of guilt and misplaced enthusiasm with which Mummy and Daddy would plonk them in the care of a complete stranger and they kick off like a local derby at the merest whiff of it. But this is a fantastic clubhouse with its own Jacuzzi, huge outdoor covered play area, endless games, films, and activities, all run by extremely attentive and hands-on club staff. In a strange kind of role reversal, our boys actually approached us – all shifty and gauche – and asked if we'd let them go to the kids' club.
Like a thoroughbred foal, the Anantara is still a little ungainly in its first turn round the field. This is not to criticise, merely to point out the obvious fact that a new venture on this scale can't know from the off where its centre of gravity is; that is those areas in which it excels (and for which it will become renowned), and, likewise, which departments need further thought. But certainly the childcare (and the brilliant Mekong Asian restaurant, for Anantara is a Thai brand) stand out as considerable successes.
I signed up for a Thai massage one afternoon, which took place in our room. I can't be sure if this is how it's meant to be, or simply because the spa complex was still being built when we were there, but the room was duly transformed with the aid of some floating candles and a hidden machine playing restful mystical-objects-falling-out-of-a-cupboard music.
The massage was a real performance, all gymnastic and theatrical, with endless walking of elbows up and down my back and strange hand-claspy see-saw stretches. I did wonder at the end why my masseur hadn't managed to find any of the knots in my back, but the whole thing was so impressive it seemed churlish to mark him down just for that.
I suppose in a way that's a good analogy for the whole place – it is spectacularly polished and if it is a bit one-size-fits-all, well at least it's a big size. Besides, watching your children having a blast (and getting quite a lot of time off yourself) is such an addictive holiday activity that it doesn't really matter.
Dubai offers plentiful excursions. The Atlantis Water Park on the Palm is the sort of day-out children will talk about for decades to come, and the shopping malls on the mainland are full of surprises – there's a whole children's town (KidZania) in one, built of mini streets with a super- market, radio-station, fire depart- ment, science lab and go-kart track where the children can "work" (one is coming to west London early next year).
There are also aquariums galore, shops (inevitably), international restaurants from Nobu to the Rainforest Café, and all of it just a short, inexpensive taxi ride over those John Bonham lines.
It's safe, it's clean, the climate is perfect (at least in winter) plus it's remarkably easy to get to. It definitely took us a few days to find our feet, but we will most certainly be coming back. I don't think the children would forgive us if we didn't.
Getting there
Alexander Armstrong flew to Dubai from Heathrow with British Airways (0844 493 0787; ba.com). Dubai is also served from Heathrow by Qantas (0845 774 7767; qantas.co.uk), Royal Brunei (020-7584 6660; bruneiair.com) and Virgin Atlantic (0844 209 7777; virgin- atlantic.com) and Emirates (0844 800 2777; emirates.com), which also flies from five other UK airports.
Staying there
Anantara the Palm Dubai Resort and Spa (dubai-palm.anantara.com) has doubles from £270 a night, B&B.
More information
Register for free to continue reading
Registration is a free and easy way to support our truly independent journalism
By registering, you will also enjoy limited access to Premium articles, exclusive newsletters, commenting, and virtual events with our leading journalists
Already have an account? sign in
Join our new commenting forum
Join thought-provoking conversations, follow other Independent readers and see their replies