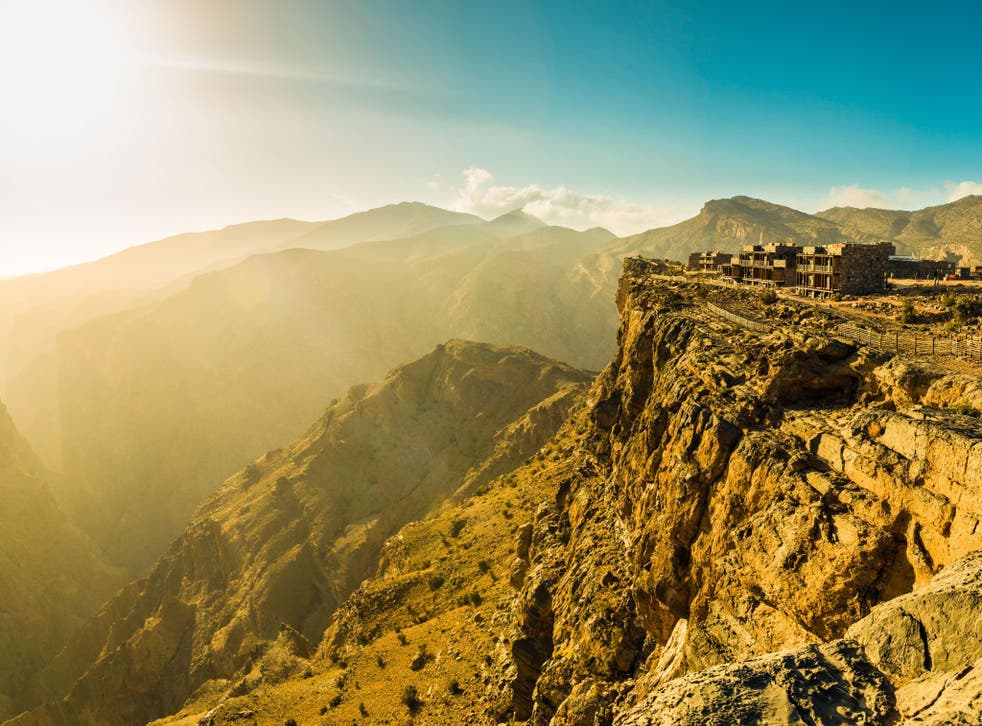 Oman: Green shoots in the uncharted mountains
A new luxury hotel is putting the Jabal Akhdar range's dramatic gardens and gorges - once sealed off as part of a military base - on the tourist map
Green was not the colour that immediately sprang to mind. First of all, there was black - the Indian-ink night as we glided along a licorice ribbon of asphalt. Then, orange, as the car pulled into the sodium glow of a military checkpoint. Then red - "DANGER. Series of bends, steep gradient, continue using low gear with 4x4". Next, a flash of tapetum lucidum as a tiny fox darted across the road, shooting an anxious glance at the headlights. And then back to black.
A laborious series of hairpin bends and low-gear manoeuvring had elevated me to the top of Jabal Akhdar - the "green mountain" - in Oman's hefty Hajar range. The mercury had seemed to drop in line with each switchback. By 2,000 metres, we'd shaken off 16C. It was a refreshing change to the coastal capital Muscat, where two hours earlier, at 10.30pm, it had been 34C.
By the time I stepped into rich, peppery swirls of frankincense at the Alila Jabal Akhdar hotel, it was late, so it was with startled eyes that I pulled open the curtains of my room the following morning and opened the doors to the balcony. Only as my pupils adjusted to the glare, could I begin to process the journey we had undertaken the previous night. A gargantuan chasm of rust- and gunmetal-streaked limestone plunged fiercely, deep below the hotel's perimeter fence, only a few metres in front of where I stood. But more remarkable was the silence. It was like an anxiety dream where you're shouting, with no sound - an inexplicable, incongruous vacuum with not even the whisper of a breeze or rustle of a leaf, almost as if the stillness was an apology for the immense brutality of the landscape.
Opened this month, the Alila is more than simply a new hotel - it's a juncture. The Singapore-based chain - celebrated for its stylish Indonesian resorts - has been brought in to manage Jabal Akhdar's first luxury hotel and, for now at least, that sense of isolated emptiness is pervasive. Nothing blots the landscape, until darkness falls and the town of Al Hamra twinkles in the far distance below. In fact, the region has only opened to visitors in the last decade.
Political difficulties flummoxed Wilfred Thesiger's first attempt to visit Jabal Akhdar during the 1950 journey recounted in Arabian Sands. He only succeeded in 1977 when he was "filled with misgivings about going back" after the dramatic changes that had taken place both in Oman and its newly oil-curious neighbours. But even then, he would not have experienced the silky-smooth roads that had transported me up to the mountains.
The peaks of Jabal Akhdar that ring-fence the Saiq plateau, are not only a physical curtain between Oman's coastal plains and desert interior, but a historic division that served as the frontline of the warring Sultan and Imam of Oman in the 1950s. The imams had been previously granted autonomy of the interior, or "Oman Proper" centred on the city of Nizwa, while the Sultan ruled the rest of the country from Muscat. The often-strained relationship ruptured with the discovery of oil within the imamate. Sultan Said bin Taimur made a beeline for the imam's valuable lands; Imam Ghalib Bin Ali retaliated, first in 1954 and again three years later. With the intervention of the British Army, Jabal Akhdar was captured by the Sultanate in 1959 and Imam Ghalib fled to Saudi Arabia. However, the mountains remained a military base until 2005, out of bounds to all but resident villagers and permit-carrying visitors.
The military checkpoint that we had passed through the previous night is now more of a formality, as much to ensure that only 4x4s are permitted to make the perilously steep journey up as to check paperwork and eligibility. It was via this military-built road that materials were transported up to build the dramatic Alila hotel, whose stark grey limestone and ophiolite building blocks were quarried from the site it stands on. It's so remote that water continues to be trucked up to service the resort, until a permanent water pipe is built. The 86 rooms all look out on the 600m-deep wadi, or valley, which it teeters over, with two equally dramatic presidential villas that come with infinity pools and 1,200kg marble baths big enough for two.
There's a frontier feeling, from the squat, stone buildings and the fragments of rock that have been dotted about the resort in place of shrubs and foliage, to the barren folds of the chasm below. "Jabal Akhdar is a protected reserve," manager Jork Bosselar explained. "So we can't plant anything that doesn't grow here naturally." Inside, however, things start to come to life. Rooms have been hand painted with juniper branches, in a nod to the trees that give the mountains their "green" epithet, while metal lattice-work unfurls in rose patterns in the lobby, referencing the fabled rose water that's produced on fragrant mountain terraces nearby. The room names reveal curiosities too: pomegranates and walnuts are also grown locally.
To understand better the unlikely fecundity of Jabal Akhdar, I was taken out to explore by local guide Salim Al Owaimiari. As we drove along the rippled escarpments, gnarled juniper and wild olive trees began to speckle the surrounding plains, some nibbled by mountain goats, others being used as shady lay-bys by somnambulant donkeys. "It can be as little as -5C here in the winter," Salim noted. The fluctuation in temperature and relatively cool climate, where the hottest of summer days is unlikely to break 30C, means that fruit is able to flourish, albeit in isolated patches. We passed Sultan Qaboos bin Said al Said's experimental garden, a fortified compound where a plume of fruit and flowers is nurtured then shuttled down to his palaces.
But climate alone can't sustain such bounties. Jabal Akhdar's resounding feature is its lack of water - folds upon folds of canyon that look as if thundering rivers should barrel along the bottom, but are as dry as a lizard's sun-baked scales. Millennia of inhabitants have learnt to deal with the low rainfall by creating a falaj system that irrigates the country via a network of spring-fed aqueducts. It's these aflaj (the plural term) that feed oases such as Wadi Beni Habib, where a shock of green sprouts from the bottom of the valley: bushy walnut trees, the bright red flowers that would yield prized fruit for the pomegranate trees in autumn, apricot trees … and again the silence, intermittently disrupted by the gurgle of the falaj. Salim and I clambered down beneath the shade of the canopy, then turned a corner to find an abandoned village, its tiny stone houses tucked implausibly into the rocks, timber-beamed ceilings still partially intact.
At Al Ain, we balanced on the narrow ledge of the falaj, following dragonflies as the water channelled to feed a bright, fragrant corral of rose bushes penned between the abrasive mountainside and a small mosque. In spring, around 90 such farms turn parts of Jabal Akhdar pink, their petals picked at dawn to produce Oman's esteemed rose water; it takes a 1kg sack to produce a 700ml bottle. Far above us, a hoarding at a cliff-edge marked out another new development: a five-star Anantara resort had just broken ground close to "Diana's Point" where the princess had undoubtedly bestowed the valley with one of her wistful gazes in 1986. We continued through Al Ain's narrow alleys and peered into oppressively hot, dark rooms where the petals were being distilled in copper pans over mud ovens, the ceilings layered with a thick charcoal residue. The scent wasn't so sweet as acridly smoky. "It takes time," Salim acknowledged.
Salim drove us down to the city of Nizwa, where the brawny mountains crumbled to scree and the temperature soared to 40C. Here in the former seat of the imams, an imposing 17th-century fort served as a reminder of the city's significance, its earthen walls punctured with "murder holes" down which boiling date syrup would be poured on to marauders below. Even here, the scorched landscape was smattered with greenery - the source of that syrup where dates are now cultivated under the searing sun to sate the nation's sweet tooth.
But the greenest of greens was yet to come. To reach Misfat, we wound our way up into the foothills to find a verdant pocket oasis - date palms, pomegranate, apricot and walnut trees all clustered tightly together in a small valley, where the water of the aflaj sparkled in the sunshine, children splashed in the cool, green water and a lunch of spiced chicken, rice and hummous had been spread out for us in a shaded eyrie. We'd stumbled on a secret garden, rather like the Jabal Akhdar itself.
TRAVEL ESSENTIALS
GETTING THERE
Sophie Lam travelled with Cox & Kings (020 7873 5000; coxandkings.co.uk), which offers a four-night stay at Alila Jabal Akhdar (alilahotels.com/jabalakhdar) from £1,285pp including Oman Air flights from Heathrow, private transfers, and breakfast daily. Muscat is served from Heathrow non-stop by Oman Air (0844 482 2309; omanair.com), and by British Airways (0844 493 0787; ba.com) with a stop in Abu Dhabi.
MORE INFORMATION
British passport-holders require a tourist visa, which can be obtained on arrival at Muscat airport for 5 rials (£8) for stays of under 10 days.
Join our new commenting forum
Join thought-provoking conversations, follow other Independent readers and see their replies