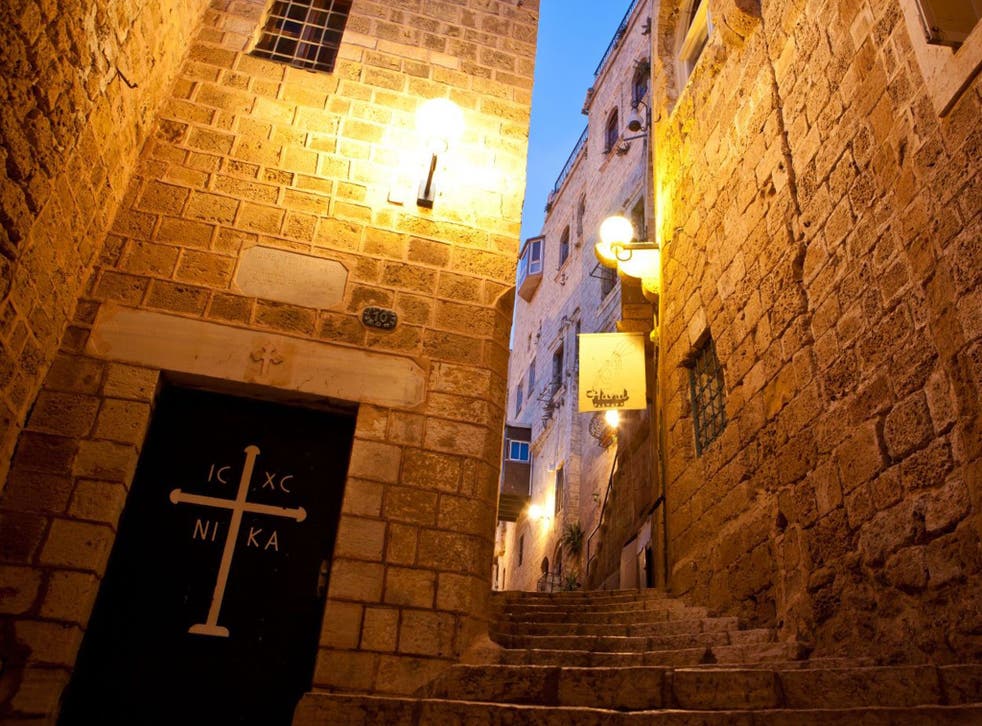 Show and Tel Aviv: Israel's artistic coastal city
With a paddle in the Med as his goal, Nick Boulos strolls past murals, markets and museums
Nick Boulos
Saturday 05 October 2013 17:16 Comments
Two young children sit on the wreckage of an upturned police car, its lights still flashing red and blue. People wander past without a second look.
There's no cause for concern though. It's just another piece of thought-provoking stencil art by Dede, Israel's answer to Banksy, scrawled across a car park wall in Tel Aviv. Following the success of last year's Year of Design, Israel's leading Mediterranean city is embracing its creative side and acknowledging its complex past.
Start at Independence Hall (00 972 3 510 6426), an unassuming building with a remarkable history. Located on Rothschild Boulevard, the city's first street, it was here in 1948 that the Israeli Declaration of Independence was signed. The interior has been preserved as it looked that day. Hanging on the walls are pieces by Jewish artists, including Maurycy Minkowski and reproductions of works housed across town at the Tel Aviv Museum of Art (00 972 3 607 7020; tamuseum.org.il).
From here, follow the boulevard west, visiting the minimalist Sommer Art Gallery (00 972 3 516 6400; sommergallery.com) at No 13 for a taste of Israel's evolving contemporary art scene before crossing Ahad Ha'am Street and heading towards the high-rise Shalom Tower, the city's first skyscraper. Enter the lobby to find the free Discover Tel Aviv Center (00 972 3 510 0337), decorated with photographs and colourful mosaics depicting the story of Tel Aviv: from camels crossing the dunes to the lighting of the first lamppost watched by curious spectators.
Exit via the Western Gate and continue for two blocks before turning left on Nahalat Binyamin, a street lined with striking Bauhaus architecture and a lively craft market on Tuesdays and Fridays.
At the very end of the road you'll reach Allenby Street, a busy boulevard named after the British general who brought an end to Ottoman rule here during the First World War. Swing left and delve into Carmel Market (closed Saturdays), a densely crowded warren of stalls and food stands with aromas of citrus fruits, roasted sesame seeds, and spices.
It's the perfect place to sample Israeli delicacies, such as shakshuka – a dish of spicy poached eggs and tomatoes served in the frying pan. Try it al fresco at La Café at No 38. Alternatively, people-watch from the green hut at No 27, sandwiched between the fruit and flip-flop stalls, which serves tasty seared lamb skewers with tahini.
At the end of the market, continue straight and take the fourth right. Walk to the end of the road and turn right again on to Ha'Talmi Street. This marks the boundary of Neve Tzedek – the first established neighbourhood in Tel Aviv. Hebrew for "The Oasis of Justice", Neve Tzedek is a collection of low, red-roofed buildings along narrow lanes splashed with bright bougainvillea. Take your time wandering down Shabazi Street, the main strip lined with galleries, boutiques and jazz cafes. Today, Neve Tzedek is now one of the most happening districts in town. (Once rundown and neglected, it was an area best avoided 20 years ago.)
Make a pit stop at Anita's Café (00 972 3 517 0505; anitaglida.co.il) on the corner of Pines Street – cool off with a refreshing scoop of homemade watermelon and mint sorbet (from 13 Israeli shekels, NIS13/ £2.20). Turn left here, pass the peeling pink façade of the abandoned Eden Cinema – Israel's first picturehouse dating back to 1914 – and turn right on Rokah Street.
At No 36 is Rokach House (00 972 3 516 8042; rokach-house.co.il; entry NIS10/£1.75), a mansion originally owned by Shimon Rokach – the influential Jewish journalist who was one of the founders of Neve Tzedek – and now belonging to his eccentric granddaughter, Lea Majaro Mintz. She's transformed it into an intriguing workshop full of clay sculptures depicting mature women, each "relaxed, rumpled and tired," says Mintz.
At the end of the road, turn right, then left, on to Yehieli Street, leading towards the Suzanne Dellal Cultural Centre (suzannedellal.org.il). You'll pass the bright murals of Tel Aviv's forefathers. Go down the steps and across the plaza, shaded by eucalyptus trees, to the old HaTachana train station (hatachana.co.il). Built by the Turks in 1892, it was the first station on what was once the only link from Jaffa to Jerusalem. An original carriage still stands on the dusty tracks.
Now you're on the coast with the salty sea breeze and the sound of the rolling surf, and Old Jaffa takes shape in the distance; the belltower of St Peter's Church stands tall atop a medieval citadel.
If energy levels permit, continue south for another 10 minutes to soak up Jaffa's 5,000 years of history or take the easy option: a lunch of fresh seafood at beachside restaurant Manta Ray (00 972 3 517 4773; mantaray.co.il) followed by a paddle in the sea.
Fresh cuts
At first glance it looks like your average sandwich shop, but venture through the innocuous staff door beside the counter at Deli Bar, a new spot at 47 Allenby Street, and you'll be transported into a decadent bar where the lights are low and the drinks strong. Dance to the live DJ and sip a Passion Pit cocktail (vodka topped with green chilli liqueur and fresh passion fruit).
Unashamedly kitsch, the Eden Hotel (00 972 3 545 5900; boutiquehoteleden.com), inset above, is an intimate new hotel in the Yemenite Quarter. The 12 cosy rooms are filled with antique furniture, floral fabrics, and free-standing baths separated only by a velvet curtain. Doubles from NIS590 (£103), B&B.
Travel essentials
Getting there
British Airways (0844 493 0787; ba.com) and El Al (020 7121 1400; elal.co.il) fly non-stop from Heathrow. El Al also flies from Luton, as does easyJet (0843 104 5000; easyjet.com), which has an additional link from Manchester.
Staying there
The modern Savoy Hotel (00 972 3 514 500; hotelsavoy.co.il), located close to the beach, has 55 bold and stylish rooms. There's free Wi-Fi and bicycle rentals, and a rooftop terrace with sea views. Doubles from US$212 (£132), including breakfast.
More information
Israeli tourist board: 020 7299 1100; thinkisrael.com
Register for free to continue reading
Registration is a free and easy way to support our truly independent journalism
By registering, you will also enjoy limited access to Premium articles, exclusive newsletters, commenting, and virtual events with our leading journalists
Already have an account? sign in
Join our new commenting forum
Join thought-provoking conversations, follow other Independent readers and see their replies