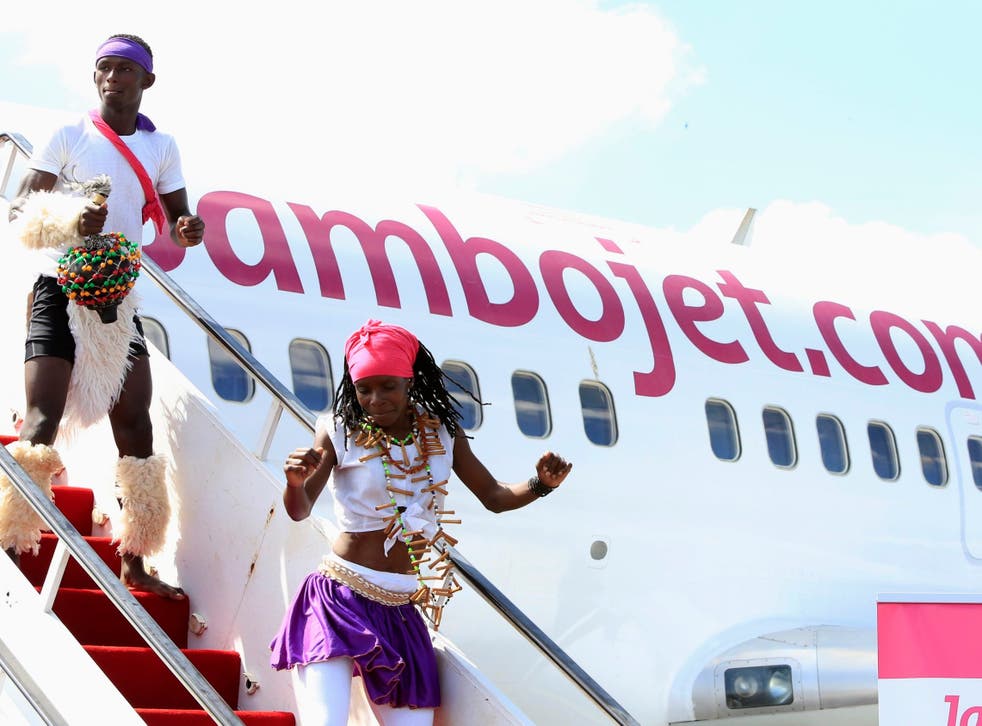 Burundi has no business insisting on business class
Plane Talk: Time and again, officials in Africa damage their nations' and citizens' interests by stifling competition
In the summer of 2001, much fuss was made about Tony Blair's holiday plans. The then prime minister flew off on holiday on Ryanair (much to the annoyance of easyJet, which at one stage thought it had won the family's business).
These days, a senior politician who flies within Europe on a non-budget airline might raise eyebrows.
But in Africa, it is a different story. As The Independent revealed this week, the government of Burundi has banned a Kenyan budget airline, Jambojet, because it has no business class cabin.
The nation's transport minister, Jean-Bosco Ntunzwenimana, said: "Our high state officials travel to the world mainly via Nairobi and need to be treated in business class conditions that are acceptable considering their rank."
European and North American governments have a dismal history of rampant protectionism, but by a decade ago, the virtues of free and fair competition had become clear and "open skies" now prevail within and between those regions (though from the UK's perspective, only until Brexit).
But time and again, officials in Africa damage their nations' and citizens' interests by stifling competition – and, equally outrageously, pouring cash into vanity projects.
As Ethiopian Airlines has shown, the continent has the people and the potential for delivering excellent, safe and good value air links.
Coincidentally, the distance between North America's two largest cities, New York and Los Angeles, is the same as between Africa's two urban giants: Cairo and Lagos. But there are more flights between 7am and 9am each morning linking the two US cities than there are in a week between the African pair.
Cairo should be a leading world hub. The Egyptian capital could rival Istanbul and the Gulf hubs as a link that connects Europe, Asia and Africa. So should Dakar: the Senegalese city should capitalise on its location with a range of routes to South America, rather than simply providing airspace for carriers to overfly it.
But governments in Africa typically protect inefficient national airlines rather than opening up their airports to all-comers. Tunis should rival Marrakesh as a city-break destination, but for a decade the Tunisian capital has been closed to budget airlines to defend Tunisair.
To be fair, Tunisair is a decent carrier with a reasonable business plan. Unlike Air Tanzania, the government-run airline in Dar-es-Salaam, which has bought, for around $200m, one Boeing 787. The airline said: "We aim to establish our long-haul capability by starting flights to Europe, Asia and the USA over the coming years and the 787 is the perfect aircraft to achieve this ambition."
Nothing wrong with ambition, but so far the aircraft has made no international flights at all – mainly sitting on the ground continuing to drain the Tanzanian economy. It has now disappeared from the airline's online fleet list.
Zimbabwe is in the same game of squandering resources. In a deal negotiated by Simba Chikore, son-in-law of the former president Robert Mugabe, buying two secondhand Boeing 777s from Malaysia Airlines, without the wherewithal to fly them.
Two outstanding aviation entrepreneurs, Sir Richard Branson and Sir Stelios Haji-Ioannou, have been defeated by Africa. In 2012, Virgin Nigeria closed down after what the founder called "daily battles against government agents who wanted to make a fortune from us".
Two months later, Stelios started Fastjet, intending it to emulate the success of easyJet. But today it is on the brink of closure.
If Michael O'Leary, chief executive of Ryanair, is looking for a challenge, I urge him to set up a budget pan-African airline. But with Burundi's ministers demanding better treatment than the average citizen, I fear even he might have to admit defeat against the blinkered self-interest that is damaging Africa.
Register for free to continue reading
Registration is a free and easy way to support our truly independent journalism
By registering, you will also enjoy limited access to Premium articles, exclusive newsletters, commenting, and virtual events with our leading journalists
Already have an account? sign in
Register for free to continue reading
Registration is a free and easy way to support our truly independent journalism
By registering, you will also enjoy limited access to Premium articles, exclusive newsletters, commenting, and virtual events with our leading journalists
Already have an account? sign in
Join our new commenting forum
Join thought-provoking conversations, follow other Independent readers and see their replies