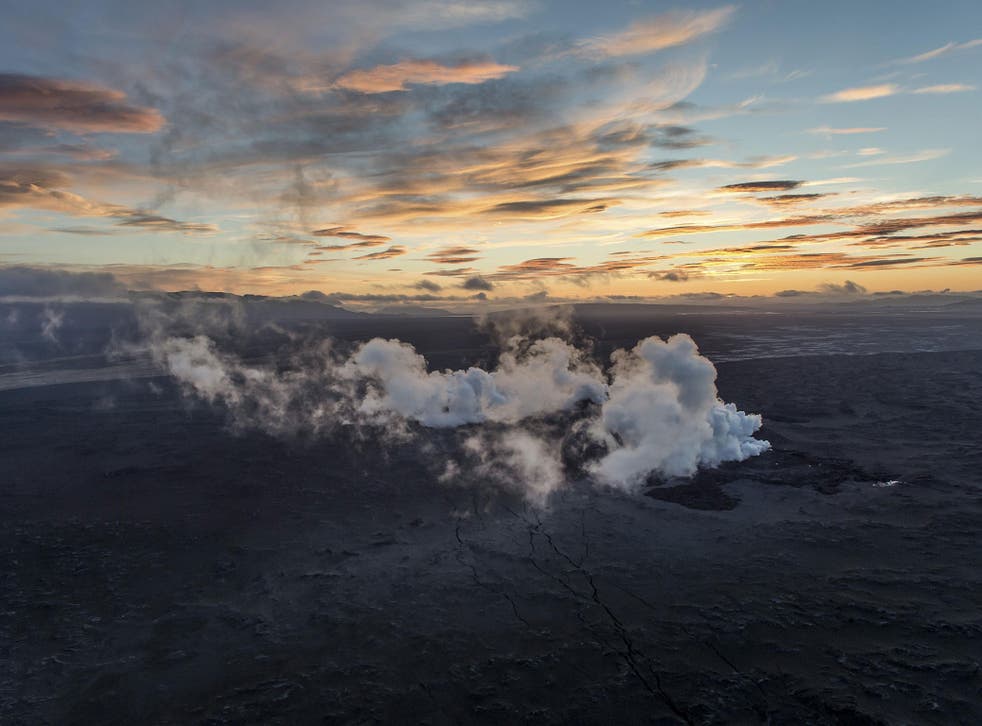 Air travel disrupted by fresh volcano threats in Iceland and Papua New Guinea
The restless earth is once again toying with travel plans, as Iceland issued two more red alerts warning of an imminent eruption and a Papua New Guinea volcano disrupted southern-hemisphere aviation.
The day began with a warning from Eurocontrol in Brussels of an earthquake in central Iceland, and the subsequent closure of airspace up to 18,000 feet in the vicinity. It said: "A danger area, within which no flights are permitted, has been established around the volcano."
The threat level was raised from orange to red, then downgraded shortly afterwards. But by early afternoon, the Icelandic Met Office warned of "An earthquake of M5.2 [magnitude 5.2 on the Richter scale] occurred by the northern rim of the Bardarbunga caldera" and the red alert was reinstated. It means the an eruption is imminent or already in progress, and that a significant emission of ash is likely.
Increased seismic activity has been taking place in the area around Bardarbunga for two weeks, with airlines concerned about a repeat of the 2010 eruption. Four years ago, volcanic ash from Eyjafjallajokull in the south of the country wrought aviation havoc in northern Europe. Flights were grounded for up to a week because of the risk of damage to aero engines.
Papua New Guinea: Mount Tavurvur erupts

Show all 6
The country's Department for Civil Protection said: "The National Crisis Coordination Center is active and the Commissioner of the Icelandic Police has raised the Civil Protection Phase to Emergency Phase."
However, a statement from the national airline said: "Icelandair does not anticipate any flight disruptions at this stage due to this activity. We are closely monitoring the situation and will advise of any schedule changes should they occur."
The UK's biggest budget airline, easyJet, has been working on ash detection technology since the 2010 shutdown, which cost it tens of millions of pounds. An airline spokeswoman said: "Now that the Icelandic authorities have issued a red alert about the possible eruption near the Bardarbunga volcano easyJet is putting its contingency plans into action." These include potential airborne deployment of the ash-detection technology it has pioneered.
South of the equator, a large cloud of ash from Papua New Guinea's Tavurvur caused flights to and from Australia to divert around the eruption zone. Friday's overnight Qantas service from Tokyo to Sydney flew an extra 100 miles in order to avoid the region.
On one of the busiest days of the year for aviation, thousands of UK passengers found their journeys disrupted. A six-hour strike by pilots working for the Lufthansa subsidiary Germanwings halted flights from Heathrow to Berlin, Cologne and Stuttgart. Hundreds of BA passengers found their Florida holiday extended when the airline cancelled a Friday night departure from Orlando to Gatwick because of technical problems with an earlier Boeing 777 transatlantic flight.
Volcano Q&A
Q If my flight is cancelled because of an ash cloud, will I get compensation?
No. The EU rules stipulating pay-outs for passengers whose flights are cancelled do not apply if the cause is beyond the airlines' control, such as a volcanic eruption.
Q What obligation does the airline have?
It must provide meals and, if necessary, accommodation, until it can get you to your destination by the swiftest reasonable means. The obligation is open-ended.
Q Can I opt for a refund instead?
If a flight is delayed by five hours or more, or cancelled, you are entitled to a full refund. This will also cover the inbound trip, if you have booked a return ticket and decide not to travel. However, if you buy two separate tickets, e.g. outbound with BA and home with easyJet, then the inbound sector is not refundable if that flight goes ahead.
Q I've paid for accommodation - can I claim that back if I can't reach it?
If you have bought it as part of a package, then you can claim the overall cost. However, if it is booked separately then you do not have the right to a refund. Bluntly, the hotel or apartment owner will say: the room was here for you, the fact you couldn't get here isn't our problem.
Q Will I be covered by travel insurance?
That all depends on whether you bought a policy that covers disruption caused by volcanic ash. Many, particularly cheaper policies, do not.
Register for free to continue reading
Registration is a free and easy way to support our truly independent journalism
By registering, you will also enjoy limited access to Premium articles, exclusive newsletters, commenting, and virtual events with our leading journalists
Already have an account? sign in
Join our new commenting forum
Join thought-provoking conversations, follow other Independent readers and see their replies