The Independent's journalism is supported by our readers. When you purchase through links on our site, we may earn commission.
Airbnb guests terrified after finding animal skulls and 'satanic items for witchcraft rituals'
'It looks like a scene from Hereditary,' says customer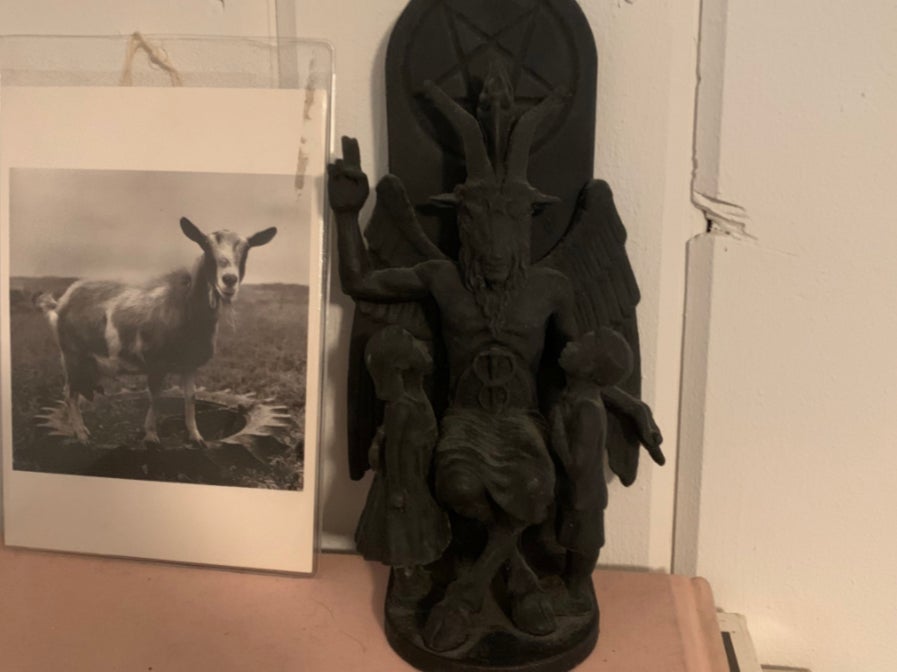 A family staying at an Airbnb property in New York state were frightened upon discovering animal skulls, ritualistic floor markings and "imagery, candles, books, etc for rituals and what looked like devil worship".
Frederick Joseph, an author from New York City, had booked the house for two nights to spend time with his fiancée, his cousin and his eight-year-old brother, paying $1,150 for the privilege.
But as soon as they arrived at the property, they became wary.
"When we walked up to the house we noticed an animal skull hanging on the outside of the house, so I went inside to check it out," tweeted Joseph.
"When I walked I went to the basement and found more animal skulls and ritualistic floor markings and then I went up to the rooms to find much more.
"As we walked through the two rooms we found a bunch of imagery, candles, books, etc for rituals and what looked like devil worship. My brother was terrified, as were we."
He posted pictures and videos of the "seemingly satanic items and stuff for witchcraft rituals" on Twitter, which included sexually explicit artwork.
In one video, the person filming lifts up what appears to be a dead bird in a bag to find a Baphomet – a horned, winged "deity" that has come to be associated with Satanists –behind it.  
Joseph claimed he was originally denied a refund by Airbnb, who said the host had offered to come and remove a "few small art pieces".
"This was a lie, it was the whole damn house not a few things," tweeted Joseph.
"Needless to say, we left because we are Black and not dealing with something that was: 1.  advertised completely different; 2. Looks like a scene from Hereditary; 3. Made the entire family feel unsafe."
He added that there were no other properties nearby, that there was a bridge from the woods behind the house that led to the back patio, and that there was no phone signal.
Airbnb has since issued the family with a full refund.
"Frederick was fully refunded this morning, and we apologise for the delay in providing support," an Airbnb spokesperson told Yahoo Life.  
"Our policy prohibits sexually explicit images within our listings, and we are currently working with the host to help ensure he is in compliance."
Join our commenting forum
Join thought-provoking conversations, follow other Independent readers and see their replies