The Independent's journalism is supported by our readers. When you purchase through links on our site, we may earn commission.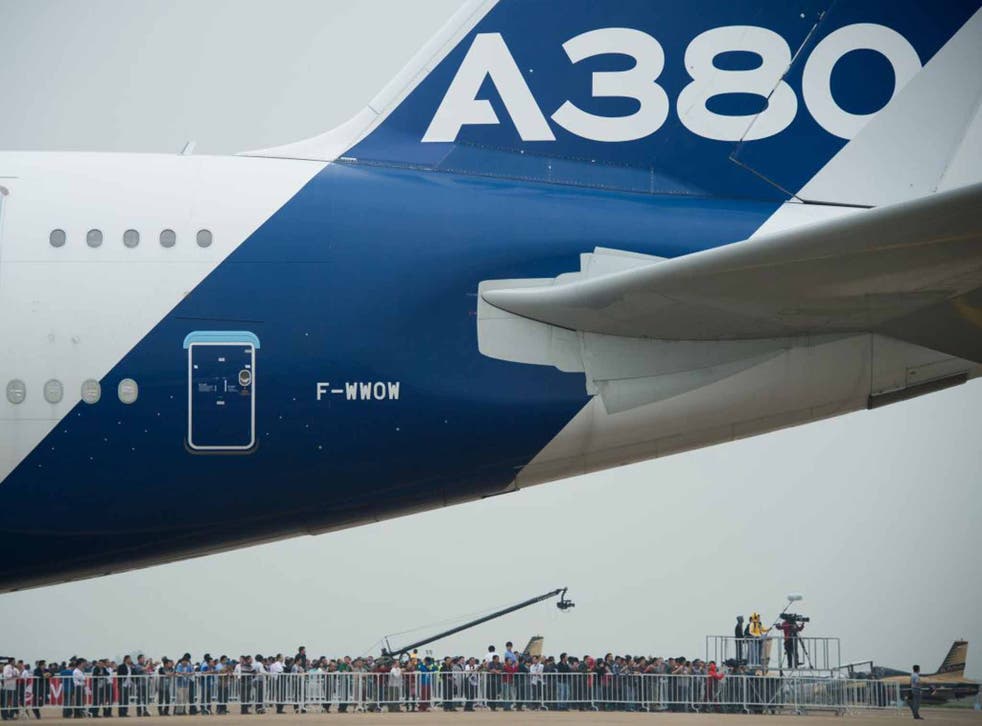 Airbus A380 in numbers: A decade of the SuperJumbo
From safety statistics to luxury prices
0
Fatal crashes involving the A380 "SuperJumbo" since it first took off on a test flight from the Airbus HQ at Toulouse 10 years ago last week (airsafe.com).
9
Number of daily A380 flights from the UK to Dubai: five from Heathrow, two from Gatwick and two from Manchester, all operated by Emirates – the biggest customer for the jet, having ordered nearly half (emirates.com).
11
Maximum number of seats that can be fitted in each row in economy, which Airbus describes as "a comfortable 11-abreast economy section with 18-inch-wide seats". No airline has this configuration at present, preferring to seat 10 across (bit.ly/A380stats).
72
Average number of flights on a typical day this summer between London and New York, the world's premier intercontinental air route. None is operated by an Airbus A380 (skyscanner.net).
78
Time in seconds for 853 passengers and 20 crew to leave the A380 during a test evacuation, with half the 16 exits open, as part of safety certification. Watch it here: bit.ly/A380evac.
317
Number of A380s ordered. By comparison, 1,500 Boeing 747s have been built since it entered service in 1970 (boeing.com).
566
Maximum take-off weight, in tons, of an Airbus A380, of which about half a ton is the weight of paint (airbus.com).
652
Maximum number of seats planned for an A380, by Transaero. This Russian airline says its economy class alone will hold 616 passengers (transaero.ru).
9,459
Maximum range in miles of the Airbus A380. The longest route currently flown is Qantas flight 8, a 17-hour stretch from Dallas to Sydney covering 8,577 miles (qantas.com).
12,999
Price in pounds for a one-way flight for two from Heathrow to Abu Dhabi in Etihad's A380 Residence Suite, comprising a living room, separate bedroom and ensuite bathroom (etihad.com).
For more on the aircraft, search #A380FF10 on Twitter
Register for free to continue reading
Registration is a free and easy way to support our truly independent journalism
By registering, you will also enjoy limited access to Premium articles, exclusive newsletters, commenting, and virtual events with our leading journalists
Already have an account? sign in
Register for free to continue reading
Registration is a free and easy way to support our truly independent journalism
By registering, you will also enjoy limited access to Premium articles, exclusive newsletters, commenting, and virtual events with our leading journalists
Already have an account? sign in
Join our new commenting forum
Join thought-provoking conversations, follow other Independent readers and see their replies