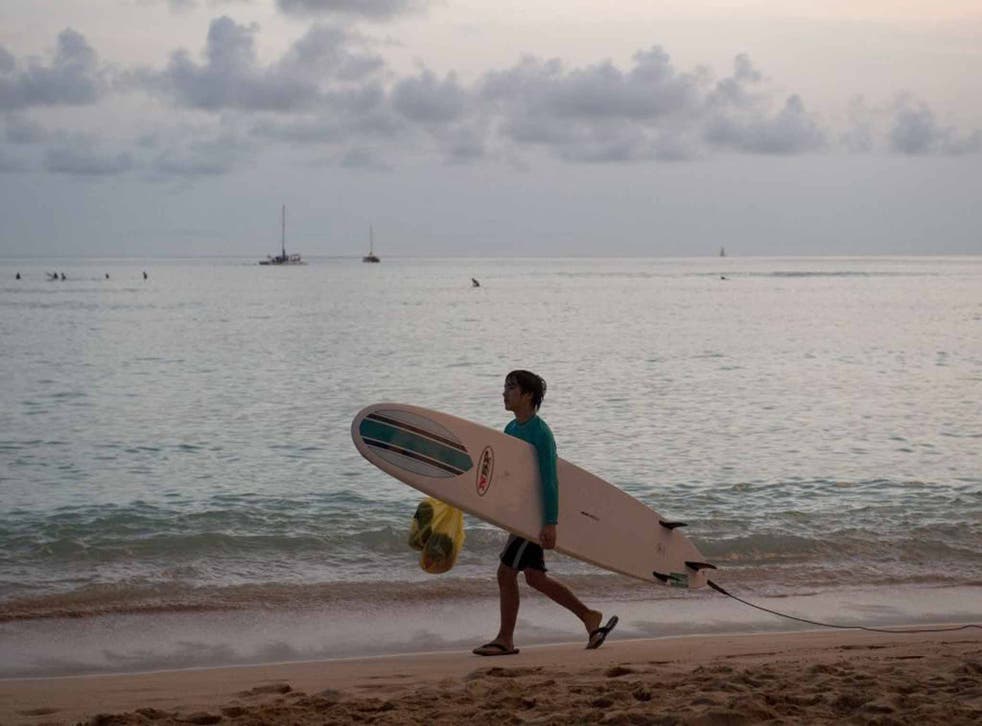 Airline safety: Breakfast in Bondi? No, waking up in Waikiki
Imagine waking up beside an iconic Pacific surfing beach – but thousands of miles from the one you expected, on a day you thought you would never see. Sounds weird? Well, that's what happened last week to passengers on United Airlines flight 863 from San Francisco to Sydney.
Twenty-first-century aviation is a means to an end. Passengers simply want to arrive on time, in the right place, together with their luggage.
The passengers who took off aboard UA863 on New Year's Eve arrived in the wrong place on a day they expected to lose. They had invested 15 hours of their lives and quite a lot of dollars to fly from a wintry California to a sunny New South Wales. The Boeing 777 was due to take off at about 10.30pm on the last day of 2015, then tick off the time zones towards the International Date Line, whereupon it would skip New Year's Day.
Everyone expected to touch down in Sydney at 8.30am on 2 January, in time for Sunday breakfast overlooking Bondi Beach. But when the plane was 700 miles south-east of Hawaii, smoke in the cockpit triggered a diversion.
The Pacific is short of places to land a wide-bodied plane in a hurry. The nearest alternate was on Hawaii's "Big Island": Kona airport, which has a two-mile-long runway for just such emergencies. On the way there, the smoke dissipated. But continuing to Sydney was no longer an option because of the time and fuel lost. So the captain headed for the Hawaiian airport with the greatest number of hotel beds nearby: Honolulu.
On the day they were expecting to delete, 1 January, passengers woke up at Waikiki Beach. They made it to Bondi on the third day of the year; United said "sorry" with travel vouchers.
Diversionary tactics
Should you be planning a trans-Pacific jaunt, bear in mind that, a year earlier, the same flight was thwarted by debris on the runway at Sydney. It diverted to Canberra. The Australian capital is not set up to process more than 250 unexpected international arrivals. Nor could the crew refuel and fly back to Sydney because they were "out of hours". So, the passengers were stuck on the Tarmac for seven hours.
All these incidents happened because of "an abundance of caution", to use the phrase of the moment. Long may it prevail. But how do you measure the very safest in the world? This week, AirlineRatings.com published a list of the 30 "safest airlines". The criteria, it says, are: "audits from aviation's governing bodies, lead associations and governments," and "a fatality-free record for the past 10 years". I was surprised to see Lufthansa on the list; its subsidiary, Germanwings, suffered the second-worst crash of 2015 when 150 people died after a co-pilot deliberately crashed into a French mountainside. But AirlinesRatings.com says: "If deaths occurred through acts of terrorism, hijackings or pilot suicide they have not been included."
Safe bets
As they say in financial adverts, past history is no indication of future performance. But I reckon a pretty good sign of a superb safety culture is flying many hundreds of millions of passengers with no loss of life. By this measure, three airlines are way ahead of the pack. Since it was born in 1971, the Texan airline Southwest has carried 1.5 billion passengers without a single fatal accident. Ryanair and easyJet started later, but have also maintained fatality-free records while flying 760m and 650m passengers respectively.
None of these three gentle giants rates even a mention in the AirlineRatings.com top 30, but for me they are the safest bets in the business.
Click here for the latest travel offers from Independent Holidays
Register for free to continue reading
Registration is a free and easy way to support our truly independent journalism
By registering, you will also enjoy limited access to Premium articles, exclusive newsletters, commenting, and virtual events with our leading journalists
Already have an account? sign in
Register for free to continue reading
Registration is a free and easy way to support our truly independent journalism
By registering, you will also enjoy limited access to Premium articles, exclusive newsletters, commenting, and virtual events with our leading journalists
Already have an account? sign in
Join our new commenting forum
Join thought-provoking conversations, follow other Independent readers and see their replies